Configure Your Own - Choose Your Cover Grade, Configure Your Building Up to 99 ft.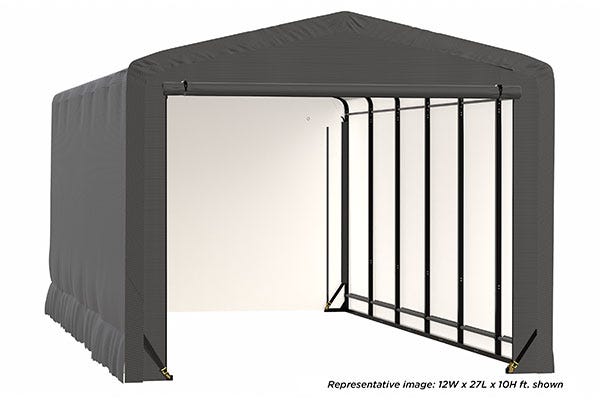 Standard
Available in Gray, Green or Tan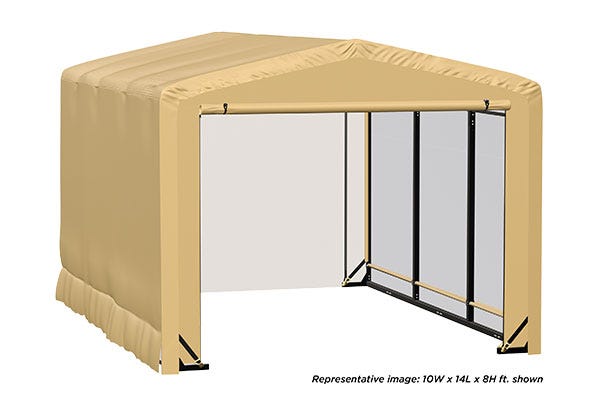 Heavy Duty 14.5 oz.
Available in Gray, Green, Tan or White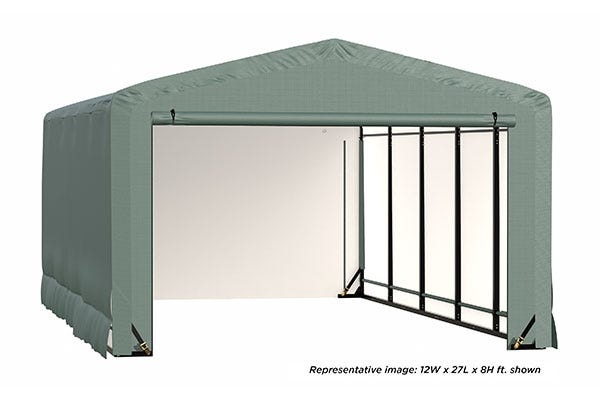 Ultra Duty 21.5 oz.
Available in Green or White
In the market for a shelter or garage that can take on the tough winter weather? The ShelterTube is a unique shelter that can be customized up to 99 ft. long and 20 ft. wide, and features a durable steel square or rectangular tube frame. This unique component makes this shelter wind and snow load rated, making it the perfect all-season storage solution.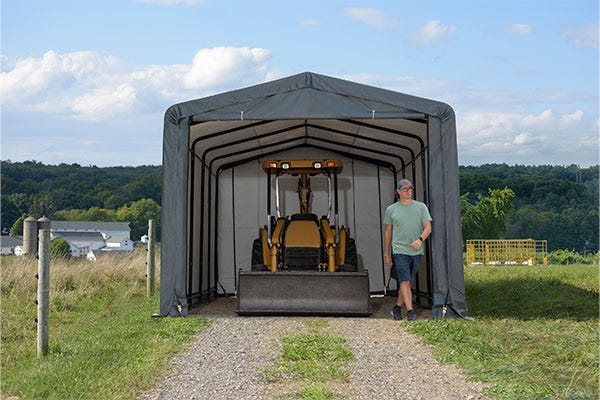 Are you a private company looking to store valuable equipment year-round? ShelterTube offers ample storage for equipment, and features ample headroom and custom length options for your business.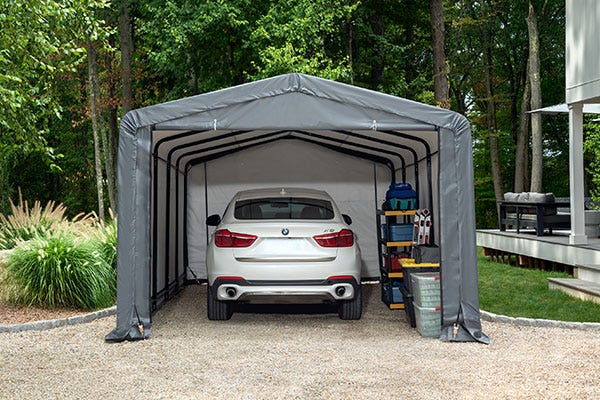 From boats, and classic cars, ATV's and even tractors; ShelterTube buildings will protect your valuable vehicles from sun damage and the tough winter weather.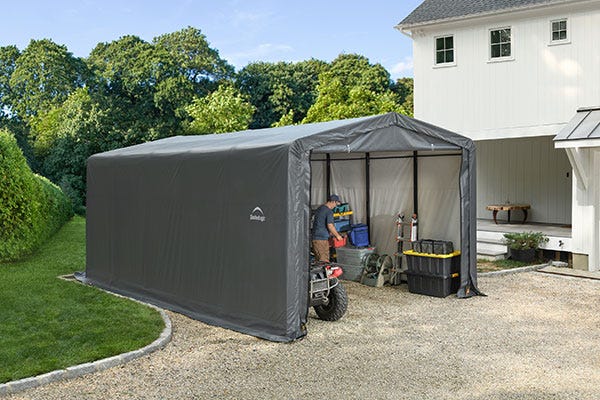 Whether you need an outdoor shelter for a work station or to use with big outdoor projects, or simply a place to store valuables, ShelterTube has you covered.
Other uses for ShelterTube:
Tractor Storage Boat Storage Outdoor Shelter ATV Storage Hay Storage Truck and Vehicle Storage Backyard Shelter Outdoor Workshop
Features + Benefits of a ShelterTube
A Versatile, Tough Weather Ready Solution
Take on the elements with a tough weather ready ShelterTube building. With its unique steel tube frame and its variety of available cover weights and options, this unique building is one of our best.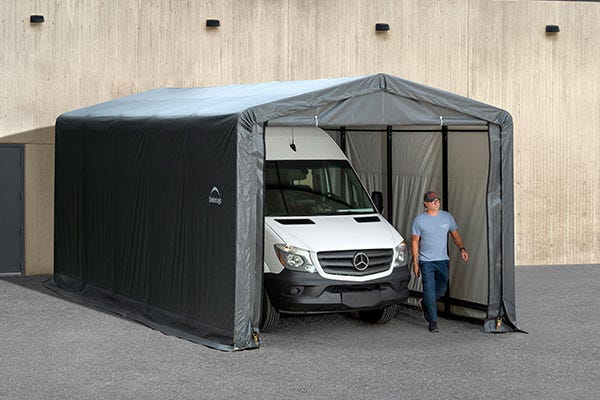 Wind and Snow Rated Shelter
Worried about tough weather? All ShelterTube buildings are wind and snow load rated, and when properly assembled can take on up to 80 MPH wind speeds and a snow load of approximately 43 PSF.*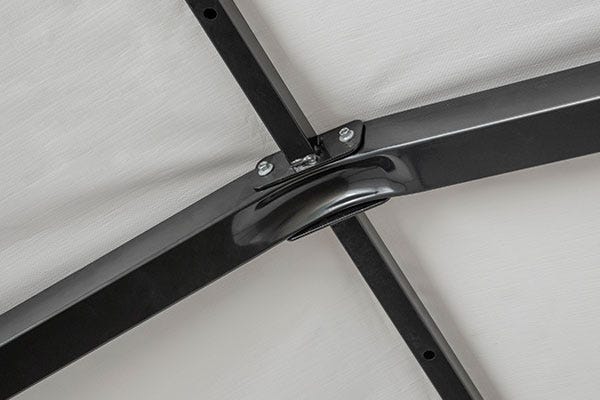 Strong 15 Gauge Steel Tube Frame
The ShelterTube truly stands out thanks to its 2" square tube or 2x3" rectangular-tube powder coated steel frame. The thickness and shape of the square tube add to the strength of the overall structure and allow the building to take on strong weather conditions. Compared to similar buildings, the ShelterTube is stronger in tough weather thanks to these factors.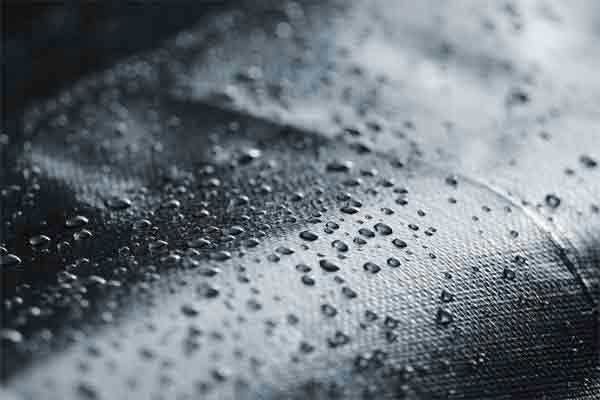 Tough Fabric Cover Options in Various Colors
ShelterTube buildings are available in 3 cover grade options: Standard, Heavy Duty 14.5 oz, and Ultra Duty 21.5 oz and up to 4 color options. Our covers come with 2 double zippered doors and roll-up door kits offering added functionality.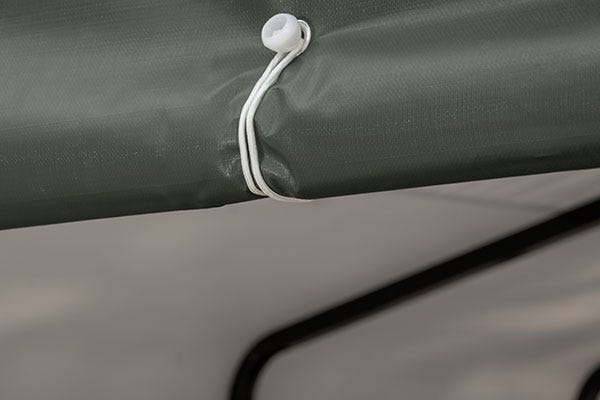 Configure up to 99 ft. in Length
These 10, 12, 14, and 20 ft. wide buildings are configurable up to 99 ft. in length, making it easy for customers to choose a size they want and need.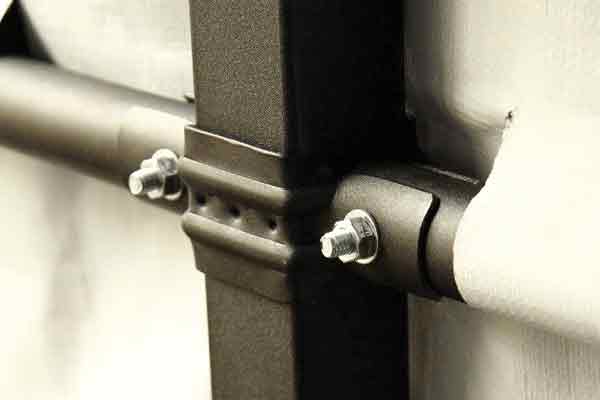 Present at every connection point to improve overall building strength and stability.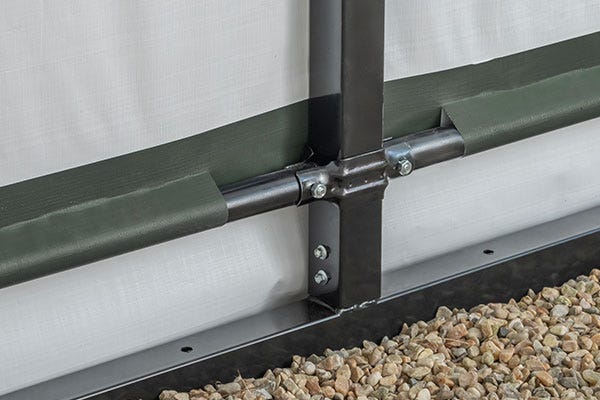 Square Tube Sliding Crossrails
Redesigned to strengthen and lock down the cover for an optimum frame to fabric fit.
*Wind and snow loads given are for reference only and assume a securely anchored frame according to local building codes and ordinances. These have been calculated using combined snow and wind load provisions in accordance with ASCE 7-05. These calculations are based on an unoccupied, fully enclosed building. Local building code requirements vary by location; conformance to local codes is the responsibility of the purchaser.
Fabric

Cover

Panels

Frame

Standard

Available in Gray, Green, and Tan

1 Year

1 Year

1 Year

Heavy Duty 14.5 oz.*

Available in Gray, Green, Tan, and White

10 Years Prorated

3 Years Prorated

1 Year

Ultra Duty PVC 21.5 oz.*

Available in Green and White

15 Years Prorated

3 Years Prorated

1 Year
Available Fabric Color Options
Depending on the cover grade you require, different colors are available to you. We offer up to 4 cover color options.




*All fabric weights calculations are in oz. per m2
*Our covers are made strong and UV treated inside and out for maximum protection
*Fire rated FR fabric NFPA 701 compliant.
" I bought this garage to store a classic car and some equipment. It needed to be strong enough to take a CT winter storm...no problem there. It's been up for 3 years and so far it's taken anything nature throws at it. Great product!
MANNY, CONNECTICUT
Have questions about the ShelterTube?
Contact our Customer Service department at 1-800-560-8383.