The first big snow of the winter season can be an exciting time. But there's nothing fun about winter's fury when the slush and sleet arrives and you aren't prepared. If you don't have your winter tools ready on time, you may be facing an uphill battle when trying to clear the driveway or scrape ice from your windshield. Here are some winter storm prep ideas to make sure your
backyard storage building
is ready for this season.
Winter Storm Prep to Keep Your Building Safe
An outdoor storage shed or backyard garage can certainly become damaged over the years if you don't protect it from the elements. The first thing you should do for winter storm prep is to consider insulating your shed. Controlling the temperature of your storage building can go a long way in maintaining it year-round. To learn how to insulate a shed, read more
here
. If you live in a climate where you experience heavy snowfall, you should also consider purchasing a
roof strengthening kit
for your Arrow shed. This can increase the roof strength up to 50% with a small investment. It is easy to install and will ensure your shed can stand up to heavy snow accumulation.
Borsello Landscaping
also suggests to trim back trees and low hanging branches ahead of the first snow, too. Weak branches and heavy snowfall don't mix, and can spell trouble for your shed or backyard garage.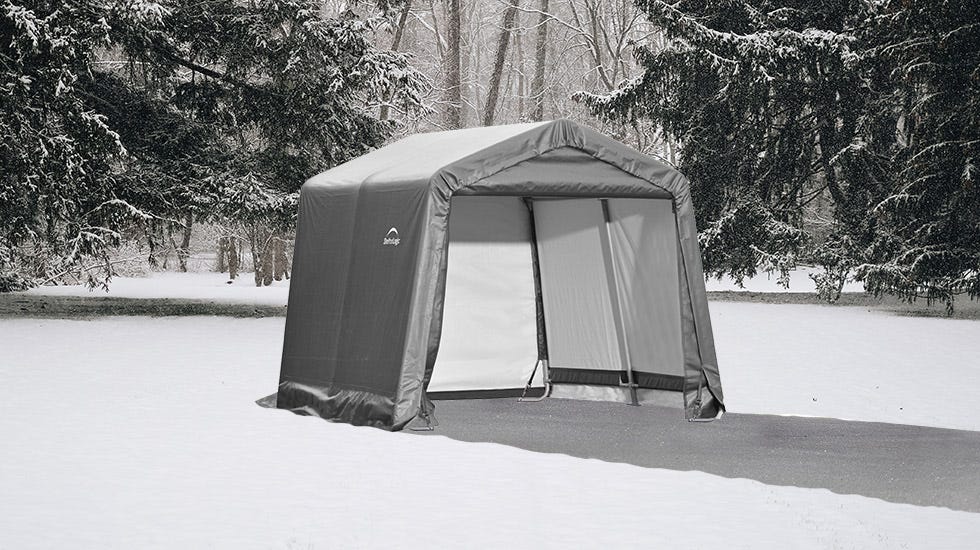 Organize Your Backyard Buildings for Winter
Whether you choose a durable fabric storage solution like the
Shed-in-a-Box
, or an
ultra-strong steel shed from Arrow Storage Products,
you can make sure to organize your shed for winter storm prep. You can start by cleaning and organizing your shed to make sure everything you will need for any snow storm will be handy when you need it. Take stock in what you have, and keep your winter storage needs somewhere accessible. This may mean looking at items you don't use any more and throwing them away. Make sure your snow blower, shovels, ice scrapers, and salt spreader are all within sight. A simple way to do this is to utilize
shelving
. Keeping small tools and garden equipment on your shelves will free up space for larger equipment that you will need during and after snowfall. For more tips on how to keep your outdoor storage building tidy, click
here
. Another great way to use your storage shed in the winter is to make sure your firewood is stored properly. Using a
storage rack
will not only keep your wood burning more efficiently, it will also make your shed more organized. Winter prep can be a snap when you organize and accessorize your outdoor storage solutions. If you are looking to get even more prepared for winter and add a storage shelter to your outdoor space, ShelterLogic has
multiple options
that will fit any budget. Winter's fury can't compete with a durable shed!