If you live in an area that gets a lot of wind and snow, it's important to choose your outdoor storage buildings carefully. Understanding wind and snow ratings and making sure you choose structures that are built for your climate will help you avoid some significant problems – like a roof collapse.
Not sure what these terms mean or how to choose a snow and wind rated building? No problem! The following guide will explain everything you need to know.
What Are Wind and Snow Ratings?
The term "wind rating" refers to a structure's ability to withstand high winds, such as those caused by a hurricane, tornado, or microburst. A snow rating refers to the weight a structure can hold without the worry of a roof collapse.
Wind loads are specified in miles per hour, while snow ratings are quoted in PSF (pounds per square foot).
Understanding Snow Load Density
Knowing the snow rating of a structure is only half the battle. It's also important to understand approximately how much the snow that has accumulated on your structure weighs. While a light snow load typically weighs anywhere from five to 20 pounds per square foot, a packed snow load will weigh closer to 20 to 40 pounds per square foot.
If the packed snow contains ice, it could weigh between 40 and 57 pounds per square foot, and ice on its own weighs about 57 pounds per square foot. It's important to consider this when determining the snow rating you need.
Snow Load Accumulation
Snow accumulation rates will also impact your structure's performance. For example, if your roof gets five inches of snow in one day, but then the weather warms up, and some of it melts before it snows again, then accumulation might not be a concern. However, if temperatures remain low and the snow keeps falling, it can quickly accumulate and potentially cause some issues.
Snow Rating Considerations
When considering a building's wind and snow ratings, you'll want to remember that these numbers are given for reference only. Many variables can impact its actual ability to withstand wind and snow. For example, the rating given assumes the structure is properly assembled and that the frame is securely anchored. Calculations are also based on a fully enclosed building that is unoccupied. If any of these factors have changed, the building's actual rating may change as well.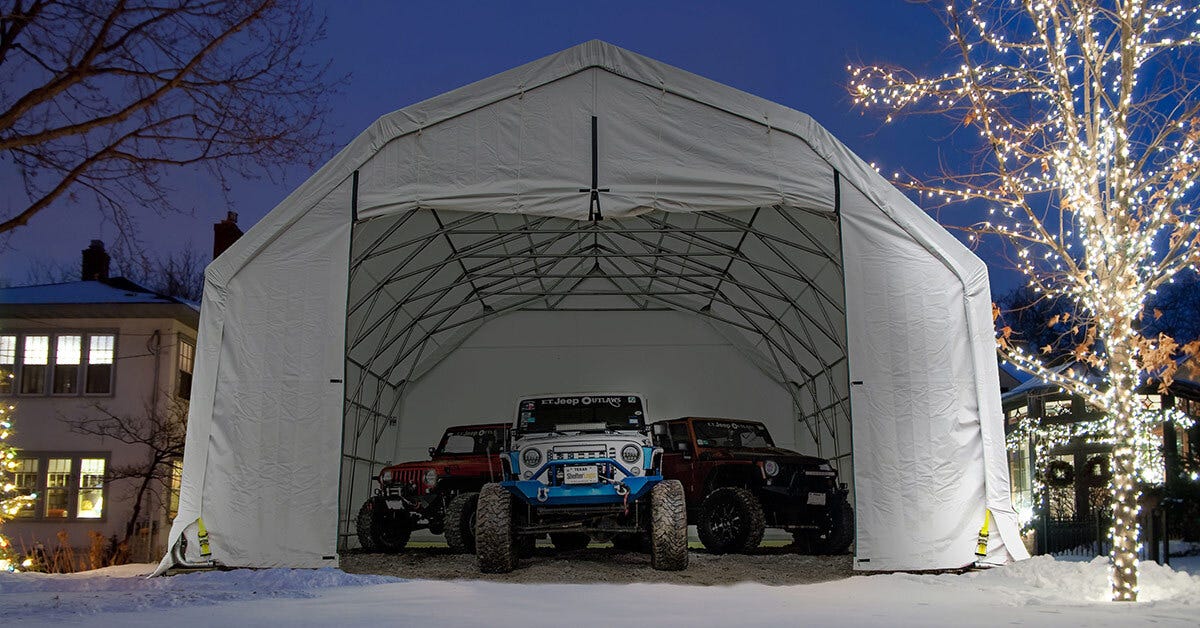 Why Do You Need a Snow and Wind Rated Building?
If high winds and heavy snow are common in your area, you'll want to take the time to make sure any structure you purchase is wind and/or snow rated. This will help ensure that it stands up to the elements and remains as safe as possible.
Since most people purchase structures like carports and garages to protect their property, you'll want to make sure they can do just that - even when strong storms roll in.
When ice and snow build up on a building's roof, the weight and downward pressure can cause damage. While it's still important to clear snow build-up off regularly, purchasing a snow rated building gives you the extra peace of mind that comes with knowing your structure can hold a certain amount of snow without collapsing.
Factors that Impact Wind and Snow Ratings
When looking for a wind and snow rated building, there are certain factors you'll want to consider. Following are some of the important features that give these buildings extra strength.
Frame Size
The size and thickness of a building's pipe frame will impact the snow load it can handle. Buildings with a wider pipe wall thickness and a larger pipe diameter will safely hold more snow.
Anchoring
To ensure a structure actually lives up to its wind and snow ratings, it's critical to anchor it properly. This includes choosing the right type of anchor for the foundation and considering the ground conditions. If you're not 100% certain how to best anchor your structure, it's a good idea to consult with an engineer who can help ensure everything is set up properly.
Frame Composition
When evaluating structures, it's important to pay attention to where they are manufactured. Some steel from outside the United States is not as strong as you may think. For the best results, you'll want a frame that is made from structural grade steel. For example, ShelterLogic's ShelterTech line is made from high-grade ASTM A500 certified galvanized steel, ensuring the strongest possible performance.
It's also important to note that there are both standard and certified wind and snow ratings. While both are strong and built to withstand the elements, a certified building has enhanced durability and is made of premium quality materials.
Roof Angle
The angle of your structure's roof can also impact its snow rating. For example, a roof with a steep angle will allow snow and ice to slide off easily, reducing snow accumulation and therefore exposing the roof to less snow weight. If you live in an area with heavy snow, you'll want to avoid buying a structure with a flat rooftop, as this will increase the snow burden on the building's roof.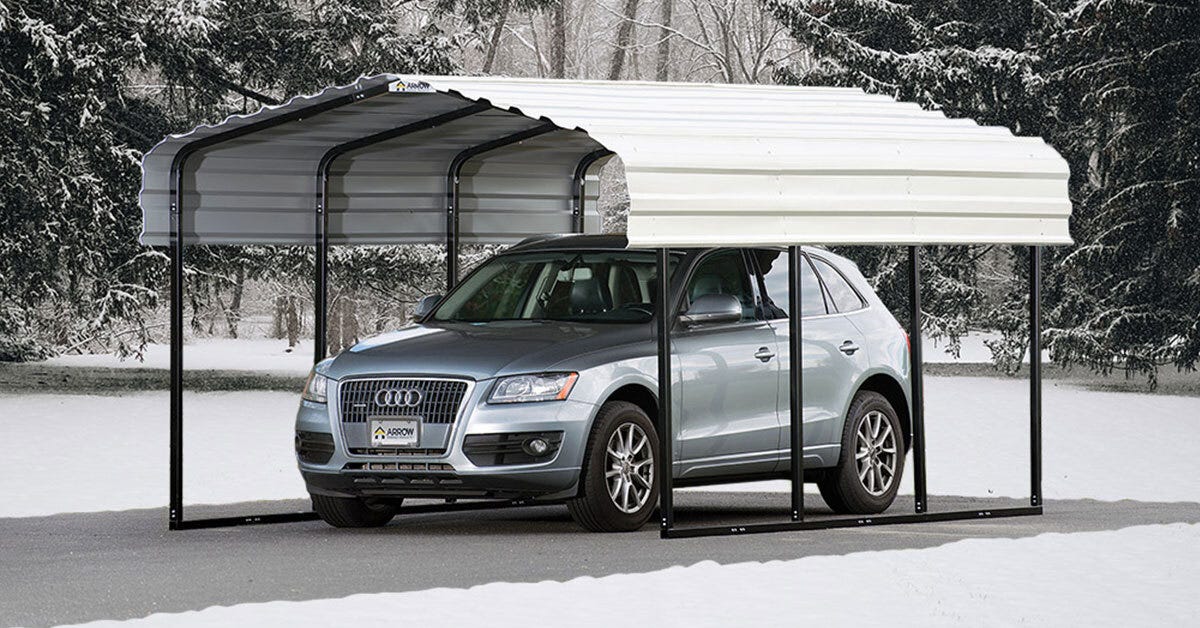 Choosing Wind and Snow Rated Shelters
When searching for an outdoor structure for your property, it's important to choose a brand you can trust. ShelterLogic has been setting the standard for high-quality garages, carports, and more for many years. We carry top wind and snow rated brands, including ShelterTube, ShelterTech, Arrow, and Sojag. Here's a closer look at each option.
ShelterTech Commercial Buildings
ShelterTech building frames are made from top-quality galvanized steel. The structures come with ShelterLock stabilizers that add stability and strength to the frame, as well as a universal footplate that allows for easy, secure installation on virtually any surface or foundation.
These buildings are also wind and snow rated, and they come in three different styles – peak, round, or barn. While there are advantages to each, choosing a round style will give you maximum shedding, so you won't have to worry about heavy snow and ice building up on the roof. This can minimize the maintenance you'll need to do during peak winter months.
If you're looking for the highest quality and ultimate protection, you'll want to consider the ShelterTech SP Series. This premium line of structures is wind and snow certified, ensuring that it's ready for the toughest of weather conditions.
ShelterTube Garages
ShelterTube structures are designed to withstand tough winter weather. This unique shelter can be customized to span a length of up to 100 feet. It has a durable two-inch square tube frame, and both the shape and the thickness of the tube add to the structure's overall strength.
ShelterTube buildings are also wind and snow rated, making them ideal for year-round use. When properly assembled, it can take on winds of up to 80 miles per hour and has a snow load of approximately 43 PSF.
For even more durability, you can choose from one of three covers: standard, heavy-duty (14.5 oz.), or ultra-duty (21.5 oz.). The bolt-through connections and square tube sliding crossrails also add strength and stability, and ensure an optimum fit between the fabric and the frame.
Arrow Carports
If you're looking for a safe and inexpensive vehicle shelter, consider an Arrow Carport. These structures are made from two-inch powder-coated steel square tube frames, and they have a 29-gauge galvanized steel roof.
Arrow carports are wind rated up to 100 MPH and snow load rated up to 35 PSF. They're also configurable up to 100 feet, making it the perfect solution for storing multiple vehicles or a vehicle with a boat, ATVs, or other items. They're also available in 10-foot, 12-foot, 14-foot, and 20-foot widths, giving buyers even more flexibility to choose the option that best meets their needs.
Sojag Everest Garages
If you're going to invest in a more permanent structure, like a garage, it's even more important to make sure it's wind and snow rated. Sojag Everest garages are metal structures that are built to last. These stylish premium garages are made of an aluminum, zinc, and silicone-plated steel – called Galvalume – that is exceptionally strong.
Thanks to the panel design, they have a wind speed rating of up to 100 MPH. They also feature a reinforced, advanced strength truss system that strengthens the roof and gives it a ground snow load rating of 35 PSF. These structures are perfect for storing vehicles, boats, tractors, and other items you want to keep safe all year long.
Shop for Wind Rated Buildings Today
If you're looking for a wind and snow rated building you can count on, you're in the right place! ShelterLogic offers a range of durable buildings at affordable prices. Browse through our inventory today, and don't hesitate to contact our expert sales team with any questions.