If your current home doesn't already have a garage, you may have resigned yourself to living without one. After all, building a garage is an expensive and time-consuming project, and if you rent, it's not an option for you anyway. But, you may be surprised to learn that there is an affordable and convenient way to add garage storage to any piece of property – simply purchase a temporary garage!
In this article, you will discover everything you need to know about what temporary garages are and the benefits of adding one to your property.
What Is a Temporary Garage?
Temporary garages, also called portable or pop-up garages, are outdoor structures that are the size and shape of a garage. Instead of concrete, they're made of a steel frame and a fabric cover.
Most people use temporary garages as an affordable and low-maintenance storage solution for their vehicles and other items like tools and equipment. You can also use a pop-up garage for bulk storage, as an on-site workshop, and more.
Benefits of Temporary Garages
Besides being the ultimate no-hassle storage solution, many other benefits come with putting a portable garage on your property. Let's take a look at four of the most important.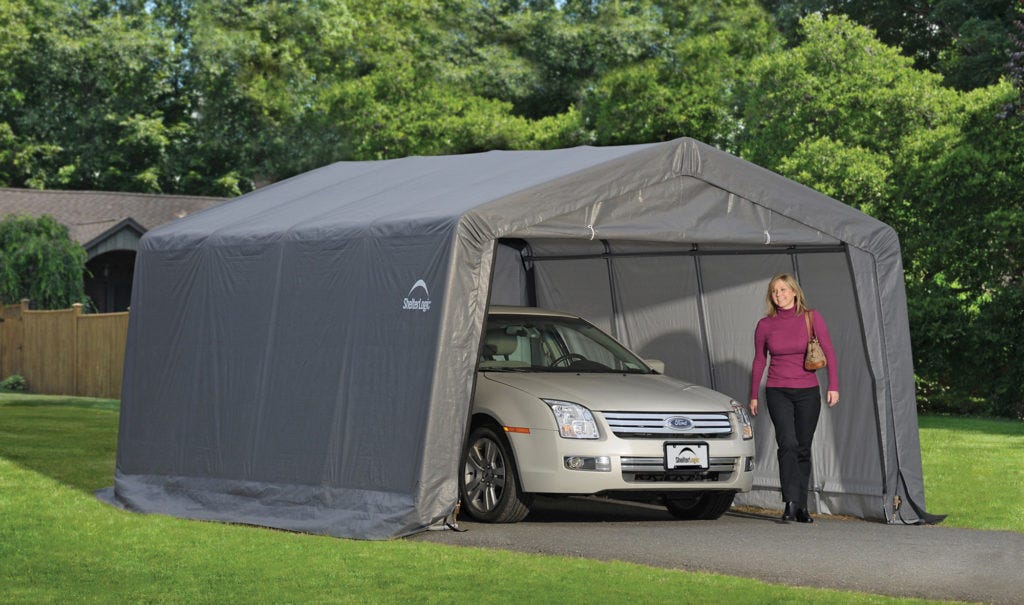 1. Protection
Most people decide to buy a temporary garage to protect their vehicles and other valuable items. Since they're closed on all four sides, these structures provide more protection than a carport.
By keeping your vehicle in a fully closed structure, you'll be able to protect both the interior and the exterior from the negative effects of being exposed to wind, hail, rain, snow, and the sun's harsh UV rays. This is one of the best ways to avoid dents, rust, fading, and other vehicle damage.
When exposed to the elements for too long, your vehicle may even suffer from issues that go beyond the cosmetic. For example, long-term exposure to moisture can cause your brake rotors to corrode, and extreme weather can cause you to have battery problems.
If you've been using a tarp or car cover to protect your vehicle, you'll love how much easier it is to pull into your new portable garage. You won't have to wrestle with heavy and clumsy covers every time you need to store your vehicle, and you won't have to worry about damage from the wind repeatedly blowing the cover into your paint job.
Remember, your temporary garage can protect more than just vehicles. You can also use them to store things like lawnmowers, snowmobiles, ATVs, and more.
Parking your vehicles and other equipment in the garage can also protect them from thieves and vandals. By keeping them away from prying eyes, you'll have more privacy and may avoid having someone see valuables inside your vehicle and deciding to help themselves.
2. Convenience
Portable garages provide convenient storage for a wide range of items. This makes them useful whether you want to declutter your home or need a large-scale storage solution for commercial or municipal use. Since they're basically a large, open structure, you'll have a lot of versatility regarding what you choose to store inside.
It's easy to organize your portable garage by adding stackable bins, coat racks, and corner shelves. Not only will this make it easier to find the things you need, but it can also help protect them from accidental damage.
Since portable garages can be constructed very quickly, you'll also be able to take care of your storage needs faster. Instead of waiting weeks or even months to have a team of professionals design and build a garage or storage building, you can put up your own temporary garage in just a few hours.
When you choose to store your items on-site instead of in an off-site storage unit, you'll also give yourself the gifts of time, safety, and convenience. You'll never have to worry about loading up the car and taking your items to their storage location, and you won't have to go back and forth every time you need something. You also won't need to worry about whether the storage unit is open when you need an item or be concerned for your safety if you find that you need to get something out of storage late at night.
In commercial settings, this is even more important. Time is money, and constantly sending employees to a storage unit is a huge waste of time. Keep your stored items on-site, and you'll see a dramatic impact on your company's overall efficiency, which should ultimately add to your bottom line.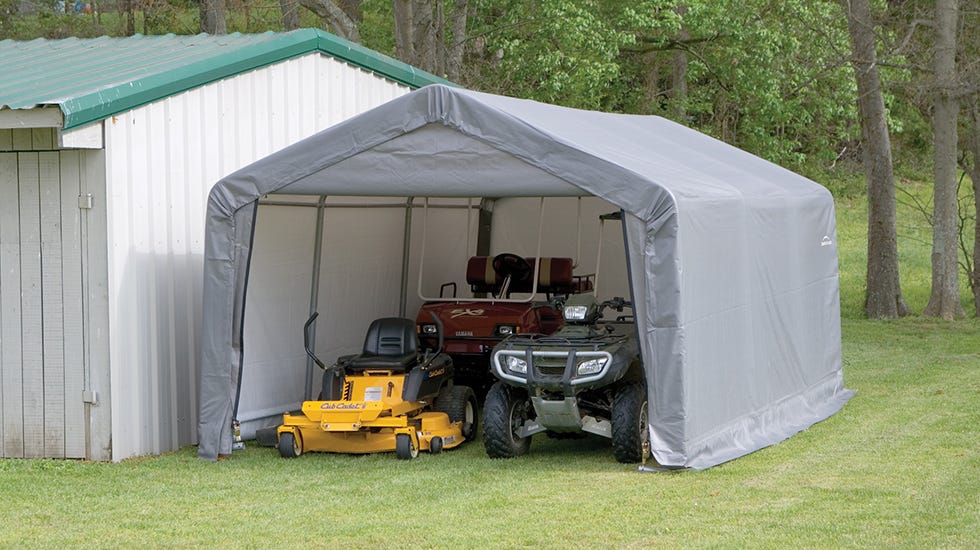 3. Affordability
Portable garage kits are far more affordable than a permanent garage or storage solution. If you're looking for a reliable solution that doesn't require a large investment or a long-term commitment, a temporary garage is an excellent option. Despite their comparatively low cost, these structures are extremely durable.
For example, ShelterTech garages are made from galvanized steel frames that are impervious to rust and corrosion, and a heavy-duty fabric that is ripstop and UV treated both inside and out. It also has patented ShelterLock stabilizers that strengthen the structure and add extra stability. All these factors combine to provide reliable, year-round protection at a fraction of what you would spend on a permanent structure.
Since they're so easy to assemble and don't require a lot of specialized tools, you'll also save yourself the cost of having someone professionally install your pop-up garage for you. In addition, you'll be able to avoid many of the extra costs that come with adding a permanent structure to your property – like increases in your property taxes or the expense of ongoing maintenance.
It's also far less expensive to store your belongings in a pop-up garage than it is to rent garage space or a storage unit. Whether you have seasonal storage needs or you need a longer-term solution, a portable garage will provide the extra space and protection you need – all without the added expenses.
4. Versatility
It's easy to set up a portable garage virtually anywhere, including on top of your driveway, gravel, and a flat patch of grass. You don't need to worry about excavating the ground or laying a foundation. In many cases, you also won't have to worry about the cost and headache of getting a permit (although you'll want to check your local ordinances to be sure).
It's important to properly assemble and anchor your structure to ensure it's safe and stable. However, once that's done, you'll enjoy excellent protection season after season. If you need to move or decide the structure would be better somewhere else, it's easy to take it down and reassemble it in its new location. Not only does this give you a ton of flexibility, but it also ensures that you won't lose your investment by having to leave it behind.
While personal vehicle storage is the most obvious use for a temporary garage, it's certainly not the only one. Some people use them to create a workshop where they can enjoy their hobbies or complete home projects. Companies may use these structures to create an outdoor breakroom or a temporary training facility. Once you start to use your imagination, you'll be amazed at all the creative ways you can use your new structure.
Some temporary garages, like ShelterLogic's ShelterTube, are expandable. This allows you to choose the right size for your current needs while also having the peace of mind that comes with knowing that you can extend your storage space without having to worry about a major cost or a significant disruption to your operations. If you purchase another vehicle, buy a boat or RV, or find that you need more space for other types of storage, you'll be able to adapt by simply adding on to your existing structure.
Ready to Add a Temporary Garage to Your Property? ShelterLogic Can Help!
When choosing a temporary garage, quality is critical. Since you're trusting the structure to protect some of your most valuable belongings, it's important to select one that you know you can count on to withstand the elements and stand the test of time.
ShelterLogic carries a wide range of pop-up garage structures. No matter what size or style you're looking for, we have an affordable option that's perfect for your needs. Take a look through our selection of portable garages today!