Making the most out of your outdoor areas is one of the best ways to extend your home's living space. With the right furniture and accessories, it's easy to transform your patio into a relaxing retreat that will soon become one of your home's best features.
Not sure where to start? No worries! The following patio decorating ideas will help you create a comfortable outdoor space where you can dine al fresco, entertain guests, or kick back and relax with your favorite book after a long day at work.
1. Put Comfort First
If you want to create a space where people will enjoy spending their time, simply decorating isn't enough. First and foremost, you have to make it comfortable. Start with an attractive outdoor rug that will soften the space and feel good under your feet. This is also a great way to add a pop of color and some texture to the space.
Next, add enough quality outdoor furniture, so there's plenty of seating for you and your guests. Nobody wants to sit on rock-hard furniture, so make sure you also have enough cushions and pillows. You can make the space even cozier by bringing out some throw blankets during the cooler months. Floor pillows are another great addition. They're easy to pull out when extra guests arrive and can add another splash of color.
If you have enough room, make sure you also provide one or two places to lounge. This may be a daybed, lounge chair, or hammock. It doesn't really matter what you choose, but after a busy day, you'll be glad to have a place to kick back and put your feet up.
2. Add a Bit of Shade
It's also important to add some shade to your space. Not only will this help keep you cool in the summer months, but it will also cut down on the sun's harsh glare all year round. A well-placed patio umbrella can make all the difference. You can choose one that sits inside a dining table or a freestanding option that you can move around as needed.
Adding some attractive shade sails will give you even more coverage. This will also add a fun pop of color and give your patio a bit more character.
3. Bring Out Some Entertainment
Now that you've got the basics covered, it's time to make the space more fun! Bringing indoor entertainment outside will help make your patio one of the best parts of your home. You'll definitely want some outdoor speakers and a way to play your favorite tunes – but don't stop there.
Consider an outdoor-rated television or an outdoor projection kit. This way, you can watch everything from a fun family movie to the big game from the comfort of your patio. Add a couple of attractive patio coolers so you'll always have chilled sodas and adult beverages on hand. You might even want to take movie night to the next level by rolling out a popcorn cart and serving fresh-popped popcorn.
4. Decorate with Plants
Decorating a patio with plants helps to merge your indoor and outdoor living spaces. You can use large potted plants to build an all-natural privacy wall and create distinct spaces on your patio. Adding greenery and choosing brightly colored decorative pots will bring color, texture, and vibrancy to the space.
If you have a fence or wall available, consider hanging planter boxes along them to create a living wall. Succulents are a very low-maintenance choice, or you could plant herbs. Choose plants like basil, mint, or rosemary, and you'll enjoy a nice fresh fragrance as well as being able to use them for cooking or even making tasty beverages (mint mojito, anyone?).
You can also create a living wall using a tall trellis and flowering vines. Want to add an additional secluded space to your backyard? Place a small gazebo on the edge of your patio and hang plants along the outside.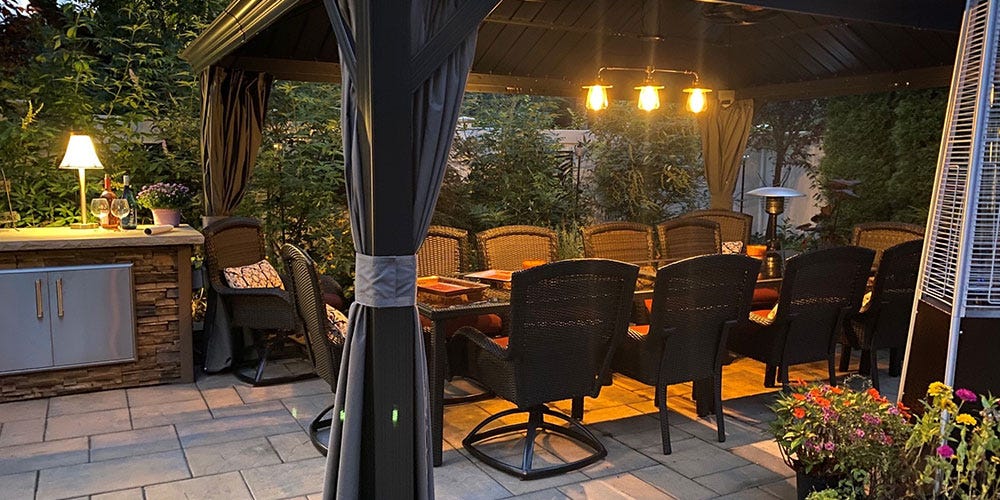 5. Hang Some Curtains
To soften the look of your patio and add even more privacy, hang some curtains around your seating area. In the summertime, you may want to use light, airy sheer panels to add character to your space. For other seasons, consider thicker outdoor curtains that will add extra protection from the rain and the sun.
Once you set up the curtain rods, you'll be able to easily change out your curtains from season to season or whenever the mood strikes you. This is one of the easiest and least expensive ways to create a temporary wall – separating your entertainment space from the prying eyes of nosey neighbors.
6. Add Some Fire
Nothing makes an outdoor space cozier than adding a fire pit. Doing so also allows you to enjoy your patio well into the winter months. If you don't have a lot of room, consider a portable fire pit instead. You can store it in your garage or backyard shed during the summertime or look for one that also doubles as a table, so it's functional all year long.
Not excited about building fires on your patio? You can create a similar ambiance by adding a gas-powered fire table or some lantern candles to the space instead.
7. Light it Up
The right lighting will create a cozy and elegant ambiance in your patio space. Having great lighting will allow you and your guests to enjoy spending time on your patio after the sun goes down. You can also use lighting to draw the eye upwards, which is important when decorating a small space.
Hanging string lights are always a popular option. If you're looking to put a creative spin on it, you can try hanging curtain lights from the edge of your roof, pergola, or gazebo. This creates a unique look and will add a soft glow to the space.
In addition to your string lights, think about choosing a statement light. This will create a focal point while also shining a glow on the area where guests will gather. Just make sure the pieces you choose are outdoor-rated and use both outdoor cords and bulbs.
8. Create a Dining Area
If you enjoy dining al fresco, then you'll want to add a dining space to your patio. When choosing your outdoor dining furniture, consider the space you have available, the number of people you'll normally need to accommodate, and how much focus you want to put on the dining space.
You may want to add a full-sized dining table with seating for six and a large patio umbrella. Or, if you don't have as much room, some small bistro tables might be a better option. If you use the space primarily for entertaining, some high-top tables will allow guests to stand and eat or set down their drinks while socializing.
9. Decorate Seasonally
Making seasonal changes is one of our favorite outdoor patio decorating ideas. It's fun to update your space from one season to the next, and it gives you a lot of room to get creative. Swapping out throw pillows, small décor items, or even your outdoor rug from one season to the next keeps things interesting without breaking the bank.
In the autumn months, you can decorate with pumpkins ad gourds, some cozy throw blankets, and fall-colored flowers. These homey, seasonal changes will make you want to stay out on your patio long after summer ends. When spring comes around, you can put those items away and switch to pastels, springtime flowers, and other themed decors. Then, as things warm up, switch decor again, with a focus on summertime fun.
10. Keep it Organized
If you're going to put effort into transforming your patio space, you definitely don't want it to look cluttered. Finding some creative ideas for backyard patio storage will help keep everything organized. Done right, it can also enhance your space. For example, high-quality deck boxes are the perfect place to store seasonal items. Some can double as seating, adding additional functionality to your patio.
You may also look for tables, chairs, or benches with storage space inside. A bar cart will keep all your drink accessories organized, and it's easy to wheel it out of the way when you aren't using it, or you need more space. If you have the room, you may also consider adding some cabinets where you can tuck other items out of sight while still keeping them nearby.
Transform Your Space with These Patio Ideas
Now is the perfect time to upgrade your outdoor space! With these simple patio ideas, you can easily turn your backyard into the tranquil oasis you've been dreaming of.