Kayaking is undoubtedly full of adventure and attraction. This is the reason why the number of Kayakers has been rising consistently. In 2020, there were more than 18 million kayaking participants in the US alone, 11.2% more than the previous year. However, as it's not practiced during winter, kayakers should know how to store a kayak to keep it in good shape for the next year.
If it's your first purchase, better check out this post to learn the basics of kayak storage. For example, where you can store it, what the best storage position is, what kayak storage options you can try, and how to prevent it from possible damage during long-term storage.
What Can You Use for Kayak Storage?
Many different factors can cause damage to your boat. These include heat, cold, moisture, and UV rays. Therefore, the watercraft needs some much-needed protection from these factors to retain its shape and functionality.
There are different ways to store a Kayak depending on the duration and the frequency of use. These storage methods divide into indoor and outdoor kayak storage.
Outdoor kayak storage is a short-term solution to keep using your kayak when needed. Instead of leaving your watercraft in the water, you can keep it off the water and have it attached to the dock.
You may need to pay the parking fee of $20 - $50, depending on the season and the location. But for a longer duration, leaving the kayak in the open air may not be suitable.
You need to find a cost-effective solution that should also ensure maximum vehicle protection. Storage shed, carport, and portable garage are some handy kayak storage solutions to keep your vehicle safe over a longer period.
Use a Storage Shed
Indoor kayak storage at the dock is better than leaving it outside, but it can be too expensive for some kayakers. It starts from $50 per foot and goes up to $200 per foot. If you want to avoid paying high storage fees, consider buying your own outdoor storage shed.
An outdoor storage shed gives you more functional space inside your home. And of course, you can store your kayak and other equipment too. These storage spaces come in different shapes and sizes.
Outdoor storage space comes in different materials, such as wood, plastic, or metal. It'll be a one-time investment that'll stay with you for years keeping your kayak protected and saving your storage costs.
Along with this effective storage option, there are some more to explore.
Use a Portable Garage
This is another handy option to store your kayak. For those reading about it for the first time, a portable garage is a temporary shelter that keeps your valuable assets and vehicles safe. Kayakers who will be using their vehicles in short intervals can use this storage to good effect.
No matter the weather, this type of kayak storage can prevent sun rays, rainwater, or snow from damaging your kayak.
Unlike the outdoor storage sheds, a movable garage is more suitable for people on the move - or those needing temporary parking space. Besides the mobility and space-saving benefit, portable garages are more affordable than fixed storage, especially if used for kayak storage.
You can erect a portable garage anywhere according to your needs and create a space for your kayak. Moreover, they are available in different sizes, colors, and weight options.
However, if you want to save your garage space, there's one more option.
Use a Carport
A carport is another worth-considering option to put your kayak for a limited duration. You can either leave your kayak uncovered or inside an enclosed shed for added protection.
Compared to outdoor storage, a medium-sized shed will be more useful, preventing your kayak from weathering and keeping all the accessories in one place. These sheds are made of strong steel. You can easily secure them using a lock and a key and cover the entire kayak from every angle.
Even though enclosed steel sheds are more cost-effective than portable garages and storage sheds, you can opt for dry kayak storage to get extra savings. They may not give you the same level of protection as the options discussed above.
Dry outdoor storage or outdoor carport is easy to erect and can be used in any location. It is more like a shelter with no walls.
The setup is quite simple, and so is the installation. This means you can erect a storage system in a quick time.
Moreover, you'll get sufficient protection from sun, rain or snow. Additionally, it'll save your outdoor storage fees at the marinas.
How do You Keep Your Kayak off the Ground?
Whether you're storing your kayak for the short term or long term, make sure it does not touch the ground. Of course, that's more important when you store it outside. Wondering why?
If the kayak remains in constant contact with the ground, there is a risk of damage. If the ground is too cold or gets wet, it'll impact the material of your boat.
Hanging a kayak would be better than leaving it on the floor. The least you can do is to cover the floor with waterproof tarps so that the boat's material remains unaffected.
There are some more ways to keep your kayak off the ground.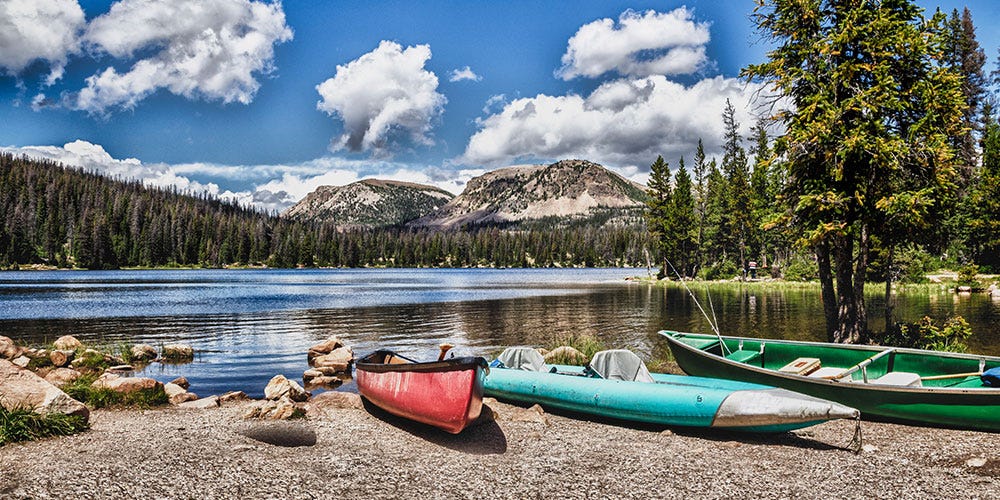 Use a Rack
A kayak rack is surely a modern-day solution to store your kayak off the ground. These racks come in different varieties, such as wall-mounted or stand-alone racks.
A wall-mounted rack is a DIY storage solution that is pretty easy to construct. While you have different choices in terms of material, PVC wall mounts are more common nowadays.
Make sure that the rack's arms are well-padded, especially when they're carrying your kayak for a long time.
A wall-mounted rack offers fixed storage for your kayak, which is a good option. A dedicated space for your boat means you'll not be leaving it anywhere.
But before you go for this option, make sure you have sufficient wall space in your home, basement, or an enclosed backyard.
Wall-mounted racks are the best space savers. Not only do they give you sufficient floor space, but they also protect your kayak from accidental hits.
Depending on the wall space and the number of boats, you can set up a nice storage place for 2-3 kayaks on the same wall.
There are plenty of options available based on the size and weight of the boat. So, choose the right option according to your boat.
Put It on a Shelf
A kayak shelf is another type of rack to store kayaks. These sturdy standing racks are portable and can be used inside storage sheds, portable garages, carports, or permanent settings.
There is a wide variety of kayak stands. Some of them are meant for holding a single kayak, while others can hold up to three.
Like the wall mounts, you have plenty of options in terms of material, such as metal wood or PVC.
Put It on Sawhorses
Storing kayaks on sawhorses has been quite common because sawhorses can be found in almost every second garage. Sawhorses can make quite an inexpensive kayak storage option.
What makes them the go-to storage for kayaks is their flexibility to accommodate all styles and sizes. All you need is to apply some padding and cushioning so that the boat material remains safe.
What's more, sawhorses allow you to be more creative. For example, you can add PDL drives, tackle crates, or paddles to efficiently utilize the space under the kayak.
Is It OK to Store a Kayak Vertically?
If there is limited space, you can store your kayak vertically, too. But, make sure to keep the boat off the ground by using a piece of wood. Also, use some padding to prevent scratches or material damage.
The boat must stand vertical with one of its ends resting on the wooden crate topped with padding.
The cockpit must not face the wall; instead, it must be in the opposite direction.
Ensure the vertical kayak is secured and has extra cushions to keep it from falling over. Vertical storage is a good option but only for a short period. If the boat stays in the same position for a longer duration, there is an acute risk of body deformation.
Also, if you don't use extra padding, the end holding the entire weight of the kayak can get distorted or damaged.
Do I Need to Winterize a Kayak for Long-term Storage?
Yes! Winterizing a kayak is as important as it is for other boats or vehicles. Because kayaks don't have a motor or engine, they are very easy to winterize.
Start by cleaning your boat
Apply a coat of lubricants and sealants
Store the boat in a safe location
Other Precautionary Measures
Store your kayak slightly above the ground for maximum protection from moisture, preferably on wood pallets or racks. If possible, cover the boat with a cloth or waterproof material to prevent pests or insect infestation.
Paddles should be stored separately in a vertical rack. As for other components like anchors, sails, and ropes, dry them properly before storing them away. In the end, you can use a shrink wrap added for complete safety.