In the spring, the trees begin to bud, birds start to chirp, and crocuses poke through the ground. Despite the natural beauty, when you look at your backyard, you might not like what you see.
Spring is a time for renewal, and that includes your backyard. It may be nice to add some annuals to your mix of perennials and other greenery. But you don't have to replant everything to give your backyard a fresh look. Sometimes it just takes the right accessories to spruce up your backyard landscape and garden.
Your backyard is the natural outdoor extension of your home. You can change the look of your yard by adding practical accessories for storage, shade relaxation, and more. Also, you don't have to break the bank to give your backyard space a facelift!
Here are six items you can use to freshen up your backyard and garden landscape this spring: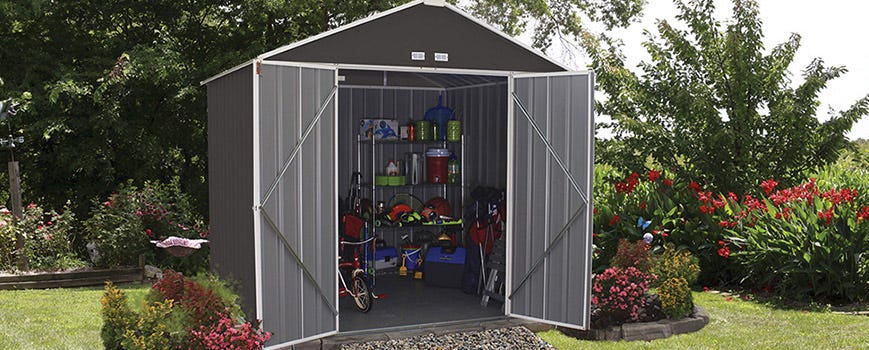 Add a Bit of Practical and Stylish Steel Storage
Is it time to replace your old, worn-out garden shed? Maybe you need a larger metal shed to accommodate some new gear. Or maybe you don't have a shed and need one to store all your landscape and garden tools.
A storage shed can often wind up being a focal point of your backyard space. That's why it's not only important to choose a shed to complement your backyard aesthetic, but also select a shed that will be the right size for your needs. In addition, a tough metal shed should be durable and built to last.
Doing some simple measurements will help tremendously in the long run. Take some time to measure the area where you want your shed to be and think about what you'll be storing inside of it. If you buy a shed that's too small, your belongings will be crowded and difficult to access. Also, if you buy a shed that's too big for your yard, it may take up too much room on your property.
Whether you have a small or large backyard, there's a metal shed that fits just about every space and aesthetic. Let's look at some of our favorite, versatile metal sheds:
An Attractive, Sturdy Gazebo for Relaxation and Entertainment
A sturdy metal gazebo can bring a stunning visual to your backyard and be used for a variety of purposes. A gazebo can also give your backyard landscape a refreshing new look.
An attractive gazebo can be anchored to a patio or deck surface to provide a shaded area to dine outdoors, relax with a box, talk with family and friends, and more. Also, a gazebo can be anchored near a swimming pool and used as a cabana. In addition, a gazebo can be placed in the middle of a garden to create a lovely little sitting area.
Not a fan of flying insects? That's okay: metal gazebos come with mosquito netting. You can also get curtains for a gazebo. You can close them to create a more intimate setting, or to block the sun and the wind.
Oh, you can also get a metal gazebo that attaches to your home, or one designed to protect your grill!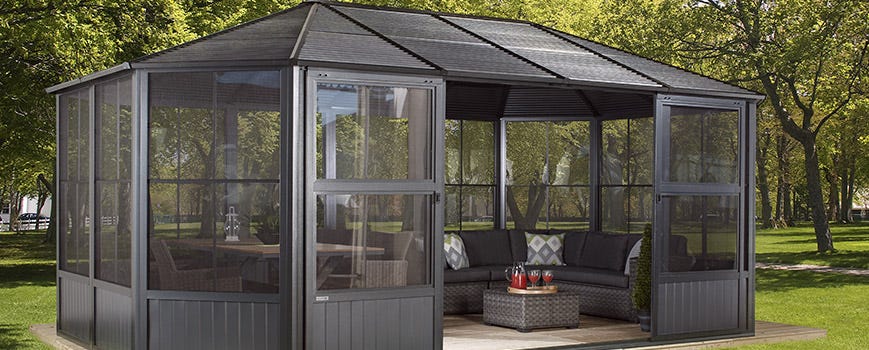 Solariums are easily to assemble and install on your deck or patio. A solarium is an all-season sunroom that can either attach to your home or stand freely in your backyard. With a solarium, you will be able to look at your backyard landscape and garden in a whole new way.
When you add a wall-mounted solarium to your home, it's like putting an all-season addition on your home. A wall-mounted solarium can be used as a sitting room or entertainment area. It can also be used as a guest bedroom, a home gym, a dining area, and more.
A freestanding solarium on a deck or patio surface will give you an enclosed room in your backyard space that you can escape to. Not only can a freestanding solarium serve as a man cave or a she shed, it adds a beautiful aesthetic to your home. Use one for entertaining, relaxing, and more.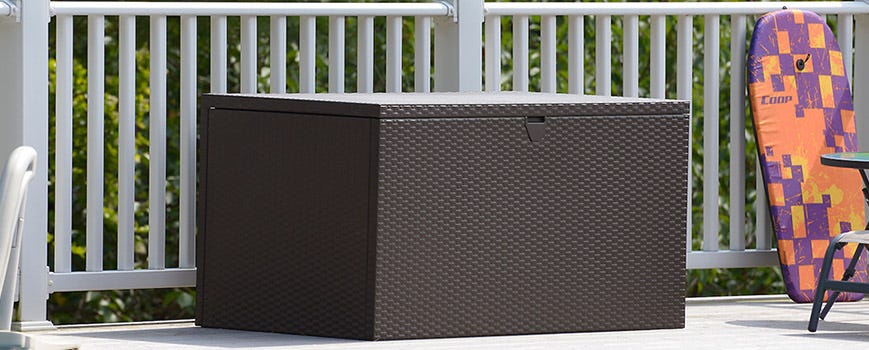 A Stylish Deck Box for Patio Storage
A deck box is a very versatile piece of outdoor furniture. You can use a deck box to store outdoor items you'd like to have nearby, such as cushions, pool toys, garden equipment, and towels. In a pinch, a strong and sturdy metal deck box can also be used as a bench or a table.
Deck boxes also add an element of style to your deck, patio, or pool area. They come in warm, earthy tones that can transform your backyard space in minutes. Deck boxes are constructed with hot-dipped galvanized steel, and resist rust and corrosion while they take on any weather.
A stylish deck box won't necessarily give your backyard a whole new look. However, it's going to be a functional, attractive piece of furniture your family and friends will talk about.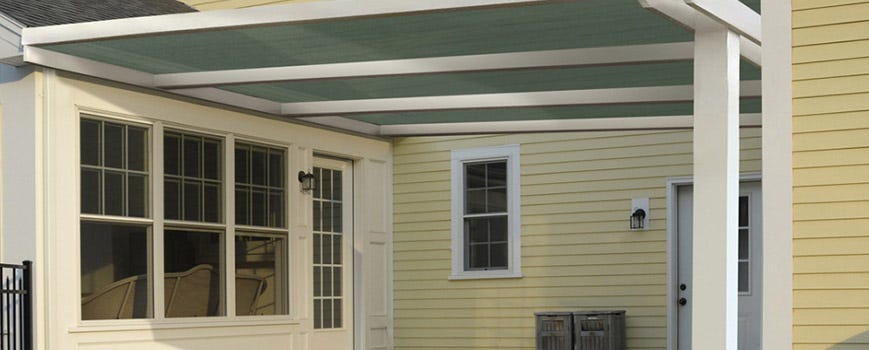 New Shade Cloth to Top Your Pergola
Is the shade cloth you use to cover your pergola getting old or outdated? Or do you need a different color shade cloth to refresh to look of your backyard? New shade cloth can add beauty to your existing pergola and keep you and your family protected from the sun.
Our shade cloth is made of knitted polyethylene and allows rain to pass through so water won't collect or pool. The cloth blocks up to 70% of harmful UVA and UVB rays yet is remarkably breathable allowing air to circulate. It comes in a variety of earthy tones that can complement your pergola and your home exterior.
Shade cloth attaches quick and easy and allows you to transform your backyard in a matter of minutes!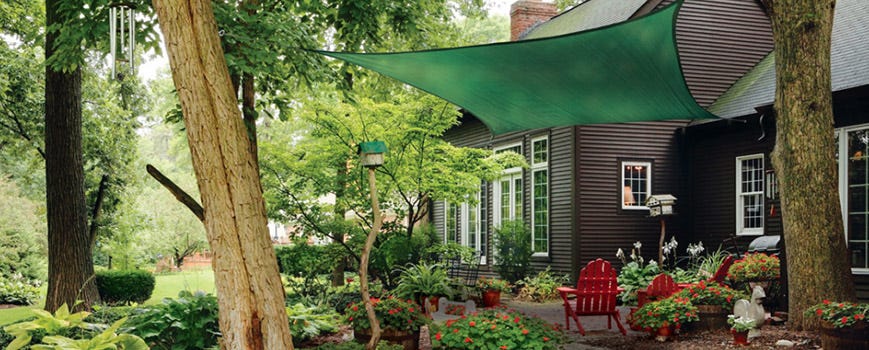 Fun, Attractive Shade Sails to Block UV Rays
Shade sails don't just offer excellent protection from the sun's harmful UV rays. They're also a beautiful, decorative conversation piece that instantly transform your backyard space. Shade sails are affordable, easy to install, and provide unique sunshade above patios, decks, pools, play areas, and other outdoor spaces.
Shade sails come in unique earth tones that complement your backyard space. They also come in triangular and square shapes, and different sizes that are perfect for tilting and layering. Square shade sails are ideal for providing shade over a large area, such as over the middle of a patio, deck, or pool. Triangular shade sails are perfect for mounting in corners and tight places, like near a tree or an existing structure.
Create a Fresh New Backyard Landscape and Garden Look in a Matter of Minutes
Refreshing your backyard doesn't necessarily mean you need to add new plants toy your landscape and garden. You can think of your backyard as you would your own wardrobe. When you add a few new accessories to it, you can give it a whole new look.[/vc_column][/vc_row]