Shade Sails Look Great and They're Built to Last
Here at ShelterLogic we try to create affordable and unique shade solutions and patio covers that will last more than one season. We're big fans of our Shade Sails and Shade Cloth, and we're not alone - our customers love them too. Scott Dawson of Trumansburg, NY purchased a ShadeLogic 12 ft. x 12 ft. Square Sand Heavy Weight Sun Shade Sail in August of 2015, and it's on it's second season. We first heard from Scott last year when he
Tweeted us
a photograph of his backyard, showing off his stylish outdoor patio fully equipped with a ShelterLogic Shade Sail. With the warmer months just around the corner, we wanted to ask Scott what he thought of last year's
Shade Sail
purchase and catch up with him to find out how well his Shade Sail is faring this season. Scott agreed to give us a testimonial and some insight on why he chose ShelterLogic Shade Sails for his patio and how he is still happy with his choice.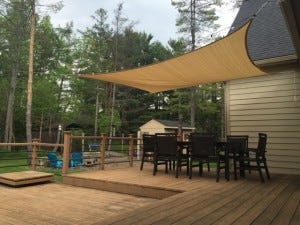 Scott's outdoor patio and Shade Sail
We love that we don't have to constantly move an umbrella around our table to have good shade, and also love that it floats above our seating area without a bulky pole to hold up an umbrella," Scott explained in a recent testimonial. We [took] it down for the winter, so the weight of the snow (which we sadly didn't get much of this year) wouldn't damage it. We put it back up once that threat was gone, in late April this year. We have a unique configuration in our backyard, as we had two natural anchor points on our house, but none for the other two corners. I didn't want to have to put up dedicated poles for it, so had the idea to use wire rope to anchor it to trees that are further in the distance. The result is wonderful: we've strung lights on one of the wire ropes for evening ambiance, and the shade gently rises and falls with the wind (we use tight extension springs to ensure the sail has some give for extreme weather), yet doesn't impact anyone standing underneath it.
In his initial blog post, Scott highlighted his excitement over his Shade Sail purchase as well as a step-by-step guide on how to set up a Shade Sail over his outdoor patio properly and securely. Scott explained that the ShelterLogic Shade Sail came with the necessary hardware for easy installation, so it was not necessary for him to go out and look for additional hardware. Not only did his ShelterLogic Shade Sail come equipped with the parts and pieces to easily install, but the hardware was durable and held his Shade Sail up nicely even during some rough late summer/early autumn rain and wind storms. See an excerpt of his step-by-step installation process below. For the full description, visit Scott's
blog
.
How-To Install a Shade Sail
Image of Scott's house connections
The shade sail came with hardware for me to be able to make the connections to the house pretty easily, including thimbles for the included nylon rope (which I used for the house connections) and turnbuckles to tighten the rope after installation. From the opposite corners, I assembled the proper length of wire rope (I borrowed some heavy-duty bolt cutters to make the proper cuts) with the thimble and clamp for the end, and attached to eye bolts in the trees with a turnbuckle to tighten the span. Once I had these four anchor points established and installed, the shade sail was in the proper position and I could tighten all four anchor points to get the desired tension.
As you can see, Scott's installation of his Shade Sail was easy once he had the proper location and anchor points planned out. Installation of the structure required no additional parts or pieces, and he was pretty quickly able to create a relaxing outdoor ambience in minutes.
For more information about Scott's outdoor patio and more, visit his blog or follow him on Twitter.
A big thanks to Scott for sharing his experience with us! We are so glad he's enjoying his Shade Sail! Do you have a testimonial of a ShelterLogic product you would like to share with us? Or have a great picture of your backyard outdoor set-up? We want to see your creativity at work. Drop us a line on Twitter or Facebook.