No matter how well you take care of it, after years of standing up to the elements, your backyard shed will eventually start to show its age. Properly installing it will help you avoid many of the most common shed problems. However, if you find that you have a leak or other issue, it's not the end of the world. In fact, most shed repair projects are both easy and inexpensive.
Once you learn these simple tips for how to fix a shed, you'll be able to get yours back to a near-perfect condition in no time.
1. Fixing Fabric Shed Covers
A portable fabric shed is great for storing gardening supplies, mowers, pool supplies, snowblowers, and more. If you purchase a high-quality one, it will easily stand up to the elements, providing all-season protection for many years.
Ensuring your shed cover is properly fitted and stays tight will help you avoid having to deal with tears in the fabric. You can also protect it by being careful when you're removing snow and ensuring you only use mild, non-abrasive cleaners. However, even if you're careful, you may eventually find yourself dealing with a tear in the fabric.
Since fabric sheds are very affordable, most people don't want to spend a lot of money on this type of shed repair. The great news is, you can usually fix a tear in the fabric with duct tape or patches.
Scotch Tough Duct Tape is an excellent option for fabric shed repair. It's transparent, so it won't attract attention to the repairs you've made. Even better, this high-performance tape will provide a long-lasting hold that is both UV and water-resistant. It works on all polyethylene covers and will repair holes up to three inches long. It's also easy to unwind and tear off, making this a simple shed repair that you can do on your own.
Another option is to use a high-quality patch designed for fabric shed repair. There are many different brands available, so you're sure to find one that fits your needs and your budget.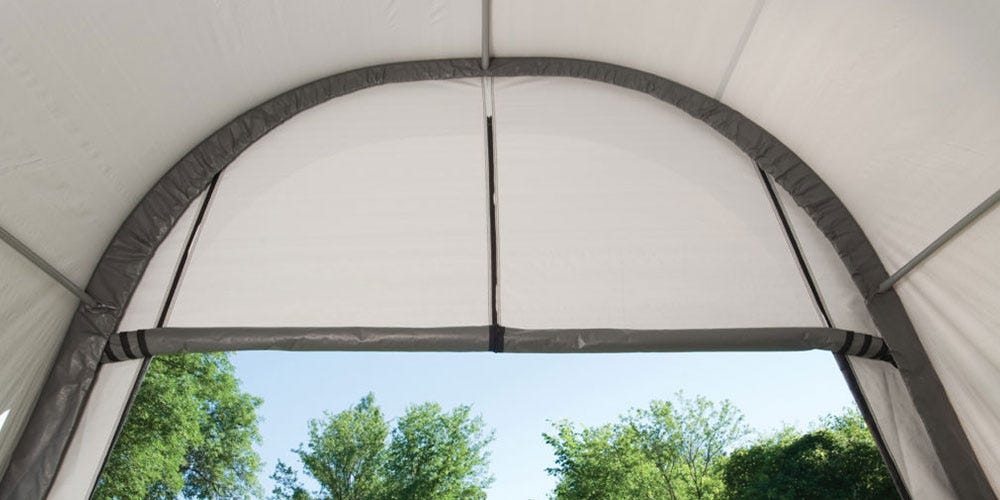 2. Cover Replacement
If your fabric shed has seen better days, you don't necessarily have to buy a new one. As long as the frame is in good shape, a replacement cover kit will quickly have your shed looking just like new!
When ordering a new replacement cover, make sure you purchase the correct size to fit the frame you currently have. Check the inside of the cover to see if there's an identification number or code. This will help you locate a suitable replacement.
It's also a good idea to look for a replacement cover that is made of high-quality, durable material that is built to last. Your new cover should come with a warranty. Look for one that will cover you for at least a year, and, ideally, even longer than that.
3. Conquer Condensation
A steel storage shed is both stylish and sturdy, offering excellent protection for your belongings. However, if condensation accumulates inside, it can damage both the shed and the items it holds.
Preventing shed condensation begins with proper assembly. This includes ensuring you have proper drainage so that groundwater is directed away from the base of your shed. It's also a good idea to install a plastic vapor barrier between the base of your shed and the exposed ground. If this is continuous and unbroken, it will significantly reduce the amount of condensation you'll need to deal with.
If you find that you do have a condensation problem, there are a few things you can do.
Add Ventilation
Adding ventilation is a simple project that will help you avoid needing major shed repair in the future. All you'll need to do is make some small holes at each side of the shed, just under the eaves. This allows warm, moist air to escape, which will reduce moisture levels inside your shed.
By adding holes in opposite walls, you'll also create a cross-current. This slight breeze will help clear warm air out of the inside of your shed.
Rearrange Your Shed
Sometimes, you don't need to know how to repair a shed to fix a condensation issue. Another simple way to reduce condensation in your shed is to rearrange the contents inside. When you do, try to leave ample space between large items and make sure there are no items placed directly against your shed walls. This will improve the airflow inside, reducing condensation.
Install Insulation
Installing foam insulation boards inside your steel shed will also help minimize condensation. Just make sure you've properly placed it along the roof beams and that you allow for an air gap between the foam insulation and your roof panels. Once you have the foam board in the right place, simply secure it with aluminum tape.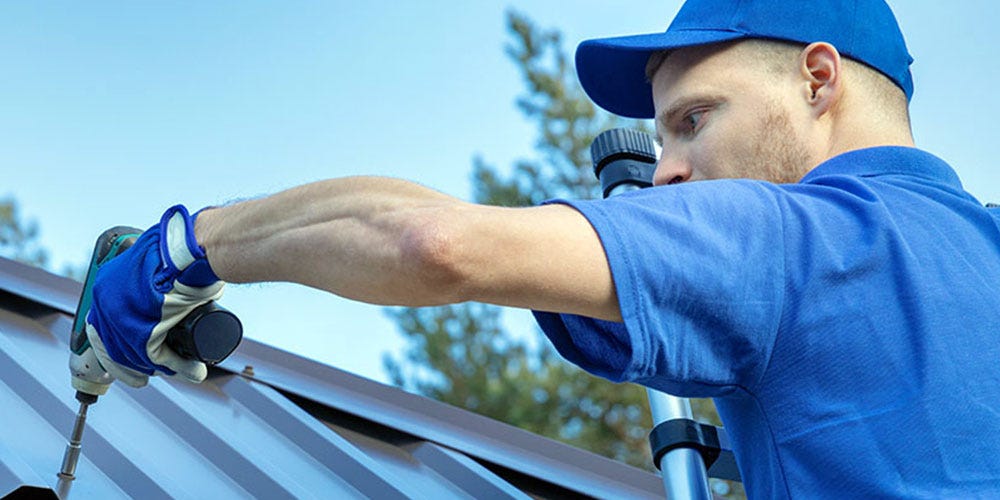 4. Metal Roof Repair
A leaking roof is another common problem you may experience with your metal shed. There are several shed repair methods you may want to try. The best solution will depend in part on the extent and the location of the roof damage. Here are a few options to consider.
Surface Patches
A strong hailstorm or a falling tree branch can cause dents or punctures on the roof of your metal shed. A simple shed repair method is to fix the hole from the outside. You can easily patch small holes using roofing cement that is specifically rated for use with metal. An epoxy-based or polyurethane-based cement will work well.
You can also purchase a patch kit from most home improvement stores. When using these, you'll just use a putty knife or the kit's included tool to spread the patching material over the holes. Once it dries, you can also paint over it so it blends in with the rest of the shed.
Underlayment Patches
A metal shed's underlayment is typically made of plywood and tar-based waterproofing material. If you're dealing with a hole that goes into the underlayment, you'll need to get inside your shed to make the repair.
To fix a puncture that goes into your underlayment, use a tar-based patch material. This will cover the puncture holes and create a new seal, protecting your shed from any additional leaks in that spot.
Screw and Nail Repair
The roofing nails and screws used on metal sheets have a rubber-based seal that sits just below the head of the screw or nail. This creates a watertight seal that keeps moisture from getting in around them. Unfortunately, wind can eventually cause the screws and nails to loosen, which also loosens the seal.
To make this shed repair, you'll need to remove the old screws or nails one at a time and cover the hole with a surface patch. Then, install a replacement screw or nail in the same area as the original one. This will create a new watertight seal while also ensuring your metal sheeting stays in place.
Silicone Caulking
If you need to make a quick shed repair and don't want to put in a ton of effort, silicone caulking is a great idea. This is ideal for sealing areas like the flashing around your doorway, windows, or the edge of your metal roof.
You don't need to know anything about how to repair a shed to take on this project. Silicone caulking is extremely easy to apply. It also comes in a wide variety of colors so you can match it to your shed.
To make things even easier, you may want to choose clear caulking instead. This will allow the finish color of your metal to show through so you won't have to worry about finding a close enough match.
Silicone caulking is the perfect one-size-fits-all solution. You can also use it to repair punctures in your underlayment and fill nail and screw holes. Choose a silicone caulk that also contains an adhesive, and you can use it to repair loose flashings as well.
Is it Time to Replace Your Shed?
If you've got an old eyesore of a shed in your backyard, shed repair may not be your best option. Since there are many high-quality, affordable sheds on the market, purchasing a replacement is often a better solution.
When the time comes, turn to the experts at ShelterLogic to help you find the perfect replacement shed. We have a wide variety of high-quality metal sheds for sale as well as portable fabric sheds and replacement covers.
Take a look through our inventory today! If you have any questions or need help choosing the perfect shed for your needs, please don't hesitate to give us a call at 800-560-8383.