By the time your fall harvest is completed, you will need to decide what you'll do with your greenhouse for the winter. There are several things you can do with your portable greenhouse or commercial greenhouse: you can take it down and store it for the winter, remove the cover for the season, or leave it right where it is. However, no matter your decision, you will need to winterize your greenhouse. Need a great portable greenhouse option? Here are some of our favorites:
| | | | |
| --- | --- | --- | --- |
| | ShelterLogic AccelaFrame | ShelterLogic GrowIT High Arch | ShelterTech High Tunnel |
| Our Favorite Aspect About It | Pre-assembled ribs make for 30-minute assembly time that's easy* | The high arch is tall enough to grow plants high | Nearly fully customizable with 4 different bundle options. |
| What's Great About the Frame Style | Sturdy powder coated steel with ultra-strong galvanized steel joints for durable connection points | It has a unique high arch shape and a tough, durable powder coated steel frame | Our strongest frame, period. Made from corrosion and rust resistant galvanized steel. |
| | |
| --- | --- |
| What's Great About the Cover? | Our greenhouse LUMINATE diffusion fabric covers are trademarked and have been developed to grow plants more efficiently and effectively by diffusing light more evenly compared to other greenhouse units on the market. Learn more. |
*Standard size units assemble in approximately 30 minutesWhether you choose to dismantle and store your entire greenhouse or just remove the cover for the winter, winterizing your greenhouse is critical step for proper maintenance and future plant hygiene. When you properly winterize your greenhouse the prospects of your plants flourishing and growing healthy the following growing season will increase. If you prefer not to winterize your greenhouse, it can lead to serious problems for plants and crops in the future.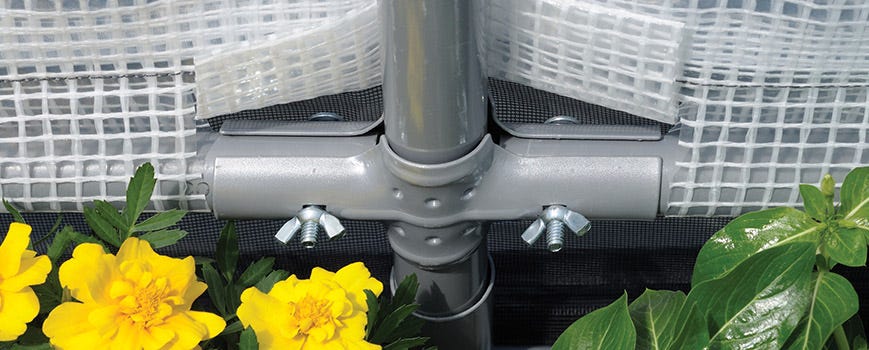 Best Practices for Winterizing Your Fabric Greenhouse
The winterization process includes a thorough cleaning of the Luminate fabric cover and steel frame to kill off harmful algae, mold, and mildew, and a comprehensive inspection to extend the life of your greenhouse. Whether you have a small greenhouse for your backyard or a commercial greenhouse for your business, you can follow these winterizing steps and prolong its life and usage.
Remove Everything from Inside the Greenhouse
To be successful, the cleaning and disinfecting of the greenhouse must be complete and thorough. So, before you start the clean-up,
everything must be removed from the inside of your greenhouse
: that includes benches, pots, tables, shelves, and any equipment stored inside it. You must remove all the plants that are in your greenhouse before you begin cleaning and disinfecting, so check the weather to make sure you will have a few days of satisfactory weather. Also, sweep or vacuum away any cobwebs, dirt, debris, weeds, and soil that may be on the floors, cover, and frame of the greenhouse: that will make the following steps a little simpler.
Disinfect Reusables or Dispose of Trash
Recyclable and non-reusable trays and pots should be removed from your fabric greenhouse area as soon as you can. Dispose of the items that cannot be reused and recycle everything that can be salvaged. Pots, trays, shelves, and equipment needs to be completely cleaned and disinfected before they are returned to your winter greenhouse.
PRO TIP: You can wash greenhouse items such as reusable pots, trays, shelves and more with soapy water. Once that's done, let them sit in an oxygen bleach solution of 3/4 cup oxygen bleach to one gallon of water.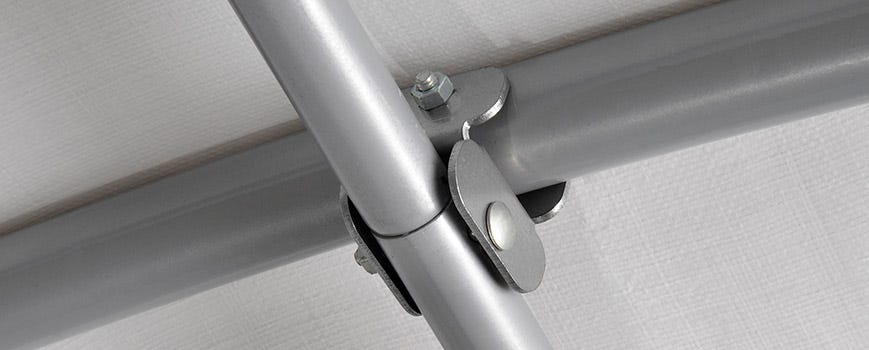 Clean the Cover and Frame
Your cover and frame need to be thoroughly cleaned to eliminate all fungi, mold, and other pathogens that may not be visible to the naked eye.
PRO TIP: If your greenhouse has a fabric cover, we recommend cleaning it with a soft brush (with no sharp edges) and a solution of mild detergent and warm water to clean both the greenhouse's cover and steel frame.
To prevent accidental damage to your greenhouse, you should avoid using a brush with sharp edges. A pressure washer can be used to clean hard-to-reach places like the top of your cover. You use the pressure washer to also clean your galvanized steel frame, but avoid using it if your frame is made of powder coated steel. If you plan to use your greenhouse during the winter months, then you can keep the cover on when you do your cleaning. However, if the cover is still attached to the frame, it will make cleaning between the frame and cover difficult. It will also take more time for your cover and frame to dry. If you plan to dismantle and store your entire greenhouse and store it for the winter, you can take it apart before you clean it. Do not put the cover back on the frame or put the greenhouse into storage until everything has completely dried. This will help prevent mold and mildew from returning to the unit.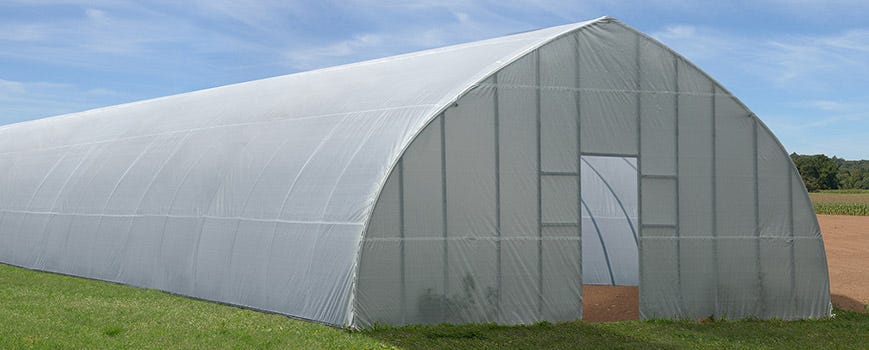 Checklist: Maintenance Checkup for your ShelterLogic Greenhouse
While you're winterizing your fabric greenhouse, you need to give it a detailed maintenance check. This inspection will help confirm that your greenhouse is ready for the following growing season. These are the things you need to inspect when you do your maintenance checkup:

Cover and Side Panels:
Make sure all the bungee fasteners are attached, that the heat welded seams aren't coming undone, there are no tears near the vents, all the zippers work, and that the cover doesn't have any holes. Make sure the cover isn't on too tight: wearing at the rib points can happen and create holes or lead to tears in the future. The cover should be taught like a drum, but not tighter.

Tensioning System:
Check to be sure there is one Ratchet Tite anchor per leg, as per manufacturer's recommendation, and that each connection is keeping the cover drum tight. If it is not, make sure it is installed correctly. An incorrectly installed cover may need replacing.

ShelterLock Stabilizers:
You will find a ShelterLock stabilizer at each connection point of your greenhouse. It holds the cross rails and main ribs of the frame together and reinforces the strength and stability of your greenhouse. Make sure these are properly connected so the cross rails can enable a more stable frame.

Anchors:
You don't want your greenhouse to shift positions or even tip over. Anchors can sometimes come loose and even go missing. If your anchors are worn out or missing,
you can order replacements
.
PRO TIP: What Anchor Should You Use? Check out our anchor guide to help you decide the best anchor type for your foundation. If you need a new cover, you can order it here, and you can click here to order other replacement parts.
Once you've winterized your portable greenhouse, you can use it as a winter greenhouse or a cold frame greenhouse: that means you can use it to extend your fall growing season, get an early start on spring sowing, or plant winter vegetables.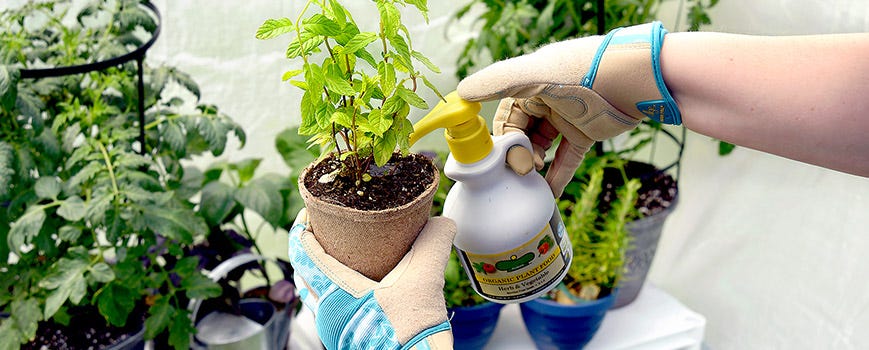 How to Use Your Winterized Greenhouse
Good news! Now that you've winterized your portable greenhouse or commercial greenhouse, you can use it to grow in the winter. What you can plant in the winter may depend on where you live in the United States or Canada. You should refer to respective plant hardiness zone maps by the
United States Department of Agriculture
and
Agri-Food Canada
before you plan your winter greenhouse. Here are tips for using your portable greenhouse or commercial greenhouse unit during the winter:
Find a Sunny Location
Precise placement of your greenhouse may be your most important consideration. Sunlight is essential for warming and illuminating the greenhouse: the sun heats up the ground inside the greenhouse, which in turn warms the air in the greenhouse and keeps the plants from freezing. However, sunlight is scarce in the winter months. While the position of your greenhouse may be perfect for the summer sunlight, it may not be optimal for your winter growing. If your greenhouse is not already in the ideal spot for maximum winter sunlight, you will need to move it.
PRO TIP: Some greenhouses are installed and permanently remain stationary throughout their lifespan. ShelterLogic Greenhouses are portable and give you the flexibility of moving your unit around your property, so you can get the most out of your greenhouse growing at any time during the year.
In general, the
best spot to put a winter greenhouse
is the south or southeast side of your property. If that option is not possible, the next best spot is to put it in the east side of your yard. The southwest or west sides would be your third-best option, while the least-optimal spot is the north side. The positioning of your fabric greenhouse is equally important. Positioning it lengthwise north to south will give your greenhouse more sun and less shade. However, you need to avoid positioning your greenhouse at the base of a slope where cold air collects and may make your plants prone to frost. You also need to make sure the placement and foundation for your greenhouse are level and on a surface that drains well.
Keep it warm
The sun will naturally heat your greenhouse during the day. But your greenhouse will cool down during the long, cold winter nights. Your fabric greenhouse will also not get as warm during the day when there are overcast skies. However, there are several natural and artificial ways to keep your winter greenhouse consistently warm:
Cover Your Plants at Night: On very cold nights, cover plants with a layer or two of gardening cloth to keep them protected and warm. Remember to remove the cloth in the morning so your plants will get the ventilation and sunlight they need.
DID YOU KNOW? ShelterLogic shade cloth does more than protect you from the sun's harmful UV rays during the warm summer months. Shade cloth is the perfect solution to keep your winter greenhouse plants warm. When you cover your plants with this breathable polyethylene fabric at night, it will help prevent frost should your greenhouse get too cold.
Use Horticultural Bubble Wrap Insulation: This specially made horticultural bubble wrap can be used to reduce heat loss and block drafts. You can attach it to the internal walls and roof to keep warm air from escaping. You can find horticultural bubble wrap insulation at your local garden center, but traditional packaging bubble wrap, though weaker, can be used in a pinch
Water Storage for Thermal Mass: Another cost-effective way to keep your winter greenhouse warm is to create thermal mass by placing containers of water in your greenhouse. Total Landscape Care suggests large barrels for a big greenhouse, or small gallon jugs for one with a smaller footprint. During the day, these jugs of water will absorb heat if kept in direct sunlight. Then, at night, it will release the heat and naturally warm your greenhouse.
Include Dark Wood Mulch: Off the Grid suggests adding a dark-colored wood mulch for your greenhouse's walkways and for use in between planting beds. The mulch will absorb sunlight and naturally trap heat, which will be released into the air at night when the greenhouse cools down.
If You Can, Avoid Heaters: Sometimes, when it is extremely cold, you'll need to use a heater to keep your winter greenhouse warm. However, an electric, propane, or paraffin heater should be your last resort. Electric heat is the best of the three options since it produces a dry heat and does not emit carbon monoxide. If you need to run a heater, it's better to run it between dusk and dawn to maintain your greenhouse's natural heat, since your greenhouse will cool quickly when the heater is turned off.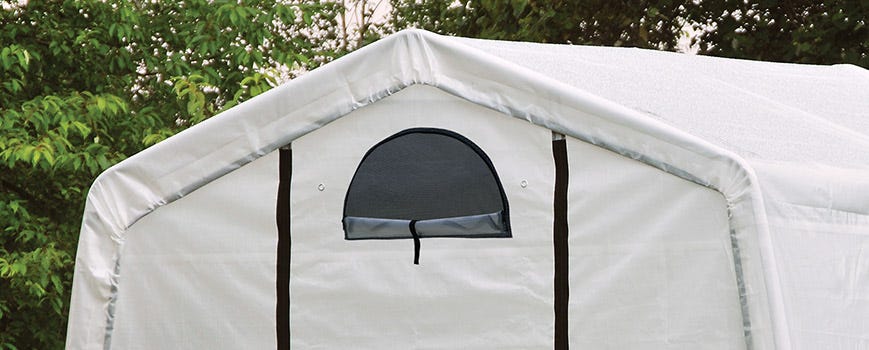 Control the Humidity
When the temperature is cold, the air's
relative humidity
can be very dangerous to plant health. High humidity in cold temperatures results in condensation forming on plants. That is the biggest menace to winter plant survival. The moisture from condensation allows plants to freeze easily, and contributes to fungal pathogen pollutants such as mold, fungi, and powdery mildew. Keeping the temperature in your winter greenhouse as constant as possible will help avoid condensation from forming. However, there are a few more steps you can take to control the humidity:
Open Vents During the Day: When you open your greenhouse vents during the warmest part of the day, your plants will receive optimal airflow. Many fabric greenhouses have side panels that roll up and vents that should be opened during the day and closed at dusk. However, just because you've opened the side panels and vents does not mean air is circulating you may need to use a box fan to ensure fresh air is entering the greenhouse and stale air is exiting through the vent.
Water Management: Just as a lack of water is bad for plants, overwatering them is, too. When you overwater plants, you bring natural humidity into the greenhouse, and that can be dangerous as temperatures drop. Water management can be simply regulated by limiting the times and levels of plant watering, spacing plants accordingly to allow airflow to dry them, and making sure puddles and spillages are quickly cleaned up.
PRO TIP: Are you planning to use your ShelterLogic or ShelterTech greenhouse as a winter greenhouse or a cold frame greenhouse? Here are some great tips to grow a variety of winter herbs, vegetables, and fruits in your greenhouse during the cold winter months.