Are you running out of work or storage space in your home, office, or business? Putting an addition on a home or a commercial business can be an expensive proposition, and construction can be inconvenient. However, you can save a lot of time and money by investing in a fabric building for your expansion needs.
What Is a Fabric Building?
A fabric building is a fabric-covered structure that is meant to be a temporary or semi-permanent structure. There are a few ways that they differ from permanent structures. For example, the materials used to construct a fabric structure are different. While a permanent building could consist mostly of bricks, concrete, and lumber, a fabric building typically uses lighter-weight materials.
Fabric structures consist of sturdy all-steel frames and durable fabric or tarp covers that often don't require zoning permits or local building codes to adhere to*. These structures provide heavy-duty protection, storage space, and more for a wide range of needs.
Although fabric buildings are temporary structures, they are built to last. Some fabric buildings are even wind and snow load rated**, which means they are ready to take on tough weather. Also, while they should always be anchored for safety's sake***, fabric buildings do not need to be built atop a concrete slab or a wall foundation.
Fabric buildings are versatile, and there are several ways you can use them on your property. For example, a fabric building can be used as an on-site workshop space for manufacturing, masonry, or carpentry. Likewise, you can use a fabric building to store equipment for your construction, landscaping, automotive, home improvement business, and more. Additionally, you may want to add electricity and ventilation and use a fabric building as office or meeting space.
Fabric buildings can also be used at home. A fabric garage can be used to store and protect your car, truck, SUV, boat, or other vehicle. Fabric storage sheds are practical for lawn and garden equipment, seasonal furniture, bulk storage that won't fit in your basement or attic, and more. You can also use a fabric garage or shed as an on-site workshop space for a variety of projects, and even as a man cave!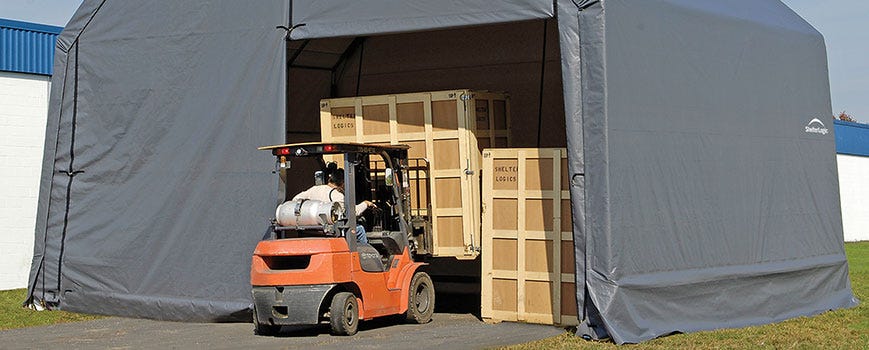 6 Major Benefits of a Fabric Building
Whether you are expanding your business or need more storage space at home, there are several great reasons to consider a fabric building. Let's look at these six additional benefits of fabric building ownership:
1. Fabric Buildings Can be Built Quickly
Compared to a permanent structure, temporary buildings are simpler and quicker to build. Many fabric structures, like a fabric garage or shed, can be assembled by 2 people in a matter of hours. Larger structures, like a ShelterTech SP building, take just a few days to build.
All you need to properly assemble a temporary building is a level surface with adequate drainage and a minimal set of tools. Depending on the size and style of building, a concrete or block foundation is optional. Your building can be anchored to a variety of surfaces. Since a fabric building can be built on top of a concrete slab or a paved surface, flooring is not required.
2. Fabric Buildings are Cost Effective
Fabric buildings can be purchased and assembled at a fraction of the cost of a permanent one. Permanent buildings are typically constructed of heavier materials and require more labor to build, and that adds to the overall construction cost. However, fabric buildings still offer durability and quality when compared to permanent structures.
Since they are not permanent structures, many municipalities do not require a building permit to erect fabric buildings. Also, most jurisdictions won't add fabric structures to their tax rolls or require zoning permits. However, we recommend you check with your local zoning department and tax department before you invest in a fabric structure.
3. Fabric Buildings are Portable
Sometimes, the spot you think will be ideal for your fabric building isn't all that it's cracked up to be. Since it doesn't have to be secured to a foundation, your fabric building is completely portable***. Smaller buildings can be moved easier by two or more people, while larger ones may need to be dismantled and put back together at your desired location.
Also, when they are no longer needed, fabric buildings can simply be taken down and stored away for future use.
4. Fabric Buildings Need Little Maintenance
Maintenance and upkeep of a fabric is minimal. However, you should give your fabric building regular check-ups and cleaning. A regular maintenance check should allow your building to deliver peak performance all year long.
When you give your fabric building a check-up, you need to make sure that both the frame and the cover are in tip-top shape. You need to inspect the cover, side panels, and doors of your building for tears and holes, and ensure the zippers are in working condition. You also need to clean the cover with a solution of mild detergent and water and a sponge or a brush without sharp edges. If the cover is loose on the frame, you should give the tensioning ratchets a few clicks until it is drum tight. As for the frame, you need to make sure all the stabilizers are properly connected so the cross rails can keep the frame stable.
You can learn more about maintaining a fabric building
in this blog post
.
5. Fabric Buildings are Customizable
What size building do you need? Fabric buildings can be
customized in many shapes and sizes
to suit your need. Whether you need a shed for self-storage, a garage to store vehicles on site, or a larger building to house a landscaping company, there's something for everyone's personal or business needs.
You can go as big as you need for your building, too. For example, a ShelterTech SP fabric building can be configured up to 100 ft. long, and up to 30 ft. wide, and several roof styles and heights are also available.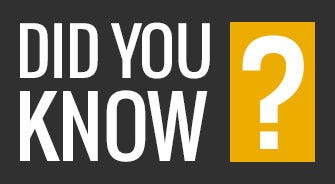 Graveyard Carz needed a tough, durable storage unit to protect its MOPAR muscle car bodies when they came back from metal dipping. They turned to ShelterLogic for a custom-built ShelterTech SP fabric building, and have been very pleased with the results. Watch this video and learn more about the fabric building they use.
6. Fabric Buildings Can Offer Natural Lighting
Are you considering a fabric building as an office space? You'll need to
run underground power
. However, since you're already thinking outside the box, may we recommend a
high tunnel greenhouse
?
With its Luminate Diffusion Fabric cover, a ShelterLogic high tunnel greenhouse is designed to provide enhanced illumination, and evenly disperses light throughout the building. That natural lighting can help your business save on electricity. Greenhouses are designed to hold heat, too, which will keep your energy bills down.
Configure a Fabric Building for your Home or Business Needs
Fabric buildings can save you time and money: they can be erected in less time for less money than a permanent building. Not only that, they provide many benefits such as portability and flexibility.
Do you want to know more about fabric buildings, or are you ready to configure one for your home or business needs? Click the button below and get started.
SHOP FABRIC BUILDINGS
* Before you buy a fabric building, we recommend you check with your local zoning department to see if you need a permit or other permissions to erect one on your property.
** Wind and snow loads given are for reference only and assume a securely anchored frame according to local building codes and ordinances. These have been calculated using combined snow and wind load provisions in accordance with ASCE 7-05. These calculations are based on an unoccupied, fully enclosed building. Local building code requirements vary by location; conformance to local codes is the responsibility of the purchaser. Also, Sheltertech SP Series need to be anchored properly for the wind and snow load rating to be valid.
*** We always recommend a properly anchored structure. Please reference your manual for anchoring best practices or check out our anchor guide.
[/vc_column][/vc_row]