Whether you're heading out to the big game or you're hosting a backyard BBQ, having a tailgate tent or a pop-up canopy can make all the difference. This is one of the best ways to protect you and your guests from the elements and ensure everyone has a great time.
If you don't already own a shade tent, you might wonder whether it's really worth the effort and expense. The answer is a resounding yes! Once you have a portable shade solution, you'll wonder why you didn't get one sooner.
Still not convinced? Let's take a look at the benefits of owning a tailgate tent, some fun ways to use them, and some of the most popular sizes and styles you can choose from.
Benefits of a Tailgate Tent
A pop-up canopy or shade tent will provide you with protection from the sun, rain, wind, and other elements. Since they come in a wide variety of sizes and styles, they're very versatile. It's also easy to find one that will fit your budget. If you choose a durable canopy from a reputable company – like ShelterLogic – you can use it season after season and have the confidence of knowing it will continue to look great and perform as it should.
Most pop-up canopies are lightweight, compact, and easy to assemble in just a couple of minutes – especially if you have a few people to help you. This makes it easy to take them with you when you go to football games, picnics in the park, and any other type of event where people gather. When tailgating in a parking lot, setting up a shade canopy will also mark your designated space. This can come in handy when you're surrounded by other tailgaters or event attendees.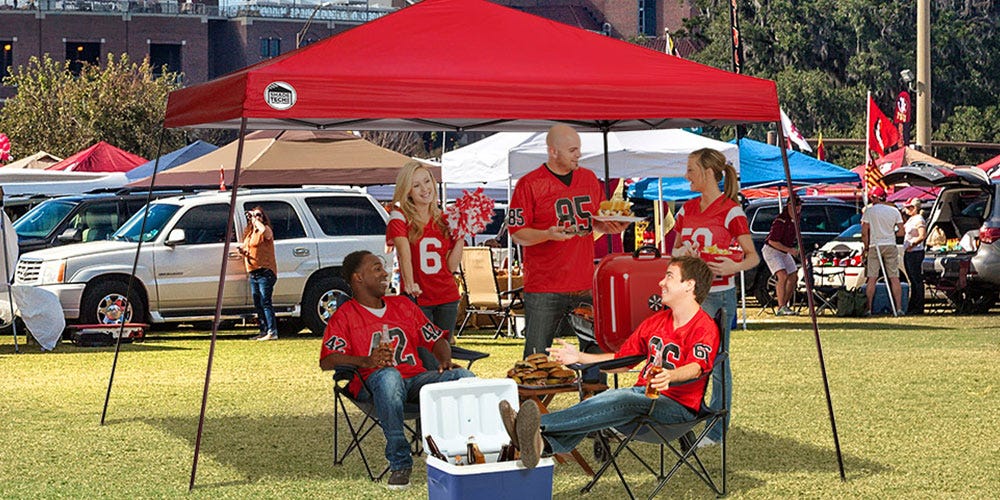 Fun Ways to Use Your Tailgate Tent
While tailgating is a great use for a pop-up canopy, it's certainly not the only option. There are so many ways to use a shade canopy. In fact, with a bit of creativity, you could easily find a use for yours all year long.
Hosting a backyard birthday party? Set up a small bar under your pop-up canopy, or get a larger party tent where guests can mingle undercover. Planning a family reunion at your local park? Set up some pop-up canopies over the picnic tables.
Planning a pig roast? Use your pop-up canopy to cover the cooking area. You can also take a pop-up canopy with you went you go camping, to festivals, and more.
Canopies are also great for commercial use. Take them to your next trade show, set them up at community events, or use them to create a roadside farmer's market stand where you can sell your excess harvest. Once you start to use your imagination, you'll quickly see that the possibilities are virtually endless.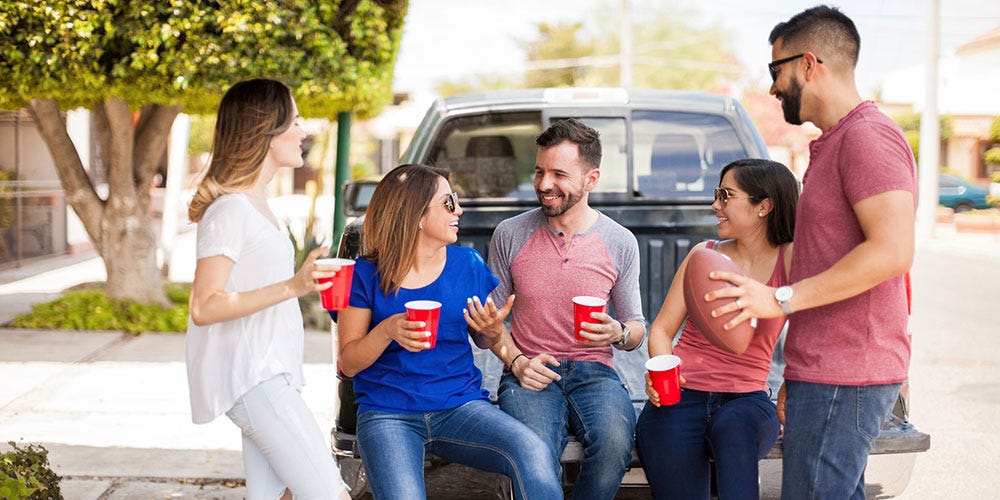 How to Choose the Perfect Shade Tent
There are many different types of shade tents. When shopping for the right one for your needs, you'll need to ask yourself some important questions.
What Size Do You Need?
Most pop-up canopies come in sizes ranging from 8 x 8 feet to 10 x 10 feet in shade coverage. However, it's easy to find much larger options. To choose the right size, consider what you want to cover and the amount of space you'll need. If you plan to cover a gathering space, make sure you estimate your guest count and leave plenty of room for people to move around.
How Do You Plan to Use It?
If you need a bit of shade for you and your family, a basic pop-up canopy may be fine. However, if you're planning to host large parties for a higher-maintenance crowd, then you may need a much larger structure that comes with mesh walls for additional protection. Once you know how you plan to use your canopy and the features you need, it will be easier to narrow down your options.
Is Durability Important?
Do you need an inexpensive pop-up canopy for a single event? If so, then you may not be overly concerned about durability. But, if you want to make sure you get a good value for your money and that your new canopy will last a long time, then you'll want to pay attention to how the structure is made.
Look for a canopy made with a heavy-duty steel frame, as this will give you extra durability. A powder coat finish will help deter rust and corrosion. A rip-stop fabric cover with a UV coating will protect your canopy from tearing and help it withstand sun damage.
Will You Have Help with Assembly?
Some shade canopies are easier to assemble than others. The larger the structure you choose, the more help you'll need to set it up. When choosing your structure, consider whether it will be easy enough for you to set up with the help you have available.
Canopy accessories like anchors, enclosure kits, tie wraps, and fasteners can make your canopy more durable and offer additional protection. Just remember that this will also add some additional assembly time.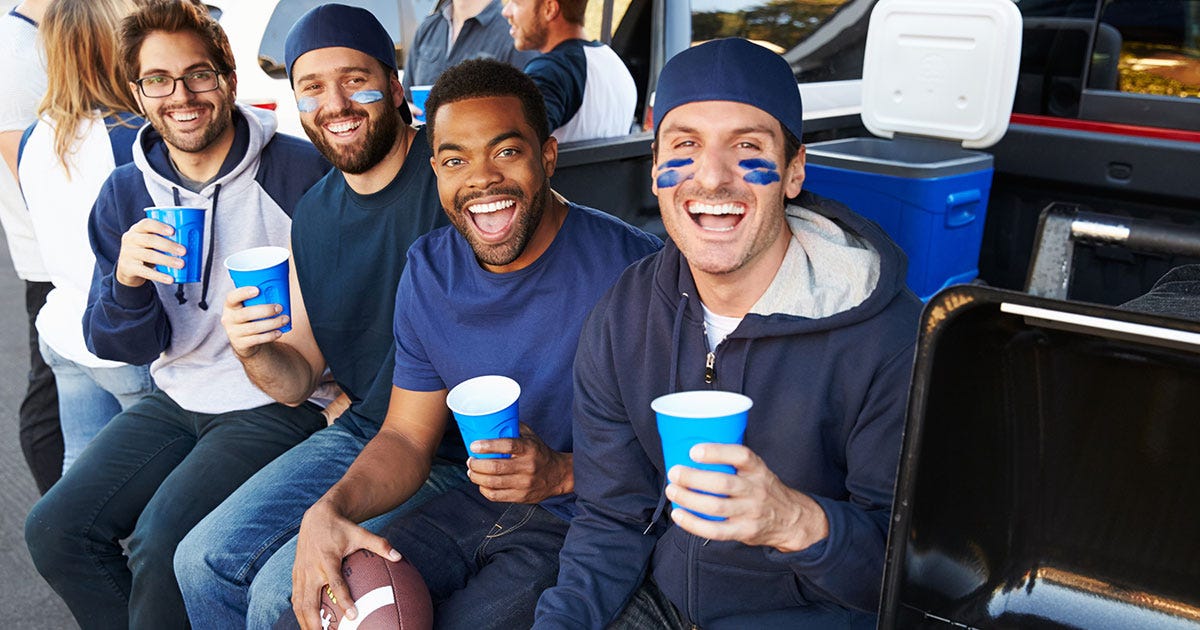 3 Popular Types and Sizes of Party Tents and Canopies
Now that we've covered all the basics, it's time to take a closer look at some of the most popular shade options for tailgating, parties, and more.
1. Pop-Up Canopies
Lightweight, portable, and compact pop-up canopies are an excellent option for anyone who wants to take their shelter along for the ride. These are perfect for when you need to cover a small area – for example, if you're in a parking lot with limited space. In this case, an 8 x 8-foot or 10 x 10-foot pop-up canopy may be the perfect option. You can also choose from various colors and styles – making it easy to show your team spirit at your next tailgate party.
Pop-up canopies are the most hassle-free option. Many are designed specifically for easy assembly in a matter of minutes. If you don't want to sweat and struggle while putting up your canopy, then a pop-up canopy might be the right option for you.
Pop-up canopies are durable, water-resistant, and made from high-quality steel that is powder-coated to resist chipping and corrosion. They are fire-rated for increased safety. Many straight and slant-leg models also come with a storage bag with wheels, making transportation even easier.
2. Standard Canopies
If you need more coverage than you can get with a pop-up canopy, or you want a more permanent solution, you may want to explore a canopy tent. These outdoor shades come in a wide range of sizes and shapes, making them even more versatile. You can also add an enclosure kit to your canopy or add an extension kit to give you more space when you need it.
Canopy tents are made with steel frames that are rust and corrosion-resistant. Their covers are 100% waterproof, providing plenty of shade while still give you ample airflow. While they're super durable, they also have a stylish look that is sure to impress your guests.
3. Party Tents
If you love to entertain larger groups outdoors, then you'll definitely want to consider a party tent. These structures are durable and cost-effective when compared with renting a similar shade each time you host a large gathering. From an outdoor wedding or anniversary party to a family reunion or a charity event, there are tons of creative ways to use party tents.
Party tents are beautiful, elegant, and built to last. The frames are made of 100% galvanized steel with a rust-proof coating. The covers are made of fire-rated PVC fabric that is UV treated and waterproof. They also feature a tool-free frame assembly, making them super easy to set up with just a few extra helpers.
An enclosure kit will allow you to add full wall and door panels to your party tent, providing your guests with ultimate protection from sun, wind, and rain. It includes six PVC windows and two double-zipper doors for easy entry. ShelterLogic's party tents also come in a choice of several colors and attractive decorative scalloped cover valances for an extra touch of class.