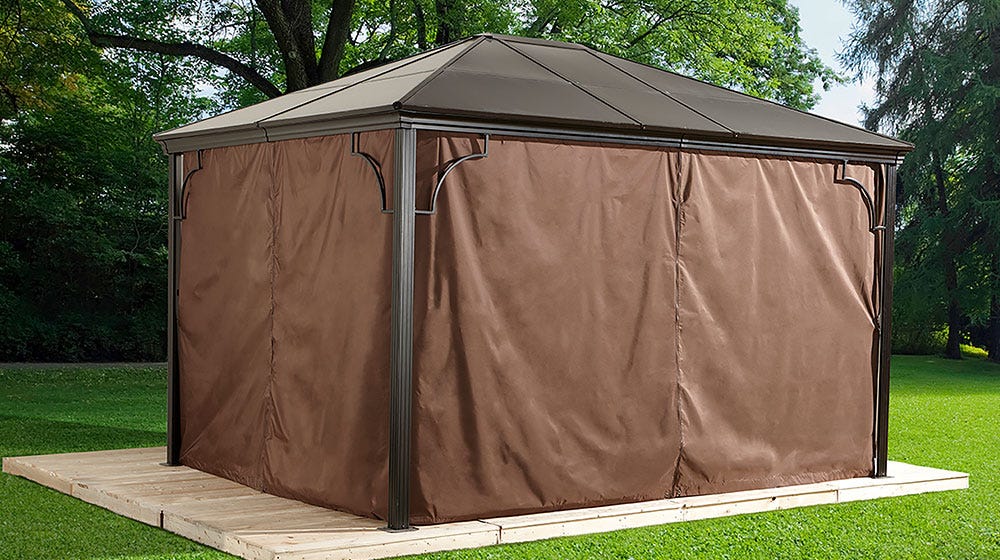 When the sun is too hot or if rain threatens to cancel your plans, a shelter like a gazebo can keep the outdoors enjoyable. However, hot weather and storms aren't the only threat to a good time outdoors. Summer weather also brings out the bugs and hot sun, which can seriously put a damper on an outdoor soirée.
Beat insects and blistering temperatures at their own game by outfitting your structure with gazebo curtains. This expands your entertainment options by giving you the ability to block out any excess wind and sunlight on all sides. 
Gazebo curtains also serve as an additional barrier against pesky mosquitoes, wasps, and other nuisance pests. This guide will explain how curtains can make outdoor time more enjoyable and give you some fun gazebo ideas for your next social event.
Why Gazebo Curtains Matter
Gazebo curtains add an extra layer of protection from outdoor elements. While most Sojag shelters come with tinted bug screens, these barriers are perforated to allow the open fresh air breezes. Bug screens grant you more exposure to outdoor elements — which is excellent when you're in the mood for full sun and wind. However, sometimes you want more privacy or protection from events such as a mild rainstorm or a day that is particularly hot. 
This is why Sojag makes summer curtains that you can add to your gazebo. They are useful accessories for a shelter that needs coverage beyond bug protection. They add more privacy and shade from the sun and can block wind-driven rain. 
When you have both bug screens and curtains, you get the best of your yard while leaving out all the elements that make it difficult to sit outside long-term. You don't need to slather on bug repellent or sunscreen every time you enter a gazebo with double curtains because you're entering a protecte...
Read more »