There are many reasons to own an Arrow Carport. When you need to protect cars, SUVs, trucks, RVs, heavy equipment, and boats, a tough steel carport is a great investment. In addition, they can be used as a patio cover, picnic pavilion, and more to protect family, friends, and customers from the elements.
Despite being easy to assemble, Arrow Carports are also designed to stand up to the roughest weather. Having one can give you peace of mind that both your vehicle and your carport will not suffer damage during a rainstorm, windstorm, or snowstorm.
If you're already convinced that you need a metal carport, you probably want to know what the best carport size is for your particular needs. This post will break down everything you need to know about the Arrow Carport, and help you decide which size carport is right for you.
What is a Carport, and how Does it Differ from a Garage?
A carport is a covered structure that normally consists of a roof supported by posts. These tough, durable structures can be placed in your driveway, patio, or yard to help protect your vehicle when you don't have an indoor storage option.
Arrow Carports are Open-style Structures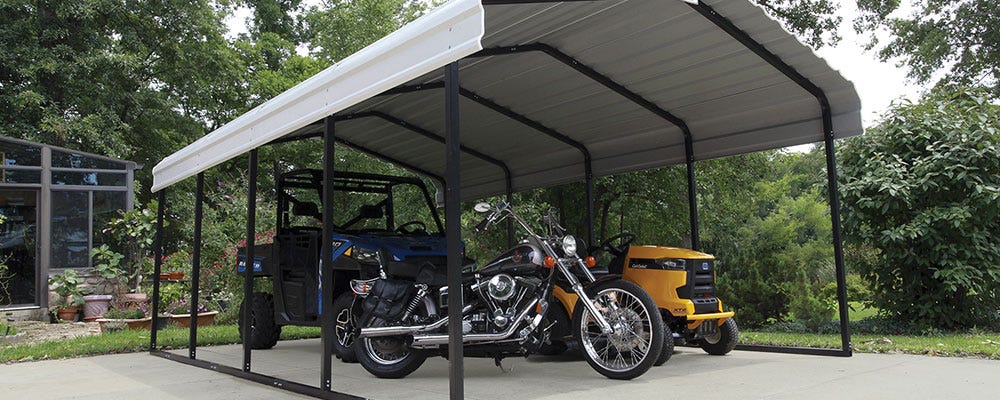 Unlike a garage, a carport has no walls or doors. Although carports are an open-style structure, they can still provide vehicles with a level of protection against rain, snow, ice, or sun exposure. In fact, in the cold weather, frost will not normally form on the windsheild of a vehicle that is parked underneath a carport.
Arrow Carports consist of a strong, sturdy rust and corrosion-resistant powder coated steel frame, and a 29-gauge galvanized steel roof that is treated to prevent corrosion and is designed to also protect your vehicle from tree limbs and other objects that can fall from the sky.
An Arrow Carport does not need to be attached to a foundation to stay on the ground. Instead, anchors are used to keep it secured*. However, they are engineered to stand up to the test. It can withstand up to 100 MPH winds and up to 35 PSF snow loads**. Additionally, since it is not considered to be a permanent structure, it may not be considered taxable property in most municipalities***.
Arrow Carports Also Offer Versatility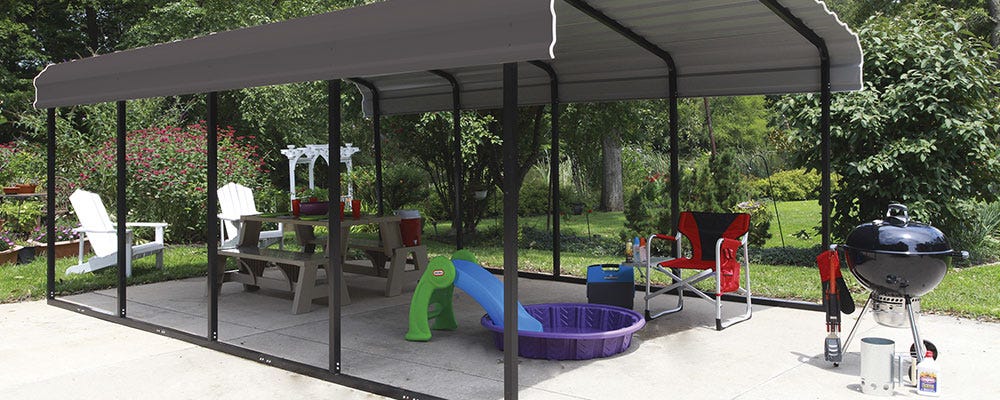 An Arrow Carport can be used for more than just a vehicle shelter. Since an Arrow Carport doesn't require a foundation, these structures can be moved from place to place, and used for multiple purposes.
For example, if you are having a picnic, you could disassemble and move your Arrow Carport from the driveway to the backyard and use it as a protective cover over a patio or seating area. It doesn't have to be a one-time move, either: An Arrow Carport can be used primarily as a patio or pavilion cover year round. It can also be used to cover workshop space, children's playground equipment, and more.
With a carport enclosure, you can also use your carport like it's a garage or an outdoor shed all year long. Carport covers are easy to install, give your stored items or vehicles extra protection from the elements, and provide extra privacy and an additional sense of security.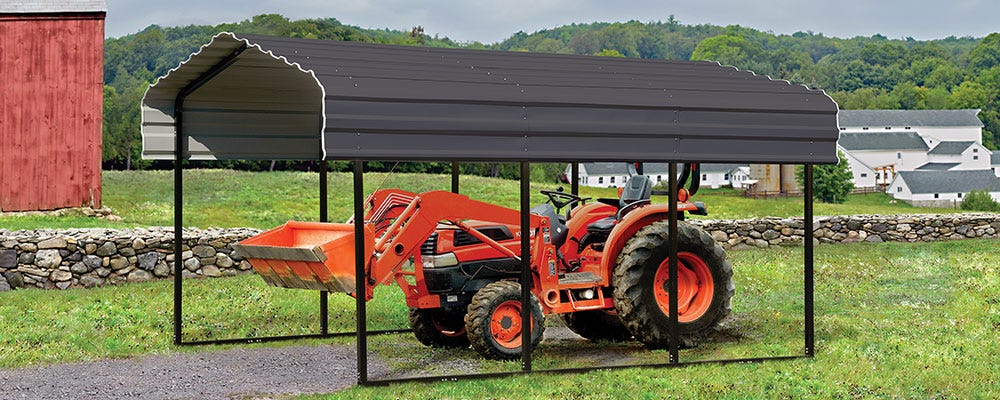 Arrow Carports are Not Just for the Home
An Arrow Carport is not just a shelter made for use in your driveway or your backyard at home. A free standing carport can also be used in a municipal or business setting to protect people from the rain, snow, or the sun's harmful UV rays.
A municipality can use an Arrow Carport as a protective cover for a park picnic area. In times where social distancing is important, smaller carports can be used to create spaced-out covered areas that families can use to have lunch or take a break from their activities.
In addition, an Arrow Carport can be used to create a pavilion that can be used for special events, concerts, and more. The pavilion can be rented out for parties, meetings, community events, and more, and can deliver a positive return on investment for the community.
With restaurants looking to expand their year-round outdoor seating options, an Arrow Carport can be used to cover an existing patio area, or to create a new outdoor dining area in a parking lot or next to a building. The structure can stay up all year long without worrying that a severe storm could knock it down.
An Arrow Carport can also be used in an office park or industrial park as a protective cover for an outdoor break area, as space where outdoor staff meetings can be held, and even as a spot to host client gatherings and business receptions.
Also, an Arrow Carport can be used on the farm to store equipment such as tractors, trailers, hay bailers, grain haulers, and plows, or at a construction site for vehicles and equipment such as payloaders, augers, backhoes, cherry pickers, and cement mixers.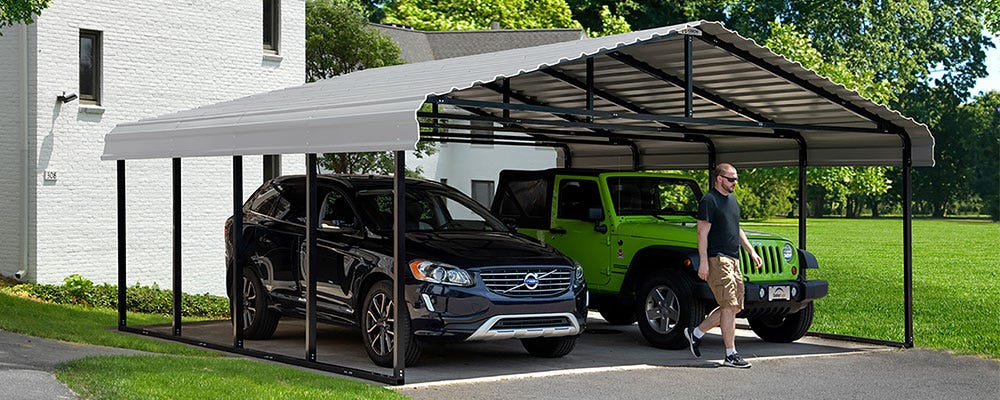 Choosing the Best Carport Size
Now that you know more about the Arrow Carport, what it's made of, and how it can be used, there's a major question left to be asked. How do you choose the best carport size for your particular needs?
Arrow Carports come in four different widths: 10 ft., 12 ft., 14 ft., and 20 ft. The 10 ft., 12 ft., and 20 ft. models have a 7 ft. clearance height, while the 14 ft. model has a clearance height of 14 ft. 7 in.
Regardless of the model, the length of an Arrow Carport can be customized to best suit your storage needs. For example, you can order a 10 ft. model that is 15 ft. long, and up to 100 ft. long. A 12 ft., 14 ft., or 20 ft. model can be ordered in lengths ranging from 20 ft. to 100 ft.
If you plan to use an Arrow Carport as a patio cover, then determining the right size is as simple as measuring the length and width of your existing space. However, choosing the best carport size for your vehicle, whether it's for overnight parking or seasonal storage, can be trickier. These guidelines can help you determine the best carport sie for your planned use.
10 ft. Wide Carports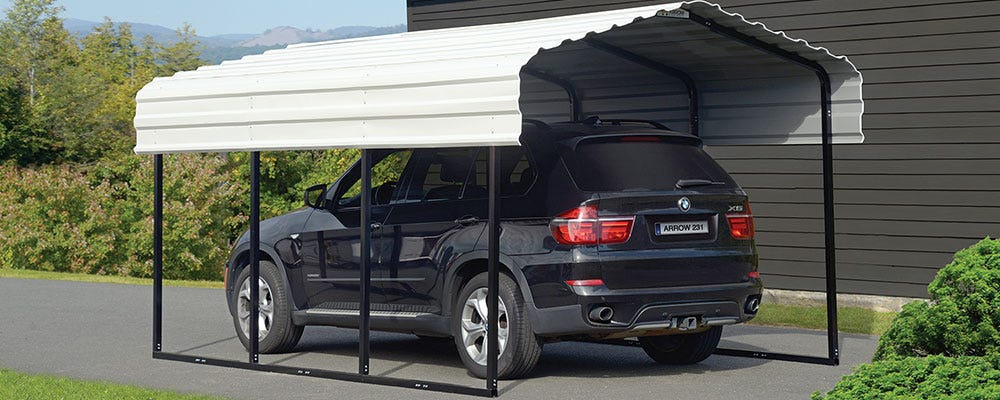 This width is about a foot wider than a standard parking space. A 10 ft. wide carport is an excellent width for storing a compact or mid-size car. It can also be used to store items such as a riding mower, golf carts, ATVs, and motorcycles. Additionally, a 10 ft. x 15 ft. Arrow Carport can be used to cover a standard backyard patio or a picnic table. Additionally, this size can be used for storing tractors and other small farming and construction equipment.
12 ft. Wide Carports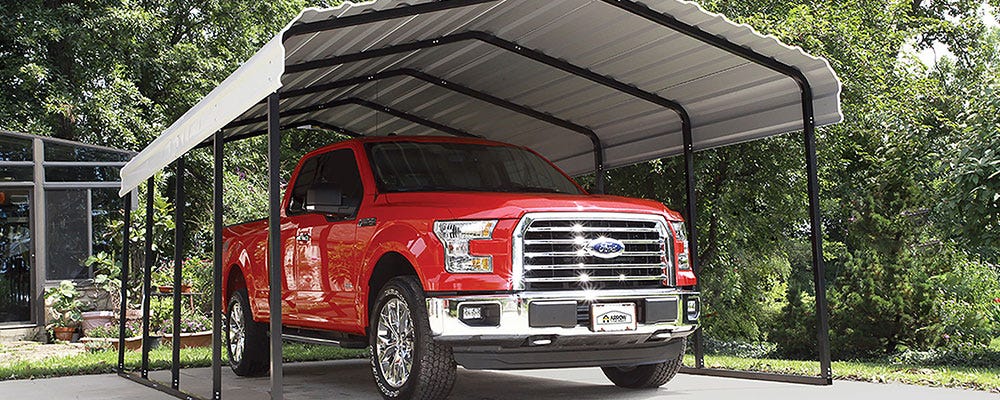 If you're looking to store or park a car, light truck, or an SUV, then a 12 ft. wide carport is your best bet. A 12 ft. wide Arrow Carport will give you a little more wiggle room: you can swing the doors of your vehicle open with less of a chance of banging the frame (and if you have kids, you know this can happen!). Like the 10 ft. model, it can also be used to create a covered outdoor space in your yard.
20 ft. Wide Carports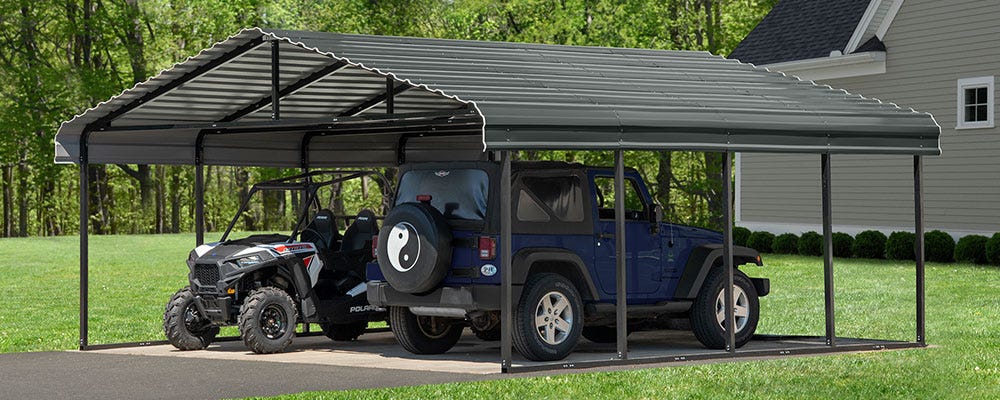 A 20 ft. wide carport is an excellent solution for parking cars side by side in your driveway. In addition, a 20 ft. wide Arrow Carport is the best size for municipal and business use. It's an excellent size to use as a party pavilion, to cover picnic tables in a park, to create outdoor meeting space, and to cover a restaurant's outdoor dining area.
14 ft. Wide RV Carports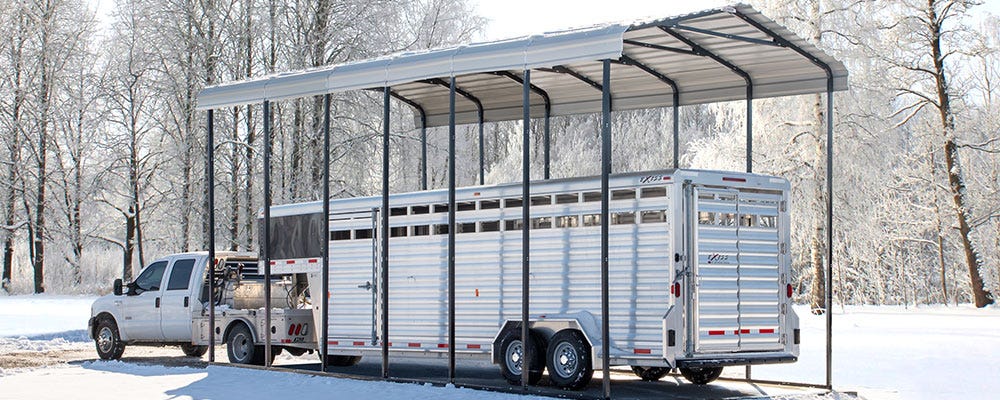 The 14 ft. wide Arrow RV Carport is different from its counterparts because of its height. With a clearance height of 14 ft. 7 in., it is designed to store larger vehicles. In addition to being an RV Carport, it can be used to store boats, buses, campers, trucks, snowplows, farming equipment, construction equipment, and more.
Finding the Best Carport for your Needs
Whether you need it to shelter your car at home, keep your tractor protected on the farm, provide your employees a shaded break area, or for something else, there are many ways you can use an Arrow Carport.
To get more information on finding the best carport size for you, please contact our customer service department at 1-800-560-8383, or fill out a customer service form.
* We always recommend a properly anchored structure. Please reference your manual for anchoring best practices or check out this anchor guide.
** Wind and snow loads given are for reference only and assume a securely anchored frame according to local building codes and ordinances. These have been calculated using combined snow and wind load provisions in accordance with ASCE 7-05. These calculations are based on an unoccupied, fully enclosed building. Local building code requirements vary by location; conformance to local codes is the responsibility of the purchaser.
*** Before you buy a temporary garage, we recommend you check with your local zoning department to see if you need a permit or other permissions to erect one on your property.