Are you looking for a quality storage or workshop space for your home or business, that won't break the bank? A versatile, durable fabric building can be erected in less time for less money than a permanent structure and offer additional benefits such as portability and flexibility.
A fabric building is a fabric-covered steel-framed structure that is meant to be a temporary or semi-permanent structure. There are a few ways that they differ from permanent structures. For example, the materials used to construct a fabric structure are different. While a permanent building could consist mostly of bricks, concrete, and lumber, a fabric building typically uses lighter-weight materials.
Fabric storage buildings can be customized in many shapes and sizes to suit your needs. Whether you require a small building to store sports equipment, a bigger building to store a car or a boat, or a large building to warehouse goods, there's a fabric building for every need.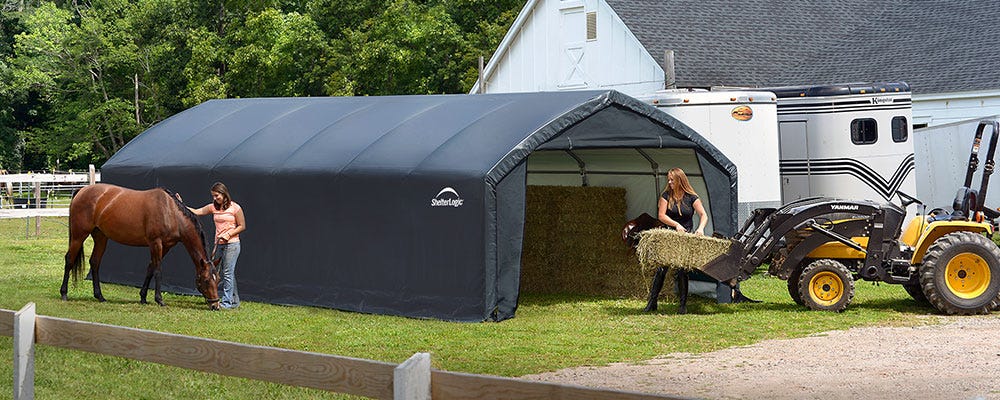 What are Fabric Buildings Made of?
You may hear the term "fabric storage building" and think it's a disposable solution for temporary storage. However, a storage tent like a fabric building is just the opposite. Fabric buildings like the ones manufactured by ShelterLogic have a sturdy all-steel frame and durable rip-stop polyester or tough PVC covers. They provide heavy-duty protection, storage space, temporary swing space, and more for a wide range of needs.
Although fabric buildings are considered to be temporary structures, they are built to last. Some fabric buildings are even wind and snow load rated* and can take on tough weather. In addition, fabric buildings do not need to be built on a concrete slab or a wall foundation, although they should always be anchored for safety's sake**.
What are the Benefits of a Fabric Building?
Whether you are expanding your business or need more storage space at home, there are several great reasons to consider a fabric building.
First off, fabric buildings can be purchased and assembled at a fraction of the cost of a permanent one. Since permanent buildings are constructed with heavier materials such as wood and brick and require more labor to build, it adds to the overall cost of construction. However, fabric buildings still offer durability and quality when compared to permanent structures.
In addition, when compared to a permanent structure, temporary buildings are simpler and quicker to build. Many fabric buildings can be assembled by 2 people in a matter of hours. Larger fabric buildings can take just a few days to build.
Also, since fabric buildings are not considered to be permanent structures, many municipalities do not require a building permit or a zoning permit to erect them***. That also means your personal or business property may not be additionally taxed for having one.
Additionally, since fabric buildings are portable, they can be moved from one part of your property to another if you see the need to relocate it. The spot you may think will be ideal for your fabric building isn't always the best spot. Since it doesn't have to be secured to a foundation, your fabric building is completely portable. A smaller portable building like a shed or a garage can be moved easily by 2 people without the need to dismantle and reassemble it.
Maintenance and upkeep of a fabric building is also minimal. A quarterly maintenance check should allow your fabric building to deliver peak performance all year long. The cover should be inspected to make sure it fits drum-tight to the frame and has no holes or rips. Also, the cover should be cleaned quarterly, and snow and debris should be removed whenever it accumulates. The frame should also be checked to make sure all parts are properly fitted and secured.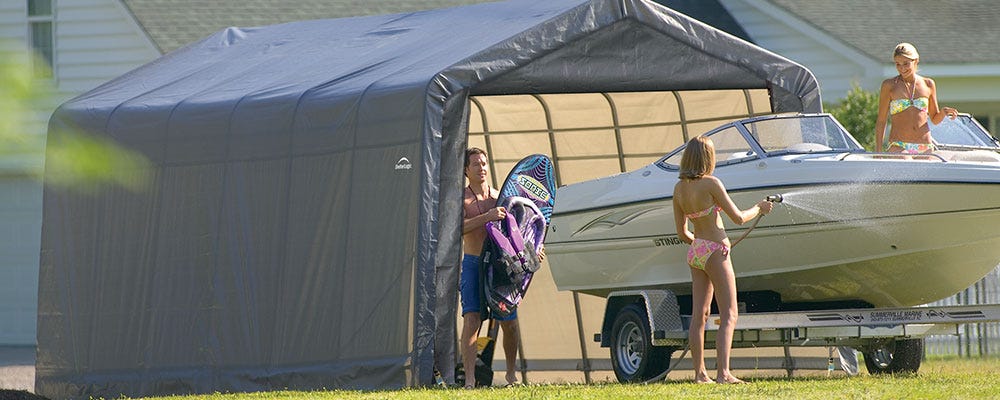 Where and How Can You Use a Fabric Building?
There are several places and ways you can use a fabric building on your residential, industrial, or business property.
A fabric building can be properly installed on any level surface with adequate drainage. Depending on the size and style of building, a concrete or block foundation or slab is optional.
For example, a fabric building can be used as an on-site workshop space for a landscaping, masonry, or carpentry business. Likewise, you can use a fabric building to store equipment for your construction, automotive, home improvement business, and more.
Additionally, you may want to add electricity and ventilation and use a fabric building as a temporary office or meeting space for your business. It can also be used as temporary swing space to store office furniture, archived records, and more while work is being done in your office.
At home, a fabric garage can be used to store and protect your car, truck, SUV, boat, or other vehicle. Fabric storage sheds are practical for lawn and garden equipment, seasonal furniture, bulk storage that won't fit in your basement or attic, and more. You can also use a fabric garage or shed as a workshop space, or even as a man cave or she shed.
What Kind of Fabric Buildings Are There?
From portable sheds to commercial storage shelters, there are several types of fabric buildings to choose from. While the style and size of each building may be different, the ones manufactured and sold by ShelterLogic all consist of sturdy galvanized steel or powder-coated steel frames and rugged rip-stop polyester covers and can be assembled with a minimal set of tools.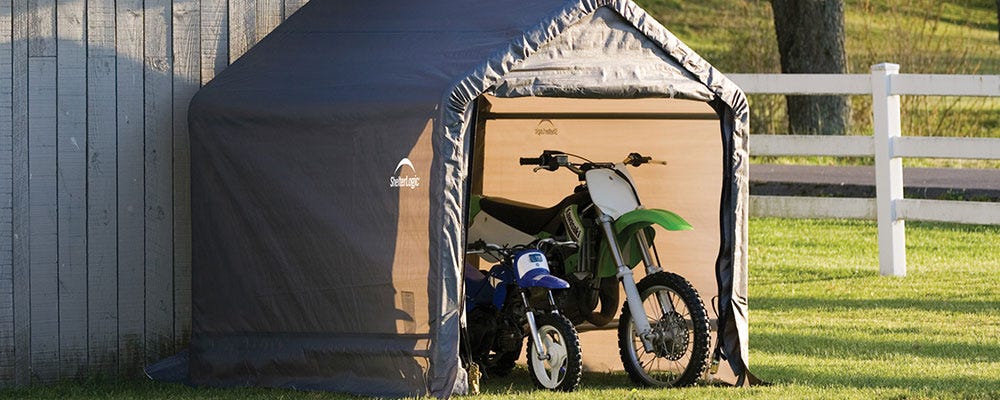 Fabric Sheds
Fabric sheds offer reliable, temporary storage that is portable, but strong enough to take on the elements. Convenient and easy to build, a fabric storage shed is easily maneuverable and highly versatile and boasts the practicality of a permanent shed without the expense or long-term commitment.
A fabric shed can be used to store a variety of items. On the farm, they are great for storing feed and hay. At home, you can use a fabric shed to store tools, a lawnmower, off-season equipment, and more. Also, some fabric sheds are designed to store large seasonal items such as boats and RVs.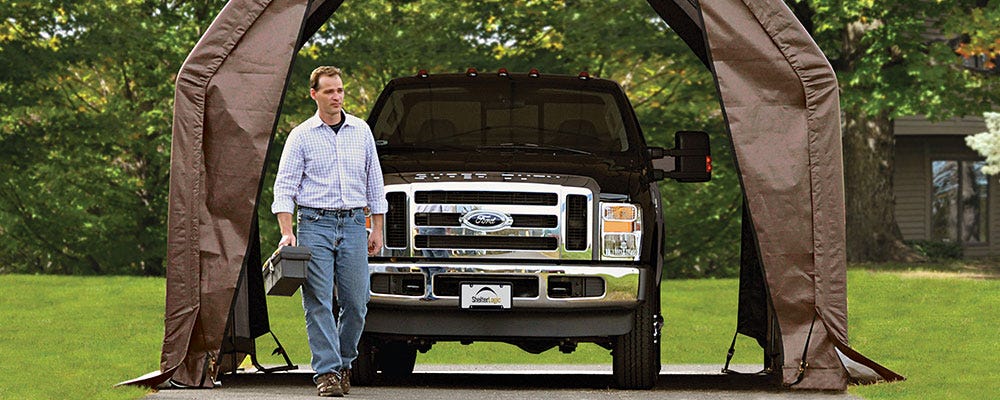 Fabric Garages
Fabric garages are designed to offer reliable, low-maintenance shelter for various types of vehicles and other items that need protection. In addition to cars, SUVs, and light trucks, fabric garages can also be used to store and protect landscaping equipment, ride-on lawnmowers and snowplows, snowmobiles and trailers, and can also provide bulk storage.
A fabric garage is larger than a fabric shed and can be anchored to the end of a gravel, concrete, or paved driveway. Generally, fabric garages consist of a galvanized steel frame and a waterproof fabric cover with heat-sealed seams.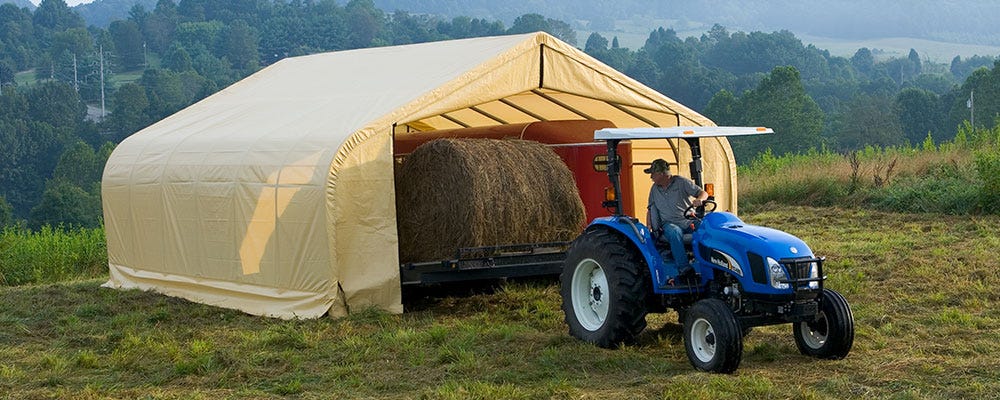 Fabric Storage Shelters
Need to think big? Like a fabric shelter for agricultural or construction equipment, a field office for a landscaping or job site, or even a small airplane? ShelterTech SP Series shelters are up for the task.
The ways you can use these fabric commercial storage buildings are virtually endless. From vehicle storage, to agricultural shelters, our pre-fab buildings and commercial shelters are perfect for a variety of uses and industries.
These small fabric buildings will keep hay, equipment, tools, and much more under protective cover. Fabric commercial buildings can also be quickly and efficiently assembled and configured as temporary workstations to make off-site contracting and on-site chores and projects run smoothly.
Shed-in-a-Box
AccelaFrame
ShelterCoat
ShelterTube
ShelterTech
Frame
1-3/8" Powder Coated Steel
1-5/8" Steel Pipe
1-5/8" Powder Coated Steel Pipe
2 in. 15 gauge Square Tube Powder Coated Steel
Certified ASTM Galvanized Steel
Cover
7.5 oz. Polyethylene
Standard 9 oz.,
Heavy Duty 14.5 oz,
Ultra Duty 21.5 oz.
Standard 9 oz.,
Heavy Duty 14.5 oz,
Ultra Duty 21.5 oz.
Standard 9 oz.,
Heavy Duty 14.5 oz,
Ultra Duty 21.5 oz.
Heavy Duty 14.5 oz.,
Ultra Duty 21.5 oz.
Size Range
6 x 10 ft. to 10 x 10 ft.
12 x 10 x 9 ft. to 12 x 100 x 9 ft.
10 x 16 x 8 ft. to 15 x 40 x 12 ft.
12 x 20 ft. to 12 x 100 ft.
12 x 20 ft. to 24 x 100 ft.
Roof Styles
Peak
Peak
Barn, Round, or Peak
Peak
Barn, Round, or Peak
Wind Rated
No
No
75 MPH
80 MPH
120 MPH
Snow Rated
No
No
40 PSF
43 PSF
29 PSF
Can I Get a Custom-Built Fabric Building?
Some fabric sheds, garages, and storage buildings made and sold by ShelterLogic can be customized the way you want them. In many cases, you can choose the weight and the color of your cover. Additionally, you can choose the length, and sometimes the length, height, and width of our ShelterLogic fabric buildings. What's more, some ShelterLogic fabric buildings let you choose your roof style: peak, round, or barn.
ShelterCoat sheds offer customized solutions for vehicles, lawn and garden equipment, tractors, outdoor furniture, bulk items, and more. You can configure a ShelterCoat fabric building up to 28 ft. wide and 100 ft. long. They offer plenty of headroom so you can store yor boat or RV, stack hay and feed high, or use it as an outdoor workshop.
A 12 ft. wide ShelterTube fabric garage can also be configured up to 100 ft. long. The unique square tube steel frame makes it the perfect all-season garage for storing tractors, boats, ATVs, trucks, and more for daily or regular use.
The ShelterTech SP Series is a top-of-the-line premium-grade built-to-order storage unit which offers competitive strength and durability, and is one of the highest quality long-term, fabric storage buildings on the market. You can order yours in round, peak, or barn styles, in a variety of color options, and in sizes ranging from 12 x 20 ft. to 24 x 100 ft. for a design that suits your needs.
Learn More about ShelterLogic Outdoor Fabric Buildings
Want to learn more about ShelterLogic's line of durable, dependable fabric buildings? Check out our store for even more information.
* Wind and snow loads given are for reference only and assume a securely anchored frame according to local building codes and ordinances. These have been calculated using combined snow and wind load provisions in accordance with ASCE 7-05. These calculations are based on an unoccupied, fully enclosed building. Local building code requirements vary by location; conformance to local codes is the responsibility of the purchaser.
** We always recommend a properly anchored structure. Please reference your manual for anchoring best practices or check out this anchor guide.
*** Before you buy a temporary garage, we recommend you check with your local zoning department to see if you need a permit or other permissions to erect one on your property.