Whether you simply change your own oil or service an entire vehicle without any help from a professional, the DIY auto shop trend is on the rise in part due to the pandemic. People are spending more time at home and also relying less on public transportation which is contributing to an 11% jump in DIY repair shops.
But it can become tedious and tiresome to repair a vehicle or motorcycle in the blazing heat, or without a place to store your tools. That's why many DIY auto shop owners choose a high-quality and durable structure to house both vehicles and tools. Here are factors to keep in mind when creating the ideal self serve auto shop either at home or on a commercial site.

The Ideal Material for Your DIY Auto Shop
Before searching for the perfect structure for your very own self serve auto shop, first decide which type of garage will best fit your needs. Here are important factors to consider when deciding on the type of garage to purchase.
Budget: Do you have a small budget, or an unlimited amount of money to spend on something that you plan to grow into a larger business? Figure out how much you want to invest into a self serve auto shop before purchasing.
Property size: If you have a small yard, you will be limited to the type and style of shed or garage that will fit on your property. But if you have a larger outdoor space or even a commercial area to utilize, this will open up a world of possibilities for the types of shelters to use for a DIY auto shop.
Function: Will this be a personal hobby, or a legitimate business where you plan to make money off your skills? This may help to decide your budget and type of material to choose for your structure.
Fabric vs. Steel Structures
Both options offer a variety of features perfect for creating a DIY auto shop to cater to your every need. Here are some differences between fabric and steel structures.
Budget friendly vs. More expensive: Fabric structures tend to be more cost-effective than steel garages, so if budget is one of your main concerns, a fabric shelter may be ideal.
Portable vs. Permanent: Fabric garages can easily be moved across your property or to another if needed, while a steel structure is a permanent solution for creating a self serve auto shop.
Sturdy vs. Ultra-strong: Fabric options have a sturdy steel frame to stand up to the elements, along with ultra-durable covers. However, steel DIY auto shop shelters are stronger due to their all-steel construction.
Non-lockable doors vs. Pad-lockable doors: Zippered doors can be added to fabric structures, but it's no match for pad-lockable options on steel garages for increased security.
Both fabric and steel structures provide a solid shelter from wind, rain, and snow, and offer an affordable option for a DIY auto shop. They also have an array of different customizable choices to ensure your garage is unique to your needs.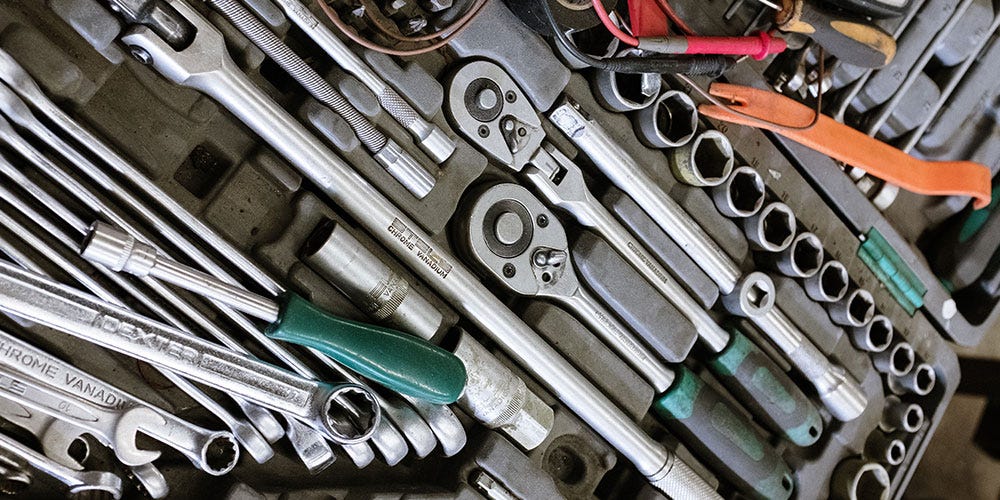 Determine Space Needed for Self Serve Auto Shop
Depending on the type of vehicles you plan to service and the tools needed, there are multiple size options you may choose when it comes to the perfect shelter for your auto shop. Ask yourself these questions when determining the type of shelter to choose.
What type of vehicles will I service? Do you plan on working on larger vehicles like cars and trucks, or smaller items like motorcycles and ATVs? Will you just be working on your own vehicle, or will you need a larger space to work on other vehicles that aren't your own that you may need to store for longer periods of time? Determine your plans first to choose the best size to fit your needs.
What will I be storing inside? Are vehicles the only thing you'll be storing inside this self serve auto shop? Make sure there's enough room for garage necessities like tools, a workbench, or a lift if needed. If you plan on using the shelter for general storage in addition to a repair shop, you'll want to plan for a larger structure.
Will I be utilizing this space for anything else? There are a variety of creative ways to use a shelter, so a self serve auto shop may not be the only way you plan to utilize the garage. Make sure to determine exactly what you'll use the garage for so you can plan for an adequate amount of space.
Tools Needed for Your Own Fix-It Shop
While it's true everyone needs a standard set of tools in a DIY repair shop, depending on your plan, you may need specialized or larger tools to make your repair shop fully function. Here are some tools to think about adding to your DIY auto shop.
Mechanic tool set: Everyone who plans to work on a car should purchase a basic mechanic tool set with sockets, extensions, and ratchets, and wrenches.
Power tools: While these can be used outside your shop too, a drill can quickly remove nuts and save you time.
Oil caddy: Changing your own oil may not save you time, but it will certainly save you money. To do this, you'll need to have the proper equipment to perform it yourself.
Air compressor: These are ideal for filling your tires or to operate other products in the garage like a nail gun or an air ratchet tool.
Jack:

When working on a vehicle, it's important to invest in a

high-quality jack

so you can safely work underneath during repairs.
Don't forget about smaller items like a creeper, gloves, and safety glasses to make your shop both comfortable and safe.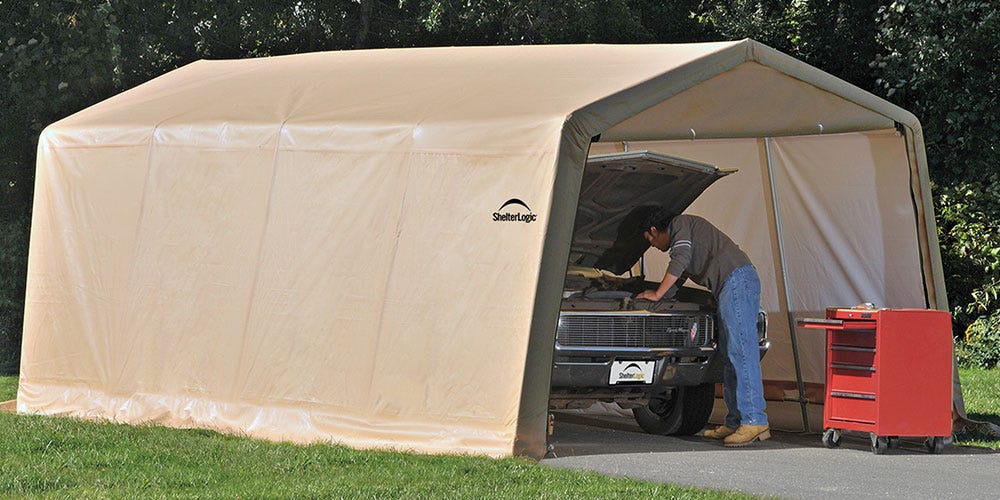 Strong and Durable DIY Auto Shop Options
Whether you are planning on placing a self serve auto shop in your backyard or on a commercial property, here are ideal structures to keep your tools and vehicles safe in the elements. Each one has customizable options to create a space ideal for your needs.
Repair in Your Own Backyard
Garage-in-a-Box: This portable shelter blends simple assembly with rugged durability. It comes in multiple sizes ideal for storing anything from a motorcycle to a truck or SUV. The high-grade steel frame adds dependable strength while the ripstop fabric cover stands up to the elements. This choice is perfect for a DIYer who needs a small footprint or has limited space to work with.
ShelterTube: This versatile structure provides multiple size, color, and style options to make a unique DIY autio shop to feed your needs. Choose anywhere from a length of 20 ft. to 100 ft. for a truly customized self serve auto shop. The ShelterTube line is also wind and snow rated, which means you can rest assured your belongings will stay safe in any climate.
Sojag Everest: Style meets strength with these sleek steel garages ideal for any size vehicle. Choose from multiple size options from 12 x 10 ft. to 12 x 50 ft. This shelter is built with exceptional wind and snow ratings, withstanding up to 100 mph winds and 35 PSF ground snow load rating. The premium textured paint finish offers an elegant style to any outdoor space.
DIY Auto Repair on Commercial Property
ShelterTech: These single-pipe fabric buildings are incredibly customizable with sizes up to 100 ft. long. Create a larger DIY auto shop full of tools and vehicles with the increased space. Manufactured with high-quality steel, you can also customize the fabric grade, entryways, and cutout options. Wind and snow load rated, these larger scale buildings can be built for your unique needs on any commercial property.

ShelterCoat: This storage solution has a wide variety of sizes to choose from along with material and color to match your outdoor aesthetic. The premium powder coat finish protects from rust and corrosion, while the multiple rugged fabric covers provides you with the type of protection that fits your needs. Waterproof, UV treated, wind and snow load rated, your DIY auto shop will certainly protect vehicles and tools from the elements.
Finding the Perfect DIY Auto Shop Shelter
Whether planning to change your own oil and fill your own tires, or fully service vehicles as a business, a self serve auto shop will be functional and durable when choosing the right option for your needs. After deciding on where you want to place the shelter, take stock in the tools you will use along with how many vehicles will need to fit inside at one time. Think about the climate and other environmental factors when choosing a fabric or steel shelter to customize to fit your needs. These versatile structures will protect your tools and vehicles for seasons to come.