Anyone from small business owners to large-scale corporations can take advantage of smart and reliable outdoor storage buildings. Whether you're a farmer storing tractors and feed, or a private landscaper stowing away everything from lawn equipment to mulch, there are customizable outdoor storage units that will fit your needs and budget. Fabric structures can be especially useful for outdoor work thanks to their versatility and durability at a great value.
Benefits of Outdoor Storage Buildings
While commercial storage is a large investment, there are several key benefits that make a work shed worth the purchase. Here are factors to think about when deciding on customizable outdoor storage buildings.
Flexibility: These buildings provide tremendous flexibility thanks to their portability and customization options. When using for construction storage, you will be able to move the structure throughout the property as needed, and even expand it to accommodate extra space in a matter of days, not weeks thanks to simple assembly.
Affordability: Commercial storage units can be costly. However, fabric options are more affordable when compared with their all-steel counterparts.
Durability: Although these outdoor storage buildings are less expensive when compared to more permanent options, you can find snow and wind rated storage solutions to ensure your belongings are protected in wicked weather.
Convenience: Forget making multiple trips to a self-storage unit and paying a costly monthly fee to keep landscaping storage in one spot. A work shed on your own property means your belongings stay safely in one place.
Simple maintenance: These outdoor storage buildings are not difficult or expensive to keep in good working condition. Cleaning them with mild soap and water and keeping the structure free from debris will keep these shelters in optimal condition through multiple seasons.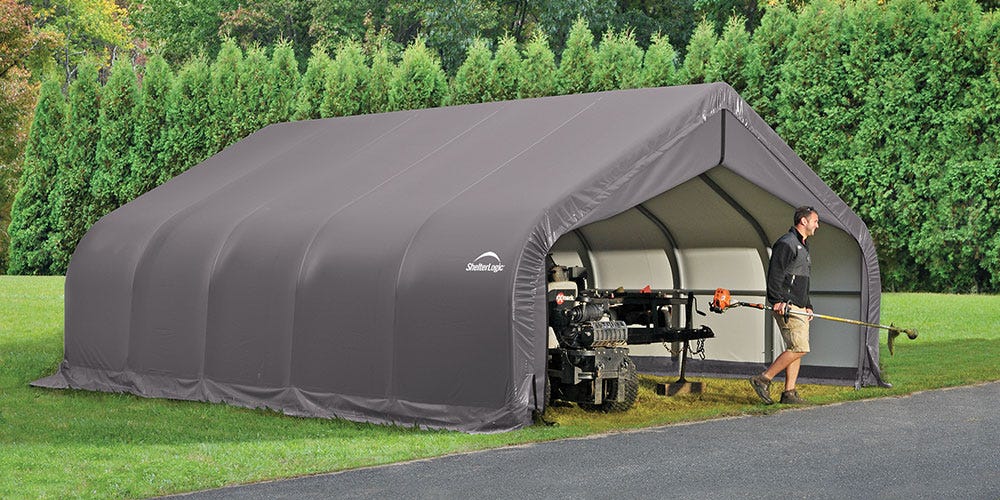 What is a Fabric Work Shed?
Fabric outdoor storage units are manufactured with an all-steel frame and covered with a high-quality polyethylene cover. They offer incredible protection at a great value while also providing versatility in your workspace. Fabric work shed options are meant to be temporary or semi-permanent when compared with permanent structures made of bricks or concrete. This is ideal for landscaping storage and farm storage because you can move the structure around whenever you need to shift to another part of the property. Fabric outdoor storage buildings from ShelterLogic provide:
High-quality commercial grade materials for incredible durability
Made with USA certified galvanized steel
Simple setup when compared to permanent shelters
Common Uses for Outdoor Storage Units
Construction storage: Construction crews have a constant need for reliable and spacious storage areas to stow away tools, vehicles, and materials. In addition to keeping everything safe from the elements, a work shed is also important to protect a site from thieves. Appliances, wood, and machinery are common items that come up missing at a site and should be protected.
Landscaping storage: It is crucial for any size landscaping business to keep lawncare equipment and tools in proper working order and protected from weather and potential thieves. Landscaping storage units are also helpful if you own a small business and store the items in your yard at home. A shelter will help keep the yard tidy and neighbor complaints at bay.
Farm storage: No matter the climate, protecting livestock, farming equipment, and produce should always be a top priority. Outdoor storage buildings, while a sizeable investment, will save money and time in the long run. The weather can wreak havoc on expensive farm equipment, crops, and livestock if they are not shielded from extreme heat or cold, wind, and rain.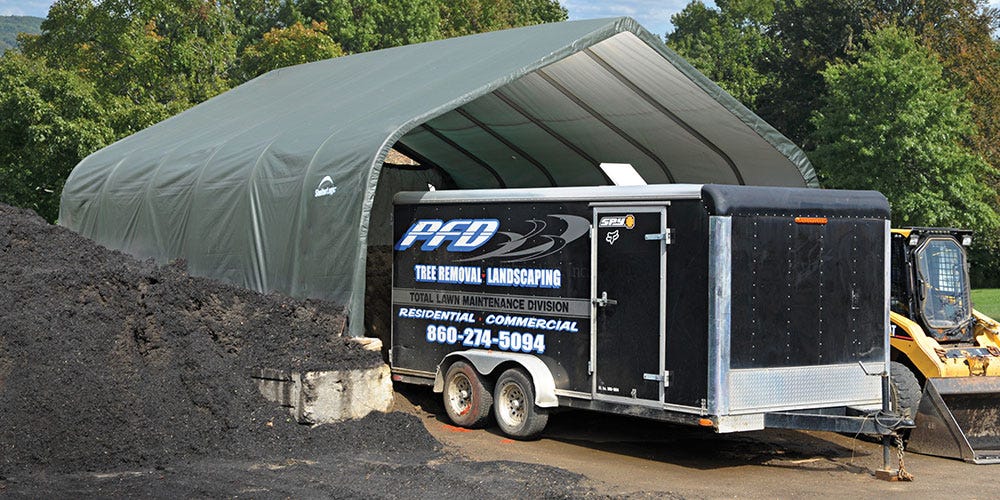 Factors to Consider When Choosing Outdoor Storage Buildings
A work shed is a worthwhile investment, but it's important to know which one will best meet your needs prior to purchase. Here are factors to think about prior to choosing the right shelter for your property or business.
Property size: Do you have a massive commercial space to erect a fabric building, or are you looking for a unit with a more compact footprint to fit into your backyard? Make sure to measure the area you plan to utilize to ensure it will fit.
Method of use: Will you use this work shed for equipment and materials, or as a temporary area to stage employees on a construction site? Analyze your needs in the long and short term prior to investing in the building for the best results.
Budget: Outdoor storage units can vary widely in price based on size and features. Decide on a budget, and don't forget to factor in additional anchors for larger buildings.
Weather considerations: No matter the industry, weather can play a role in how to store anything from equipment to materials. If you live in a climate where harsh winters are the norm, you may want to invest in a snow rated shelter. If you live in an area where thunderstorms are more likely, a wind-rated commercial storage option could be ideal.
Outdoor Storage Units for Any Industry
Durable and rugged outdoor storage buildings are a cost-effective method to storing items in any industry, including landscaping, construction, and farming. Fabric buildings from ShelterCoat, ShelterTech, and ShelterTube will provide business owners hundreds of fully customizable options to fit unique storage needs. But which one is right for you? Here is a breakdown of how these commercial storage shelters compare.
ShelterCoat provides spacious storage solutions at a fraction of the cost of all-metal shelters. Manufactured with rugged all-steel frames, you can rest assured these outdoor storage units will stand up to Mother Nature and are even wind and snow load rated. Choose from several different colors and three different attractive shapes. Sizes range anywhere from 10 to 28 ft. wide and 100 ft. long for virtually any type of storage you need. ShelterCoat buildings also provide:
Unique powder coated frame to resist rust and corrosion
Three fabric options ranging up to 21.5 oz thickness for incredible durability
Frame stabilizers and Ratchet Tite system create sturdy and stable structure
ShelterTech is another solid option for commercial storage in any industry where you need to protect materials from harsh weather. It is a fully customizable process, starting with choosing one of three shapes including peak, round, and barn. These single-pipe fabric buildings are made with quality materials including a UV-treated polyethylene cover in two different strengths. Wind and snow load rated, these buildings are built to last and also offer:
Innovative universal foot plates for easy assembly on nearly any surface
ShelterLock stabilizers for ultimate stability
Hot-dipped galvanization for protection against rust and corrosion
Made with a unique steel square tube frame, these storage shelters are built to stand up to rough weather in any season. ShelterTube outdoor storage buildings can withstand up to 80 mph wind speeds and a 43 PSF snow load. The thickness of the frame offers a uniquely stable fabric building that is fully customizable to fit your business' needs. Assembly is simple when compared to all-steel commercial storage buildings. ShelterTube also offers:
Multiple length and width options up to 100 ft. long
Bolt through connections to improve stability
Multiple color options and an attractive peak-style roof
ShelterCoat, ShelterTech, ShelterTube Comparison
| | | | |
| --- | --- | --- | --- |
| Feature | ShelterCoat | ShelterTech | ShelterTube |
| Frame material | Heavy-duty steel with powder coated finish | High-quality galvanized steel frame | Industrial grade powder coated square tube frame |
| Cover weight | Standard (9 oz.), Heavy Duty (14.5 oz.), Ultra Duty (21.5 oz) | Heavy Duty (14.5 oz.), Ultra Duty (21.5 oz) | Standard (9 oz.), Heavy Duty (14.5 oz.), Ultra Duty (21.5 oz) |
| Roof style | Peak, Round, Barn | Peak, Round, Barn | Peak |
| Size Range | 10 ft. to 28 ft. wide, up to 100 ft. long | 12 ft. to 30 ft. wide, from 20 to 100 ft. long | 12 ft. wide and up to 100 ft. long |
wNo matter what you store for your business, these fabric work shed options are ideal for commercial storage in any climate or location. These fully customizable shelters are strong enough to withstand the elements at a fraction of the price of all-steel buildings. Add in simple assembly and minimal maintenance, and these make a smart investment for any business owner looking to protect products year-round.