Are you looking to store and protect your car, truck, SUV, boat, or other vehicle? Are you running out of storage space in your basement, attic, or garage? Do you need at-home or on-site workshop space for a variety of projects? If your answer is "yes" to any of the above questions, then the answer is to get a temporary garage.


What is a Temporary Garage?
A temporary garage, also known as a portable outdoor building or a portable garage, is designed to offer reliable, low-maintenance shelter for various types vehicles or items that need protection. Temporary garages can also be used to store and protect construction and landscaping equipment and provide bulk storage.

Although portable garages are considered temporary buildings, they are not constructed cheaply. They are made with sturdy steel frames and have rugged covers made of ripstop-tough materials.

Portable garage options also offer flexibility. You can move one from your driveway to your backyard and back again, depending on your needs.

Temporary garages and portable buildings should always be anchored to a foundation. For more information on anchoring your temporary garage, click here. For information on how to properly anchor your building, please refer to your product manual.



What are the Benefits of a Temporary Garage?
There are a lot of great reasons to consider temporary garages for your storage or workshop needs.

Since they are not permanent structures, many municipalities don't require a building permit for them.** Also, temporary structures, even when anchored*, usually don't require zoning permits, and are exempt from municipal tax rolls.

There are a few more reasons to choose a portable garage over a permanent building. Let's look at these additional benefits: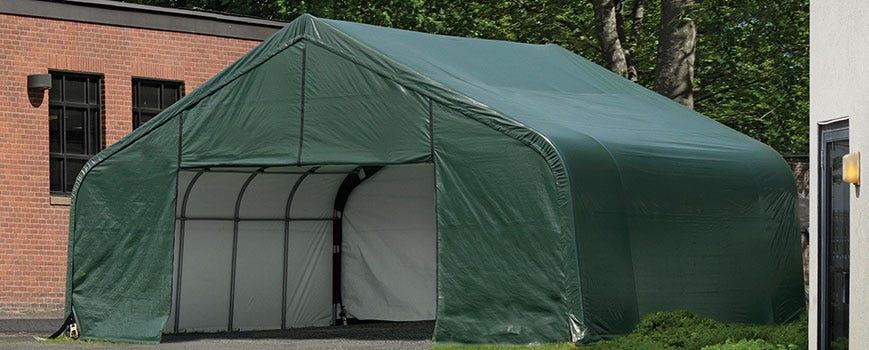 Why Do I Need a Portable Garage?
You may need portable garages for a variety of reasons. You may own a home that does not have a garage, or space in your existing garage may be maxed out. A temporary garage offers flexible storage or workshop space, or a place to shelter an additional vehicle.

Let's look at some of the reasons why you may need a temporary garage:



To Protect Your Vehicles:
Whether your vehicle is a car, motorcycle, truck, SUV, or a boat, a portable garage offers you the space you need to store it. Parking your vehicle in a garage will keep it protected from the elements when it's not in use. That will keep your ride from aging prematurely.

To Protect Equipment:
Keeping your lawn mower, tractor, and other landscaping equipment exposed in your backyard will cause it to be less reliable. Also, keeping it out in the open will make it more susceptible to theft.

For Bulk Storage:
Why rent space at a self-storage facility when you can keep your bulk goods on your own property? Storing it in a portable garage gives you security, peace of mind, easy access to your stored belongings, and is more economical.

As a Home or On-Site Workshop:
Every homeowner should have a space to use as a workshop. If you don't have a basement, then a portable garage can be a handyman's dream space. Set up a workbench and store your tools in a temporary garage and get caught up on your to-do list.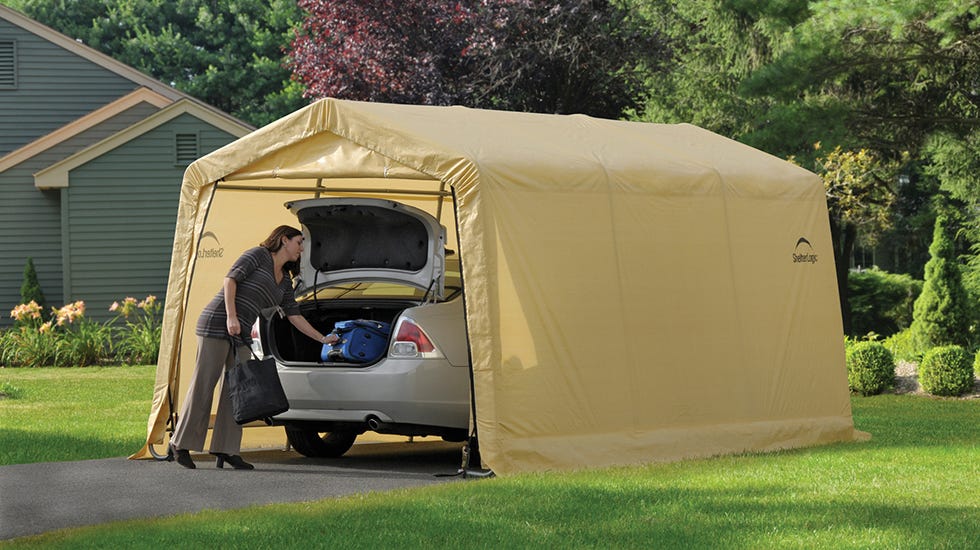 How to Choose Portable Garages Ideal for Your Needs
Temporary garages come in all shapes and sizes. Whether you need one to park a car, as a storage unit, or to create a workshop, there's a temporary garage that's the right size for you. But how do you determine the right portable garage for your needs?

Here are a few questions you'll need to ask before you choose the right portable storage building for your needs:



What Do You Need to Store?
Do you need storage for one or two vehicles? Are you looking to store a boat? Do you need to store a lot of bulk items? Do you have multiple storage needs?

How Much Space Do You Need?
If you're using a portable garage for your vehicle, how much space will you to open the doors? Is the garage peak high enough for you to drive it in?

Where Do You Plan to Put It?
Once you've figured out the perfect size for your temporary garage, you'll also need to think about available space on your property. When you pick a location, it should be able to accommodate a size larger than your storage needs.

What's the Weather?
Snow and wind can cause serious damage to the internal and external components of your vehicle when left unprotected. You'll want a wind and snow-load rated*** shelter that's ready for the tough weather.
Shop for a ShelterLogic Group Portable Garages
ShelterLogic Group manufactures and sells a large variety of durable, sturdy portable garages. While some models come in standard one and two vehicle sizes, others are customizable to fit your needs. No matter how you plan to use a temporary garage, we have a dependable model that can fit any need.




* We always recommend a properly anchored structure. Please reference your manual for anchoring best practices or check out this anchor guide.
** Before you buy a temporary garage, we recommend you check with your local zoning department to see if you need a permit or other permissions to erect a building or structure on your property.
*** Wind and snow loads given are for reference only and assume a securely anchored frame according to local building codes and ordinances. These have been calculated using combined snow and wind load provisions in accordance with ASCE 7-05. These calculations are based on an unoccupied, fully enclosed building. Local building code requirements vary by location; conformance to local codes is the responsibility of the purchaser.