Take your outdoor decor to the next level with these backyard gazebo ideas—because no matter the season, it's always fun to entertain friends and family. Whether it's a get together for the big game, or a holiday gathering, enjoying food and fun outdoors never goes out of style. Sometimes shade can be at a premium when it comes to those outdoor parties. A fabulous way to give your guests comfort while adding style to your backyard is by adding a gazebo.
What are the Benefits of a Backyard Gazebo?
A backyard gazebo is a freestanding or attached structure without walls. It is designed to protect people from the sun and other weather while they enjoy time in their backyards. However, a backyard gazebo can also protect you and your loved ones from other elements. When paired with mosquito netting, gazebos can also keep your family and guests safe from pests and other airborne bugs when you're outdoors. A stylish gazebo can also serve as a great ornamental addition to your backyard and increase your property's aesthetic. Use a gazebo to create a nice centerpiece to a backyard garden. Or let vines or other creeping plants climb the posts to create a stunning visual or add strings of lights to the eaves to light up your garden.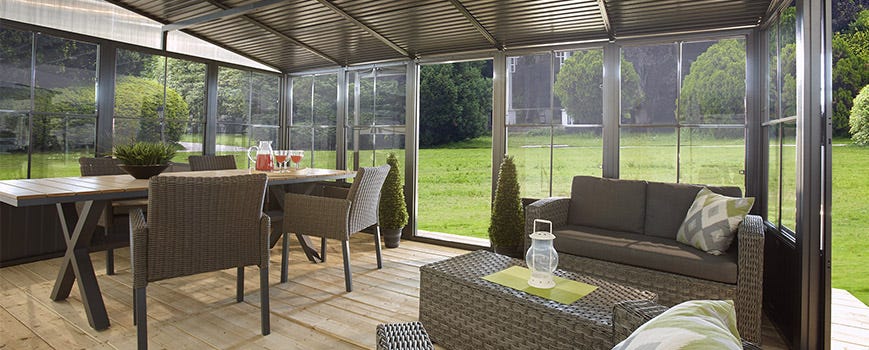 Look at These Backyard Gazebo Ideas
A backyard gazebo can be used in so many ways. While you may think it'll be used to cover a sitting or dining area, you'll discover just how versatile they can be. Let's look at some of the many ways a backyard gazebo could be used:
As a Pool Cabana
If you have a swimming pool, a soft-top gazebo could be the perfect place to escape the sun's harmful rays. As a pool cabana, your gazebo can be used as a poolside sitting area, or a place to recline in your beach chair. The curtains of the gazebo can be closed so your guests can have a changing area, too.
To Host a Dinner Party
Why eat indoors when you and your guests can enjoy a quiet dinner in your gazebo? The mosquito netting will keep everyone protected if it's a buggy night, and still allow everyone to enjoy the backyard. Also, should it get breezy or chilly, the curtains can be drawn closed. Closing the curtains can also make your gazebo a more intimate setting.
As an Outdoor Viewing Room
A wall-mounted gazebo can be a great place for your family and friends to watch a movie, a concert, or the big game. Just mount a flat panel television screen to the wall of the house and set up your patio furniture or portable chairs like it's your personal theater.
As a Reading Den
Do you like a pick a good book up and read it all day long? Reading outdoors is great, until the bugs come out and ruin your peace. Just pull the mosquito netting closed and enjoy reading the latest novel in a setting with natural lighting.
As a Shelter for a Hot Tub
A hot tub is a nice to have item for your backyard. If you have one, you will want to keep it protected by more than just a cover. A gazebo will protect you from the sun's damaging UV rays, and the curtains will offer you some privacy. When the hot tub is not in use, the curtains can be drawn to keep potential pool-hoppers from knowing it's there.
To Cover an Outdoor Kitchen
Homeowners are going beyond firing up their grills. They're transforming their patio spaces into outdoor kitchens. An outdoor kitchen does not need to be completely open air. A gazebo will protect your investment, family, and guests from the rain and the sun, and allows you to extend the use of your outdoor kitchen.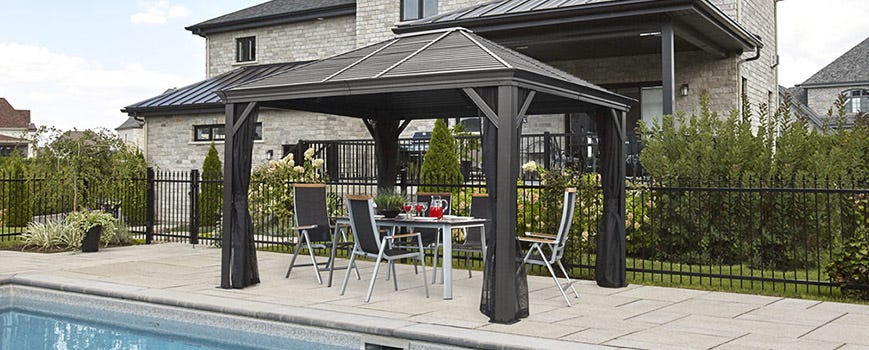 Choosing the Best Gazebo for Your Backyard and Outdoor Space
Choosing the right gazebo for your backyard is not an easy task. The gazebo that could be a beautiful addition to your backyard may not be the best one for your needs. There are a few factors you should consider before you buy a backyard gazebo:
What Size Gazebo Do You Need?
If you're planning to use a gazebo for personal or family use, then a 10x10 ft. gazebo should be sufficient. If you plan to host a lot of parties, you may want to opt for a larger backyard gazebo, say a 12x16 ft. model. If you plan to install a gazebo on your lawn or in your garden, then the size of the gazebo may not matter. However, if you want to install a gazebo on an existing deck or patio, then you need to take some measurements before you order one. If you want a gazebo that will cover just part of your deck or patio, then a freestanding option makes a great choice. However, if you want to cover a large portion of or your entire patio or deck, then you should consider a wall-mounted unit that attaches to your home. Adding a wall-mounted gazebo is like putting a year-round canopy to your house.
How Often Do You Plan to Use It?
When it comes to backyard gazebo ideas, the options are endless. But when you're looking for an attractive outdoor gazebo at an even more attractive price, the answer is a gazebo canopy! A gazebo canopy can be assembled in the spring and taken down and stored in the winter. Although we recommend anchoring a gazebo before you use it*, a gazebo canopy is lightweight enough to be moved from Point A to Point B without needing to disassemble it first. It's also a great option for when you occasionally want to use a backyard gazebo.
If you want something that's more permanent, but don't plan to use it in the winter months, then a soft top gazebo would be a great choice. Most soft top gazebos are made with sturdy aluminum and steel frames and a polyester fabric cover. The advantage that a soft top gazebo has over a gazebo canopy is the extra protection from the elements. Soft top gazebos come with nylon mosquito netting to keep the bugs out, and polyester curtains that can block the wind and sun.
If you want to use a gazebo all year long, then a hardtop model would be the best for your backyard. Hardtop gazebos come with mosquito netting, but you must buy curtains separately. Also, the roof panels are made of tough galvanized steel or of UV tinted polycarbonate panels that can be opened to let the sunlight in. Since the roofs are not fabric, they can withstand a hard winter, although any build-up of snow should be removed.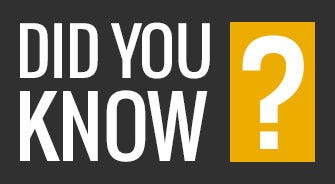 If you're the expert barbecue master who wants to keep cool while making all the great food, then a grill gazebo is perfect way to protect your grill from the elements. Grill gazebos even have shelving built in for serving food or as extra counter space! Click here to shop grill gazebos.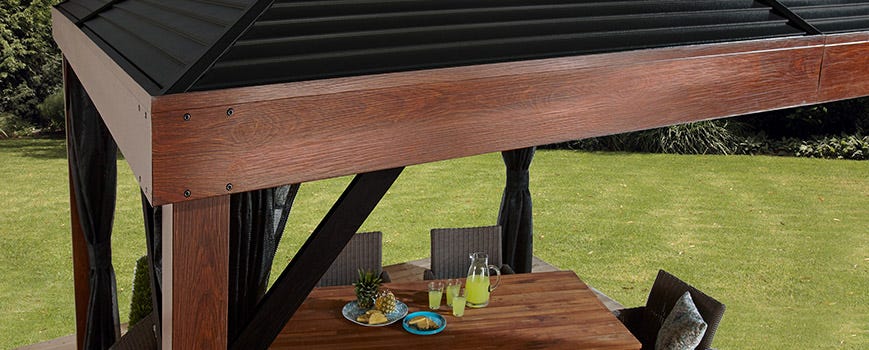 Setting Up Your Backyard Gazebo
A backyard gazebo is a rather large backyard addition, which means you can't simply plot it down just anywhere. To get the most out of your gazebo, you'll want to consider when you're most likely to use it, why and for what reason. Here are a few backyard gazebo ideas to consider before you choose a location:
What Time of Day Will You Likely Use It?
The protection from the sun you'll get from a backyard gazebo will depend on the time of day you use it. If you plan to normally use it midday, when the sun is at its peak, then you should place it in the middle of your yard. If you plan to use it at sunrise or sunset, then it can be placed closer to a property line. Your best bet is to chart the sun and shadows before you finalize a location. Regardless of when you'll use it, you'll always get reliable shade and shelter from your gazebo, year-round.
Is Your Yard Level and Dry?
A crooked gazebo doesn't just look out of place. It also loses some stability, even when anchored*. won't look right. Also, you shouldn't put your gazebo in a place where there is poor drainage, as that, too, will make it less stable. Before you set up your gazebo, you may need to level your yard and even think about installing it on top of a concrete slab or a deck floor.
What About Flowers and Trees?
If your backyard has a lot of shade trees, then using a gazebo to offer protection from the sun may not make sense. Also, as nice as a gazebo would look in your garden, it may be counterproductive. Your backyard gazebo may block the sun from reaching your prized flowers and plants. If you're putting a gazebo in a new garden, you can choose plants based on how much shade the gazebo will throw.
Should It Be Close to the House?
If you're using your gazebo for entertaining purposes, you may want to have it close to the house. For example, if it's an extension of your living space, you may want to install your gazebo on a deck or a patio. But if you plan to use your gazebo as a backyard getaway, then you can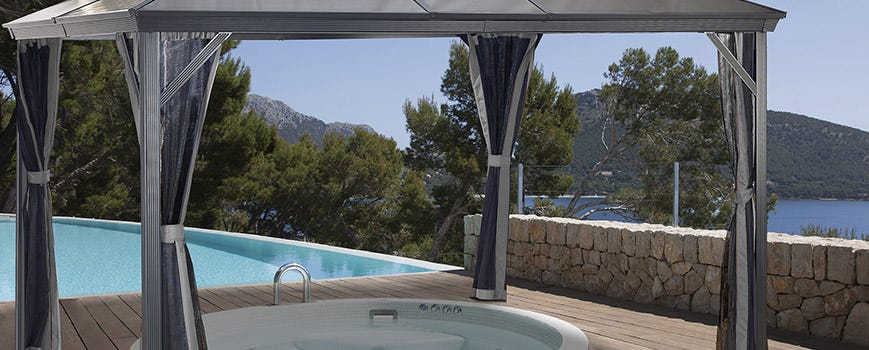 The Wonderful Versatility of a Backyard Gazebo
As you can see, there are many types of backyard gazebos you can choose from, and so many ways they can be used. They're a simple way to add character, style, and function to your home. These structures also offer an excellent shade solution at an affordable price. To learn more about ShelterLogic Group's backyard gazebo offerings, click the button below.
* We always recommend a properly anchored structure. Please reference your manual for anchoring best practices or check out this anchor guide.