Summer is upon us, and there are a lot of activities we're looking forward to this season! Planning to go to the beach? Great idea! If you're going to be spending any time on the sand this summer, a backpack beach chair is the best companion ever!
There's no denying that if you're not using a backpack beach chair, you aren't maximizing your beach time experience. But finding the right backpack beach chair can be daunting—there are tons of different models available. So how do you choose?
What Is a Beach Chair?
A beach chair is a foldable chair that allows you to sit comfortably at the beach. Unlike a lawn chair or patio chair, which are either heavy (so they can't be easily carried) or made of metal (so they rust), a beach chair is designed to be carried from place to place. This means that the materials used must be light and weatherproof, able to easily withstand moisture and sand.
How Does a Beach Chair Differ from Other Outdoor Chairs?
Beach chairs are a lot like other outdoor chairs, except for the fact that they're designed to be used on the sand. They often have wide legs that allow them to sit level on the sand and help you avoid getting sand all over your body.
Beach chairs are portable and usually made with a unique blend of wood and steel that gives them extra durability. They are also built to withstand the elements year-round and look great no matter what Mother Nature throws at them.
How Is a Backpack Beach Chair Better Than a Regular Beach Chair?
A regular beach chair is like an ex: you've moved on, and it's time to let them go. But a backpack beach chair? Now that's something special.
If you've ever had to carry a regular beach chair to the beach, you know how cumbersome they can be. While they are designed to be lighter than other chairs, they could still be heavy and awkward. Also, they aren't particularly good at holding anything more than your towel.
But with backpack beach chairs, the whole narrative changes. Backpack beach chairs are lightweight and easy to carry. They have straps and extra storage that make it easy to carry your favorite beach gear. On top of that, they fold up neatly and can be carried on your back—just like a backpack!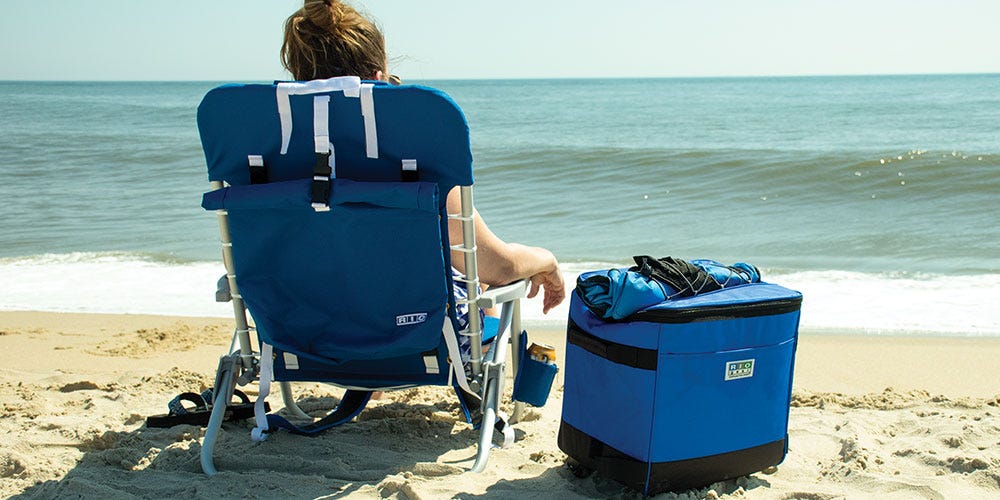 How Does a Backpack Beach Chair Make Life Easier?
With a backpack beach chair, you can go to the beach in style! It's like bringing the party with you. They convert into backpacks for easy carrying, which means no more lugging around chairs, coolers, towels, and other things with your arms stretched out like a zombie.
They're lightweight, highly fashionable, and help you relax and enjoy yourself without worrying about whether or not someone stole your purse or your cooler.
How Do I Choose the Best Backpack Beach Chair?
Too many people purchase a beach chair without giving it a second thought. Whether you're planning to go on a vacation or have a staycation, you'll need the best backpack beach chair.
To choose the best backpack beach chair, you have to consider a number of things.
First, check for comfort
Comfortable backrest: Your chair should have a backrest that helps you sit comfortably for long periods of time.
Perfect chair height: Usually, beach chairs have a standard seat height of between 8 in. and 12 in. Most people are comfortable at this height. Low beach chairs (with a height of 8 in. or less) help you stretch out easily, while it's easier to get in and out of high beach chairs (13 in. or more).
Second, consider the size
Chair size: Most backpack beach chairs come in two sizes, regular and large. Want extra when sitting on the beach chair? Go for the larger sizes.
Maximum weight capacity: You should check how much weight the frame can support.
Third, durability
Materials used: The materials must be durable and should not fade or wear out over time. Rust-resistant metal frames (teak wood, aluminum, or steel) and tear-proof canvas (polyester) are great.
Fourth, flexibility
Titling positions: Check to see if the beach chairs reimagine flexibility and freedom by providing different titling positions.
Finally, the accessories
Storage pouches: Make sure there's enough room in your pack for your needs. Plus, if you're the one carrying the supplies for everyone else (a real hero), then you should opt for beach chairs with large storage pouches.
Backpack cooler: If you're particular about keeping your drinks and food cold or warm for lots of hours, you should check if the backpack chair has a well-insulated cooler bag.
Mini pockets: Check if the backpack chair has a cup holder or mini pockets to keep your wallet, keys, etc.
Contoured pillows: Check if the beach lounge chair comes with contoured pillows that pamper your neck. You're not in Navy Seal training, durr.
So, how can you find the best backpack beach chair for your summer adventure? We've rounded up some of the best backpack beach chairs out there for you to choose from. Let's get started.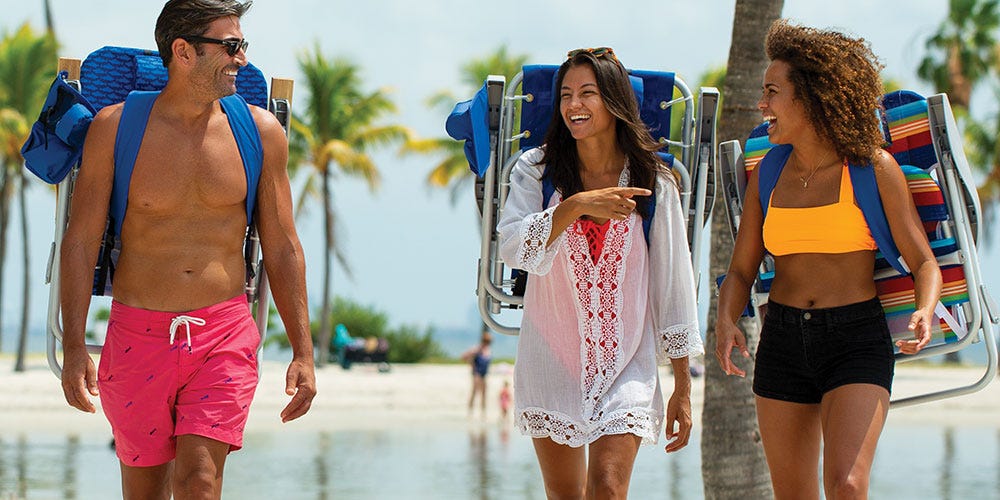 RIO Easy In, Easy Out
With the RIO Easy In, Easy Out Beach Chair, you'll be the talk of the beach. This item sports a removable cooler pouch that lets you enjoy cold drinks or cold ice cream on a hot summer afternoon!
It features a strong aluminum frame, a durable polyester seat, and wide armrests with a built-in cup holder. With this all-in-one chair, you can load up to 36 cans in the leak-proof tote bag and carry it anywhere, thanks to the strong, comfy backpack straps!
Its solid wood arms can adjust to 3 positions, and the lightweight aluminum frame has a dynamic weight capacity of 230 lb. The chair weighs just 8 lb. and has a seat height of 12.75 in., a chair seat depth of 14.5 in., and a chair back width of 20 in.
RIO Hi-Boy
The Rio Hi-Boy Backpack Chair has the highest seat on the beach, 17 in. off the ground. This makes it perfect for the big and tall or anyone who has a hard time getting up and down from a lower chair. It features a seat-side pouch, a cup holder that's built into the armrests, a cell phone case, and a flip-over pillow to support the head and neck.
It has eight reclining positions that you can explore and enjoy without getting your hands or fingers pinched or in awkward positions. The rust-proof, lightweight aluminum frame has a maximum weight capacity of 250 lb. The beach chair weighs 11 lb., has a seat height of 17 in., a chair seat depth of 14.75 in., and a chair back width of 20.25 in.
RIO Big Guy
The RIO Big Guy Backpack Beach Chair is designed for bigger guys (or gals). It has an extra-wide seat and a sturdy frame. This Big Guy is full of extras like a large capacity backpack pouch and key clip, contoured pillow, molded plastic arms, and a drink holder. It can be adjusted to 4 different positions and has adjustable padded backpack straps.
Made of durable 600D polyester fabric over a lightweight and rust-proof aluminum frame, this chair can support up to 300 lb. The beach chair has a seat height of 12.5 in., a chair seat depth of 16.5 in., and a chair back width of 22.25 in.
RIO Lace Up
You can't beat the convenience of the RIO Lace Up Backpack Beach Chair. This portable beach chair is compact, sturdy, and comes with a comfy seat. With its removable backpack, you can carry all your favorite beach gear. Spot the large, comfy, adjustable foam pillow headrest and the built-in cup holder on one of the molded arms—comfort at its peak!
The Lace Up has padded backpack straps that are adjustable and are made of a dust and scratch-resistant, dark powder-coated steel frame with a weight capacity of 250 lb. This beach chair has a seat height of 11 in., a chair seat depth of 17 in., and a chair back width of 19.25 in.
RIO Beach Lounge Chair
The RIO Beach Lounge Chair offers comfort in a simple backpack design that can be adjusted to your needs. It has a padded headrest and a large storage pouch for the ultimate beach adventure comfort.
The Beach Lounge can be adjusted to multiple positions and can even lie flat. It has padded adjustable shoulder straps, durable polyester fabric, and a rust-proof, sturdy steel frame that can hold up to 250 lb. The beach chair weighs 12 lb. and sits 11 in. off the ground.
Add Style to Your Beach Bum Lifestyle
Add style to your beach bum lifestyle with a backpack beach chair! Regardless of the kind of outdoor experience you plan to have, we've got your back. It's time to brighten up the beach with beach chairs in bold summer prints! Choose your favorite. Don't settle for less!