There's nothing quite like spending time in the great outdoors and sleeping under the stars. But, if you're not prepared, your amazing camping adventure can quickly turn into a nightmare.
While camping used to be all about "roughing it," today, many people prefer casual camping or even "glamping" (luxury camping). While you can't bring all the comforts of home with you, packing a few extras will help ensure you can comfortably enjoy your next trip.
Not quite sure what to bring camping? We've got you covered! Check out our round-up of all the most important camping must-haves.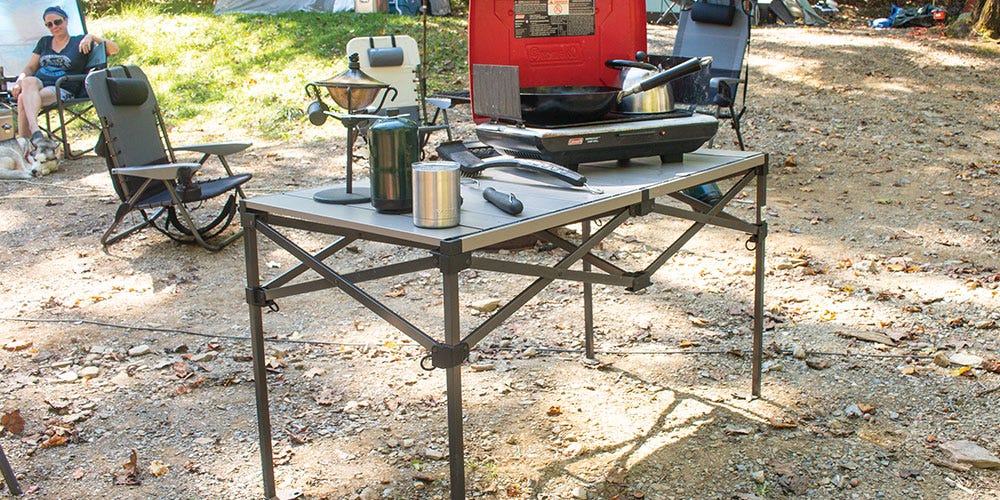 Setting Up Your Campsite
Since you'll spend a lot of time relaxing at your campsite, you'll want to take the time to think about the layout and the camping must-haves you'll need to bring with you. When setting up your campsite, it's important to create a comfortable space to sleep in as well as a centralized area where everyone can gather and enjoy their time together.
Try to put as much space between these areas as you can. This way, if other people in your party are night owls or early risers, they won't disrupt your sleep schedule. As you make your list of camping supplies, be sure to consider each of the following categories.
Camping Shelters
A camping shelter, like your tent or an RV, is one of the most important camping supplies. Even if you think you'll want to sleep under the stars, your plans might change if the weather doesn't cooperate. You'll also want to store your camping gear inside to protect it from high winds and the morning dew.
If you don't already have a tent, you'll quickly find many different types to choose from. The right one for you will depend on various factors, including your budget, how often you plan to camp, and how many people will be sharing your tent. Generally, you'll want to choose a larger tent, so you have enough room to comfortably move around.
This may go without saying, but you'll also want to make sure you bring your tent on your camping trip! You would be surprised how many people check and double-check their list of camping supplies, only to arrive at their campsite and find that they've forgotten their tent at home. Don't make this mistake!
Sleeping Bags or Cots
Whether you plan to sleep outdoors or in your tent, you'll need a sleeping bag. Temperatures tend to fall quickly after the sun goes down, and without a good sleeping bag, you'll be in for a terrible night's sleep.
You can put your sleeping bag right on the floor of your tent, but if you do, you might find that you spend more time tossing and turning than catching ZZZs. That's why we've added a camping cot to our list of camping must-haves. By elevating yourself off the ground, you'll enjoy a better night's rest than you will if you decide to sleep on the cold, hard ground. Just make sure the cot you choose is simple to assemble and easy to fold and stow away when you're done. Last but certainly not least, don't forget to bring a comfortable pillow.
Camping Chairs and Tables
One of the best parts of camping is spending time gathered together around the campfire. Make sure everyone enjoys themselves by adding comfortable folding chairs to your list of camping supplies. As you're making a list of what to bring camping, get a headcount and make sure you bring a chair for each person. This way, everyone can sit together, and no one will feel left out.
There are many different styles of chairs to choose from, but you'll want to make sure the ones you bring are comfortable and durable. We love RIO camping chairs since they're built to last and even include a convenient table top and cup holder!
Pop-Up Canopies
When you're outdoors all day, you'll want some reprieve from the sun. A portable pop-up canopy can provide shade and protection from the sun and rain. When setting up your campsite, it's a great idea to put a canopy over your dining and/or food prep areas. If you're going to bring firewood, you may also want to put that under your canopy to keep it dry.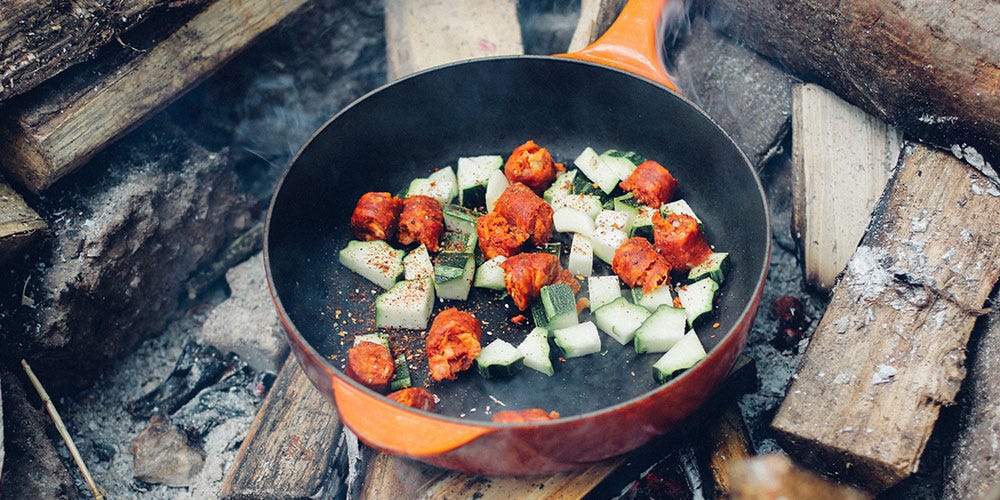 Eating and Drinking
From grilling hot dogs and making s'mores over an open fire to enjoying a frosty beverage after a long hike, food and drinks are an important part of any great camping adventure. You'll want to make sure you bring a camping stove and fuel, matches, a lighter, fire starter, firewood, and charcoal. Also, don't forget pots and pans, cooking utensils, a good knife, and paper plates and bowls. If you're a coffee drinker, you'll want a portable coffee maker and mugs or disposable insulated cups.
A portable camping table will give you plenty of space for food prep. Consider bringing a second one so everyone can sit together and comfortably enjoy their meal. Make sure you choose tables that are easy to set up and are durable enough to stand up to rough use.
You'll also want a sturdy cooler for food and a couple of portable metal coolers to hold your beverages. These are also great for taking with you if you decide to spend some time on the water or take a short hike.
Other food-related items to add to your list of camping supplies include charcoal, a cutting board, a tablecloth and clips, dish soap, a sponge, trash bags, a bottle opener, and food storage containers.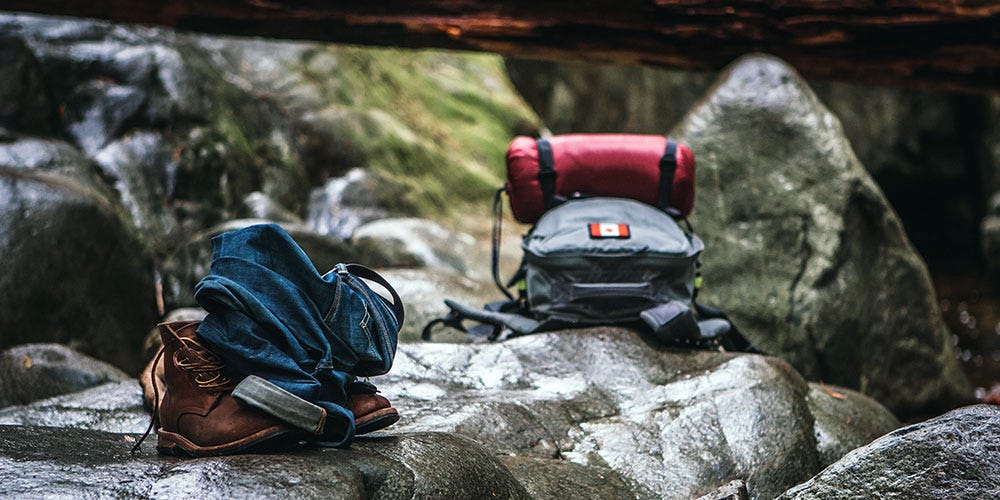 Clothing and Personal Items
When making a list of what to bring camping, don't forget to think about your clothing and personal items. While you don't want to over-pack, you also don't want to get caught short. The weather can sometimes be unpredictable, and you won't have the luxury of running to your closet for a change of clothes.
Make sure you bring short-sleeved and long-sleeved shirts, pants, shorts, and a jacket. You'll also want boots or shoes, sandals, socks, and sleep or loungewear. Always bring extra sets of clothes and shoes so you can stay warm and dry even if you run into bad weather.
Don't forget a hat, sunglasses, a swimsuit, towels, and your personal toiletries. You can skip things like makeup and perfumes. In fact, if you're only camping for a day or two, you might even skip showering! You can still stay clean(ish) by making sure you bring body wipes and a stick of good deodorant.
For longer trips, you may want to bring a camp shower or, if your campsite has a shower, bring flip flops to wear inside. A clothesline will also come in handy for drying towels and anything else that gets wet while you're camping.
Important Necessities
If you've gotten this far, you already have a pretty good grasp of what to bring camping, but you're not quite done yet. Make sure you pack plenty of flashlights or lanterns and bring some extra batteries. You never know what might happen while you're camping, so it's also a good idea to bring a multi-tool, duct tape, and a first aid kit. You may also want an ax for cutting wood.
Finally, make sure you bring plenty of water. You'll need it for drinking, cooking, and washing dishes. You'll also want sunscreen, bug spray, toilet paper, hand sanitizer, and a solar phone charger.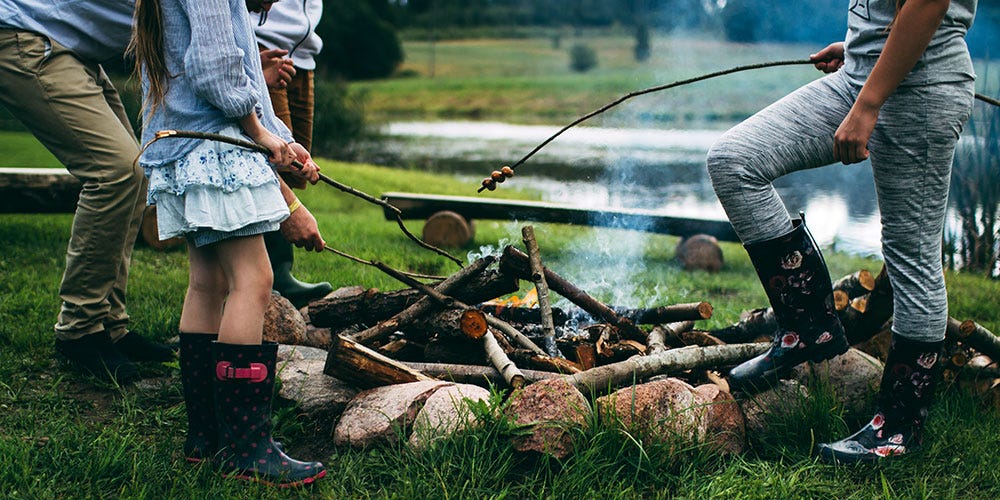 Fun Extras
Now, it's time for the fun part! After you've gathered up all your camping must-haves, you can start thinking about what you'll do for entertainment. The peace and quiet of camping are nice, but you're likely to get bored if you don't do some planning.
You may want to bring a book or some magazines and a hammock so you can relax and enjoy some screen-free time. If you enjoy birdwatching or wildlife, bring a pair of binoculars and a field guide, or bring a telescope and a star chart so some nighttime fun. Boardgames and card games are also great for both family-friendly fun and hilarious evenings after the kids go to bed.
Start Gathering Your Camping Must-Haves Today!
While this comprehensive list of what to bring camping might seem overwhelming, checking everything off will ensure you have a fun and comfortable camping adventure. As you make your list of camping supplies, it's a good idea to check with the campsite to see what amenities they offer. Most drive-up campgrounds will have their own fire pits and picnic tables. They may also sell firewood on-site.
To keep everything organized, consider purchasing some large clear plastic containers with lids. This will make it easier to pack and transport everything you need and will protect your items from the elements. If you have a label maker, use it to label each container, so you don't have to waste a lot of time searching for the things you need.
ShelterLogic Group carries many items you need for a fun and comfortable camping adventure, from coolers and chairs to camping cots and tables. Take a look through our website today so you can start gathering all of your important camping must-haves.