If you're a camping enthusiast, you know that high-quality camping chairs and camping tables are must-have items. However, you may not realize that there are also a ton of other creative ways to use them.
That's right, even if you never plan to camp, it's a great idea to keep some of these versatile accessories on hand. So here's a look at a few ways portable chairs and camping tables can make your life easier and more productive.
1. Yard Sales
Having a yard sale is a great way to declutter, but you'll need to display them properly if you want your items to sell. Setting up a few camping tables will help you draw attention to your most valuable items and keep them up off the ground, so they don't get damaged. Using several different tables will also allow you to group similar items together, making the shopping experience easier for visitors.
It's a great idea to set up a small camping table off to the side to use as a check-out station. This will give shoppers room to set down their newfound treasures and provide you with enough space to wrap breakables, bag items, and make change. Since yard sales often last all day, you'll also want a comfortable folding chair so you can relax while you wait for your next round of customers to arrive.
2. Kid's Sporting Events
You love watching your kid play sports, but when the sun starts to beat down, things can get unpleasant fast. Keep your cool by bringing a portable chair with a canopy to the next big game. A canopy chair is lightweight and easy to carry and have an adjustable canopy that provides UVA/UVB protection (UPF 50+).
Additionally, you can choose a canopy chair that has features such as a drink holder, cellphone pouch, keychain bottle opener, a zippered pouch for your valuables, and more. You'll love the convenience and will quickly become the envy of all the other sports parents.
When it's your turn to bring snacks, a lightweight roll-top camping table will help keep things organized. Look for one that folds up to a small size and comes with a carrying bag. This way, you can toss it over your shoulder, keeping your hands free for carrying drinks and snacks. You can also easily hang a plastic bag off the edge of the table to make clean-up a breeze.
3. Outdoor Crafts
No matter what their age, there are many outdoor crafts your children can enjoy. Not only will this get them out of the house and away from their screens, but moving your craft station outside will also minimize the mess.
An expandable camping table is perfect for creating a DIY outdoor art station. Since you can adjust the height, it will work well for kids of all ages and easily accommodate different folding chairs.
4. Food Prep & Dining
Whether you're gathering in your backyard patio or heading out for a weekend in the woods, a sturdy aluminum camp table will give you a clean and comfortable place to do your food prep. Look for a table that is strong, durable, and designed to hold at least a few hundred pounds. This will ensure it can easily hold all your food and cooking gear without an issue.
After your food prep is done, you can either clear the table and set it for dining or set up a second table for everyone to gather around and enjoy their meal. Don't be afraid to bring a bit of indoor elegance outdoors. Add a tablecloth and some fun decorative centerpieces to dress up your event and make things more fun!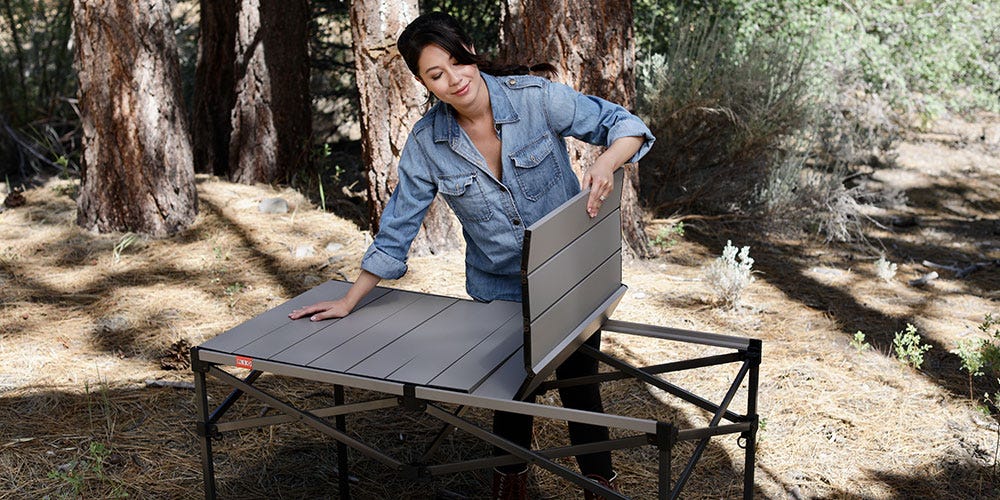 5. Fish Cleaning Station
There are plenty of places you can clean the day's fresh catch – in the bed of your truck, on your boat, or the beach. However, using a portable camping table to set up a fish cleaning station is both easier and more sanitary.
A standard-sized camping table is the perfect height for cleaning fish, so you won't strain your back by leaning over too much. You'll want to make sure you have a high-quality cutting board and keep a bucket nearby for the trash. If possible, set your table up near a water source, so you can quickly and easily hose off the mess.
If you're not going to cook the fish right away, it's also a great idea to have a high-quality metal cooler filled with ice so you can safely store your catch until you're ready to prepare it.
6. Game Nights
Bring game night outdoors by setting up a camping table (or two) on your back patio or out in the yard. This is a great way for everyone to relax, enjoy each other's company, and engage in some screen-free fun.
If you only have a few players, a small portable table will be sufficient. This will give you room for two to six people to play your favorite board or card games. Want to take things to the next level? Host a larger party with a variety of games to choose from. This way, your party guests can rotate from one game to the next, keeping things interesting well into the night.
If you're going to play after dark, make sure you have some hanging lanterns or other light sources. You'll also want plenty of quad chairs so everyone has a comfortable place to sit while they enjoy their games.
For an adult-oriented game night, you can also use your camping table to set up a poker game, play beer pong, or organize an epic game of Cards Against Humanity.
7. S'mores Bar
There are few things more relaxing than gathering with family and friends around a bonfire. Rio's folding director's chairs are perfect for hanging around a fire pit. They have a fold-out table with a drink slot, so you can enjoy your snacks without having to give up your spot or balance them on your lap.
Of course, you can't really enjoy a bonfire without s'mores! Up your entertainment game by using your camping table to set up an Instagram-worthy s'mores bar. Stock it with different flavors of marshmallows, regular and chocolate-flavored graham crackers, brownie brittle, and chocolate chip cookies. You can also take things up a notch by adding several types of candy (peanut butter cups, anyone?) and some sliced strawberries and bananas. When you're done, you will have created an unforgettable experience your guests will be talking about for weeks!
8. Garden Potting Station
If you're a plant lover and you don't have a potting station, you're missing out! It's easy to make a temporary potting station using a folding camping table. Start by setting up your table and laying out all of your pots according to size. This will allow you to easily select the right pot for each plant. You can also layout all of your potting tools – like gardening gloves, a small shovel, scissors, and a clean, sharp knife.
It's a great idea to choose a camping table with adjustable height so you can either stand while you repot or sit in a comfortable portable chair. While avid gardeners might prefer a permanent structure, for many, a portable option is more suitable. This will allow you to set up everything you need once or twice a year, then put your table and chair away until you find another creative use for it.
9. RVs and Road Trips
Lightweight camping chairs and tables are a must-have for any RV owner. Since they're designed to be portable, they won't take up too much space inside and will make it easy to set up a comfortable space outdoors once you've settled into your parking spot.
If you enjoy hiking, you'll love taking a backpack chair with you. It will give you plenty of room to store your outdoor gear, snacks, and magazines. Once you reach your destination, your backpack will turn into a comfortable chair you can use to relax and enjoy the fresh air. Features like a built-in key clip, a drink holder, and a contoured pillow offer plenty of comfort and convenience.
Prefer to relax with your favorite book or spend the evening gazing at the stars? A high-quality folding lounge chair will provide plenty of support and comfort. You can adjust these chairs to several different positions, making them a versatile solution for a variety of outdoor uses.