Camping is a fun getaway for all ages. But sometimes, it can be hard to keep the kids from being bored — especially in the digital age when a lot of the imagination is done for them. But when you bring back old-fashioned screen-free fun, you can return to nature as a family and have a much-needed break from the busyness of modern life.
This article will discuss fun camping activities for kids of all ages to help everyone pass the time and make fond memories.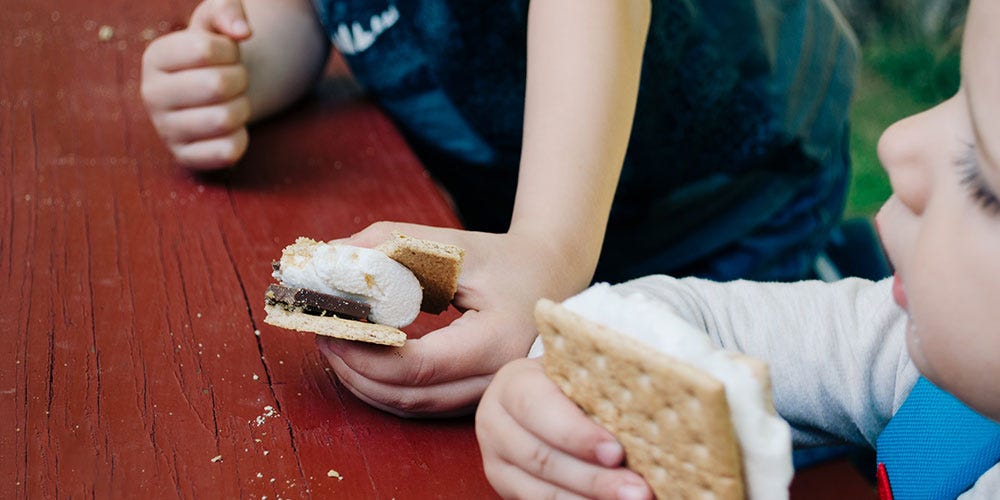 The Best Camping Activities for Small Kids
If you plan to go anywhere with small children, you know how important it is to be prepared. While it takes more work to go to a new place with small kids, keeping them entertained is fairly simple. Little kids are easily distracted by small wonders and enjoy engaging in tactile activities like playing with sand or simply running around outside.
Therefore, to keep small kids entertained on a campground, your main concern is safety. Bring gear like portable gates for little walkers, GPS bracelets, potty seats, high chairs, baby carriers, shelters, privacy tents, and any other necessities to keep your small children in a safe place. When you know that you have everything you need to manage your children while on the go, you can enjoy the trip to the full.
Enjoying Outdoor Time with Littles
To enjoy your time camping with babies and toddlers, you need to set up clear boundaries for everyone's safety. For instance, a baby-proofed campground setup should involve portable outdoor fences and a playpen. It's also important to protect little ones from harmful UV rays with outdoor shelters.
When you don't have the time to fuss with complicated setups, QuikShade pop-up canopies can make outdoor playtime easier. For easy setup with small kids underfoot, go for a standard-grade pop-up canopy so you can get back to what matters — your kids! When you have a shaded refuge, it's easy for the whole family to have somewhere cool to relax and play.
Sun safety with canopy chairs
Let's be honest; if it's "zone defense" with a few small kids, you might not have time to set up a canopy when you go to the river beach or camp playground. A RIO canopy chair is easy to set up and take down in a snap. Bring more than one so that everyone has some personal shade.
Camping is for Super Snackers
Small children are famous for their erratic eating patterns, so snacks reign supreme. But, if you're not prepared for their hunger pangs at random times, your camping trip can be stressful. So, keep delicious treats on the ready in a RIO stainless steel cooler.
Make snack time even easier when you bring a RIO camping table. By being prepared for a day of snacking, your family can stay fueled wherever the day takes you — whether you've gone fishing, to the park, or lounging on the river beach.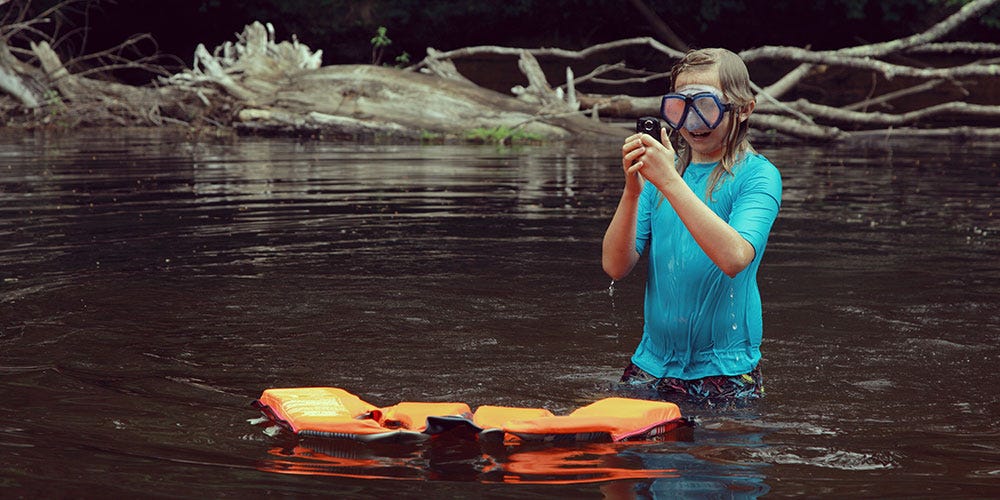 For Older Kids: Moderate Screen Time for Adventures
Older kids have a zest for adventurous activities and new experiences. It can be hard to pull older kids away from their screens in this digital age, but once they detach from video games and social media, there is so much to explore in the wild.
To start your trip right, make a camping rule for cell phones and devices. Reserve them for only specific parts of the day, such as a younger sibling's nap time or after the day is winding down. This leaves the day open to truly appreciate the campground. When the ground rules are set, there are clear expectations and zero confusion for the whole family.
Fishing, Swimming, & Hiking
Campgrounds offer ample opportunities to explore the great outdoors. Many are based on bodies of water, enabling you to swim and fish during the day. Hiking trails are also common and made to be family-friendly. When your big kids participate in these traditional and fun pastimes, they can gain valuable experience and make meaningful connections with family.
This is why fishing, hiking, and swimming are the three camping favorite activities of older kids. Check out your campground's amenities and plan each day with a theme that includes one or a combination of these activities. Your older kids will appreciate the change of pace and enjoy achieving new milestones outdoors.
With portable seating, you can fish, hike, and enjoy the water with greater comfort. Sit comfortably for hours as you wait for your big catch. Then, when it's time to cook and hang out by the fire, these chairs can easily slide up to the campfire.
When you're on the go for a hike, fold, pack, and carry these chairs with you, then unpack them and relax when you need a break on the trail. They are also made for beach bumming, so set them in the sand and watch the waves for a peaceful day at the river or lake.
Cooking & Dining Together
Camping for kids brings the whole family back to the basics of living. But, there's something about being outside that kicks everyone's appetite up a notch. Bring your portable stoves and cookware for some truly adventurous and wild meals that the whole family will love.
If your kids are old enough to cook, assign them some junior chef responsibilities. Breakfast food like scrambled eggs and toast is easy to make and gives kids a feeling of accomplishment. Other easy meals include roasting hot dogs, grilling pre-made hamburger patties, or prepping fruit on the side.
When you have somewhere to eat that feels just as comfortable as your home dining room, mealtime becomes even more enjoyable. Thankfully, RIO has been a market leader in camping and outdoor furnishings for years, and so it's easy to find the right-sized camping table and foldable chairs from this product line. In addition, RIO tables are made of heat-dissipating aluminum slats that make them a safe place to cook versus a run-of-the-mill plastic table.
For more campsite comfort, explore the rest of RIO's exciting camping products, including camping chairs, camping cots, canopy chairs, director's chairs, camping tables, folding chairs, and stadium seats. If you have a big family and need outdoor furniture that can handle a lot of beating, check out RIO's tables that can withstand up to 400 pounds of weight!
Campfires
The magic of camping isn't complete without nightly campfires where the whole family can relax and chat in front of an open fire. If you have little ones, practice good fire safety and use a fire pit and gate so that nobody can get too close to the fire. This classic camping activity for older kids is the best time to wind down, roast marshmallows, and tell exciting stories! Don't forget your foldable chairs and side tables for snacking and lounging all night long.
Board Games and Cards
Camping brings everyone closer together, and there's nothing like playing board games to make a rainy or hot afternoon pass by quickly. When you have foldable chairs and a table, you can set up a game of cards or a board game any time. Before you head out for your trip, ask everyone in the family what kinds of games they want to bring. This sense of ownership will make your older kids more excited about playing the games since they took part in the decision.
Camping Chores
Though camping is fun, it is a lot of work. The motto "many hands make light work" is true about camping chores as well as tasks at home. By giving each older kid a task they can handle, you can keep boredom at bay. When a child is proud of being in charge of a job such as collecting fire kindling, filling water containers, or pitching a tent, they will feel a sense of accomplishment that will boost their confidence.
Get Camping Gear from RIO
Camping with kids of all ages can be fun when your family is prepared with all the right gear from RIO and our favorite outdoor adventure brands. Find everything you need to dine, explore, and bond on your next camping adventure today.