Some of the best summer memories are made on the beach. After all, what's not to like about feeling the warm sand on your toes while relaxing under a beach umbrella, listening to the gentle waves washing over the shore? But a satisfying memory doesn't just happen without effort: a comfortable day at the beach is made possible by bringing the best accessories.
With the right chairs, shades, and mealtime accessories, you can spend all day at the beach comfortably. This is why it's important to invest in the best beach accessories and beach gear for families. So what should you bring to your next oceanfront getaway? This guide will show you everything you need for a terrific beach day.
Beach Tips for Families
When you think about a good beach day, you remember how easy it was to relax, how convenient it was to find your favorite beach toys and snacks, and how easy it was to pack up and go back to your car. Overall, a beach day goes off without a hitch when you pay attention to the details.
You must prepare for a day in the open sun where there are not many conveniences around you. This is why it's advised to bring shelter, food, and seating for the most relaxing day possible. This is a short list of beach accessories that make an unforgettable beach trip:
Beach umbrella or sunshade
Foldable beach chairs or canopy chairs
Portable side tables for meals
Lunch and drink coolers
Bags for toys and essentials like sunscreen
A wheeled beach cart to help carry your belongings.
Any extra beach gear for small children like a potty seat and highchair
Also, keep in mind that all the beach accessories you bring must be carried over long walks of sand. There's no guarantee that your beach will have a long boardwalk or pathway to make touting things easier. That's why you should get beach accessories that are made of light materials like aluminum, steel, and canvas.
Brands like RIO are experts in creating solutions for busy people who need convenient, easy setups. Choose products from manufacturers like these who know what it takes to rough it in new terrain. Here are some examples of our favorite beach chairs, shelters, and more.
You Need A Beach Cart
First things first: No matter your party's size, you need a beach cart. It's your secret solution for easy setup and take down. Owning a beach cart to carry multiple loose items at once can save your day, especially when you're tired and want to get home quickly. After all, when you take away the stress of multiple loading and unloading trips, you can focus on the fun at hand.
You Need a Beach Tent
Most beaches are located in an area without many trees or shelter from the relentless sun. Therefore, if you plan to spend a lot of time in an uncovered area, it's wise to bring a portable beach tent to provide a cool place to relax.
A beach tent can protect you and your family from the sun beyond just using sunscreen and wearing hats. They offer UPF 50 protection, block over 99% of UV rays, and are recommended by the Skin Cancer Foundation. Beach tents are also designed to set up and break down easily and are easy to transport and store.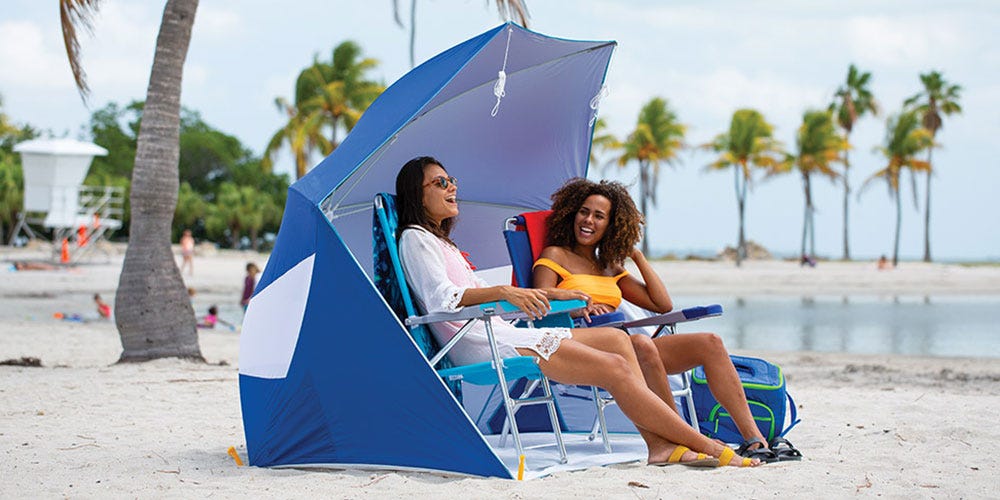 The Best Beach Chairs
Beach chairs are essential for long days. While it's also fun to lay on a beach towel and soak in the sun, beach chairs allow you to recline and relax while being out of the sand for a while. Here are some of the best beach chairs you can find for a comfortable day.
Best Beach Chairs by RIO
The best beach chairs are made of light materials and are easy to carry. Some of the most efficient models are made of lightweight aluminum or steel frames and strong canvas fabrics. Here are some of the best styles of chairs by RIO:
Tables, Umbrellas, and More!
With all this talk about beach carts, shades, and chairs, you may be wondering how you will bring a meal and eat comfortably. You may also be wondering about other types of shade options that take up less space in your car. Here are some other small details that you can add to your beach camp to enhance your time.
Cooler Bags
Getting food while you're out at the beach can be tricky, so it's often more convenient to bring your own packed lunch. Put your drinks and prepared snacks in cooler bags. To keep your food fresh and ready to eat anytime. Put in an ice pack so that your food can last in the insulated bag.
Camping Tables
Now that you have delicious snacks on hand, you can thoroughly enjoy them on a portable camping table. Don't let the title 'camping' mislead you — these tables are meant for rugged environments that are away from home. The beach is an excellent place to set up one of these lightweight and durable tables that can stand up to the rugged conditions of a hot day. You don't need a big one to transform your experience either. A simple side table can make just the perfect surface for a drink and a few sandwiches.
Beach Umbrellas
When you don't have many hands or a lot of space left in your car, a beach umbrella can become an excellent shade solution. Whether you plan to stay at the beach for an hour or most of the day, an umbrella that's designed for the beach can block out the Sun from different angles. Also, look for one with a secure sand anchor to withstand high winds without blowing away.
Get the Best Beach Accessories for Families from RIO
If you need more beach accessories to make your beach day the best, then check out all the solutions we have at RIO. There are so many different beach gear combinations you can make to craft the best camp for your next beach outing. So whether you need coolers, shades, beach chairs, lounge chairs, or more, we have what you need.