Have you been shopping for a beach chair lately? If you're in the market for one, you've probably noticed that chairs for the beach are not very easy to find this year. Even if you're able to find a beach chair in a store or online, it's either overpriced or it's not quite what you'd hoped for. After a year of social distancing, beach chairs have become a hot must-have item for the summer. Families and individuals will be spending more downtime relaxing at their local beach, backyards, the park, or the local swimming hole.
If it's been hard finding the perfect beach chair for you, look no further than RIO. You can choose from many great patterns, styles, and categories, models with hardwood or molded plastic arms, and built-in drink holders. Whether you like to recline and relax, sit up and enjoy the view, or need extra protection from the sun, RIO has a beach chair to fit your needs.
Don't go without a chair for the beach this summer: we have them in stock!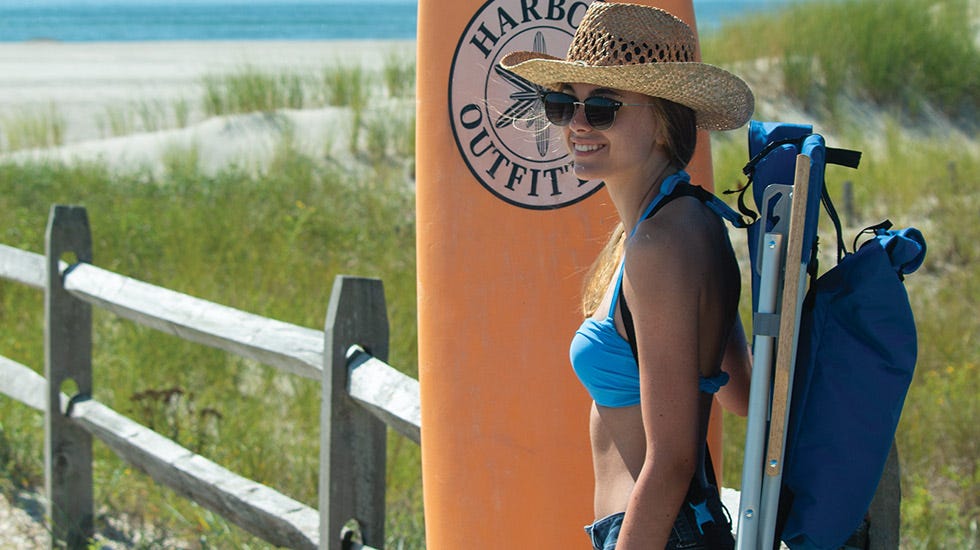 Removable Backpack Chairs
Our popular, redesigned RIO Backpack Chair now includes a unique detachable backpack! A detachable backpack chair makes it easier to carry your belongings to and from the beach. Just fill it with what you need for the beach, attach the backpack to the chair, then carry your chair on your back using the comfortable backpack straps. When you find your spot on the beach, you can detach the backpack for easy access to your things!
Your towels, sunscreen, baby stuff for moms, books, tablets, and more can be stored in the storage portion of the backpack. Cold drinks and such can be kept cool in the cooler pocket!
Strong, sturdy RIO Backpack Chairs come in a variety of styles and colors. You can get one with a lace-up suspension for style and comfortable back support, or a colorful chair with a traditional seat.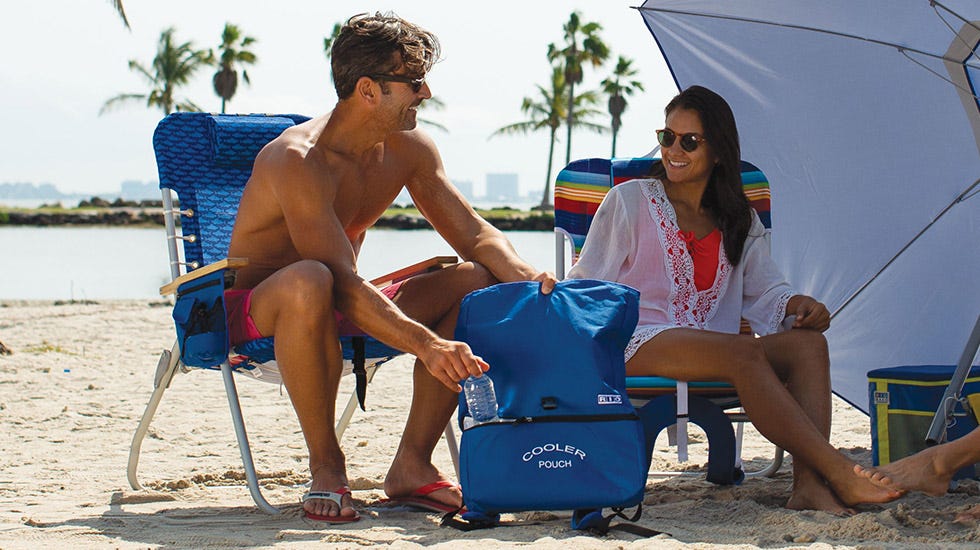 When it comes to a chair for the beach, do you prefer style or comfort? The good news is: RIO Beach Chairs offer the best of both worlds! Not only do we have beautiful chairs with bright styles that will make you stand out, but they are also built for comfort.
A beach chair with a high back is excellent for big and tall people who want to get their toes in the sand. A high back chair for the beach is also a great option for people who have difficulty getting up from a low seat. Don't worry, if you want to stretch your legs out or dip your toes in the water, RIO also has beach chairs with low seats.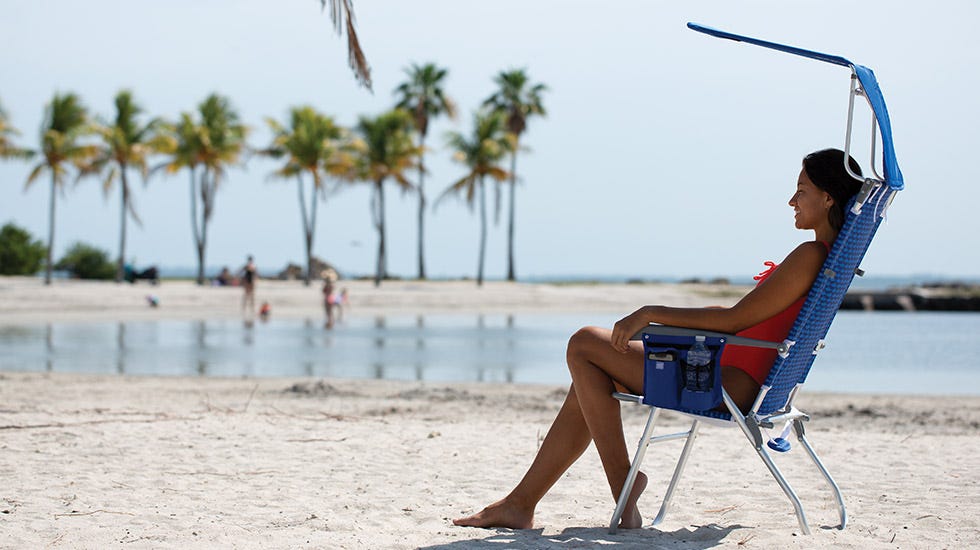 Catch Some Rays, But Stay Protected in a Canopy Chair
Want to stay in the shade? RIO Canopy Chairs have a built-in sun shelter to keep you safe and out of the sun. These attractive folding beach chairs provide UPF 50+ sun protection.
The Skin Cancer Foundation recommends these canopy chairs for the beach because they protect you from the sun's harmful UV rays. These beach chairs provide extended coverage while you're sitting upright, while adjustable side brackets allow the canopy to collapse when the chair is folded.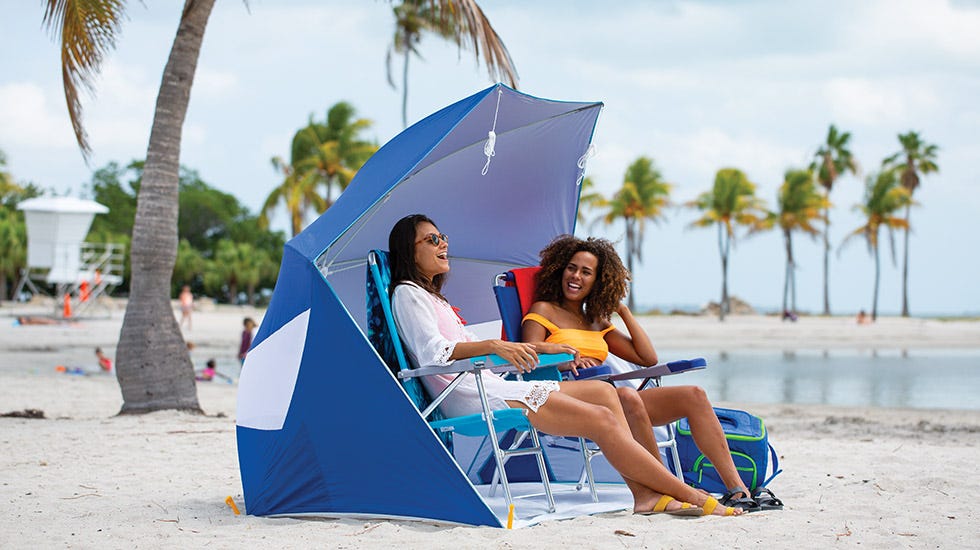 Your trip to the beach shouldn't end with a sunburn. Stable, convenient RIO Beach Tents provide instant relief from the sun. Our larger beach tents and cabanas offer UPF 50+ sun protection, and our children's tent blocks 99.8% of harmful UVA and UVB rays!
Whether you need a beach tent that's big enough for two beach chairs or a more compact model for kids, there's a size for your needs. These beach tent options are important to take on your beach trip, or anywhere you want to grab some shade.
Quality, Dependable RIO Chairs for the Beach
RIO chairs for the beach are not just comfortable and good-looking, they are also strong. They are lightweight, sturdy seating solutions that are engineered to take on sand and moisture. Made with rust-proof aluminum frames and tough polyester fabric, RIO beach chairs are built to last!