Are you considering building a backyard garage or shelter? A backyard storage space is the perfect way to keep your belongings safe and organized. These structures are also incredibly versatile. You can use an outdoor shelter for standard uses such as car parking or equipment storage, and you can even try out one of these creative backyard garage ideas to transform your garage.
Choosing Your Backyard Shelter
ShelterLogic has a range of outdoor storage buildings that can help you create the perfect outdoor space. These backyard storage solutions come in a range of styles and colors to perfectly match your home exterior and your outdoor design. When choosing your backyard shelter, you'll need to consider your budget, the size of your yard, and how you plan to use the backyard shelter. The most common backyard shelters include garages, sheds, and carports.
Backyard Garages
A backyard garage from ShelterLogic is a versatile structure that can be used in any number of ways. A garage provides complete protection from the elements so you can use the space all year round. You can choose either a portable or permanent garage from ShelterLogic. A portable garage is made from waterproof fabric and a durable steel frame. Fabric garages, like the Garage-in-a-Box, are easy to assemble, and they can even be moved around the yard to match your changing needs. Steel garages are a permanent structure that provide durable protection. These prefab steel buildings are resistant to rust and corrosion, and they'll last for many seasons.
Backyard Storage Sheds
If you want a more compact storage solution, a backyard shed is a great choice. A backyard storage shed is often smaller and more cost-effective than garages. Fabric sheds provide a portable storage solution that can be placed anywhere in the yard. Steel sheds are more permanent and will resist corrosion, rust, and rot. These will keep your belongings safe and dry even in extreme weather conditions.
Backyard Carports
Do you want a safe place to park your car, motorbike, or ATV? A backyard carport is a stylish way to protect your vehicles from the elements. These practical shelters are great for vehicle and boat parking, as well as for outdoor storage. You can choose a freestanding carport that can stand anywhere in the yard, or select an attached model that is secured to your home or garage exterior. Just like garage and shed solutions, you can choose between a fabric or steel carport depending on your needs.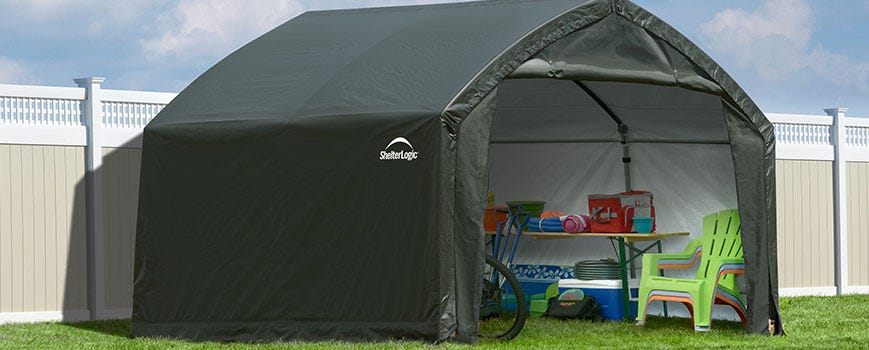 Conventional Backyard Garage Ideas
Adding a shelter to your yard creates endless options for how you use your extra space. Of course, these backyard shelters can also be used in more conventional ways.
Vehicle Parking
The most traditional use for your new garage space is vehicle parking. Whether you want to park a car, truck, boat, RV, holiday home, or ATV, you can find a garage that gives you all the space you need. A garage will keep your car out of the cold, and protect your vehicles from rain, snow, and hail.
Backyard storage
Backyard garages or sheds are often used for convenient storage. If your basement or attic is full of boxes, you can get a stylish backyard storage space that will keep eyesores out of sight. You can use your backyard shed to stow tools, paint cans, sports equipment, bikes, and even your lawnmower. Keep your storage space organized and customize your backyard shed with accessories like tool hangers and shelves. This helps you make the most of your space, and create some extra room for all the boxes of Christmas décor or home storage.
Garden Shed
Keep your gardening supplies organized and make it easy to beautify your yard with a garden shed. You can store extra bags of soil, gardening tools, and your wheelbarrow all together in one easily accessible place. This is also a great place to stow power tools and other yard equipment.
Hobby Workshop
Using your backyard shelter as a workshop is another conventional garage use. Most people store their tools in the garage, but not everyone has a workspace. Turn your garage into the perfect workshop by adding a sturdy work table and adding shelves to organize and store your tools.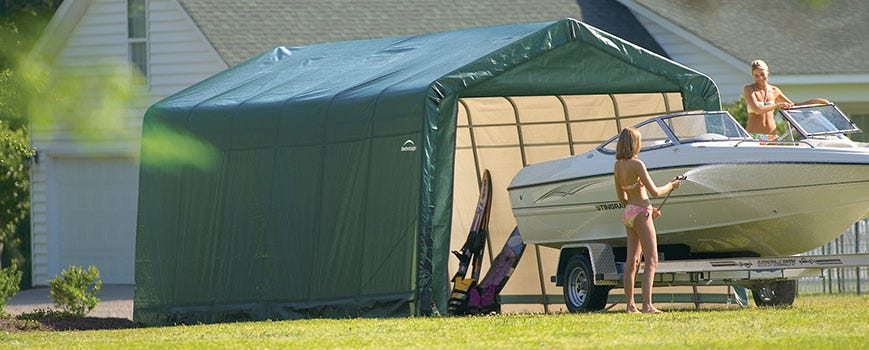 Creative Backyard Garage Ideas
Backyard garages aren't just for parking cars. They're great for non-traditional uses as well. These backyard spaces are far enough away from the house that you can escape from all the hustle and bustle of your daily life, but close enough to home that they're very convenient. Let your imagination run wild and transform your yard with these creative backyard garage ideas.
Entertainment Space
If you love doing things with family and friends but don't have a lot of room in the house, you can turn your backyard garage into the perfect entertainment space.
Outdoor Movie Theater
Adults and children alike will enjoy an outdoor movie theater. All you have to do is put up a portable screen and use your projector for a fun night in the backyard. Set up the space with cushions, pillows, and blankets. Don't forget to make some popcorn and grab the snacks! Whether you're watching by yourself or with family and friends, make your backyard the most exciting spot on the property.
Game Room
If you've always wanted a game room but don't have enough space in the house, you can use your backyard garage to make that dream a reality. Set up a gaming console, or stick to traditional games like pool or ping-pong. If you have power in the garage you can add a fridge, or have a cooler on hand to keep your drinks cold.
Playroom for The Kids
Backyard garages or sheds can easily be transformed into the perfect playroom for your kids. Prep the space by adding some comfy chairs, a selection of books and toys, and a crafting table. With an outdoor playroom, your kids will be begging to go outside. Having a dedicated playroom helps keep your home tidy and clean. You don't need to worry about your children's art project ending up all over the floor, or having marker stains on the walls. Turn your backyard shelter into a fun-zone where the kids can be creative without keeping everything clean. If you're turning your garage over to the kids, the backyard shelter can become a spooky haunted house, a slumber party room, or even the venue of their next birthday party.
Personal Use
Your backyard garage can also be a place for you to get away from it all. Claim the backyard garage for your own use, and enjoy the peace and quiet of your very own space.
Home Office
Do you work from home? A backyard garage can become your new home office. This will help you separate your work and personal life, making it easier to focus on work and relax at home. Create the perfect workspace by adding a desk, a computer, and most importantly, strong Wi-Fi. Turn your garage into a home office to increase your productivity and free up space in the house.
She Shed or Man Cave
When you need an escape from the daily grind, you can head out to your backyard she shed or man cave to kick back and relax. This is your chance to create a space just for you where you can unwind at the end of a long day. Watch TV, read a book, catch the game, or mediate. Fill the space with books, a comfy chair, or sports memorabilia, and turn your backyard garage into the space you've always dreamed about.
Garage Gym
Do you want a dedicated workout space? You can use your backyard garage as a home gym. Skip the commute and save on gym memberships with a backyard gym. You can work out in the comfort and privacy of your own yard with a gym built to match your exercise goals. Make sure you have proper ventilation with a shelter vent kit so it doesn't get too hot.
Arts and Crafts Room
Let your creativity run wild with an arts and crafts room, and don't worry about the mess. Using your garage for crafts can keep your house tidy and make crafting more fun. Add a large craft table and build a workstation to store all your crafting tools. This space can be perfect for sewing, painting, or even woodworking. With a dedicated arts and crafts room, you won't need to put away your project at the end of every day, and you can pick up right where you left off.
Backyard Greenhouse
By adding some lights and heaters to your backyard garage or shed, you can create a lush greenhouse in your own yard. If you have a green thumb, experiment with growing vegetables year-round, or collect some tropical plants.
Transform Your Yard with ShelterLogic
Whether you plan to use your backyard garage in conventional or unconventional ways, it all starts with the perfect backyard structure. Choose the shelter that matches your needs, and transform your yard with a stylish outdoor storage building from ShelterLogic.