Adding tarp structures to your property has a variety of benefits, from increasing curb appeal to providing a convenient spot to store anything from seasonal items to automobiles. While metal storage buildings are ultra-strong, a tarp shed or a tarp building is also a reliable and durable way to protect belongings from the elements at a fraction of the price tag of a permanent building.
Maintaining a tarp shed is simple with consistent inspections and quarterly maintenance. Sometimes, a tarp shed frame can appear to be in good condition but may not be ready for a harsh winter. There are specific ways to ensure your fabric structure lasts season after season. From frequent inspections to purchasing a ShelterLogic replacement cover, here are all the ways to keep your tarp structures looking great and staying functional for years to come.
Start with Proper Assembly of Tarp Shed Frame
Proper assembly ensures consistent performance and functionality when it comes to a fabric structure. Make sure to keep these tips in mind when erecting your shelter to keep it in ideal working condition.
Find the right surface: Always make sure you are starting off on the right foot by placing tarp structures on a level surface. Avoid low lying areas that may cause water to pool or be prone to flooding. If you erect your tarp shed frame on uneven ground, it may cause structural issues that could have been easily avoided.
Use directions: This may seem like a no-brainer, but make sure to have the manual open and handy while assembling tarp structures. Even if you are a DIY pro, following the instructions is incredibly important for your safety and the longevity of any fabric structure.
Use teamwork: In order to ensure proper assembly for a sturdy and long-lasting tarp shed frame, work with one or more people to assure each piece is placed properly. This also makes it simpler as one person can hold the parts in place while the other fastens pieces as needed.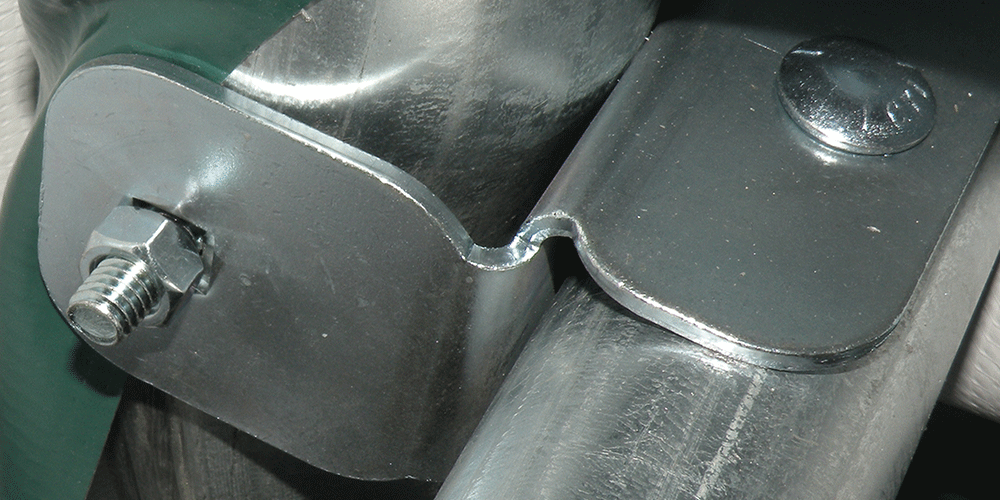 Everyday Maintenance Tips for Tarp Structures
It pays to always keep an eye on your tarp building frame, even if inclement weather isn't expected. One of the easiest maintenance tips is to keep tabs on the building's cover to ensure the perfect fit. The cover should be snug, but not too tight. If you notice any sagging, the cover is too loose. If you notice there is strain on the ribs, it may be too tight. Here's how to make sure your cover fits perfectly.
Determine the type of building you have. Different tarp structures will have varying tightening methods. Figure out if yours has sliding cross rails, ratchet rails, or lace connections.
Sliding cross rails: Loosen the clamps and simply pull the cover to the desired area, then retighten the cross rails.
Ratchet rails: Find the ratchet that connects the cover rail to the ratchet rail, and click the ratchet until the cover reaches its desired tightness.
Lace connections: Begin at one end of the lace and pull in sections toward the other end until there is enough slack to retie the other end for optimal cover placement.
Other simple but crucial maintenance tips include checking the tarp shed frame for wear and tear. Check tightening bolts and connectors to make sure they are not only in place, but properly secured. Also make sure to inspect the cover for any small or large tears in order to prevent further damage.
Conduct Quarterly Inspections for Peak Performance
While conducting a cursory inspection of tarp structures is always a great idea for ongoing maintenance, you should thoroughly look at your tarp shed frame quarterly to prepare for each season. Here are proper steps to take to prepare for harsh weather year-round.
Check ratchets: Check the ratchet connections to both the end panels and the cover to make sure there is no slack in the webbing. If there is, give the ratchet a few clicks.
Check rib connections: If there is a strain on the rib connections, chances are the cover may be too tight. Make sure to loosen the fit to reduce the possibility of tearing.
Inspect bungees: If your fabric building utilizes bungees, examine if they are weathered or tearing and replace them as needed.
Remove debris: Whether it's a severe storm in the summer, or snow accumulation in the winter, you must keep the roof of tarp structures free from debris to ensure a long lifespan.
How to Properly Remove Debris from Fabric Buildings
Tarp structures are in danger of damage if debris is allowed to accumulate. From tree branches to leaves, snow to pooling water, you must remove anything that can interfere with the strength of your structure. But you can do additional damage if you don't remove debris carefully. Here are tips to clear debris without compromising the structure.
Never use a sharp object: When removing debris from your fabric structure, avoid using anything like a rake or a shovel which could puncture the cover of your shelter. Instead, try a broom or a mop to carefully push items off the roof.
Remove snow from the outside: It may seem easier to push a larger amount of snow off the roof while you're inside the unit. However, this could puncture the fabric. It's safer to use the soft sided tool while on the outside of the building to gently remove snow.
Use your hands: Removing sharp objects like large sticks or branches with your hands instead of a tool will protect you from inadvertently puncturing the cover. Use a broom or mop for debris like leaves, dirt, water, snow, and anything on the roof that doesn't have sharp edges.
Tips to Keep Tarp Structures Clean
One of the simplest yet most effective maintenance tips for your fabric shelter is to keep it clean. Not only will it create a warm and inviting aesthetic to any property, it will also elongate the life of a fabric building. Your building should be cleaned at least once a year, both inside and out. A clean cover will not only make it tougher for debris to attach, it will also combat mold growth. In order to maintain a clean building, practice the following:
Avoid harsh chemicals: Do not use ammonia-based solutions for tarp structures. It's best to use a simple solution of soap and water along with a sponge to gently clean the cover of tarp structures.
Do not power wash: Just as you should not use sharp tools to clean tarp structures, you should also avoid power washing in order to keep your shed in working order. After cleaning with a soap or other soft tool, rinse with a hose.
Clean inside and out: While the outside of your fabric building certainly bears the brunt of environmental hazards, the inside is important to clean as well to avoid mold, mildew, and dirt buildup.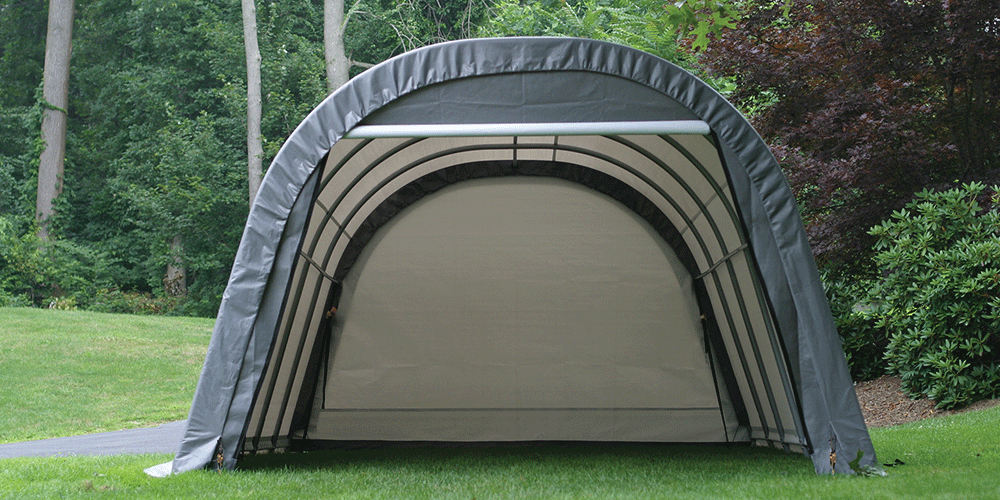 Renew Tarp Structures with a Replacement Cover
While a fabric cover can be repaired, severe weather or years of exposure to the elements may leave you wanting a replacement to breathe new life into your fabric building. ShelterLogic offers a replacement cover kit where you can even customize the cover based on your current needs. All you have to do is provide the cover number located on the side of your current building to choose options for a new cover. You'll even get to choose the weight and protection level for your new fabric. Each one is waterproof and UV treated for ultimate protection.
Standard: This reliable cover provides a 1-year prorated warranty and 1 year warranty for the panels.
Heavy Duty: Upgrade to this 14.5 oz fabric and it comes with a 10-year prorated warranty and a 3-year warranty on the panels.
Ultra Duty: This 21.5 oz cover has a 15-year prorated warranty and 3-year prorated warranty for the panels.
Tarp Storage Ideas for Increased Longevity
Storing standard items like lawn and garden tools or seasonal décor likely won't have much of an impact on the longevity of your tarp structures. However, if you plan to store chemicals or other potentially corrosive items, here are tarp storage ideas to ensure your structure stays safe.
Know your chemicals: Make sure to take stock in what you are storing to know which chemicals should be kept apart from each other.
Keep original containers: Store all chemicals in their original containers so there is no question as to what you are storing inside your shed.
Provide ample ventilation: Humidity and moisture buildup can wreak havoc on your shed, and chemicals won't help the situation. Invest in a ventilation kit for increased airflow.
Tarp structures, while a fraction of the cost of permanent buildings, are still strong and reliable structures that can last year after year. Routine maintenance and smart storage will ensure your fabric structure will stand up to the elements no matter the season.