Having a cluttered home is more than just an eyesore. It can actually cause stress and tension for many of us. That's why it's so important to have a decluttering strategy to organize your life while giving your outdoor space a cost-effective facelift. Adding an outdoor storage building is a simple way to provide additional space at a cost you can afford. But you should always have a plan, or else your storage solution can turn into a cluttered mess, too. Here are shed organization tips to overhaul your home's organization and turning your backyard into an outdoor oasis.
The Benefits of Reliable Storage Sheds
Storage sheds are ideal for stowing away belongings and keeping your home and backyard decluttered. Here are other reasons you should consider adding a storage solution to your home.
Add character: Whether you find a brightly-colored shed for an aesthetically pleasing addition to your backyard, or install one near your garden, a storage solution can add character and curb appeal to any property.
Convenience: You won't have to drive to a self-storage unit when you need to pick up the holiday decorations or pool supplies. Instead, you'll have them securely tucked away in your backyard.
Save money: Storage units can be expensive. In fact, the average monthly cost hovers around $90. Purchasing your own unit will pay you back in dividends over the years.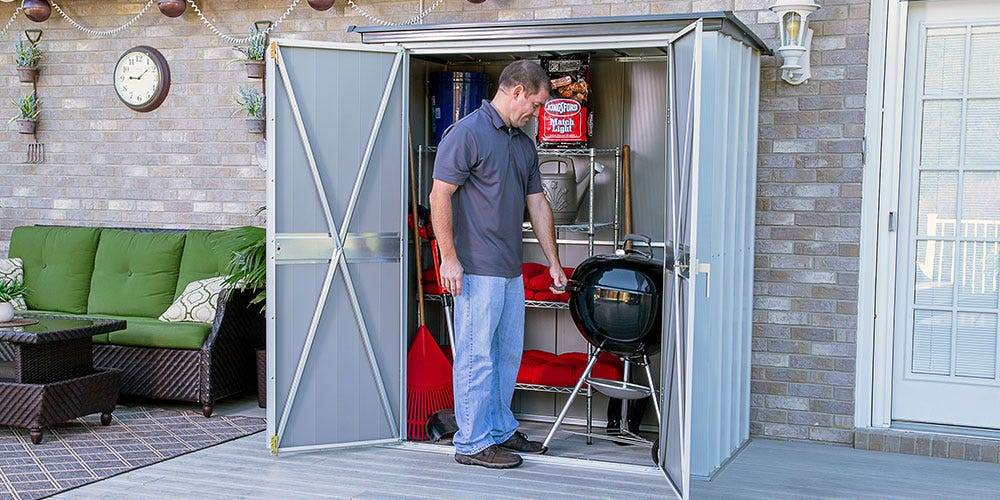 Take Stock in All Belongings
The first step you should take before purchasing a shed, or organizing it if you already own one, is taking stock in what you have. Is your backyard full of children's toys or outdoor tools? Do you need a spot to store pool supplies during the winter, or a place to stow away winter tools in the summer? Decide what you plan to store, and come up with a plan. Write one down if it makes it easier. Here are some dos and don'ts to think about when making your shed plan:
Don't store paint or dangerous chemicals. Temperatures can rise in your shed and that can create a dangerous situation.
Don't stow away artwork or electronics. It may be tempting to store keepsakes or items you aren't ready to part with in your shed. But high or low temperatures can wreak havoc on belongings like this.
Do effectively organize and label your belongings. It's great to pack away what you need in boxes but try to make sure you know where things are located. Otherwise you'll have a lot of trouble finding your belongings when you need them again next season.
Do plan on adding ventilation to your shed. You can purchase a shed ventilator, or invest in a structure that already has air vents built-in. This will help to control the temperature in the structure and avoid condensation that can lead to damage of your belongings as well as the shed.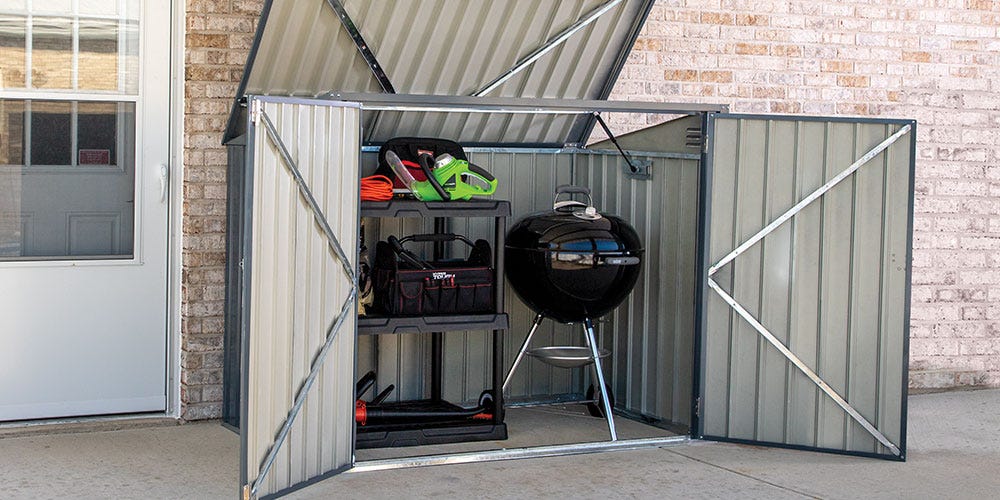 Create a Functional Shed Space
Before you start storing belongings, think first if you want your shed to function in a specific way. Here are a few creative ideas that may bring added functionality to your life and space.
Gardening shed: Do you spend a lot of time gardening and taking care of your yard? Why not add a gorgeous garden hideaway to your space by turning your storage solution into a gardening shed? A potting bench and some space to store your tools and you have a specialized area to call your own.
DIY auto shop: As people spend more time at home and less time traveling, DIY auto repairs are on the rise. If you like to change your own oil or fix your own vehicle, think about turning your shed into a self-serve auto shop.
Work space: Working from home has never been more popular. If you're out of space inside, why not transform your shed into an office?
Shed Organization Tips for Convenience and Ease
Make sure to figure out your organization style before moving items into the shed. Here are a few shed organization tips to get you started thinking about what approach may work best for your space.
Organize by season: If mainly storing tools or seasonal items, it may make the most sense to organize belongings based on the season. Your snowmobile and shovel will go in the same area of the shed, while lawnmower and pool storage would occupy another spot. This way, when the first snow falls, you'll know exactly where to find what you need.
Organize by function: Another successful storage method is storying by reason, instead of season. In other words, what purpose will these items have? Try storing garden tools and patio related items in one area, while children's toys or seasonal décor would occupy their own spaces.
Arrange by size: It may be easiest for you to store smaller items in one part of the shed and leave items that take up more space in another area. When you need a tool, you know to head to the smaller section instead of the larger area where you may keep a shovel or rake.
It's also a good idea to color code boxes when storing to help decipher what's inside. There's nothing worse than looking for something you really need and not having any idea which box it's in. Come up with an easy coding and labeling system to make organizing a snap.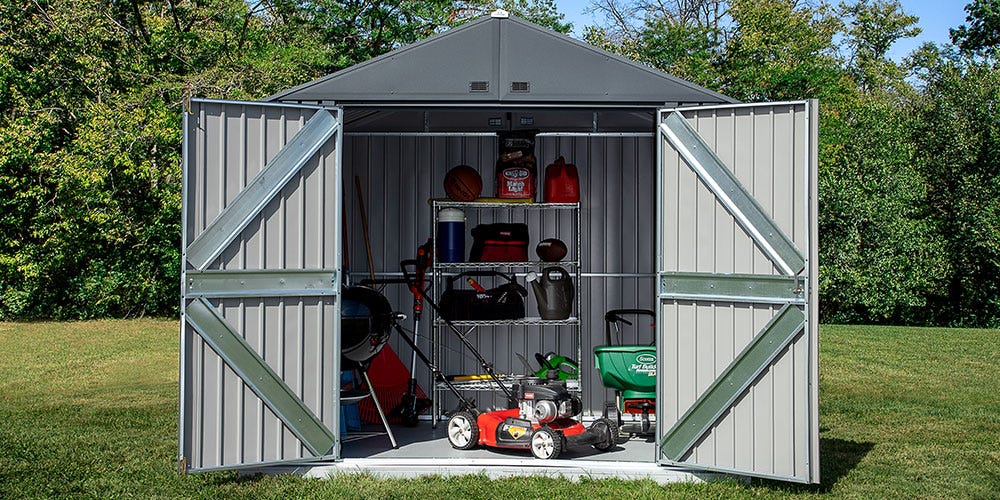 Creating a Unique Storage Solution
Focus on transforming a shed into your own space. You'll tend to use it more often and enjoy your time by accessorizing it properly. Here are some shed organization tips to make the storage solution your very own.
Add shelving: Shelves provide more space to display your belongings and make those items easier to find. Storing items off the floor will also keep them clean.
Install pegboards: Pegboards are perfect for storing tools and other odds and ends. You don't have to go digging through drawers when everything is laid out in front of you on a pegboard.
Use walls: Whether you want to hang a few photos in your home office, or display a chalkboard calendar to organize all your gardening tasks, remember the walls of a shed are just as valuable as the other spaces.
Add shrubbery: Adding plants and flowers to the outside of your shed will allow the structure to blend more with its surroundings. It provides curb appeal and makes your storage solution more inviting.
Install pavers: Pavers create a cozy feel and a gorgeous walkway to any outdoor space.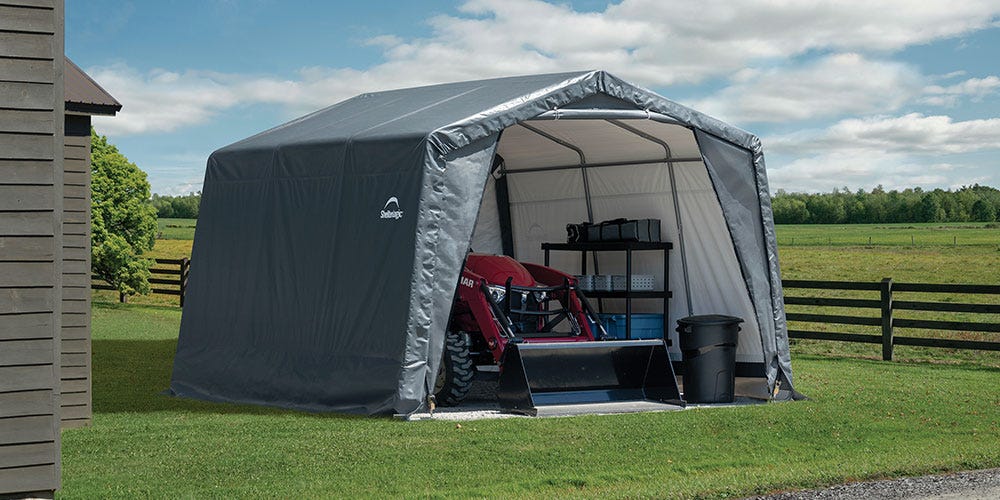 High-Quality Shed Options to Eliminate Clutter for Good
Small footprint sheds: If you are looking to declutter a patio, or when space is at a premium on a smaller property, a compact shed might be the perfect option. Whether choosing a lean to shed or a freestanding structure, the small storage solution will still make a big impact on the aesthetic of your yard. The EZEE Shed Steel Storage Shed will check all the boxes including easy assembly and chic style. It also includes:
Unique bonding process which makes it more resistant to dents and damage
Larger doorway for easy access storage
Gable vents for increased airflow and better temperature regulation
Midsize shelters: When you need to store an ATV, lawn tools, or other midsize items, choose a shed large enough to stow away your belongings while taking into consideration extra space for you to work. Whether you plan to create your own potting shed or keep your snowmobile in the shed in the off months, there are plenty of steel or fabric options to offer versatile storage space in every season. The Shed-in-a-Box XT is a durable and cost-effective option that includes:
25% more volume than a standard shed
8 ft. tall door opening ideal for larger items
Rugged powder coated steel frame with ripstop tough cover
Heavy-duty spacious options: Whether you have a spacious property with ample storage area, or need more storage in a commercial space, you may need a larger shelter to accommodate your needs. ShelterTech SP Series has a line of customizable shelters for storing cars, vehicles, and bulk storage. Wind and snow rated; these rugged sheds also provide:
Easy installation
Choice in fabric cover colors and thickness
Portability for incredible flexibility throughout each season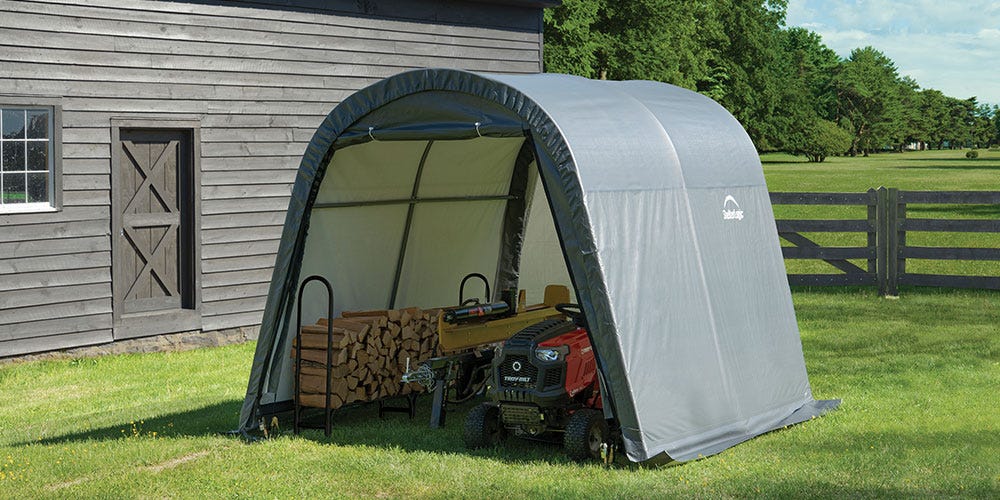 Shed Organization Tips Unique to Your Needs
When your goal is a tidy backyard, you can achieve that with a functional storage shed that fits your style and budget. Whether choosing a small lean to shed for the patio, or a large customizable shelter for bulk storage, make sure to customize it to fit your needs. Add accessories and a storage system that works for your everyday flow, creating a comfortable and enjoyable area that blends seamlessly with your outdoor space for years to come.