Here at ShelterLogic, we offer versatile and practical backyard solutions for ultimate outdoor organization. Whether you need to stow away gardening tools or conceal unsightly trash, you'll find sheds, racks, and more for a clutter-free yard year-round. Check out these four useful and innovative solutions for storage where you need it.
Backyard Solutions for Outdoor Organization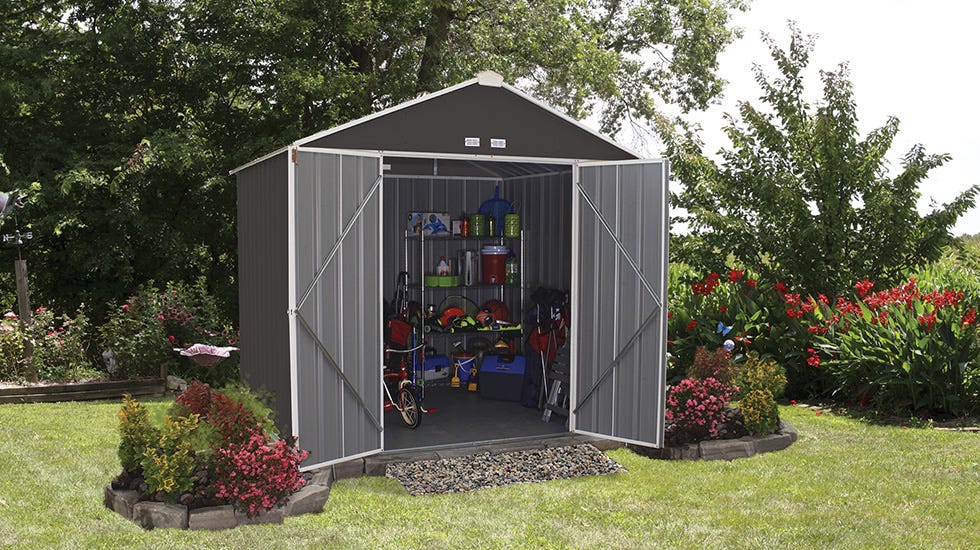 With spring officially in session and summer just around the corner, your garden requires more care and attention than ever this time of year. You need gardening tools and supplies close by to easily maintain your plants and produce and keep them blossoming. Why not utilize an attractive, durable, and accessible storage solution so everything you need stays within reach? Look no further than the EZEE Shed! These storage sheds provide a high-quality and quick-to-assemble structure to stash fertilizer, garden tools, the lawn mower, and much more. Large swing doors, plenty of headroom, and a modern color pallet make any EZEE Shed an attractive and spacious storage additive to keep everything you need nearby. Choose from compact 6x5 ft. sizes in color options such as cream or charcoal or larger 10x8 ft. options with attractive trim in both colors as well. Want to check out more steel sheds to complement and stash supplies in your garden? Check out our entire selection of steel sheds.
Recycling bins and trash cans almost always create an unsightly and foul-smelling nuisance in your backyard, deck, or patio. Not to mention, uncovered trash gives animals and unwanted critters easy access to whatever's in your garbage, which can cause an even bigger mess for you to deal with. Instead, use a trash bin storage solution for a clever way to hide unattractive trash or clutter. The Versa-Shed is a high-quality refuse storage solution that easily conceals and secures garbage, bins, bikes, and more for your best-looking outdoor space. The Versa-Shed features an attractive glossy look, a secure 2-point locking system, and high-quality steel that resists corrosion and rust. Available in 5x3 ft. and 6x3 ft. options.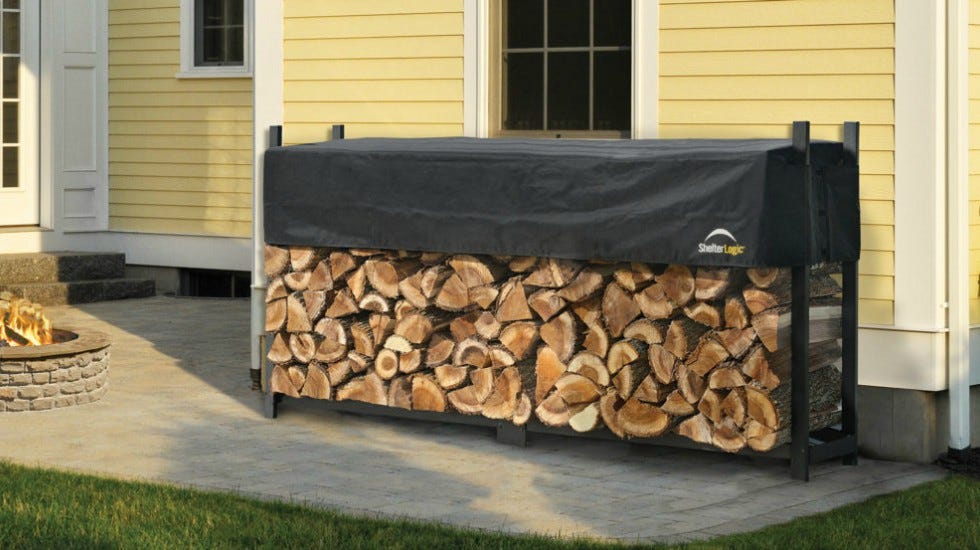 If you enjoy plenty of warm nights by the fireplace during winter, you probably stock up on fresh wood around this time of year to allow enough time for proper seasoning. Instead of tossing freshly cut firewood in a messy pile against your home, keep your supply neat, organized, and seasoning properly with a firewood storage solution. Firewood racks provide the ultimate solution to keep wood securely stored year-round. With sizes ranging from 4 ft. to 16 ft. long and optional covers for weather protection, you can store up to a cord of wood effortlessly! These solutions offer a premium wood rack that allows for plenty of ventilation and airflow for seasoning. See more tips on improving your firewood storage here.
BONUS BUY:Want to stash firewood and speed up the seasoning process? Check out our selection of firewood seasoning sheds: designed to efficiently season firewood up to 2x faster than open air drying in a portable and sturdy backyard building. Shop all firewood essentials here.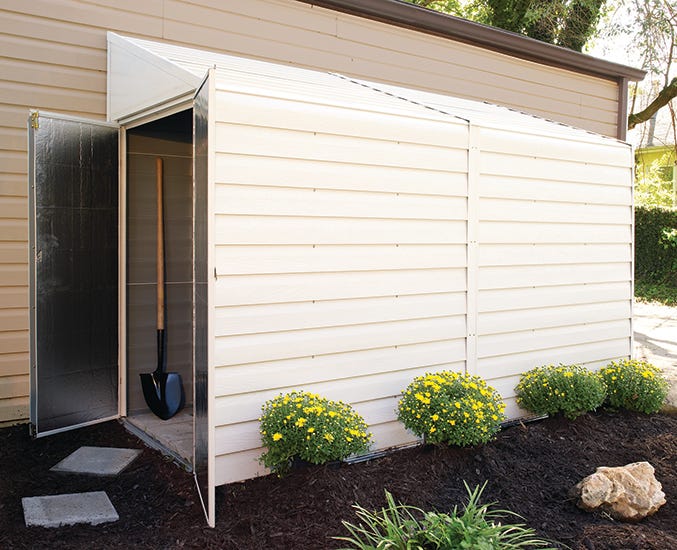 Need your outdoors organized but limited on space? No problem! The compact 5x7 ft. Yardsaver "leans" against fences or your home for ample storage space in a small footprint. The Yardsaver features easy DIY assembly, ample head space, and quality UV/corrosion resistance. See 5 compact storage sheds to stash backyard toys, lawn equipment, and more without sacrificing precious yard space.
Find More Backyard Solutions for Ultimate Outdoor Storage
Looking for more ways to organize your outdoor space? We've got plenty of sheds, deck and patio storage, and more backyard solutions for a tidy and attractive home. Get your ultimate outdoor oasis this season and contact us for more products, tips, and information.