For many RV owners, your vehicle is your home away from home. Whether using it for a quick weekend camping trip or cross-country travel, it's crucial to have safe and reliable RV storage. Keeping your RV outside without proper protection can not only wreak havoc on your expensive investment, but it can also open your vehicle up to theft and other undesirable risks.
There are several types of camper trailer storage options you can utilize depending on your budget, size requirements and space availability. If you're still debating about whether you really need RV storage, here are 4 reasons why you should invest in a shelter today.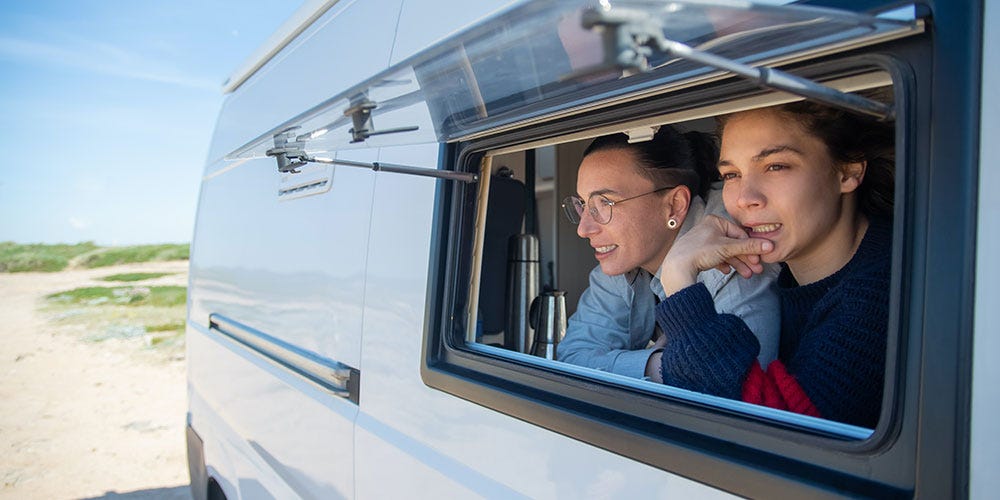 1. Protect the Exterior of Your RV or Camper
While you may enjoy the creature comforts of home inside your RV, don't forget the outside. Protecting an RV's exterior isn't just about keeping your investment looking new. Providing a safe place to store your vehicle also means the exterior is shielded from things like moisture and extreme weather, which can have a negative impact on your vehicle's structure.
The sun's harmful rays can damage the paint job, or even worse. Too much sun for extended periods of time can even cause the roof to buckle, leading to a much larger repair bill than the price of camper trailer storage. RV storage also aids in controlling moisture. Leaving your camper trailer outside to contend with mother nature can lead to condensation issues, which can harm several areas of an RV, including roofs and awnings.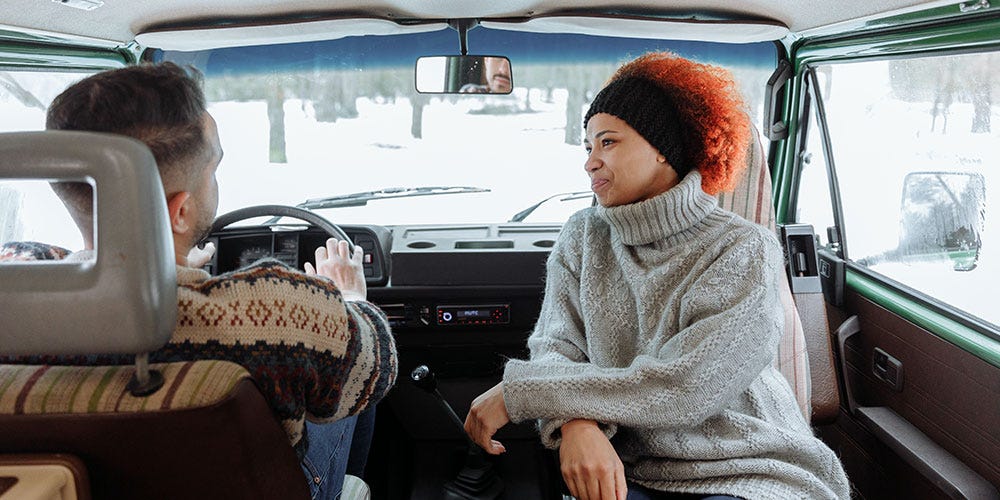 2. Shield the RV's Interior
While the exterior of an RV may be top of mind, considering it has most exposure to Mother Nature, many people forget the wear and tear the sun can cause on the interior of your vehicle. RVs are unique in that the sun can attack many more surfaces than just your seating areas and dashboard. Because they are essentially roaming homes, harmful UV rays can do some costly damage to multiple surfaces.
Many inside areas or your RV are susceptible to the sun's harsh rays. The dashboard can crack and fade from consistent sunlight; painted surfaces, bedding, carpet, and even appliances can also suffer sun damage. Camper trailer storage provides long-term critical protection for every area of the interior of your vehicle. Blocking ultraviolet radiation from the interior of your vehicle will keep it looking new, and likely save you repair or redecorating bills in the future.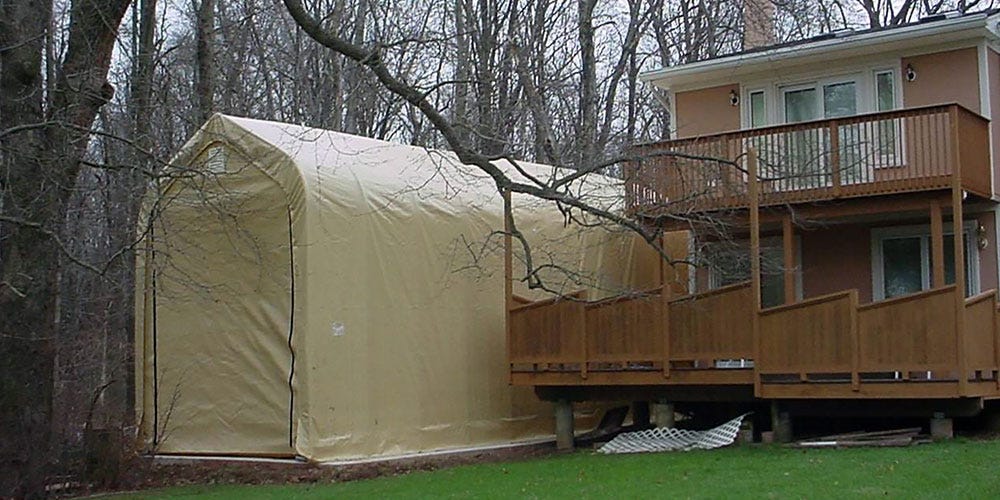 3. Year-round Convenience
While storing an RV at an established rental facility may seem ideal at first, there is a major pitfall to keeping your vehicle offsite: it's just plain inconvenient. When you want to get away for the weekend or take an extended vacation trip with the family, you'll have to budget extra time to drive to your storage unit offsite and retrieve your RV. Depending on where you live, that can add a ton of extra time to your day along with added hassle you don't want before hitting the road.
Camper trailer storage off your property also means it may take you some extra time to get your RV ready. If you have a storage solution at your home, you can pack up quickly while also making routine maintenance checks for the big trip for an all-around smoother experience. If you don't think you have room for a larger structure at home, carports from Arrow might be a perfect choice.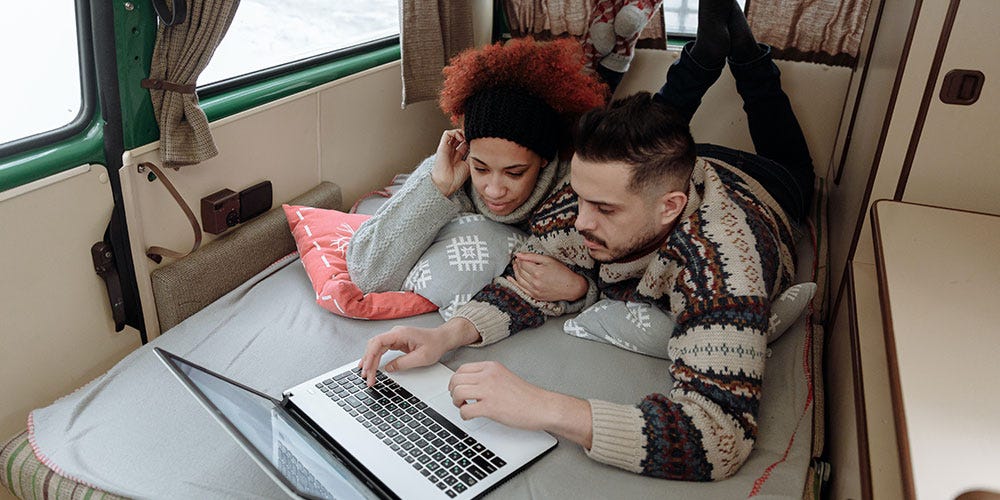 4. It Can Save You Money
While RV owners may not want to invest upfront for camper trailer storage units on their own property, it will end up saving money in the end when compared to foregoing storage or renting a space offsite. Depending on the type and size of RV you are storing, along with amenities of the unit and facility, it can cost hundreds of dollars a month to keep your vehicle save from the elements and also thieves.
If you purchase a storage solution to place on your own property, it will pay for itself over the amount of time you have an RV to store. In addition to the cost savings on securing an offsite shelter, you'll also have immediate access to the vehicle at your home to make maintenance checks and repairs, which can also be an economical win in the long run.
RV Storage Ideas for your Backyard or Property
Now that you know why you need to invest in a shelter for your RV, let's look at some solutions that are engineered for use in your backyard, property, or wherever you need protection:
Arrow Carports for RVs
Arrow makes carports specifically for RVs, manufactured with a metal cover made from galvanized steel. RV owners can choose from multiple size options ranging from 21 to 51 feet long. Carports are all about ease and accessibility, providing added convenience without a huge price tag. Although carports may not provide quite as much shade protection as other structures, these products from Arrow are heavy-duty and built to withstand 100-mph winds with a 35-psf snow rating. Other benefits of an Arrow carport for your RV include:
Simple assembly you can complete without professional help.
A black powder coated finish resists rust and corrosion.
14-foot-tall canopy can double as a picnic area cover or shade solution for gatherings.
ShelterTech SP Series Buildings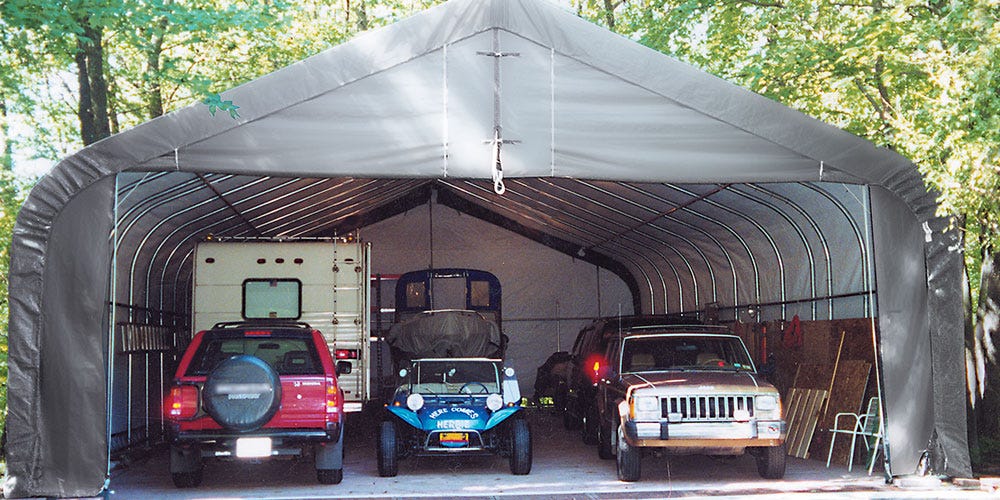 ShelterTech has an impressive line of camper trailer storage options to keep your RV's exterior safe from the elements. ShelterTech's SP Series shelters are single pipe fabric buildings manufactured to withstand rough weather. They are even wind and snow rated to take on tough weather. Made from high-quality galvanized steel with an ultra-durable PVC fabric, this option is even more affordable than other options like steel or concrete. No matter the size of your RV, the SP Series is customizable, allowing customers to choose from multiple shapes and sizes. These structures can be trusted to protect the exterior of your RV thanks to:
Galvanized USA-manufactured carbon steel construction with rust and corrosion protection.
Rugged 14.5 oz. commercial grade fabric is UV treated inside and out to protect your RV.
ShelterCoat Garages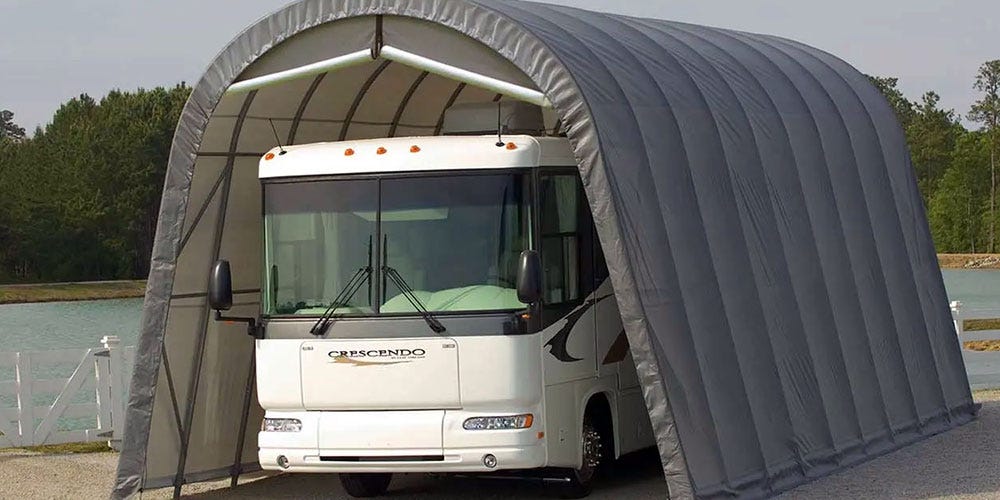 ShelterCoat's series of customizable RV storage structures allows owners of RVs of any size to create a storage solution that fits your budget and needs. This is the ideal option if you're looking for camper trailer storage that is portable and easy to assemble. You can also choose from round, peak, and barn style options for your backyard or property. ShelterCoat offers interior protection of your RV with features such as:
Powder-coated all-steel frame that protects against rust and corrosion.
Standard, heavy-duty, and ultra-duty fabric options to choose the level of protection you need within your budget.
Frame stabilizers and ratchet tensioning system for secure shelter frame.
RV Storage: Simple Solution for Protecting Your Investment
While owning an RV can be expensive, you can easily tack on unwanted costs by ignoring simple measures like protecting your vehicle from the elements. Utilizing a shade solution for camper trailer storage will keep an RV looking and running like new. Purchasing a durable RV storage unit will protect the interior and exterior of your vehicle along with all of the other expensive amenities inside the RV such as furniture and flooring.
When choosing the ideal storage unit for your backyard or property, make sure to check HOA rules and pick a product that fits best for your RV and home's needs. Options from ShelterTech, ShelterCoat, and Arrow Storage Products provide customizable size and cover choices for any RV and budget. While it may be an additional investment you may not have bargained for when purchasing your vacation vehicle, a dependable shade solution on your property will pay you back in dividends.