There are many benefits for any size company to invest in portable buildings. From the automotive to healthcare industry, there are a variety of ways storage buildings can help increase productivity, profitability, and even safety. But it's also important to make sure the portable storage buildings are strong enough to take on the elements to protect your belongings. ShelterTech outdoor storage buildings are an affordable and versatile way to take strength and convenience to a whole new level. Here are 5 reasons to choose a ShelterTech SP series building.
ShelterTech Storage Buildings Are Affordable Without Sacrificing Quality
Whether your business is expanding and you need extra space in a snap, or you simply want a new storage building to protect products, ShelterTech SP Series storage buildings provide a rugged option that can fit any budget. This option is much more cost effective when compared to building a permanent building. However, you don't have to sacrifice protection or quality. ShelterTech portable buildings are made from high-quality materials and include:
US certified galvanized steel for unmatched strength
Advanced engineered fabric backed by a 15-year warranty
Wind and snow load rated for supreme protection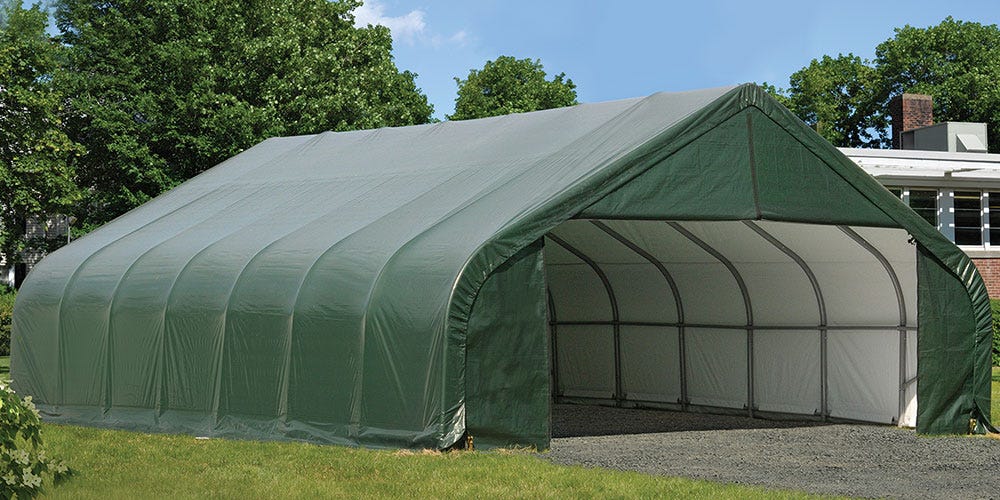 ShelterTech Provides Versatile Portable Buildings for Every Storage Need
If you own a business or corporation or need for a spacious storage area on your property, ShelterTech has an option that fits everyone's unique needs. The only limit to how you can use ShelterTech storage buildings is your imagination. Here are some common uses for these incredibly versatile shelters.
Personal storage: Having a secure space to store anything from seasonal items to furniture or even the family RV is a level of convenience you'll be able to have with portable storage buildings on your own property. You'll also be able to skip on off-site storage unit fees.
Office space: If your growing business needs extra space for workers or materials, a ShelterTech temporary building is an effective way to add square footage at an affordable price. These portable buildings can also be moved around the property as your workforce changes shift. This investment is sure to save you money when compared to erecting a permanent building, which is much more expensive.
Farming equipment: From tractors to farming materials, ShelterTech SP portable buildings are ideal structures to store anything on the farm that needs protection from the outdoors. Farmers are also able to move these shelters around based on their needs thanks to their portability.
Healthcare: Temporary building options are more useful than ever as COVID-19 has an impact on communities across the world. Shield healthcare workers and patients during vaccination clinics with one of these reliable ShelterTech structures. The UV-treated fabric will keep everyone cool while also shielding from possible rain.
Landscaping equipment: Store anything from mulch to lawnmowers for a small or large landscaping business to protect expensive equipment against the elements. This option also saves money when compared with renting offsite storage unit at a monthly rate.
Bulk storage: There are many different industries that can utilize ShelterTech storage buildings for bulk storage, keeping everything from animal feed to dirt and mulch conveniently stored on property ready for when you need it.
Construction site: A construction site is in constant need of portable storage buildings to keep anything from vehicles to materials safe and accessible at all times. Construction sites often fall victim to theft due to items out in plain site. Erecting a ShelterTech building can help fend off thieves.
Auto workshop: Keep automobiles safe from rough weather and harsh UV rays with a ShelterTech structure. Save money by ensuring the work you've already done on vehicles isn't ruined due to bad weather.
sShelterTech Portable Building Options are Fully Customizable
When it comes to choosing storage buildings for your small business or large corporation, it's important to find a structure with plenty of flexibility for changing needs. One huge benefit to ShelterTech portable storage buildings are their portability. These storage solutions can be easily assembled and also unassembled within days, not weeks. This offers increased flexibility when compared to erecting a permanent structure for any business.
ShelterTech also offers business owners impressive customization to ensure you find a building that fits your unique needs. These single pipe storage buildings come in multiple sizes, from 12 ft. wide to 30 ft. wide and up to 100 ft. in length. Additional customization options include:
Shape: Choose from three different shapes specific to your storage needs
Fabric type: ShelterTech offers two different levels of fabric thickness, UV-treated for extra protection along with multiple color choices
Entryway options: Choose different entryway options including varying cutouts and zippers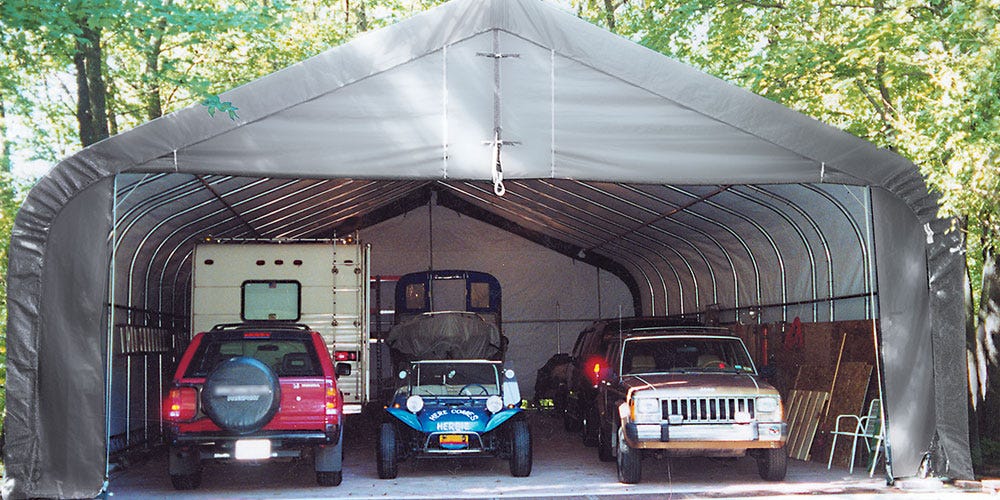 ShelterTech Portable Storage Buildings Offer Impressive Durability
These portable buildings may be temporary, but they are built to last through rough weather to protect your belongings. Manufactured with strong U.S. Certified galvanized steel frames, ShelterTech provides unmatched durability compared with other fabric shelters. Other features include:
Wind and snow rated: When it comes to fabric structures, ShelterTech is as strong as they come. They are certified wind and snow rated shelters, which means the wind and snow load ratings have been certified by engineers. If you want deluxe protection at a fraction of the price of a permanent building, ShelterTech offers a solid option.
Sturdy construction: These storage buildings are built tough made with the best materials on the market. ShelterLock stabilizers provide incredible strength and sturdiness.
Waterproof fabric: Whether protecting your belongings from wind, snow, or humidity, the heavy-duty fabric options will fend off moisture that can wreak havoc on your structure and the items inside.
ShelterTech: Easy to Assemble Storage Buildings for Every Industry
Every growing business can likely benefit from extra space. However, many don't have the time and money to erect a permanent building to create additional space. And even if you do have the extra cash, why spend it when you can have a fully customizable and ultra-durable building at a fraction of the cost?
ShelterTech was the right choice for the crew at the popular Graveyard Carz television series. Owner Mark Worman says his team chose ShelterTech portable storage buildings because the successful shop was running out of room as they worked to restore old cars. He reached out to ShelterLogic for a temporary building option in his budget that could also stand up to the weather. This option protects not only the expensive cars, but also ensures the specialized work his crew performs isn't ruined by rough weather or harsh UV rays.
Worman customized his own 120 ft. by 30 ft. structure to store cars that are being restored. The cars inside are irreplaceable, and the Graveyard Cars team trusts ShelterTech to protect their investment in every season. And if the business' needs change, these portable buildings can be unassembled and reassembled in another area of the business for ultimate versatility. The team at Graveyard Carz chose ShelterTech because of the rugged construction and incredible protection all at an affordable price.
Choosing Your Own ShelterTech Customizable Temporary Building
Before choosing the fabric shelter that fully suits your needs, first figure out the items that will be stored and how much space is needed. Measure not only your property, but decide the amount of space that will adequately hold your belongings. With a ShelterTech building, there are multiple aspects of the shelter that can be customized, including:
Color
Fabric strength
Shape
Size
Entryway
Aside from creating a building that is rugged enough to stand up to the elements, you'll also invest in a shelter that is incredibly easy to assemble. Compared to permanent buildings that can take weeks to months to construct, ShelterTech portable buildings can be assembled in just days, meaning less downtime for any business for increased efficiency. These fabric shelters are an ideal addition to any industry that can benefit from extra space at an affordable price point.