As a commercial farmer, you are always looking for the best ways to increase your large-scale farming yields. If you want to extend your growing season, you will need more greenhouse space to properly grow plants and vegetables. A
high tunnel greenhouse
could be the right solution for your large-scale farming needs. Here's how high tunnels can help your large-scale farming operation produce higher yields, so you'll sell more locally grown goods.
What is a High Tunnel Greenhouse?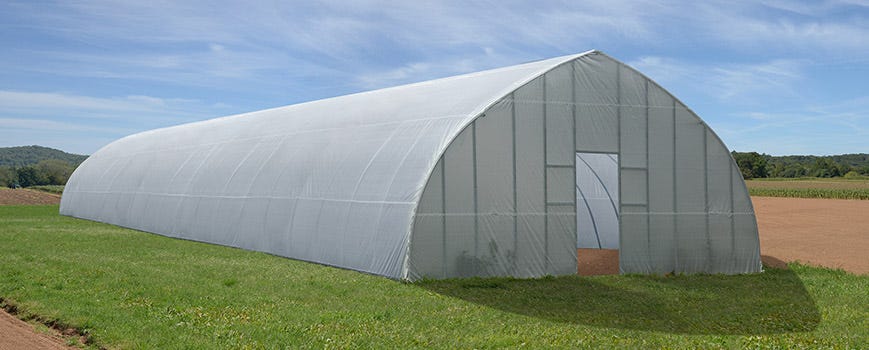 High tunnel greenhouses
are unheated structures  that can help commercial farmers extend their growing season. In addition, high tunnel greenhouses aid large-scale farming by extending the harvest by providing protection from the elements. The result is a more-stable production system that poses less risk of crop failure. They also help commercial farmers improve the profitability and productivity of their farms. High tunnels and
cold frame greenhouses
are sometimes referred to interchangeably.  High Tunnel Greenhouses are considered cold frame greenhouses, when  they don't require heaters, fans, or other environment-controlling equipment. Rather, they simply consist of a translucent fabric cover, a steel frame, and rely solely on the sun for heat. To regulate internal temperature, high tunnel greenhouses are often ventilated  simply by lifting the side panels or unzipping the front or rear panel. However, sometimes
high tunnel greenhouses
can be customized with fans, heaters and other accessories. The
ShelterTech High Tunnel Greenhouse
, for example, can be used in both ways. Also, high tunnels are generally more mobile than other greenhouse units. Although a high tunnel greenhouse should always be anchored, they have been developed to be versatile growing environments that can be disassembled and re-positioned or re-located relatively easily. Thanks in part to their ease of assembly, it's simple to move your high tunnel from field to field depending on your farm's crop rotation schedule. A high tunnel greenhouse can be used to protect anything from tomatoes to flowers from harmful weather conditions. They also help to create  the perfect environment for your plants to thrive and survive. This option also allows you to extend your growing season with minimal investment.
High Tunnel Greenhouses Offer a Great Return on Investment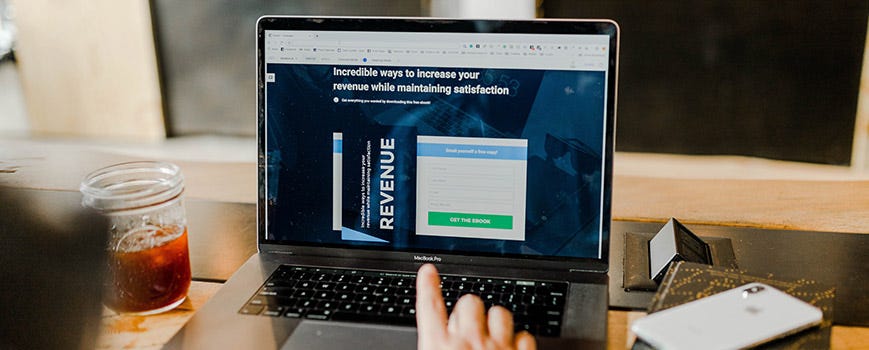 As a commercial farmer, you may look at the price of a 100-ft. long, 38 ft. wide high tunnel and go into sticker shock. But compared to a permanent greenhouse, high tunnels are relatively cost-effective. Also, it's possible for a commercial farming business to
pay off a high tunnel in fewer than two years
.
No New Taxes
In many taxing jurisdictions, a high tunnel greenhouse is not considered to be a permanent building and is
therefore not taxable
. For example,
in Vermont
, a greenhouse that is anchored to the soil but is still removable is not to be considered a part of the real property. Similar property tax rules also apply in states including
Ohio
,
Illinois
, and
New York
. Because they are often considered temporary structures, you may not encounter any zoning requirements, and can avoid additional building permits. Having said that, we strongly recommend you check with local zoning ordinances if you're thinking of investing in one of these structures.
Federal Funding Available
The United States Department of Agriculture's
Environmental Quality Incentives Program
can help you offset the cost of your investment in a high tunnel greenhouse. Authorized under the 2014 Farm Bill, EQIP helps farmers install measures to protect soil, water, plant, wildlife, and other natural resources while ensuring sustainable production on their farms, ranches and working forest lands. Applicants accepted into EQIP may receive payments to offset costs associated with materials and installation of conservation practices. If you qualify, that means your initial investment becomes even smaller, while you still get to enjoy those higher returns.
Low Operational Costs
High tunnel greenhouses are so valuable in large-scale farming because you have more control over your crops. Your plants grow faster, and your farm becomes more efficient. Since what you're growing in a high tunnel greenhouse is in a controlled environment, they can even reduce the need for pesticides. Also, since high tunnels don't require heaters, fans, or lights, the cost to operate them is minimal.
Why Choose a ShelterTech High Tunnel Greenhouse?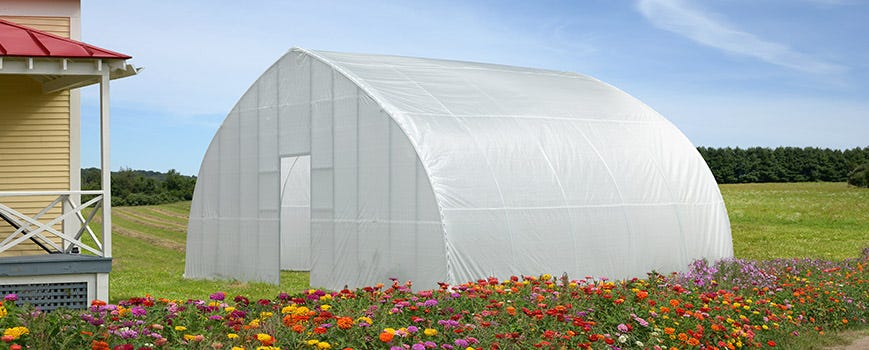 If you're looking to grow bigger plants at a faster pace, the 
ShelterTech High Tunnel Greenhouse
is your answer. One of the biggest innovations behind our high tunnel greenhouse is, in fact, its unique cover. Unlike many greenhouse covers on the market today, the ShelterTech High Tunnel Greenhouse features the trademark LUMINATE fabric material. This rugged translucent cover has been proven to effectively and more efficiently grow produce in a side by side study. The durable eco-friendly polyethylene fabric cover is proven to retain heat and grow your crops more efficiently by reducing the amount of water that is used to grow plants and vegetables. It also diffuses the light, providing more even distribution to plants and vegetables while many other popular brands do not.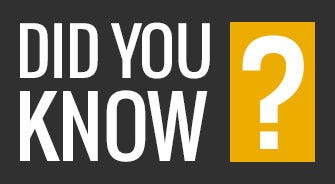 Our LUMINATE greenhouse covers are more effective in growing plants and vegetables than the competition? Results from a side-by-side study show the benefits of our 5.5 oz., rip-stop polyethylene greenhouse cover compared to other standard translucent covers on the market.
Unlike many large-scale farming solutions, farmers and growers often must invest in a complete greenhouse if they want to purchase a building. However, customization is possible with the ShelterTech High Tunnel Greenhouse unit. Rather than purchasing a complete unit, farmers have the option of choosing only the elements that are pertinent to them. Meaning if you are not interested in a complete unit, but just want the frame, it's possible to purchase it alone.
Customization is Key
You begin by choosing the shape of the building you desire, followed by the bundle of your choice. Then, configure your greenhouse building to the size specifications you desire and you're good to go. Your bundle options include: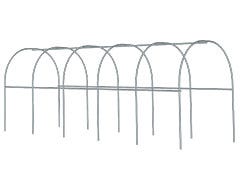 Frame Only
You can choose from a greenhouse frame as small as 8 x 8 ft., or as large as 38 x 15 ft. You can customize your length up to 100 feet.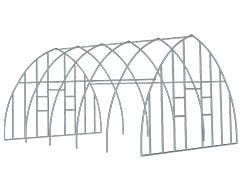 Frame + End Panel Frame Only
The convenient end panel frames allow you to install a fan or air vent at either end, helping you to control the environment for your crops.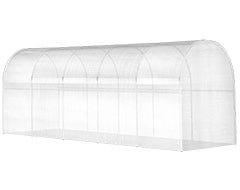 Frame + Cover Kit Only
In a side-by-side study, these greenhouse covers have proven more effective in growing plants and vegetables versus the competition.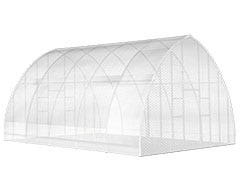 Full Greenhouse Kit
The full ShelterTech High Tunnel Greenhouse kit includes the frame, end panel frames, and the polyethylene greenhouse cover.
Advantages of a High Tunnel Greenhouse in Large-Scale Farming
Sometimes it seems like nothing can be quite as unpredictable as the weather. For example, January cold spells in Florida or February thaws in New England often leave farmers playing guessing games. Bad weather is just one factor that can have a negative effect on a farmer's bottom line and lead to a poor season. Likewise, poor weather can lead to damaged or diseased crops, smaller yields, or zero return on harvests.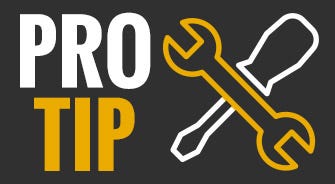 The sun will naturally heat your high tunnel greenhouse during the day. However, your greenhouse will cool down at night. Regardless, there are several natural and artificial ways to keep the crops in your high tunnel greenhouse above freezing levels.
High tunnels are most beneficial for large-scale farming because of their
ability to extend the growing season and plant options
. With a high tunnel, plants grow in a more controlled climate. This minimizes the impact of overly hot or cold weather and allowing you to get a jump start on growing. These high tunnel units allow commercial farmers to maximize the harvest and make growing strong crops much easier. Wind, heavy rain or unexpected weather will be less likely to destroy or hinder your plant's growth under a large and durable high tunnel. Another advantage high tunnels offer is a level of protection from pests. These enclosed environments also minimize insects, birds, or other animals from attacking your efforts. And with that, they help reduce the need for pesticides and other repellent chemicals.
Taking Care of your High Tunnel Greenhouse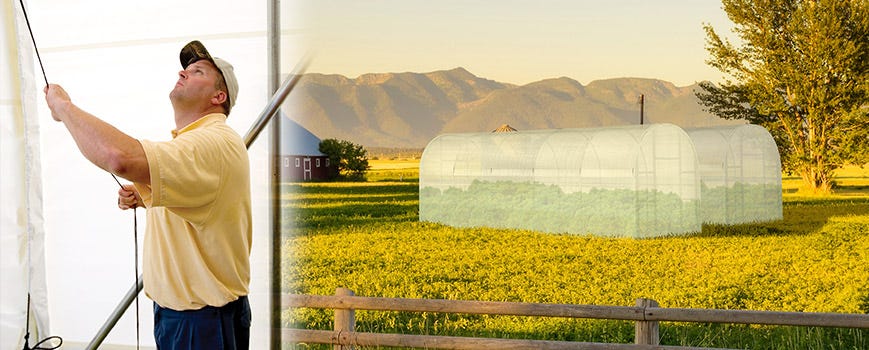 Even if you have the greenest thumb in the world, proper maintenance must to be performed on your high tunnel greenhouse for your crops to thrive. This includes meticulous cleaning and a proper maintenance check on a quarterly basis, or whenever you switch growing seasons.

Cleaning Your Greenhouse
To prevent harmful algae, mold, mildew, funguses, and diseases, it is recommended that you clean your high tunnel greenhouse. The cleaning and disinfecting of the greenhouse must be complete and thorough, so everything must be removed from inside. That includes benches, pots, tables, shelves, plants, and any equipment that is regularly stored inside it. You can wash greenhouse items such as reusable pots, trays, shelves and more with soapy water. Once that's done, let them sit in a solution of 3/4 cup oxygen bleach to one gallon of water. This will kill off any pathogens and diseases that could harm your crops. Your cover and frame need to be thoroughly cleaned to eliminate all fungi, mold, and other microscopic pathogens. Use a soft brush with no sharp edges or a sponge, and a mild dish detergent and warm water, to thoroughly clean the frame and cover. You should not use a power washer to rinse the cover because it can damage the LUMINATE fabric.

Maintenance Check
When you've finished cleaning your high tunnel greenhouse, make sure all the pieces of your high tunnel are in place. As you give your high tunnel an inspection, you should ensure bolts are secure on your frame. The cover should also be taut to the frame to resist tearing due to heavy winds and inclement weather. Also, make sure bungee fasteners aren't missing or worn out, since they keep the cover secured to the frame. If the anchors seem to be loose, you should give each ratchet a few clicks.
High Tunnel Greenhouses: Maximize Your Growing Season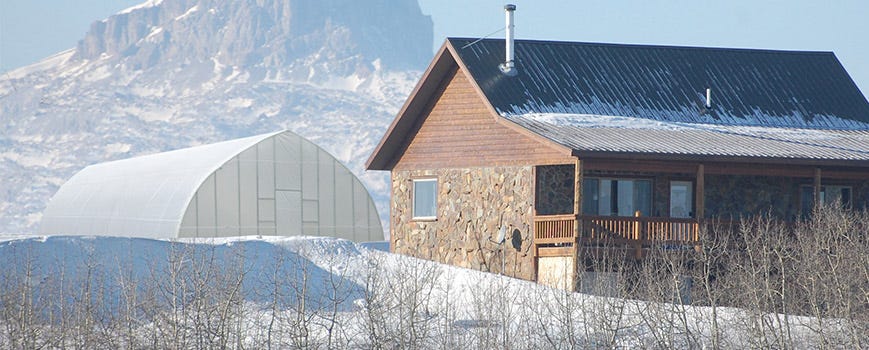 High tunnel greenhouses are so valuable in large-scale farming because you have more control over your crops. Your plants grow faster, and your farm becomes more efficient. And since they create a controlled growing environment, they can even reduce the need for pesticides. Whether you use it in the winter as a cold frame greenhouse or year-round to maximize your yield, high tunnel greenhouses can be better for the environment, and better for your bottom line! For more information on configuring your own ShelterTech High Tunnel Greenhouse to the exact specifications of your large-scale commercial farm,
you can click here
.