Landscaping adds significant value to the value of the home. This can include plants or solid structures such as a backyard pergola or gazebo canopy. Both of these structures are popular among homeowners and can enhance your landscape. However, there are fundamental differences between the two. When it comes to deciding on a gazebo vs. pergola, it is important to know the differences between the two so that you can make the right decision for your property. If you're not even sure what is the difference between a pergola and a gazebo, here is a rundown on what you need to know to make the right choice for your back yard.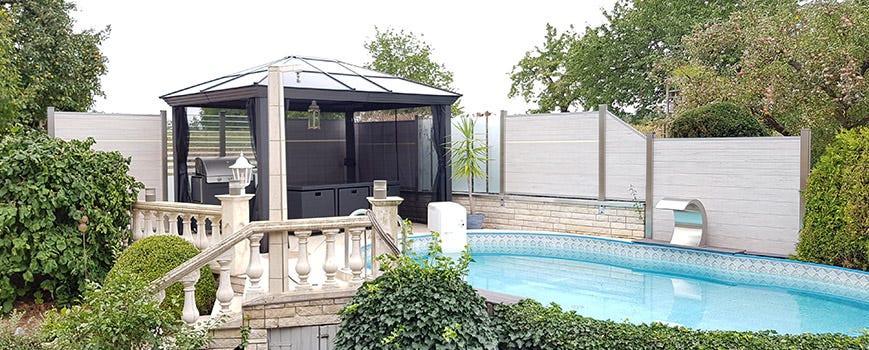 What is a Gazebo?
A gazebo canopy is a stand-alone structure developed primarily to provide shade and to add elegance or beauty to an outdoor setting. A gazebo is a self-supporting structure, including flooring, sturdy beams, and a solid roof. A foundation is required for a gazebo canopy. It is important that the ground and foundation are level, and that the shelter can easily be anchored down. When comparing a gazebo vs. pergola, the gazebo has a solid roof shelter, whereas a pergola does not. The shape of a gazebo canopy can also vary. Traditionally, gazebos are hexagonal, square, or circular, with a pointed roof that mimics the floor's shape underneath. A gazebo canopy can have railings that go around the outside to give it an enclosed feeling, curtains that can be folded to the side, or they can be entirely open air.
The Uses of a Gazebo Canopy
As mentioned earlier, the primary uses of a gazebo are to provide shade and protection from the elements, as well as to add beautiful decoration to an outdoor setting. There are many attractive, yet functional designs to choose from. Beyond this, they can also give a defined space that can be used for gatherings such as dinner parties or for relaxation. A community or individual can also build a gazebo canopy on a larger scale. These larger gazebos can be used as stages, large enough to accommodate performances or for events to be booked and held.
Types of Gazebos
Pros and Cons of Gazebos
When it comes to deciding between a gazebo vs. pergola, think about your priorities in your exterior space and consider these pros and cons for a gazebo canopy to see if they match them.
Pros:
Versatile and functional, a gazebo canopy can serve a variety of purposes for your outdoor space: from a garden room to an outdoor kitchen, or an entertainment space.
Gazebos are available in a variety of different grades, materials, and styles to fit your needs.
Gazebos add marked visual quality to your home and garden.
They supply an outdoor space protected from the elements or the sun during hot weather.
Gazebos can have both a floor and a roof, giving you an outdoor space apart from the outdoors mud or rain.
Since they offer protection, a gazebo can be a safe space for electric devices. You can hang lights or even have an outdoor kitchen, depending on the size.
A well-built gazebo has minimal risk of significant damage, and those made from synthetic materials do not need much maintenance.
Gazebos can be considered a valuable investment for your property and have the potential to increase property value.
Cons:
Being that they are investment structures, they can sometimes skew on the pricier side.
Gazebos require adequate space on your property and a level area for building.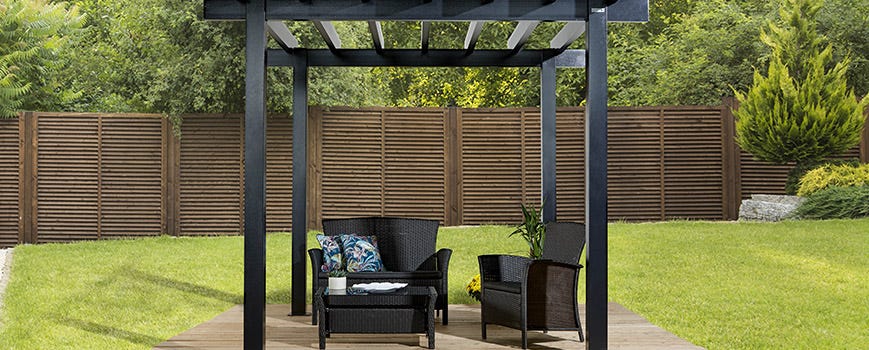 What is a Pergola?
A backyard pergola is an outdoor structure that is meant to define and design a specific area inside the landscaping. What is the difference between a pergola and a gazebo when it comes to the roof? Pergola shelters do not have solid roofs but can have fabric hung over the top, offering slightly more shade and weather protection. Instead of a solid roof, they often have rafters or cross beams that run along the top.
The Uses of a Pergola
A backyard pergola can provide cover for a bench, be used for supporting hanging vine plants, or can be set up over a walkway to link two backyard or patio areas together. Thus, a pergola canopy is more for visual appeal and delineation than anything else. When deciding on a gazebo vs. pergola, if coverage is your top priority, a pergola is open on all four sides which means less protection from wind or rain.
Backyard Canopy Options
A pergola canopy is more simplistic in their overall design. A backyard canopy can be constructed with a variety of materials.
Wood pergola options

Wood pergolas are often stained. They can have rounded tops that you are meant to walk under. Wooden pergolas can also be the typical design of four posts with cross beams over the top.

Vinyl pergola shelters

Vinyl is one of the more common materials used to build a pergola canopy. Vinyl is durable and requires little maintenance, yet it still offers an elegant, clean look.

Metal and fiberglass pergolas

These materials are used to craft a sturdier pergola canopy and are often quite heavy. They have a very long lifespan and do not require much maintenance. Metal and fiberglass materials can be painted to look like wood and vinyl. They can be very hot during the summer.
Pros and Cons of a Pergola Canopy
Just as there are considerations when looking into gazebos, you have to keep the pros and cons in mind for a backyard canopy. Even though it is a simple design, it is still a commitment to space in your yard.
Pros:
A pergola is easy to build or assemble.
They tend to be less expensive when compared to a gazebo.
They give more visual structure and spacing to the yard.
Depending on the quality and placement, a pergola canopy can also add value to your space.
They provide some measure of shade.
There are a wide variety of materials to use in building a backyard canopy.
Pergolas sometimes offer more versatility in terms of design and aesthetic to the overall property.
Cons:
A pergola canopy does not provide as much shade or protection as does a gazebo.
They are often not as sturdy or fixed as a solid gazebo.
A pergola canopy doesn't ever come with a floor.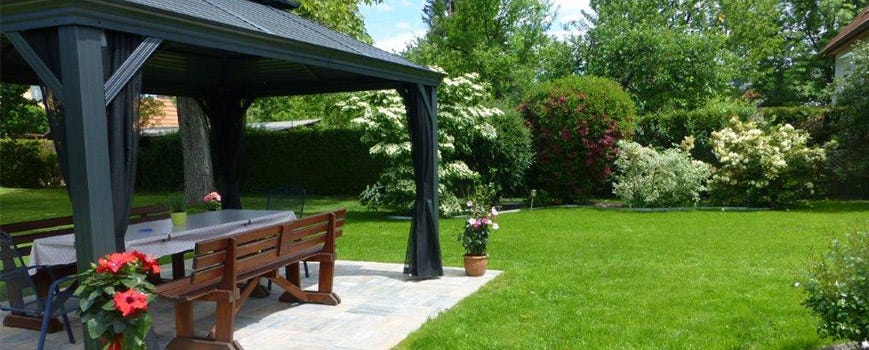 What is the Difference Between a Pergola and a Gazebo?
When deciding on a gazebo vs. pergola, your choice depends mostly on the amount of protection you want the structure to offer and how much space you have. What is a pergola going to provide you that a gazebo might not? The pergola may fit a space better if you are not looking for as much protection from the elements or space to rest in the shade. A backyard canopy can suit spaces that you want the eye to be drawn to, such as a walkway, a garden, or perhaps a jacuzzi area. They are also a beautiful addition to install over a walkway and to join two separate areas together. You can run vines over them or plant bushes around them to give the visual of increased protection.
A gazebo canopy is the better choice if you want to create an outdoor space that you can use to entertain, to rest in, or to build something like an outdoor kitchen. It is essential to consider factors like the amount of space you want it to use and the overall aesthetic it should provide. Whatever option you decide to go with, you can rest easy knowing that both of them increase your property's value and bring it extra visual allure. They each provide some amount of shade and give your backyard space more character.