What if we told you there was a way to instantly add convenience and value to your property? Owning extra storage space, such as a steel garage, is beneficial to both homeowners and business operators. When you have a personal storage area, you can hold on to items safely for an extended period, saving you space, time, and money.
Installing a detached 
steel garage
is an excellent investment that has many beneficial uses. When you get an all-steel detached garage, you gain a versatile storage space that will maximize your storage options. 
SOJAG
 garages store your most valued items efficiently and effectively— ideal for residential properties and business.
Installing an external garage at your home can give you extra storage for all your seasonal items and transitional furniture, while having one for your business can cut costs on storage and give you convenient, secure access to business supplies. Here are more reasons why a detached garage is an excellent investment for your home or business.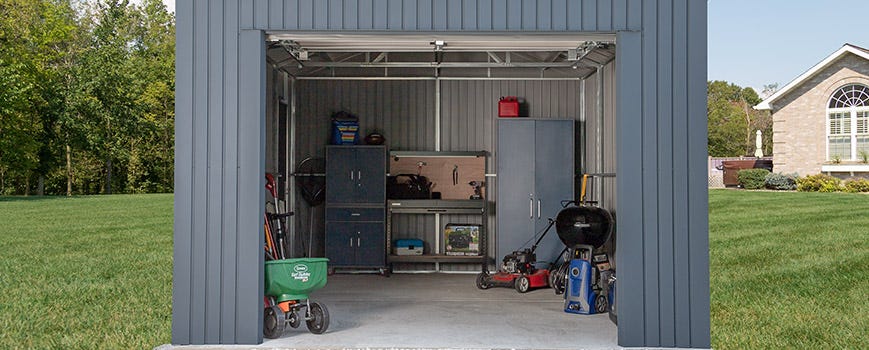 A Detached Garage Increases Your Home's Marketability
In the United States, 
63% of homes
 have some type of garage or carport, so if your home doesn't have one yet, it can fall short with market competition. If you plan to sell in the future, installing a detached garage on your property can increase your home's appeal.
Homes with steel garages are attractive to a wide range of buyers. Whether they like to work on cars, store seasonal equipment, or convert some extra space for hobbies, a detached garage opens up many usage possibilities.
How Much Added Value?
While it's difficult to pin an exact amount on how much an additional garage can enhance a home's value, your home does get higher market desirability. According to 
Pocketsense
, a typical garage has an 81% return on your investment (ROI), so if your garage is worth $10,000, your home's value can go up by $8,100.
This rate is considerably higher than other home improvements and therefore falls within the group of renovations that are worth a homeowner's time if they plan to resell.
Does the Type of Garage Matter?
Absolutely. A common storage shed or carport won't attract nearly as much interest as a fully-outfitted steel garage. Potential buyers are looking for privacy, large doors, that they can fit vehicles through, curb appeal, durability, security, and a decent size. Making the extra effort to install a high-quality unit like a SOJAG steel garage will make your home stand out from another in your neighborhood without one.
Planning on Selling a Commercial Property?
Installing a garage now can also help you if you plan to sell a business or other type of commercial property later. Extra storage is an attractive feature to businesses of all sizes and serves practically every business type.
Everyone from property managers to restaurant owners depends on personal storage to tuck away items during transitional periods and stages of growth. This addition will set your property apart as a more convenient and accommodating option from other competing listings.
DIY Assembly Closes Cost Gaps
Since our products are designed to be DIY projects, we hope to save you on installation costs. What could easily cost $20k from a professional contractor can cost much less when you assemble a SOJAG garage yourself with the help of another person.
Another person is required to position parts and panels or handle tools. Our detailed manuals make the process as clear as possible too so that you save time by knowing exactly what steps to follow. By cutting the initial costs of installation, you will close the gap between the upfront cost and your ROI if you plan to sell.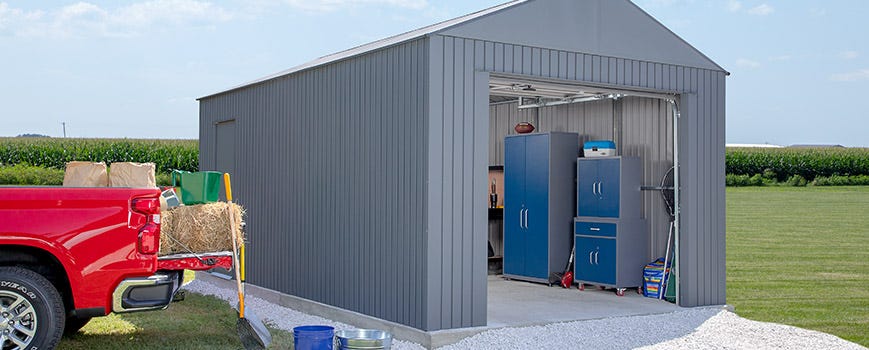 Steel Garages for Storing Seasonal Equipment
Seasonal equipment needs to be kept in a proper shelter to protect them from damage that can come from extreme temperatures, sun, and moisture. Thankfully, SOJAG steel garages are strong, built-to-last, and are designed to withstand all kinds of tough weather. There are many sizes to choose from so you can conveniently fit everything from your four family car to seasonal four-wheeler.
Protect Your Seasonal Vehicles and Gear — Without Paying Rent!
Don't let your golf carts, lawn equipment, motorcycles, and other seasonal vehicles get damaged from exposure in the colder months. Storing them in a detached garage that has wind and snow protection saves you money on wear and tear but also storage costs for a rental unit.
The cost to repair vehicles and gear prematurely can add up. The monthly rent for a storage unit can also accumulate to hundreds of dollars every season. Instead of throwing your money away, you can invest in your property and have accessible, convenient storage for your seasonal items at any time.
Storms? Snow? No problem.
Our garages are wind and snow load rated — which means peace of mind in storing your valued vehicles! SOJAG garages have an exceptional wind rating with a new panel profile design that makes them even stronger than previous models.
The wind speed rating withstands speeds up to 100 MPH. In addition, SOJAG garage roofs have an advanced strength truss system with a 35 PSF ground snow load rating.
Also, our garages are made of tough galvalume steel, which is an aluminum, zinc, and silicone-plated steel. This makes our garages are highly resistant to corrosion. If these features weren't enough, SOJAG steel garages come with a limited 20-year warranty.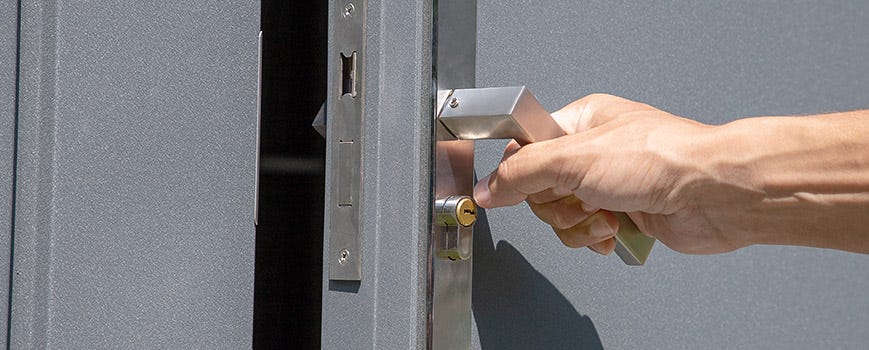 Fulfill Warehouse Needs
Why pay for monthly storage for your home or business when you can own your own warehouse? Equip it with your preferred security settings and have 24/7 access without having to go through middlemen to access your belongings.
If you're looking to start a business, store all your shipments and goods in this place as you seek to expand. Also, any surplus supplies for your business can go into storage that you own until you need to retrieve them.
Don't need to wait to get what you want
Sometimes businesses miss out on deals on bulk goods due to a lack of storage space on-site. By having an extra garage that serves as a warehouse, you don't have to hold back when there is a good deal on a time-sensitive item.
Being able to buy in bulk can save you money and hassle since you don't have to make repeat orders. Confidently store items that you need at a later date when you know that the garage is secure and under your constant surveillance.
It's also convenient to have extra storage if you're in the process of rebranding or expanding your business. A detached garage can store furniture, electronics, and other equipment without cluttering your business space.
If you need a safe place to keep seasonal decorations for your business, a detached garage can also keep you organized and confidently prepared for what's ahead.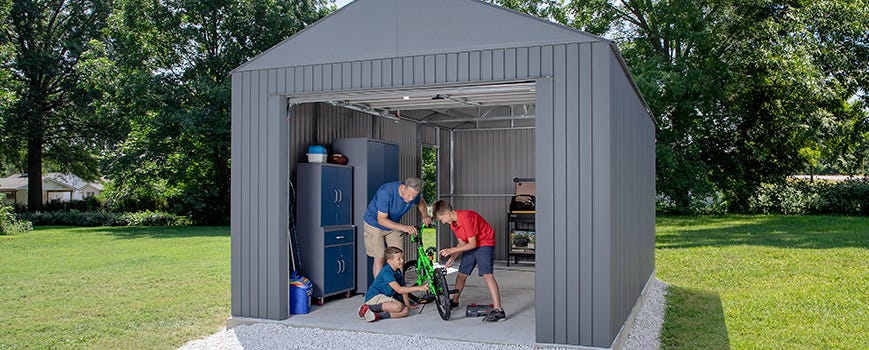 Make Your Investment Today
Whether you need extra storage for your home, business, or hobby,
SOJAG garages
are tough enough and adaptable enough to fit your needs. Store your vehicles, tractors, and seasonal gear. Or, set up a workshop, warehouse, or a "she shed" for personal use.
Our steel garages are ideal for bulk storage and plenty of other practical uses where extra space is required. For more information, visit 
our website
 or call us 7-days a week at 1-800-560-8383. Our helpful customer service associates are standing by and happy to answer any of your questions.