Are you looking for a creative way to upgrade your outdoor space? Backyard gazebos are the perfect solution! Not only will a gazebo be a beautiful addition to your home or business, but it will also increase your property's value. While many homeowners enjoy having a peaceful place to sit and relax, this certainly isn't your only option. From a hot tub cover to a backyard movie theater, the number of ways you can use your gazebo is limited only by your imagination. Many business owners have also embraced the use of gazebos to expand their services and increase their property values. Whether you want to create a comfortable picnic area, add an outdoor market stall, or even perform weddings on your property, a gazebo for business can meet your needs. Let's take a look at some of the most popular types of gazebos and a few exciting ways you can use them in your home or business.
Types of Backyard Gazebos
There are many different types of backyard gazebos to choose from. The right one for your home or business will depend on several factors. This includes your budget, the amount of space you have to work with, and what you plan to do with it. Here are a few of the most popular options.
Pavilion Style Gazebos
A pavilion design is the most common style choice for backyard gazebos. This is usually open to the air on all four sides. The most common shape is an octagon, but you can also choose an oval or rectangular pavilion if that is more appropriate for your space. This style of gazebo comes in either a hard top or soft top.
Hard top gazebos
are very durable and functional. You can use them for a wide variety of purposes, from covering your cooking area to creating a functional sheltered work area. A
soft top gazebo
is similar to a canopy. However, it's more of a permanent structure. This is often the most economical option for those who want a simple
backyard gazebo
. It's an excellent way to add some aesthetics and shade to your backyard. A soft-top backyard gazebo is also one of the most popular choices for patio and pool areas.
Victorian Style Gazebos
A gazebo with a Victorian design tends to have elaborate detailing along the beams, wall panels, and knee braces. They're a clear fit for Victorian-style homes but can also work for any home that needs a bit of extra personality.
Rotunda
If you've seen a gazebo in your local park, there's a good chance that it was in the rotunda style. These are circular and usually have a domed roof. They're typically quite ornate and elaborate and will look great in a large backyard. Rotundas are also a popular style of gazebo for business, particularly for hotels, restaurants, and gardens.
Grill Gazebos
To keep cool while you're grilling out, you can't go wrong with a
grill gazebo
. This structure offers protection from the elements while you're cooking. It also functions as a stylish grill cover that will protect your expensive grilling equipment all year long.
Wall-Mounted Gazebos
Wall-mounted gazebos
are an excellent way to upgrade your deck or patio. They're relatively inexpensive and will create a comfortable, shaded space for your guests to relax. Choose an option with mosquito netting and you'll be able to enjoy your space well into the evening.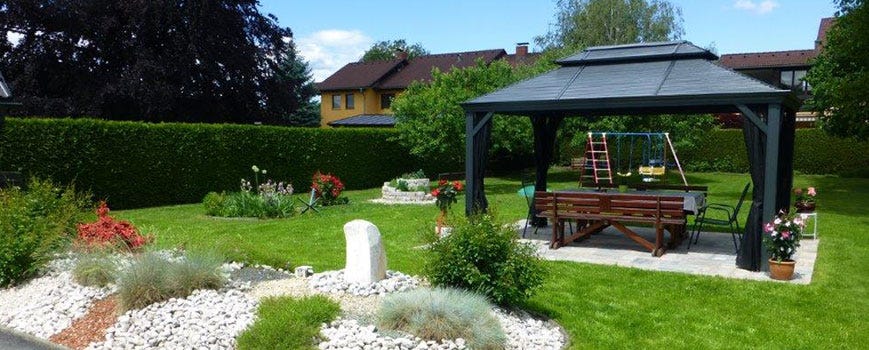 Choosing Materials for Backyard Gazebos
The material you choose for your gazebo will impact its durability, cost, required maintenance, and more. Different materials will also create a completely different look. This flexibility is one of the reasons why backyard gazebos are such a great addition to many different types of homes and businesses. Most gazebos are made of wood, vinyl, aluminum, or a combination of polycarbonate and steel. Exploring the benefits and drawbacks of each will help you decide which option is right for your needs.
Wood Gazebos
If you're looking for a traditional-style gazebo, you'll likely find yourself drawn to wood. These are very aesthetically pleasing and bring a warm, rustic look to your space. Wood gazebos are typically made of pressure-treated yellow pine that is stained or painted to achieve the desired look. Wood is usually the most expensive gazebo material. You'll also need to occasionally re-stain or re-paint your wood gazebo to keep it looking beautiful. Luckily, SOJAG offers the style and luxury of the wood gazebo, but without the associated expense.
Vinyl Gazebos
A white vinyl gazebo will give your space a sophisticated vibe. However, that's not your only option. You can have your vinyl made to look like brick, cedar shake, a log cabin, or even give it a metallic finish. This means that you can easily match it to any style. Vinyl gazebos are usually made of pressure-treated yellow pine wrapped in a PVC vinyl sleeve. This protects the structure and makes it easier to maintain. All you'll need to do is pressure wash it. Vinyl gazebos are usually less expensive than wood and they have a long lifespan. However, it's possible that they may become fade, yellow, and become brittle as they age.
Metal Gazebos
Gazebos made of aluminum and metal are extremely popular among both homeowners and business owners. This is thanks, in part, to their durability and their modern look. These gazebos are also more affordable than the other options. They are easy to ship, simple to install, and come in a wide variety of styles. A 
standard gazebo
 is usually made of powder-coated aluminum or a combination of aluminum and steel. Hard tops often have galvanized steel roofs while soft tops roofs typically are made of polyester fabric. If you're looking for a higher-grade backyard gazebo, consider a 
superior gazebo
 made from polycarbonate and steel. These often come in larger sizes and some have extra features, like an attractive double roof. They're perfect for anyone who wants a more custom look and feel. When your outdoor space calls for the ultimate in sophistication, you can't go wrong with a 
premium gazebo
. They're incredibly durable and made of top-of-the-line materials including rust-resistant galvanized steel. You'll pay a bit more for a gazebo of this quality, but you'll be rewarded with a beautiful structure that you can enjoy for many years.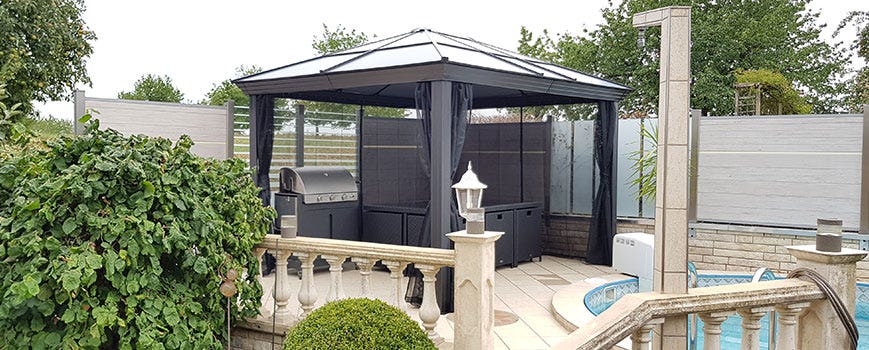 Creative Gazebo Uses
Adding a gazebo to your space is a great way to create a comfortable area where you can relax in the shade and socialize with friends. They're also excellent for enjoying lunch or a cold beverage or curling up with a good book. That said, if you use your imagination, there are plenty of other fun and interesting things you can do with them.
Backyard Gazebos
Backyard gazebos can be used to support a variety of different hobbies and lifestyles. Here are a few of our favorite ideas.
1. Create an Outdoor Movie Theater
Adults and children of all ages will enjoy gathering in your backyard gazebo for a movie night. You can bring a flat-screen TV and a soundbar out to the gazebo or set up a projector and a portable screen. Bring out some cushions, blankets, and pillows, then pop some popcorn and get ready to enjoy an unforgettable evening!
2. Set up a Greenhouse
Add some solid or flexible plastic walls to your gazebo to create a small greenhouse. With the right lighting and heaters, you can easily grow a decent supply of seasonal vegetables that will get you through the entire winter! Don't want to deal with the hassle of adding walls to your gazebo? Consider a pre-made 
solarium
 instead!
3. Upgrade Your Jacuzzi
A backyard gazebo that's sized properly can add the perfect amount of privacy to your jacuzzi or hot tub. It will also protect you from the elements, which will give you a chance to enjoy spending time in your jacuzzi no matter what the weather.
4. Create a Children's Play Space
Want to get your kids off the couch and out of the house? Put some comfortable cushions, children's books, and a few of their favorite toys out in the gazebo. Then send them out to play!
Gazebos for Business
Commercial gazebos are a great way to expand the usable space on your business property. They'll also allow you to easily add additional services. Here are a few ideas to help you get started.
1. Create a Pop-Up Shop
You can use a portable, soft-top gazebo to create a pop-up shop in parking lots, festivals, and popular shopping areas. If you don't want to move your gazebo around, you can use a more permanent structure to extend the service area on your property.
2. Add Parking or a Valet Station
Is parking an issue at your business location? You can easily fix the problem by using your gazebo as a valet station and parking the cars off-site. Depending on how much space you have, you could also purchase a large gazebo and use it to add some covered parking spots to your lot.
3. Build a Stage
Adding live music outside is a great option for restaurants, bars, hotels, and more. You can use a gazebo to create a covered stage area so your bands can still perform even if it starts to sprinkle. Not only will this will protect the performers and their equipment, but it will also save you the hassle of having to worry about canceling scheduled events.
4. Build a Biergarten
With many people still feeling hesitant about drinking and dining in closed spaces, an outdoor Biergarten is another great way to expand your business. A gazebo will allow for more airflow while still protecting your guests from the elements. You'll sell more food and drinks and your guests will enjoy themselves without having to worry about getting too close to each other.
Browse Our Backyard Gazebos Today
Now that you've seen some of the ways a gazebo can add value to your home or business, it's a great time to browse through your options. Whether you're looking for a small backyard gazebo or a large gazebo for business, you'll find what you need on our site. Get started today by taking a look through our
current inventory
![/vc_column][/vc_row]