Car shelters are your vehicles' first line of defense against the elements. They come in many different sizes and price ranges, providing you with a variety of choices to find the perfect car shelter for your needs. If you aren't sure which car shelter is right for you; here are 5 basic tips to help you decide the best vehicle storage that's suitable for your storage needs.
Why Do You Need Car Shelter?
Car shelters provide an adequate storage space for your vehicle, either short-term or long-term. There are also a lot of added benefits depending on your weather situation. With a car shelter, keep your vehicle protected from something as small as accumulated dirt to problematic inclement weather. Some car shelters can help you worry less about protecting your vehicle from snow, while others are made to block harmful UV rays from deteriorating your investment.
Tip #1: Know What You want to Store Before You Shop.
It may not come as a surprise, but our first tip is to identify what you're looking to store. Do you need storage for one or two vehicles? Car shelters can accommodate multiple vehicles depending on size. For instance, some portable garages are greater than 20ft. long, helping you not only shelter multiple vehicles, but act as additional storage. You'll also need to consider how much movement you want in your car shelter. Will you have enough room to open the doors of your vehicle? Is there enough clearance space? Answer questions like these to determine the correct size for your car shelter. Once you've figured out the perfect size for your car shelter, you'll also need to think about available space on your property. When you pick a location, it should be able to accommodate a size larger than your vehicle.
Tip #2: Understand Your Local ordinance and Building Codes.
You also need also need to understand your town's local ordinances and building codes. These are typically a set of rules that tell you what structures are considered temporary or permanent. In order to find out, you can contact or visit your local zoning office. This will also help you avoid any hefty fines. Ultimately, the distinction may alter your final decision on a car shelter, so it's best to know this information beforehand.
ShelterLogic Tip: Most ShelterLogic Garages and shelters are considered "temporary structures" so they may not require a local building permit*.
Tip #3: Consider Your Climate.
Rain, snow, sun, and wind can all break down the longevity of your vehicle. That's why it's best to invest in car shelters that are made with specific weather in mind.
Protection Against Snow and Wind
Almost every state in the U.S. has experienced snowfall. Snow and wind can cause serious damage to the internal and external components of your vehicle when left unprotected. Structures such as the ShelterTech SP Series, ShelterTube, and Arrow Carport are all designed to be tough weather ready with snow and wind load ratings.* With proper assembly and maintenance, these structures can hold up to the elements and provide you with year-long protection.
Protection Against UV Rays
Whether you live in warm climate year-round or need summer protection, there are plenty of car shelters that can protect against the sun's harmful UV rays. Prolonged exposure to UV rays can result in oxidization and fading of your vehicle's exterior, which can rapidly age your car. Arrow Storage garages and carports come with an enamel paint coating or a thick vinyl coating, which provides added protection from the sun. When you store your vehicle under shade, you'll prevent any fading or damage over time. It's better to protect your vehicle before damage occurs, helping to extend the lifespan and value.
Protection Against Corrosion Damage
It's important to consider your location when investing in a carport structure. If you live in a coastal town, then you're likely familiar with the amount of salt not only in the sea but also in the air. While the salt is ordinarily harmless, over time it can wear down the exterior of buildings and other outdoor structures. For these regions, we typically recommend carports made from hot dipped galvanized steel that has been treated with a vinyl coating. HDG steel tends to resist corrosion and rust better than most outdoor structures, and the long-lasting added coating of vinyl provides an extra layer of protection to the structure. You can see all our vinyl coated HDG Carports here.
Tip #4: Choose Between a Permanent or Portable Car Shelter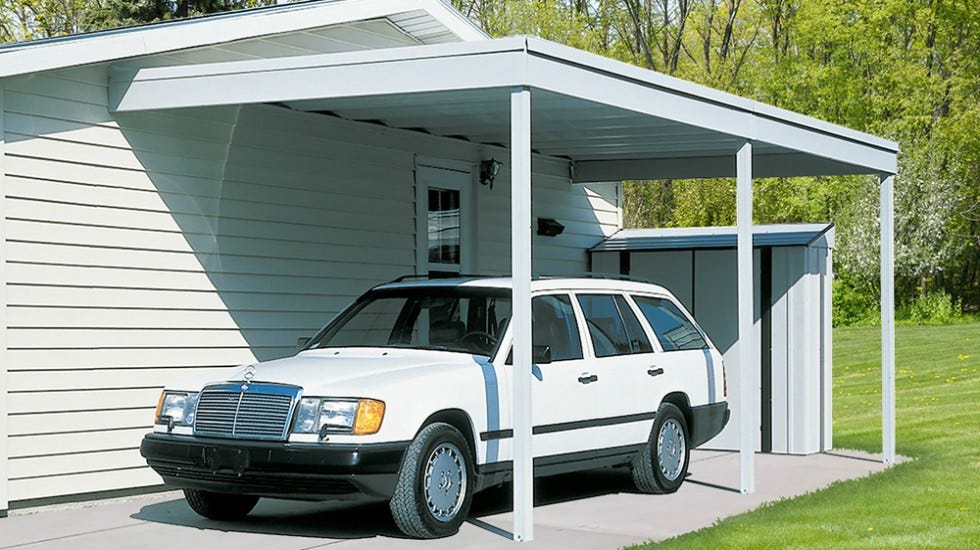 To help you determine which type of car shelter is best for your vehicle, you'll need to consider different styles and materials. When it comes to carports, you can choose from attached or freestanding structures constructed of galvanized steel and covered with vinyl-coated steel for corrosion resistance. There are also fabric carports made of a high-grade, powder-coated steel frame that resists chipping and rust. Depending on the material, Carports can be temporary (fabric) or permanent (steel) structures that are great for protection from the elements while providing easy access to your vehicle.
Car shelters can also come with a sturdy fabric tarp material and are available in peak, round or barn style frames. These covers are UV treated to protect the cover from fading and damage. Most fabric buildings have a premium powder coat finish to prevent rust or corrosion. They're also portable, giving you temporary and versatile storage options.
Tip #5: Anchoring Your Shelter
All fabric shelters will come with a basic anchoring kit or "temporary anchors." It's recommended that you have an anchor for each rib on your shelter, improving the stability of your structure. Having the proper anchoring is always important for the installation of any shelter. By being equipped with the right tools, you'll be able to safely keep your shelter secured to the ground. Depending on the foundation of your shelter, you may want to invest in alternative types of anchors. Take a look at our anchor guide for reference: You can even add a roll-up door kit for quicker access to your car shelter. Through a simple pulley system, you'll be able to easily open your shelter with only one pull. This door kit is also great for accessing taller doorways in car shelters with 13ft. door lengths or higher.
Finding the Right Car Shelter
Still not sure what type of car shelter is best for you? Our team at ShelterLogic will be happy to assist you. Reach out to us or take a look at our support page to find out more about our portable garages and carports.
*We always recommend customers check with local ordinances
** Wind and snow load ratings are only valid when the structure is properly anchored and correctly assembled. Keeping a shelter free of snow and debris is the responsibility of the consumer.