A carport doesn't have to just be for your car. 
Carports
can be a great idea to add storage and functionality to your property without much extra cost. Whether you want to DIY a simple carport or have someone else come in to install it, these creative carport storage ideas might make you consider getting one even if you don't have a vehicle.
What is a Carport?
A
carport
is a structure that generally has a fabric or steel roof with steel post supports. They are strong and sturdy, typically meant to hold up against rain and snow, and require very little maintenance. They can also provide good shade coverage for the summer months. Carports typically don't include doors or walls, though some can be fitted with add-on wall kits. They provide overhead shelter and allow you to effectively protect anything that you can fit underneath from the elements. Depending on the type of carport you choose, you can also assemble them virtually anywhere. To learn more about carports, check out our 
what is a carport
 blog post.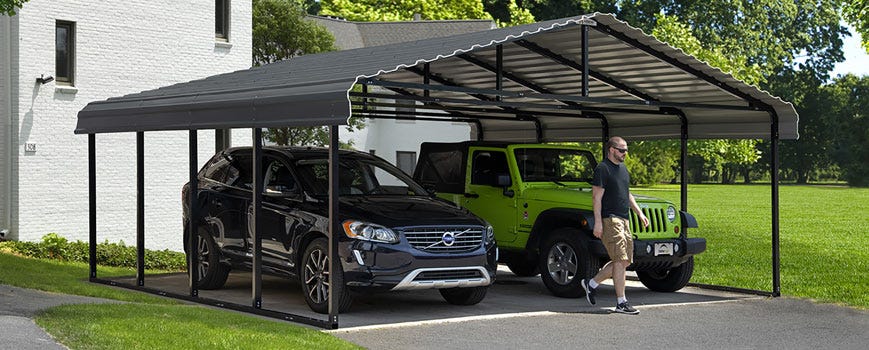 Why Do You Need a Carport?
Carports are incredibly versatile and useful, so they are great for any family looking for a little extra storage room in their home. Carports are great for keeping cars protected from the elements in all seasons, but even if you don't have a car, they can still add value to your property and be incredibly useful for storing other outdoor equipment.
How Much Does a Carport Cost?
If you're willing to DIY your carport or get a kit that you construct yourself, you can find quality carports for under $900 like the free-standing 
Arrow Carport
 for $879.99. If you want a larger carport or to have it custom-made or preconstructed on your property, it can cost anywhere from $2,000 to $5,000 or more. However, given the amount of coverage and value that the carport provides it might be well worth it especially in areas with extreme weather like hail or intense sun. Plus, because they do not require a foundation, most municipalities do not consider it taxable property so you won't have to pay extra property tax if you get one. For specific details on taxes and permits for getting a carport in your area, we recommend checking with your local authorities for specific laws and policies because each place will be a little different.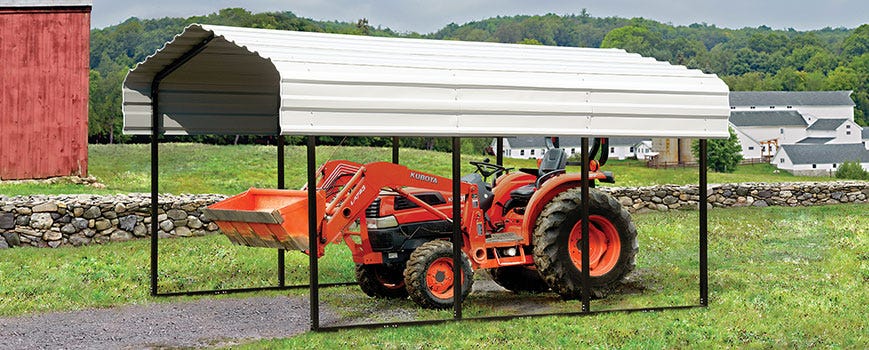 Carport Types
The two main types of carports that you can get are free-standing or wall-mounted carports but you can also choose different design types for sizes such as single bay, double bay, or tandem. Both free-standing and wall-mounted will provide coverage for your car or other outdoor storage needs, but have different benefits. Depending on your house location and structure and the surrounding outdoor space, you may find that one design is more desirable for your needs.
Free-Standing
Free-standing carports are exactly what they sound like — they stand on their own without support from a pre-existing structure. These carports have four steel beams and are fully self-supported so you don't need to worry about making sure you have space close to your house or garage to add it. Freestanding carports are best for when you have a lot of land on your property or know you want to be able to move your carport to different locations. Freestanding carports are typically the most versatile and open-aired option. Unlike wall-mounted carports, these will generally not have a wall on one side meaning they are fully open to the elements on all sides unless you specifically invest in a wall on one side.
Wall-Mounted
You may know wall-mounted carports as lean-to or 
attached
 carports. These are linked to another building like a shed, garage, or home. The carport structure will typically have at least two supporting beams on the side away from the building so it can take on more weight in the case of heavy rain or snowstorm.
Single Bay
These carports are simple, one-spot shelters for just enough room for one car. They can either be attached or free-standing.
Double Bay
Double bay carports are large enough to allow for two cars to park under the carport next to each other.
Tandem
If you want the space to cover two cars, but don't need them to be next to each other, this option might be for you. A tandem carport has room for two cars to park one behind the other. This is ideal for properties with less space.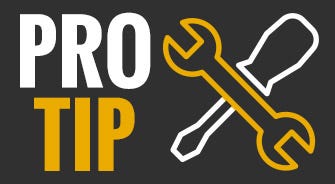 One of the most important decisions you'll have to make is whether you'll buy a metal carport or a fabric carport. Check out this blog post about the pros and cons of metal and fabric carports so you can make your decision with confidence.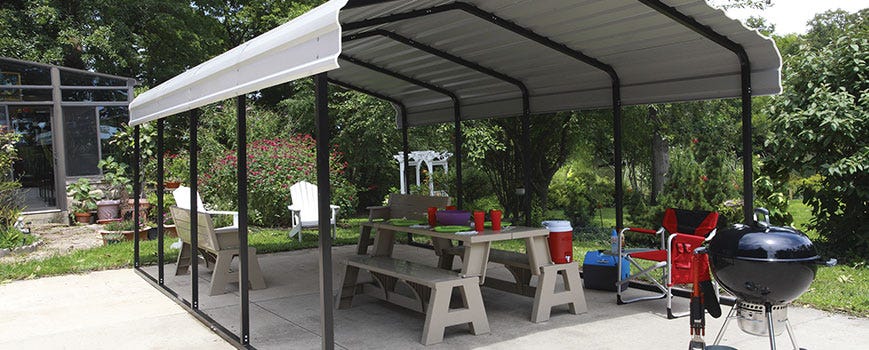 Creative Carport Ideas
Protecting your car is far from the only way you can use a
covered carport
. Check out some of these inventive carport ideas that are actually attractive and useful.
Patio or Deck Covering
Create a modern 
outdoor kitchen
under an attached carport for year-round coverage and a comfortable place to host friends and family in the fresh air. Even if you don't want to construct a whole new outdoor kitchen, you can also use a carport as a
freestanding patio cover
further away from the house as well. With larger carport options, you can have a large space even in the winter months that can be fully protected and available for you to use outside. The carport will also protect patio furniture, your grill, and other outdoor comforts that you enjoy on the patio.
Backyard Picnic Pavilion
Similar to the patio covering, you can also use a carport to cover a picnic table or eating space. Along with practical coverage, this can look stylish and is ideal for summer lunches to avoid overheating or sunburns.
Cover Playground Equipment
Use an extra tall carport to cover a small play structure or move sandboxes and other potable playground equipment under a standard carport to shield it from rain and snow. In the summer months, this can also be a great place to let your kids play without any worry of sunburn.
Outdoor Meeting Area
Is your workspace starting to feel a little cramped? Do you want the luxury of holding your in-person and virtual meetings outside in the fresh air? A carport-covered outdoor meeting space is just the thing you need. Set up a seminar table or some comfortable chairs to create a charming, business-ready space to hold client meetings or work parties.
Outdoor Carport Storage
Whether you need to store logs, agricultural equipment, or garden supplies, a there are many different
carport storage ideas
and solutions. With even an average-sized carport you can keep plenty of wood dry for the winter and store your lawnmower, strimmer, rake, and other gardening supplies. Install shelves or extra storage units to beautifully organize your layout so you can know where everything is and know that you can grab it at a minute's notice. Barns are the ideal place to keep farm animals and other agricultural equipment, but they require more space and money. A carport can help keep your equipment protected at a fraction of the cost. Plus, on sunny days, a carport can be a great shade provider to keep your animals from overheating.
Boat Coverage
Boats tend to take a back seat in the winter, but you still need somewhere to store and protect them from the elements. Ditch the costs for off-site storage and set up a carport to keep your boat safe and close to home. Carports are also an ideal
boat storage shelter
because you can keep your vessel on your own property and not at a storage facility.
Shed Combo
With an added wall kit on an attached carport, you can get a relatively sheltered area to extend your existing shed or accomplish everything you would with a shed. You can add in some DIY cabinets or wall units to the side of the house to make it even more like a
carport shed
.
Outdoor Workshop
Whether you're working on your car or the latest DIY project, it's nice to have some open air space to work in. This way, you can avoid toxic fumes or sawdust building up as may happen inside a garage. However, if your workshop is just your backyard, rainy days will halt your plans. With a carport, you can work even when it's raining or snowing and stay sheltered from the wet.
Public Pick-Up Area
Whether waiting for public transportation or standing in line, a carport can make the experience more pleasant in the rain or sun. For cities, towns, airports, or private service companies, a carport can be a great way to keep people happy and sheltered from the elements while they wait for a taxi or other transportation.
How Will You Use Your Carport?
Adding a carport to your property can be an incredibly useful investment. It can make spending time outside easier or help expand your storage space. To get more information on finding the right carport for you, don't hesitate to
contact
our customer service by giving us a call at 1-800-560-8383, or fill out a
customer service form
and we'll reach out to you.[/vc_column][/vc_row]