Is your pool area in need of a fresh new look? Whether you want to completely remodel your swimming pool or just give it a facelift, this is the perfect time to do a backyard makeover. An inspiring pool design can breathe new life into your property and increase its value.

With these simple tips, you can plan an upgrade for your swimming pool area and make the most of your outdoor space. Then, take your pool design from great to amazing with personalized touches.


Why Update Your Pool Design?
If you've had a backyard pool for a few years, it's time to update your swimming pool design. Modernizing your pool and equipment will increase safety, keeping your family out of harm's way both in and out of the water. Upgrading your pool will also reduce water and energy consumption which will bring down your monthly pool costs.

A backyard makeover can completely transform your yard, creating a place your whole family will love. Updating your swimming pool will increase the functionality of your pool area and help you make the most of your outdoor space.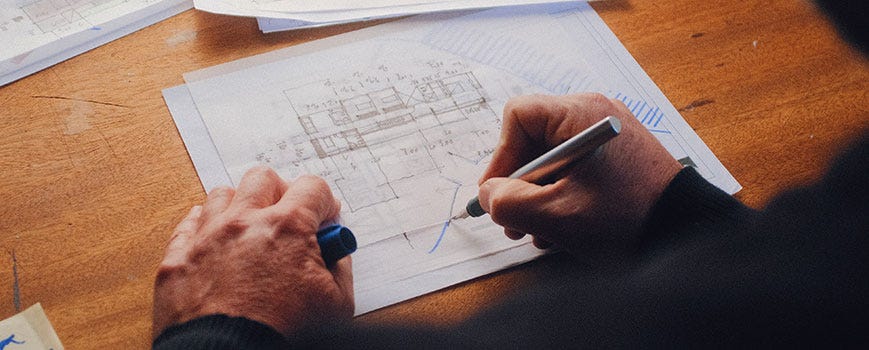 Tips for Upgrading Your Backyard Pool Design
A backyard makeover doesn't have to be complicated. You can recreate your outdoor living space with a few simple changes. Whether your redo the pool or add a great poolside shelter, you can enhance the beauty of your yard and create a safe space for your whole family to enjoy. Get ready to lounge by the pool in style with these backyard makeover tips.


Renovation Ideas
Update the Deck: Start with the basics. The first step in a backyard makeover is to upgrade any existing decks. Pools can be hard on your decks, causing discoloration or fading of the wood. Most decks need to be repainted or stained every one to three years. Decks near your pool get more use, so you'll need to do yearly maintenance to prevent water damage and keep your deck safe.

If your deck is seven to ten years old, you may consider replacing it altogether. This is a great opportunity to redesign the entire deck. You can build a deck that perfectly matches your needs and your vision for the backyard.


Change the Coping: The coping is the edging material that surrounds your pool area. This border separates the pool from the deck. Coping can get worn and discolored with use. If you notice any chipped, cracked, or crumbling border pieces, replace them as part of your backyard makeover. You can even choose to replace the entire edge.

Popular coping materials include brick, concrete, tile, and stone. Make sure you choose the right material to complement your pool design.


Design a Water Feature: Water features can transform your pool area into a backyard oasis. Water features to consider include waterfalls, fountains, sculptures, or water jets that create a water feature in the pool. You can easily install a water feature on the side of your pool or even within your pool to take your pool design to the next level.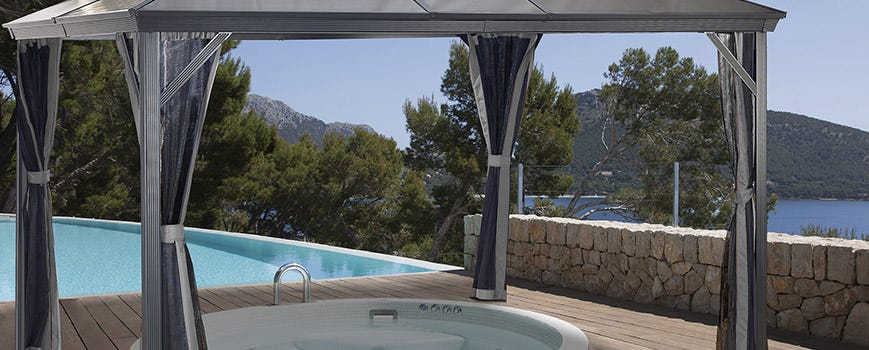 Add an Outdoor Shelter
Create Shade: Nothing ruins a great afternoon in the pool faster than sunburn. Stay hydrated and reduce your sun exposure by adding some pool shade to your design. A stylish gazebo or pergola can turn your backyard into a slice of paradise. If your pool is near the house, a wall-mounted gazebo attached to your home's exterior can shade your family from harmful UV rays by providing the perfect amount of shade.

SOJAG has a range of gazebo and pergola styles that will perfectly complement your pool design. These structures are made from durable materials such as aluminum frames and steel roofing. The finishing coat protects the structure from color fading, corrosion, and rust, so you can use these structures to create shade and shelter beside the pool without worrying about water damage.

The open sides of gazebos and pergolas let you enjoy the summer breeze and have a great view of your backyard oasis. After a dip in the pool, sit back in the shade of the gazebo and beat the heat in style.


Transform Your Outdoor Space: Design a pool area with flair and create a cabana with an upscale gazebo or solarium from SOJAG. Choose a gazebo that blends into your backyard or select a solarium that makes a style statement. Adding a shelter will give your yard a contemporary feel and allow you to create an inviting outdoor space. These poolside shelters are a versatile addition to your pool design. Use the shelter to towel off, relax with a drink, or share a meal with family and friends.

The perfect shelter will also enhance the beauty and functionality of your outdoor space. These sophisticated structures provide shade and shelter from the elements. Both gazebos and solariums will protect you from the sun, rain, and brisk breezes.

They'll also provide protection from bugs. Depending on your choice of shelter, you could lower the mosquito netting or close the PVC windows to enjoy your backyard free from any outdoor pests.


Build a Hot Tub Shelter: Gazebos and solariums are also the perfect shelters for your hot tub. If you're tired of waiting for the perfect hot tub weather, you can create the right environment inside a hot tub shelter.

These shelters can also protect your hot tub from inclement weather. Year-round structures from SOJAG will help you utilize your outdoor space during the winter months. However, if you plan to use your gazebo or solarium during the winter, you will need to remove the snow from the roof so you can use it safely.


Get Storage Space: Get the storage space you need with modern and durable storage options from SOJAG. Gazebos can be the most versatile part of your backyard makeover. These structures can be utilized as a storage solution for pool equipment, accessories, and extra outdoor furniture. Creating a storage space will protect your equipment from the elements while keeping them easily accessible.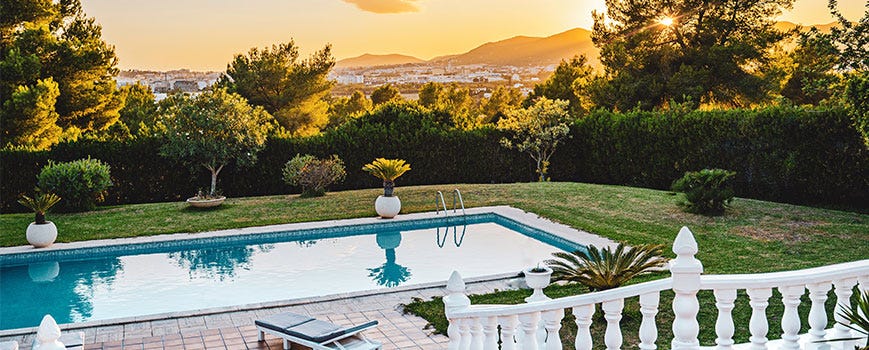 Add Accent Pieces
Light It Up: Lighting is a simple change that can make a dramatic difference in your backyard. Pool lighting is an easy change that will take your pool design from great to stunning. Underwater pool lights are easy to install. You can go for a romantic feel or create a bright and colorful party atmosphere. These lights reflect off the water's surface to create an inviting space and elegant finish. Pool lights also increase poolside safety.

Placing lights in your yard will take your backyard makeover to a whole new level. Consider lighting the pathways to your pool area, and placing lights near any stairs or water features. Lighted paths add an inviting touch to your backyard makeover as well as increasing safety throughout your yard.

Finally, you can add hanging lanterns or other bright lights near your gazebo or solarium. These will light up your evening get-togethers and create a relaxing place to read by the pool.


Get New Furniture: If your pool furniture is looking a little worn, an easy way to spruce up your backyard pool is with some new furniture. Laze by the pool in a lounge chair and keep an outdoor cooler close by. Then find a great table that compliments the space. You can use it for afternoon snacks or enjoy an outdoor dinner with the family.

Choosing the right furniture makes all the difference when you're planning an upgrade for your pool area. Neutral colors blend well in any setting and will complement your backyard environment. Adding a pop of color is easy with cushions or seat covers. You can play around with different cushion covers during each of the different seasons to give your pool area a fresh new look with style choices such as floral spring prints or rich fall colors.


Add Plants: Breathe new life into your backyard with living accent pieces. Adding plants is a simple upgrade that can turn your backyard into an outdoor oasis. Consider adding a flower bed to your pool design to create a colorful border, or place potted plants around your pool and deck to create a visually appealing aesthetic. If you want additional privacy, a hedge or bush around the perimeter of your pool area can give you the seclusion you seek.


Prioritize Safety
Keeping your family safe is a top priority. Make sure kids and pets are always supervised when they're in or near the pool. Keep personal safety equipment in your pool storage space, and pull out life jackets and pool floats before your kids jump in the pool. When finishing your pool design, you can add additional safety features like water alarms and a safety cover.


Enjoy Your Pool
Remodeling your pool is the perfect backyard makeover to transform your outdoor living space. Use these tips to create a year-round outdoor oasis your whole family will enjoy. Explore SOJAG gazebos, solariums, and pergolas to discover how these versatile structures can become the best feature of your outdoor space.