When the threat of infectious diseases grows, hospitals and medical centers may require additional spaces for patients, doctors and nurses. Medical tents and medical screening tents are convenient solutions for patient testing, storing medical equipment, and setting up emergency screening spaces. Fabric buildings and portable tents are in high demand when there's an epidemic or pandemic, such as the flu or COVID-19. When the need arises, these structures can be quickly assembled and easily anchored to a variety of outdoor spaces. ShelterLogic manufactures various fabric buildings and portable tents that can be used for screening purposes. Many of those could be used in the medical field as a medical screening tent, containment tent, surge tent, and triage tent.
How Can a Temporary Building be Used as a Medical Tent?
Hospitals and medical centers could use temporary buildings as medical tents outside hospitals or other public spaces for a variety of reasons, including:
Check-in Areas: Enclosed tents and fabric buildings can be used as check-in areas for emergency room patients before they enter the main medical building. Once an initial screening takes place, medical personnel can determine the next steps for patients.
Overflow Waiting Room Space: In case there is a rush of patients, surge tents could be used as overflow waiting room space. These containment tents can also help communities enforce social distancing for patients as they wait, which could assist in keeping the spread of illness down.
Triage Staging Areas: These tents and buildings can also be used as staging areas where triage personnel can assemble and wait for necessary information. Also, they can be used to store whatever medical equipment and supplies will be needed at a moment's notice.
Medical Screening Areas: Tents and fabric buildings can be used to quarantine potentially contagious emergency room patients from those without any symptoms. They can also be used as medical tents for patients who don't show signs, so those with symptoms can be screened inside.
Drive-through Testing Areas: Testing facilities can contain the spread of infectious diseases by opening drive-through testing centers. Symptomatic patients with a doctor's note drive up and stay in their car as they are tested. A fabric canopy can be used to keep medical personnel and testing equipment sheltered as they work.
Patient Isolation Areas: Should a mass number of patients with the same infectious disease need to be separated from the rest of the population, fabric buildings can be used as additional short-term patient isolation spaces.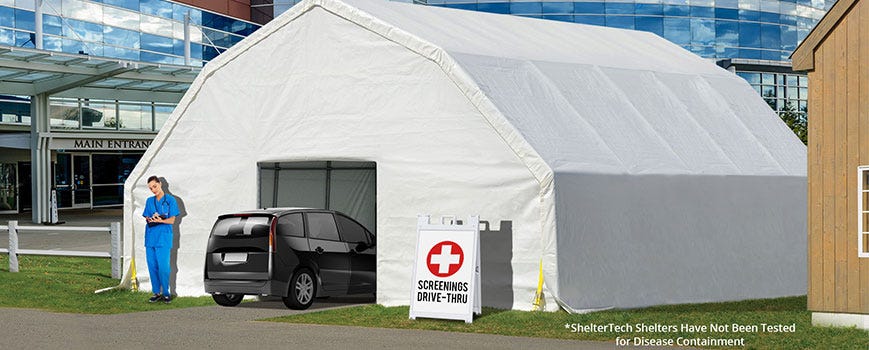 Which ShelterLogic Products Can Be Used as Medical Tents?
ShelterLogic manufactures and sells several types of temporary fabric buildings for a variety of industries. Some of these buildings might be used as medical tents*. Typically, our shelters and canopies are versatile and can be used as makeshift facilities for when medical testing is needed, or a roped off area when quarantines are required. These waterproof buildings can be fully enclosed, are easy to assemble, and come in configurable size options based on need. They are also easy to maintain, can be easily stored, and are simple to set up when an emergency arises.
Portable Tents
Portable tents
can be used for a variety of medical reasons. Hospitals and medical centers can use them as medical tents for individual patient examination rooms. Also, they can be used as patient waiting areas, check-in centers, staging sites, triage tents, and more. In addition, they can be temporarily anchored and moves without too much difficulty. Our portable tents our built for durability and strength: They have sturdy, stable galvanized steel frames, and strong, rugged PVC covers. Also, the covers are mold and mildew resistant, which can be great when treating patients with allergies. They also set up easily with tool-free frame assembly. Two maintenance workers can have a portable tent up in a matter of hours!
Available in 2 Size Options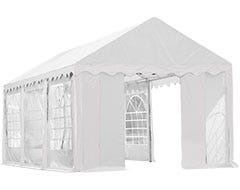 10 X 20 ft.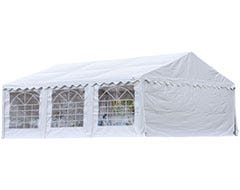 20 X 20 ft.
ShelterTech Buildings
Our tough
ShelterTech SP Series Shelters
can serve a variety of medical tent needs. They have tough, stable galvanized steel frames, rugged mold- and mildew-resistant PVC covers. They are configurable in a variety of sizes. These buildings come as small as 12 feet wide by 20 feet long by 8 feet high and as large as 24 feet wide by 100 feet long by 18 feet high. Depending on the size, they can be assembled in a matter of days!
Available in 3 Styles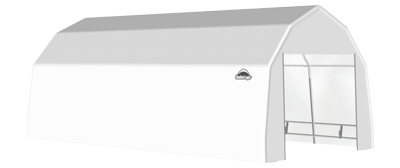 Barn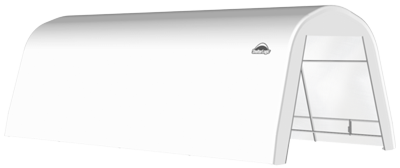 Round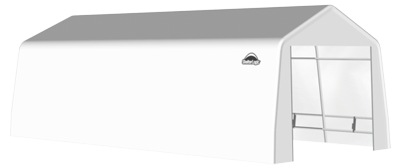 Peak
Also, ShelterTech buildings are wind and snow-load rated** and are designed and tested to stand up to tough weather conditions. These shelters can be used for a variety of medical reasons. Hospitals can use them as containment tents, patient treatment spaces, drive-through testing centers, equipment storage, and more.
AccelaFrame Canopy
The
AccelaFrame Canopy
features an innovative quick assembly system: it can provide 200 sq. ft. of shade and shelter in just 15 minutes. They are sturdy enough to stand up to the task at hand, but light enough to move without disassembling. AccelaFrame canopies feature scratch-resistant powder coated steel pipe frames and waterproof, mold-resistant ripstop-tough fabric covers. The canopy can serve a variety of purposes. It can be used as a screening area for either drive-thru or walk-in testing, a waiting area for patients and their families, as a staging, and more.
Available in 1 Style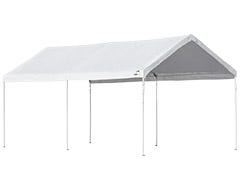 10 X 20 ft.
Commercial-Grade Pop-Up Canopies
Our Quik Shade brand makes tough commercial grade pop-up canopies that are versatile and simple to assemble. These straight-leg pop-ups offer multiple height positions and offer excellent protection from the elements. Both the Commercial and Marketplace models feature sturdy powder coated steel frames and rugged waterproof fabric canopy covers. The
Commercial
and
Marketplace
pop-up canopies can be used for a variety of purposes: check-in areas, examination tents, testing tents, temporary office spaces, break stations, staging areas, and more.
Available in 2 Models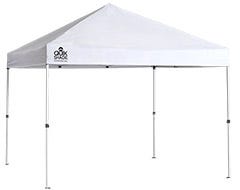 Commercial C100 Straight Leg Pop-Up Canopy, 10 x 10 ft.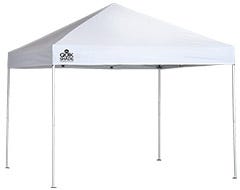 Marketplace MP100 Straight Leg Pop-Up Canopy, 10 x 10 ft.
Solo Steel Pop-Up Canopies
Quick Shade's
Solo Steel Pop-Up Canopy Tent
is designed with durability and ease in mind. This portable straight-leg pop-up canopy has super-strong telescoping adjustable legs that allow multiple height positions. It also features a rugged waterproof ripstop fabric cover. This portable pop-up canopy can be assembled by one worker, and easily moved without taking it down. There are many ways to use a Solo Steel pop-up. They can be used as a check-in center for either drive-thru or walk-in exams, as waiting areas, staging areas, examination tents, office areas, break areas, and more.
Available in 1 Model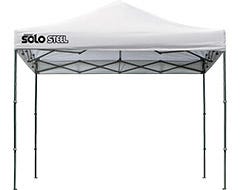 Solo Steel Straight Leg Pop-Up Canopy Tent, 10 x 10 ft.
Wall Kit for Quik Shade Pop-Up Canopies
This wrap-around panel can be used with all the above Quik Shade pop-up canopy tents. The
wall kit
is easy to install and gives patients and staff privacy in a patter of minutes. The wall kit is made of fire-resistant fabric, has a zippered opening, and makes the tent a enclosed temporary structure.
Available in 1 Model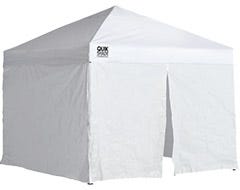 Wall Kit for Quik Shade Straight Leg Canopies, 10 x 10 ft.
Choose ShelterLogic Group for Your Emergency Shelter Needs
When you need an emergency shelter solution, rely on a brand you can trust. For more than 70 years, ShelterLogic Group has manufactured tough, versatile outdoor shade, shelter, storage and furniture for a variety of needs. Our brands are known for their innovation, affordability, durability, and ease of assembly. Consider ShelterLogic Group brands when you need a medical tent, containment tent, surge tent, and triage tent.
*ShelterLogic Group tents and shelters have not been tested for the containment of diseases and infections and as such offers no guarantees. Our buildings are shown as contained screening spaces and surplus storage spaces only and are not recommended to be used as treatment facilities. All normal infectious disease precautions should be taken. Intended for privacy screening.
** Wind and snow loads given are for reference only and assume a securely anchored frame according to local building codes and ordinances. These have been calculated using combined snow and wind load provisions in accordance with ASCE 7-05. These calculations are based on an unoccupied, fully enclosed building. Local building code requirements vary by location; conformance to local codes is the responsibility of the purchaser.