There's no better gameday experience than a pregame tailgate party! Tailgating has become as much of a national pastime as the sport itself. Whether it's just you and your friends or you and your friends and a bunch of random strangers you meet in the stadium or racetrack parking lot, tailgating memories often last longer than your memory of the game or race!

However, it's not always possible to have a tailgate party at a live sporting event. That's because the event you want to attend may be a hard ticket to get, or the venue does not allow tailgating to take place. At some stadiums, you need a special permit to throw a tailgate party in the parking lot. Also, your favorite team may be playing on the road, or may not even play on the same continent! However, that doesn't mean you can't enjoy the same gameday experience of a tailgate party at home. Once you try homegating, it may become your preferred way to tailgate!


What is a Tailgate Party?

A tailgate party is an outdoor bash that takes place before a sporting event or a concert. Often, a tailgate party will include a grill, a tailgate canopy, portable chairs, a metal cooler, and plenty of food and drinks.

While some tailgates start a few hours before an event begins, others begin when the parking lots open and continue well after the game ends. They start early and end late to avoid traffic jams entering and leaving the venue.

However, it also gives tailgaters plenty of time to have a meal before they enter the stadium or before they head home. Also, there are people who will attend a tailgate party and never go inside the venue!

There's also a downside to tailgating at an event. For example, most venues will limit how much space you can use: usually one vehicle is allowed per parking space. Also, your activity is mostly limited. Even having a catch with a football in the parking lot can be dangerous. In addition, you need to pack, unpack, and drag all your tailgate party gear to and from the game, race, or event. Of course, you also must set it up and break it down while you're in the parking lot!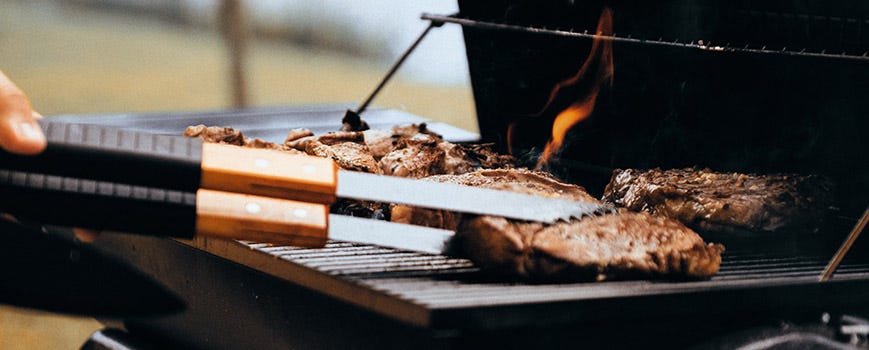 Advantages of Homegating
While the gameday atmosphere can make the experience of tailgating extraordinary, you can replicate the feel in your own backyard. In fact, when you're homegating, you'll have more room to play with. Also, you'll have the convenience of setting up and breaking down your back yard on your terms!

Additionally, there's no need to drag your grill, canopy chairs, small pop up canopy, and other tailgating gear to the stadium or racetrack. What's more, you won't have to pay an astronomical fee to park or spend a bundle on tickets to the event! Also, there's the time factor. With no need to travel to and from the event, you can spend more time at home entertaining, relaxing, or tending to other things.

Don't think of a tailgate party as a celebration in a parking lot. Think of it as a gathering of friends with a sports or concert theme. You can make homegating a big backyard gathering, or simply make it a family event.


Does a Homegating Party Need to be Event-Specific?
Although tailgates evolve around some sort of live event, you do not need a live event to host a tailgate party at home. It's just like having a summer cookout. It doesn't need to be Father's Day, Fourth of July, Labor Day, or a birthday to have one. If there is a live-streaming event like a football game, NASCAR race, or concert taking place, you can use that as the theme. Also, since some of the greatest games and concerts of all time have made their way to the Internet, you can base you tailgate party on history. For example:
Live Aid: If you're a huge fan of the 80s, you can stream Live Aid, which was the Woodstock of 1985. There are plenty of sets and playlists on YouTube and you can play them in the order you want.
Football: Every Super Bowl can be found on YouTube. If you are a fan of a specific team, you can base your tailgate party on a specific game. Not a fan of football? You can also dig up the best Super Bowl commercials of all time, and even find playlists of the greatest halftime shows.
Auto Races: Tailgating at NASCAR and Indycar events is huge, and that atmosphere can certainly be brought home. You can find some of the greatest NASCAR races of all time on YouTube, as well as some of the greatest ever Indy 500s.
Of course, there are other variations to a homegating party. You can have one to celebrate a television show or a movie, or even make it a day of video gaming.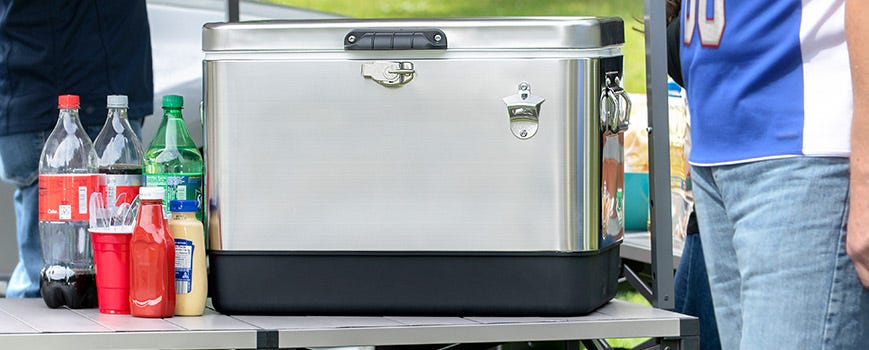 What You Need for a Successful Homegating Party
Whether you're having a tailgate party at home or you're tailgating in a parking lot, you will need a few essential items to make your day a success. While many of these items are portable by nature, a home tailgate party means certain elements you can include some convenient more-permanent fixtures.

Here's a look at the items you'll need for a successful at-home tailgate party.


Food… and Plenty of It!
Keep in mind that you're cooking for people who are going to be socializing and playing games. Cook things that don't need to be eaten sitting down or with utensils: ribs, chicken wings, kebabs, burgers, hot dogs, sausages, and so on. Your guests will be grazing as they go, and most-likely throughout the tailgate party. Chips and dips, crudité, nachos, and other apps are great for kicking off your party, and watermelon, ice cream, and baked desserts are a great way to end it.


Comfortable Folding Chairs
When your guests aren't walking around, they'll be sitting. Not everybody likes to bring their own chair to the party, so it's great to keep some portable chairs in your shed or garage. Camping directors chairs are very practical because they are comfortable, roomy, and have a folding tray that makes dining easier. A camping chair with a canopy is also a great choice because they offer additional protection from the sun.


Outdoor Games to Keep Kids Busy

Cornhole is an extremely popular game at tailgate parties. That's because most cornhole boards can be folded to fit at the bottom of a trunk or in the back on an SUV. It's also an easy game to play: Think horseshoes or bocce, but with beanbags. When you tailgate in your backyard, you have more room to play. You can simply have a catch with a frisbee or a football, play giant yard games like Jenga, or play more competitive games like Kan Jam.


A Dependable Cooler

A tailgate party can last for hours, and you won't want your drinks to get warm or food to spoil. When you go to the game or the concert, you need to have a dependable portable cooler for your drinks and any food you plan to cook. A metal cooler is a great choice when you're on the road or tailgating at home. A rolling patio cooler is an even better choice if your tailgate party will be on a deck or patio surface.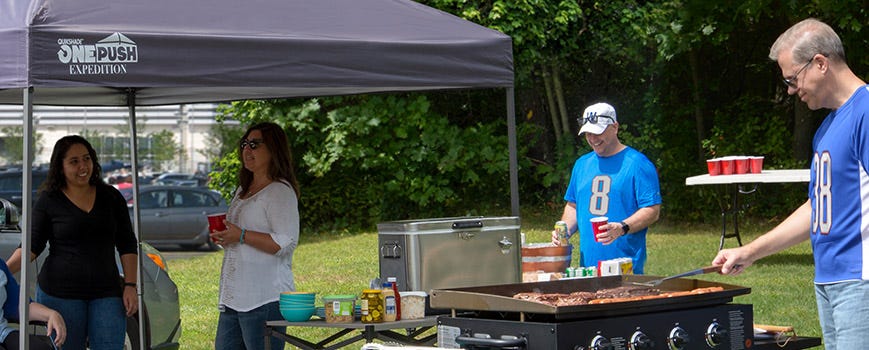 Protection from the Elements is a Tailgating and Homegating Must!
When it comes to weather, you need to expect the unexpected. For example, at venues like The Meadowlands in East Rutherford, NJ, properly-anchored* pop up canopies are a must for tailgating. That's because its wide-open parking lot has very little shade and a lot of wind. Also, even if you meticulously study the weather forecast, it's a place where random showers happen.

But when you're tailgating at the venue, your only real option is to choose between a straight leg canopy vs. slant leg canopy. A slant leg canopy would appear to be the best solution for parking lot tailgating because it takes up less space. However, a straight leg pop up canopy uses the same amount of space as a slant leg canopy. The difference is the amount of protection it offers. For example, a 10x10 ft. slant leg pop-up has an 8x8 ft. canopy and offers 64 sq. ft. of protection from the elements. A 10x10 ft. straight leg pop-up has a 10x10 ft. canopy and offers 100 sq. ft. of protection.

Both styles of pop-up canopies are fine for tailgating at home. However, there is more space to tailgate in your backyard or driveway. You can offer more ways to protect your family and guests from the elements. Here are some excellent solutions that you can use for more than just a tailgate party:


Shade Sails
A highly decorative shade sail is very practical patio shade that can protect your family and guests from the sun's harmful UV rays. Shade sails easily attach to sturdy connection points such as the side of a home, trees, and securely mounted posts. You can use a shade sail to cover a patio, a deck, or anywhere else you need some shade. They are attractive and effective and can add a unique look to your backyard aesthetic.


Party Tents
A party tent is practical for many different types of outdoor activities. An outdoor party tent can be a simple and effective way to shelter tailgate party guests from the elements. On a warm day, you can use it without panels and allow your tailgaters to enjoy the outdoors. On colder days, you can attach the wall panels and turn your party tent into a tailgate party room. Party tents are a great investment: purchasing one can be much more cost-effective than a rental.


A Carport or a Patio Cover
A metal carport is a very versatile product that does much more than protect your vehicles from the element. You can anchor* a freestanding carport virtually anywhere on your property and make it the perfect picnic pavilion for a tailgate party. Also, an attached carport can be used as a cover or awing over a patio or deck. Both options will allow you year-round use of your structure, either for additional entertaining or for vehicle and equipment storage.


A Gazebo or a Solarium
Adding a solarium to your home to just to host a tailgate party may seem over the top at first. But attaching an all-season solarium to your house also expands your living space. When it's not used for parties, a solarium can also serve as a family room, den, spare bedroom, or even a home office. A backyard gazebo can also be used as a pool cabana, an outdoor dining area, or as quiet place to relax.


The Verdict: Homegating Can Be an Awesome Anytime Experience
There's an old proverb that goes like this: "Why buy the cow when the milk is free?" So, why put in the time, effort, and expense of having a tailgate party in the parking lot of a live event when you can have one in your backyard?

Although tailgates are associated with live events, you can throw a tailgate party whenever you'd like for whatever reason. Just think of a tailgate party as a themed party and invite as few or many people as you'd like to celebrate.

Tailgating at home saves you time, saves money, and opens your party up to others who aren't attending the event. It also means you can set up and break down your party at your leisure and get more use from your backyard.

* We always recommend a properly anchored structure. Please reference your manual for anchoring best practices or check out this anchor guide.