More people are spending time at home now than at any time in recent history. With the recent trend toward working and schooling at home, it's easy for your space to start feeling a bit crowded. If you're looking for ways to expand your home's usable space, adding an outdoor structure, like a backyard gazebo, is an excellent idea! This functional, practical upgrade will add style to your space while also improving your property value.
There are many ways to use canopies and gazebos in your yard. Once you start using your imagination, the possibilities are virtually endless! The following guide will explore the most popular outdoor structures and offer some suggestions for how you can use them to upgrade your backyard space.

Freestanding Gazebos

When you're looking for the ultimate in flexibility, freestanding gazebos are a great choice. They come in a wide variety of sizes and styles, making them appropriate for many different uses.

While there are many options to choose from, high-quality aluminum gazebos are one of the most popular. Not only are they cost-effective, but if you choose one that's made from top-of-the-line materials, you can have the confidence of knowing it will stand up to the elements and look beautiful for years to come.

Creative Uses for Freestanding Gazebos
Patio gazebos are a popular option for homeowners who want to create a covered dining area or a DIY kitchen. It's the ideal place to relax and entertain family and friends while enjoying protection from wind, rain, and the sun's harsh UV rays.

Book lovers may enjoy installing a small gazebo and turning it into a private getaway. It's easy to create a cozy book nook by adding comfortable seat cushions, throw pillows, and a few lightweight blankets. Add some decorative lighting and it will feel like a whimsical retreat where you can relax and escape from the outside world.

You can also use backyard canopies and gazebos to cover your hot tub, create a shaded poolside lounge, or set up a cabana-style getaway. Some homeowners use them to build an outdoor movie theater, set up a play area for their kids, or create an outdoor bar.

Don't have a huge budget but still want to experience all the benefits of a backyard gazebo? Soft-top gazebos are a cost-effective option that will provide years of enjoyment. They're perfect for those who frequently entertain and want a covered area to host parties and get-togethers. Choosing a permanent soft-top gazebo will save you from the hassle of constantly having to assemble and disassemble tents and find a space to store them when they're not in use.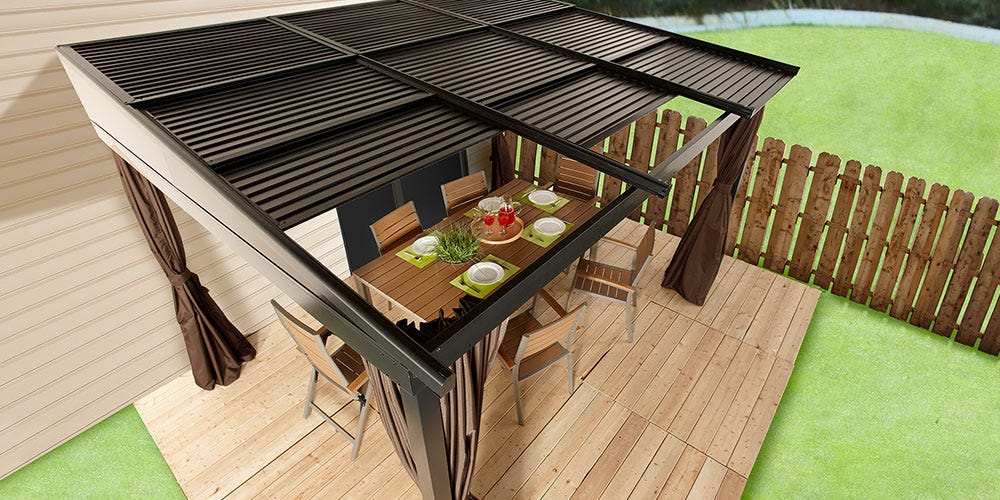 Wall-Mounted Gazebos

If you already have a patio or deck in place, wall-mounted canopies and gazebos are a quick and easy upgrade that will turn your open space into an enjoyable shaded area.

Many wall-mounted gazebos come with mosquito netting designed to keep bugs out. This will allow you and your guests to enjoy your covered patio well into the evening. Adding gazebo curtains can also provide just the right amount of privacy while also adding an extra touch of style.

Best Uses for Wall-Mounted Gazebos

Most homeowners use their wall-mounted gazebos to create a comfortable outdoor dining space that's located close to the house. You can also use the space to build your own outdoor kitchen by adding a grill, counters, a small refrigerator, and other convenient appliances.

Some homeowners prefer to turn their covered patios into a cozy outdoor living room, complete with plush furniture, creative lighting, and even a small fire pit. Use your imagination, and your new covered deck or patio will quickly become your family's favorite place to spend their time.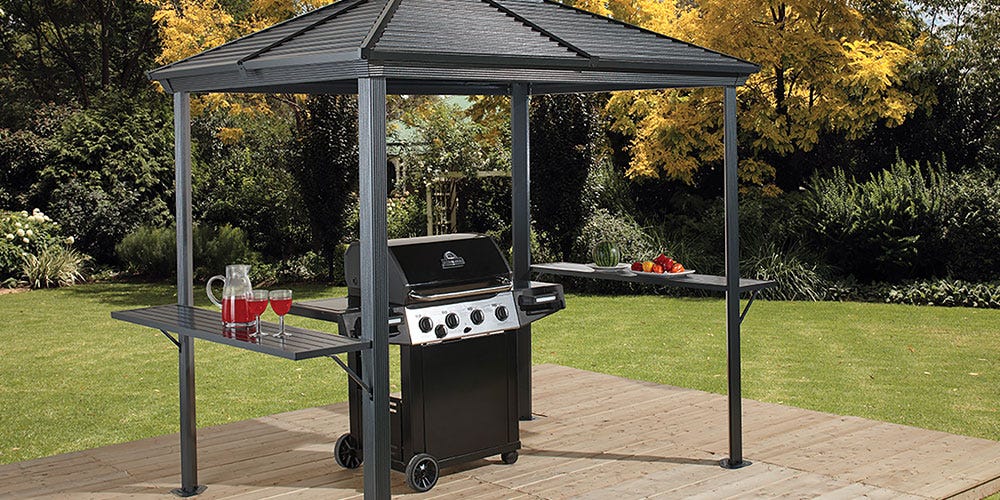 Grill Gazebos

There's nothing quite like firing up the grill and having a cookout with family and friends. However, there's no need for you to broil under the sun while you're grilling up your meals. While you can use any hard-top gazebo to cover your grill, choosing a specially made grill gazebo will give you even more functionality. The best grill gazebos have built-in shelves that offer a place for you to do food prep, store condiments, or set down your drink while you cook.

Customize Your Grill Gazebo

While many people simply center their grill under their gazebo, that's certainly not the only option. By choosing a gazebo that's significantly larger than your grill, you'll have plenty of extra space to work with.

Many homeowners use their grill gazebos to build their own miniature outdoor kitchens and grilling islands. This is easy to do. Simply add some countertop space, storage shelves or cabinets, and maybe even a mini-fridge. If you plan to entertain guests, you may also want to build a larger counter area on the front side of the gazebo that can serve as a walk-up bar. You can even take things a step further by extending the floor area and purchasing some high chairs. This will allow your guests to enjoy dining at the counter while you serve delicious meals straight from the grill.

The relatively small size of a grill gazebo opens up your placement options. Put it near your patio so it's close to the dining area, create a separate grilling area further away from the house, or use your grill gazebo to build an upscale poolside grilling space.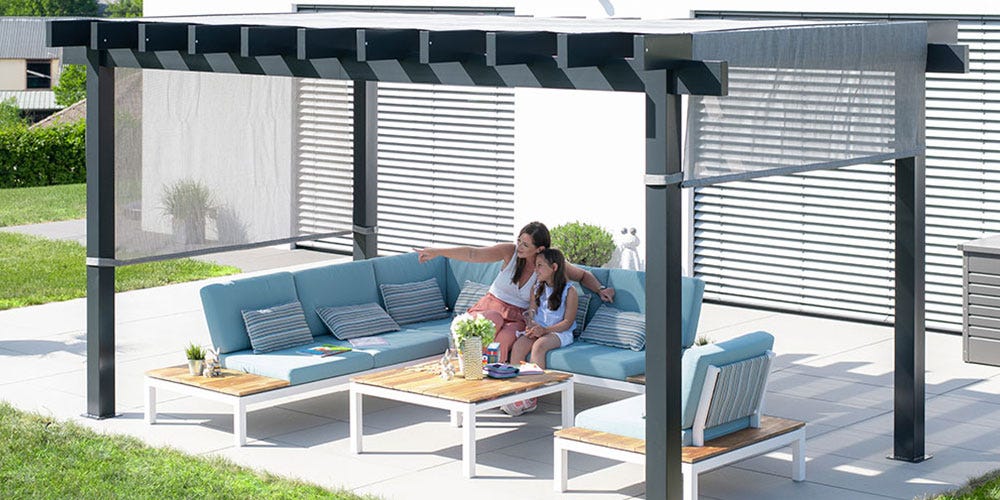 Pergolas

Unlike canopies and gazebos, which typically offer full coverage, pergolas have rafters and crossbeams across the top and are open on all four sides. This provides a bit of shade while still allowing some sunlight to come through. Some pergolas are covered with a fabric that provides additional shade. It's also common to grow vines across the top of a pergola, adding both natural beauty and shade.

Adding a pergola to your backyard is the perfect way to create a defined space that you can use for a variety of purposes. Pergolas are also commonly used to create an archway into a garden area or to create a walkway through two buildings.

Creative Uses for Pergolas

Getting creative with your pergola can make your backyard feel like a luxury resort. Give your pool area a major upgrade by creating a poolside outdoor living room, complete with comfortable furniture and a full-sized fireplace or a covered hot tub. Another fun way to use a pergola is to hang a large cushioned swing or a swinging bed from the center. This is guaranteed to appeal to children and adults alike.

Nature-lovers may enjoy using their pergola to grow a lush canopy of greenery and placing some comfortable seating or a small rustic dining set underneath. This is the perfect place to meditate, journal, read a book, or enjoy afternoon tea.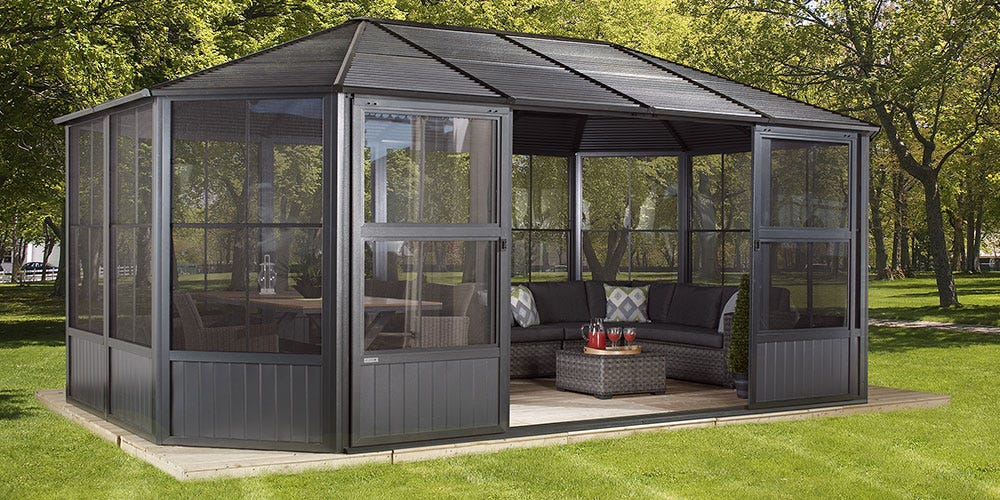 Solariums

Have you been dreaming of adding a relaxing sunroom to your home? While canopies and gazebos are great for many applications, a solarium offers more protection from the outdoors. This makes them the preferred addition for many homeowners.

Solariums allow plenty of sunlight in while offering optimal protection from the elements. They're a great way to enjoy being out in nature without having to worry about wind, rain, heat, or even snow.

Solarium kits are the best way to add an extension to your home without the expense and hassle of a home addition. Hiring a contractor to assemble it will allow you to enjoy your new sunroom with almost no effort on your part at all!

When choosing your solarium, you'll want to look for one that is made of high-quality, durable materials. This will ensure that your structure is built to stand up to the elements, making it a beautiful addition to your home that you can enjoy for many years.
The Best Uses for a Solarium

Solariums, or sunrooms, are often used to create a cozy sitting area. However, there are many other creative ways to enjoy this space. If you work from home, your solarium can serve as the perfect office space. Not only will the extra sun exposure make you more productive, but if you use the space solely for work, you might also be able to take advantage of the IRS home office deduction.

A sunroom can also make an excellent children's playroom, giving them their own space with easy access to the back yard. Since they're easy to see into, you can keep your eye on the kids without having to go outdoors and join them.

You can also use your solarium as an outdoor dining room, a craft or hobby room, a meditation and yoga space, or even a bar or entertainment area.
Explore Our Canopies and Gazebos Today!

Canopies and gazebos are excellent upgrades that add functionality to your outdoor space and make it more enjoyable. If you start planning your next project now, it will be ready for you to enjoy as soon as the weather warms up.