A patio space can be an incredible space on your property. However, most people leave the backyard almost empty or prioritize a stand of perfect sod over building a more functional space. If you think your patio needs an upgrade, it turns out there is so much you can do using some of our patio shade ideas, privacy additions, and decorating.
There are plenty of very budget-friendly ideas as well as those that will take some investment. Look at your budget as you move through these ideas. To achieve a truly excellent patio space for you and your family, you may need to be complete larger projects in stages as your budget allows.
10 Solutions and Ideas for a Patio Upgrade
Decide what you want to prioritize in your patio upgrade and get ready to have a functional, beautiful backyard space!
Add a Privacy Screen or Fence
The first of our ideas for a great patio space is to add some privacy. For most of us, when we want to relax, we don't want to worry about our neighbors watching us while we do it. So whether you want to spend some time on your patio in your robe, take an outdoor nap, or just read in privacy, it is better to do it in the privacy of your own space.
You can easily add privacy to your yard by putting up either a privacy screen or a fence. A privacy screen will help to section off a portion of your yard from prying eyes. For example, you might put it around a structure like a gazebo or your favorite area to sit in the yard.
Opt for a fence if you don't want to feel sectioned off from the rest of your space but still want privacy. These are more of an investment, but they also provide your entire backyard with privacy.
Stain the Concrete
Staining concrete is a very similar process to staining wood. It gives the concrete floor a luxuriously rich color, producing a variety of translucent, almost marbled tones across the floor. The end product varies greatly depending on how you apply it and the stain you use.
Although this is a DIY patio option, unless you have experience, it will likely turn out better with a contractor.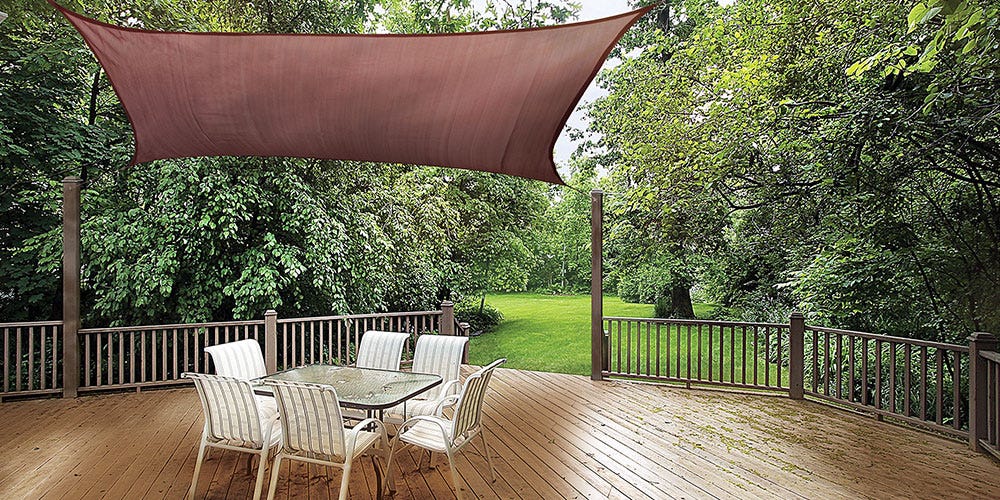 Add Flooring
Some people have sod or earth-packed patios, and it serves their purposes very well. However, in these cases, the flooring of a patio can be a significant way to upgrade your patio. Flooring for your patio doesn't have to be expensive. Instead, consider what you have now and how you can supplement it.
Consider building a patio from wooden flooring panels, or you can make it from a more durable material like pavers. If you already have some flooring, you can accent it or draw people towards specific spaces by adding an outdoor rug.
Build a Firepit
A firepit is another excellent choice if you have already established the main structure of your patio. You can DIY this outdoor patio upgrade by integrating the firepit into the built form of your patio or building one on top of the already established patio floor. You can also make this an easier option by purchasing a standalone fire pit. These will give you all the benefits of a fire pit and be more mobile than a built firepit.
Update Your Patio Furniture
Sometimes it isn't your entire outdoor space that needs an upgrade. Instead, you might need to upgrade the furniture and accent pieces on your patio. Outdoor furniture wears out faster since its subjected to temperature swings and elements throughout the season.
You can elongate its life by storing it properly during the cold seasons. Otherwise, high-quality patio furniture that you care for well should last for about 15 years. Lower-quality items or those left to the elements year-round will last for five years or less.
Add Shading
Do you live in a hot or sunny climate? Adding some shading spaces to your patio is an excellent way to upgrade it affordably without having to do major renovations. There are plenty of options, giving you choices when it comes to shading structures and budget.
A shade Sails: Adding a shade sail to your patio is an excellent way to upgrade it since they have become quite the modern-looking addition for an outdoor patio. As far as outdoor shade ideas go, shade sails are one of the most budget-friendly shade options to put over your patio. They also give you a wide range of ways to set them up without taking up any actual patio space.
A pergola: Pergolas are the next most affordable option since they aren't a solid structure. You do have the option to hang a screen over the pergola should you want it to cover more of the space underneath it. Otherwise, the slats on the pergola will allow bright sun through during the day.
A gazebo: Our last of our patio shade ideas is to include a gazebo on your patio. A gazebo gives you a clear delineation between parts of your yard and gives you complete protection from the sun. You can find options with curtains or even partially walled so that the space inside the gazebo stays cooler than the rest of the outdoors.
Add Patio Storage
Although it might not seem like a direct patio upgrade, keeping your patio clean and tidy will make it more presentable.
Deck Box: Deck boxes are a great option that won't take up too much space. You can use these to store any odd objects that you would typically leave around your patio. They are also helpful for seasonal storage, such as for pots outside of the growing season.
Garden Shed: If you don't have space on your deck or patio for storage, consider a garden shed. A garden shed works just as well. You can also remove it from the direct line of view of those on the patio.
Light It Up
Lighting up your patio space elongates the amount of time you spend there during the day. Something as simple as putting up string lights can make all the difference in the atmosphere in the evening. You can even add heat lamps to combine the benefits of light at night while increasing the time you spend on the patio annually.
Give It Greenery
Decorating your outdoor space can be a challenge. However, you have the benefit of it being outside. You can quickly spruce it up with a few potted plants or some well-placed landscaping. This option largely depends on your budget since landscaping costs quite a bit more than planting some pots.
Build an Outdoor Kitchen
Finally, we come to the big finale with our last patio upgrade option. Building an outdoor kitchen is an excellent way to increase the value of your home. It is quite a significant investment but gives you an entirely new portion of your living space. It is also one of the most functional options on our list.
The Benefits of Upgrading Your Patio
There are plenty of benefits when it comes to upgrading your patio, both short-term and long-term. The most obvious and often influential benefit to a patio upgrade is the immediate increase in property value. Once you have your home in top shape, upgrading your outdoor space is one of the best investments you can make to further increase your home's overall value.
The other benefits include providing a space to entertain. Depending on the guests you typically have, you should make your patio upgrades to accommodate these kinds of gatherings. For example, do you have kids that often have their friends over? Building some kind of play area might be a good option. If you usually have more adults over, building an outdoor kitchen or having good outdoor furniture can encourage the party to move outside.
This leads to the last of our big benefits, although there are plenty more. Upgrading your patio space also leads to an extension of your living space. So if you feel like your home is too cramped but don't want to move, adding a functional patio space can help.
The Cost of Giving Your Patio a Facelift
The cost of upgrading your patio space largely depends on what you decide to do. For example, adding a rug might only cost $20 but effectively gives the whole space a facelift. Conversely, putting in an entire outdoor kitchen can cost thousands of dollars. Just remember that the more you put in now, the greater your return later. You aren't likely to see an uptick in property value for a rug, but it can soar with an outdoor kitchen.
Average costs of some popular facelift options include:
Fence: $988
Stained concrete: $2 - $15 per square foot
Outdoor rug: $2 to $3.50 per square foot
Stand alone firepit: $50 - $300
Build a firepit: $300 to $1,400
Patio furniture: $150 - $4,000
Outdoor kitchen: $5,000 - $12,000
Patio Upgrades for Every Season
Deciding which way to take your patio space can take time and plenty of thought since it is an investment. However, finding the materials to give it that extra tailored look doesn't have to be complicated. Head to Shelterlogic to find an array of the best outdoor furniture and patio shading options on the market and get your patio upgrade started today.