Resistant to the elements and a shelter from the sun, a shade sail is a superb for adding both a distinctive accent and practical shade protection to your outdoor spaces.
From gardens and patios to poolside corners or work areas on driveways where master mechanics tinker with their vehicles, a good sail shade is able to offer you coverage and style aplenty.
How do you best use these marvelous shelters – portable, practical and sure to be a conversation starter with guests? Luckily, shade sails are low maintenance and low fuss – but there are still some tips to keep in mind too.
What is a Shade Sail?
While many garden tents or outdoor patio shelters are made of a similar fabric as a shade sail, their structures are far different. In fact, those kinds of outdoor tents and shelters are free-standing and designed to be put up on poles and frames, while sail shades are pulled open like their namesake sails as found on boats and yachts.
That doesn't mean they are solely for people who know nautical knots and advanced seamanship, of course! In fact, shade sails are intuitive and easy to use – secure once in place, but easy to put up and tidy away as the seasons change.
How Does a Shade Sail Work?
Shade sails work not only by physically blocking out the harmful rays of the sun, but also by remaining resilient as both your needs and the weather's changes.
In other words, shade sails are pulled fully open and taut above key areas in need of protection or shelter. This approach allows their sunlight resistant fabrics to protect what's important to you – and likewise, any interference from birds and falling leaves is minimized too.
They're often made of fabrics that have been especially treated to remain resistant against harsh sunlight, colder temperatures and extreme heat. Shade sails are pulled by ropes and fastened between tree branches or specially positioned poles, seven feet or higher above the ground most of the time when used to comfortably shade adults.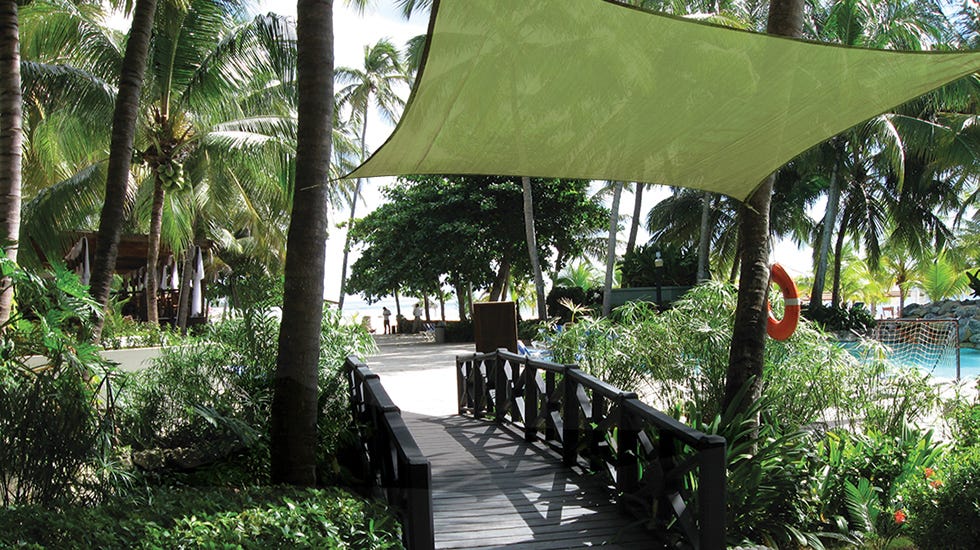 How Do You Install a Shade Sail?
While you're free to ask for advice and expertise in installing your shade sail, it's unlikely you'll feel the need to ask for an experienced hand getting yours up and ready.
Most shade sails arrive with you complete with simple instructions that help you identify where to place your poles, what other fastening options could work for the strong cords and cables that keep it aloft, and how best to secure the sail up and steady – able to brace against strong winds and changes in weather.
What's important is that you secure your shade sail in place at each of its corners, and make certain that the fabric is pulled taut – in other words, it's pulled into a flat surface without any wrinkles or creases.
Here are 8 Tips For Using Shade Sails
A shade sail is a sturdy outdoor companion and shelter indeed – but there are still some smart ways of using and maintaining it that can really see it make the most of its life of service with you. Let's explore these a little more in-depth.
1.Pick a Good Spot
It may seem obvious, but it bears repeating – making the most of your shade sail is all about ensuring it's positioned just right.
That means not only that you're able to enjoy some welcome shade over a sunbaked patio or a corner of the pool – but also that you have good access to anchor points to fasten your shade sail in place, and that it's not too close to hazards such as power lines or pollution kickback from passing traffic.
2. Slope Your Shade Sail
While a perfectly flat shade sail above a lawn area or patio might feel satisfying at first glance, it's not a smart idea. Over time, leaves and tree twigs are likely to gather in the center of your shelter, putting strain on its nonetheless resilient fabric.
It's wiser to slope your shade sail – as gently or as steeply as best suits the good looks of your garden. Not only is that angle a pretty cool style statement, but it creates a natural way for spillages and other foreign objects to slip away off the top without doing any harm.
3. Choose Your Ideal Color and Style
How much do you want your shade sail to be a statement piece in your outdoor space – or do you prefer that it's more of a subtle accent that doesn't distract the eye from a gorgeous sculpture or some mighty fine flowerbeds?
Considering the size and color of your shade sail is an important consideration here as you think how best to both protect and pretty up your space. However, it's also a great idea to think about which shape best suits the outdoor area you're working with too.
Sail shelters most often come in square or triangular shapes, so bear that in mind while making your plans for the perfect shady spot.
4. Make Sure Your Sail Shade is Tight
We have emphasized already how important it is to make sure your shade sail is taut on its cords and fastened well to posts and poles that keep it flying proud. Yet let's clarify this a little more – as with so much in life, it's possible to have too much of a good thing.
If a shade sail is too tight or taut, it actually puts more strain on the fabric than is advisable, which could cause holes, tears or simply a shorter life of active service for your product.
Of course, without a good tight connection, a shade sail can also sag or look a little listless – not easy on the eye or on its performance. If you get this balance just right though, the trickiest part of enjoying your sail shade is behind you – and it'll prove a trustworthy part of your outdoor space for seasons to come.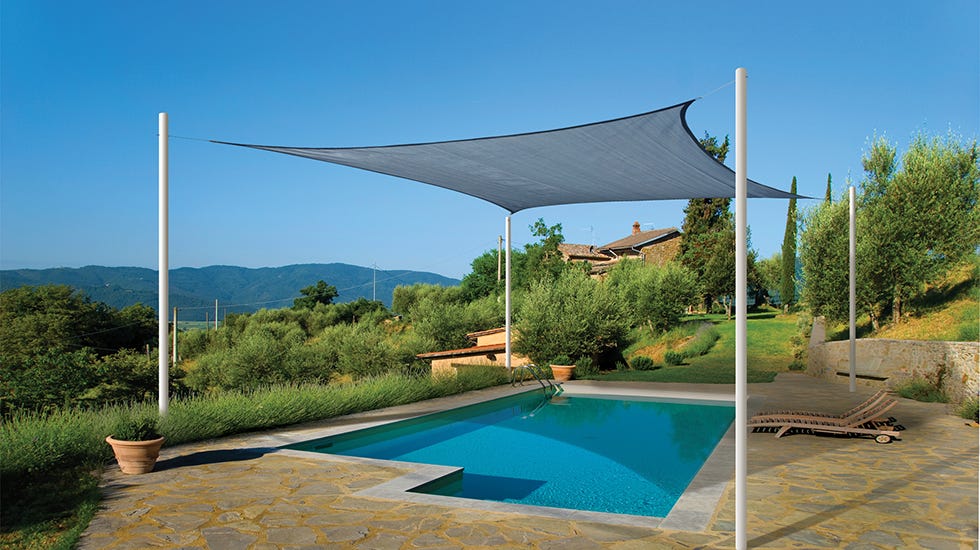 5. Don't Use a Sail Shade Over an Open Flame
A hot summer barbecue or s'mores around the fire pit are where some of your loved ones' best memories are made – and a sail shade can help you stay out of the heat or feel safe if the wind comes in.
That said, you're wise to only eat or talk under your sail shade – not to use it directly over where the cooking or heating is happening. That's because an open flame expels heat far further than we think – it isn't just the flickering of the flame to worry about. It's a serious fire hazard.
A sail shelter that gets too hot is likely to develop burn marks – or worse, holes in the material. Not only that, but using a sail shade over an open flame could see the fabric and its handsome coloring become darkened and damaged by smoke.
6. Hand Wash Your Sail Shade
While it's true that your sail shade is both resilient and durable, that doesn't necessarily mean cleaning it off after it's seen some use should involve tossing it in with the laundry.
A sail shade ought always to be washed by hand, but the good news is this isn't the chore it may sound like. Even the most generously sized shade sail is easy to bring down and take some soapy water and a sponge to – remember to use gentle cleaning tools, and not harsh brushes or wire wool.
Avoid bleaches and strong chemicals too, even if stains seem stubborn. The convenience of annihilating a splotch on your shade sail isn't worth the harm to its fabric being reckless could cause.
7. Take Your Shade Sail Down During Bad Weather
While we have discussed how strong a shade sail is during the sunshine, it'd be remiss to suggest they're invincible. Super strong winds, heavy rainfall, lashing hailstones, freezing snow or even heatwave level sunlight can cause irreparable harm to even the strongest outdoor sail shelter.
Luckily, they're easy to bring down and store away if and when the bad weather comes – and likewise to put back in pride of place when things blow over.
8. Inspect Your Shade Sail Regularly
Having such a reliable sail shade up in place throughout the warmer season can make it easy to accidentally take it for granted. It's understandable why anyone could come to rely a lot on their shade sail – after all, it's what they're for – but giving a little back to your product can help you ensure it sees years of dependable use outdoors with you.
Take a look over your shade sail once a week or so as part of your outdoor maintenance routine. See if there are any marks or holes developing on the fabric, and that the cords securing your shade sail up in place are both good and tight, but also in good physical condition – no fraying or damage from wildlife.
Keep these above pointers in mind, and your shade sail will prove a friend indeed when the warm weather threatens to overwhelm your love of the great outdoors.