Do you dream of having a comfortable, organized space to work on your next project? Creating a fully functional workshop garage is easier than you might think!
If you don't currently have a garage or the one you have doesn't have enough extra space, a steel garage is a perfect solution. Whether you're a mechanic, a woodworker, or a metal fabricator, you'll love having your own steel workshop garage! Buying a separate structure will allow you to create the workshop of your dreams without worrying about leaving space for vehicles and other items. You can also place your new workshop garage away from your home, reducing noise transference and giving you your own separate space.
Follow these ten tips and you'll be spending your days tinkering in your new workshop before you know it.
Plan Your Garage Woodshop Layout
Prior to starting any major project, it's always a good idea to sketch out a plan. First, take some time to think about how large of a structure you'll need. Consider how much work space you need for the types of projects you enjoy doing and how much room you need to store all your tools and equipment.
If you don't have a lot of land, a smaller 12-foot by 25-foot steel garage should accommodate your needs. However, if you have enough room, you might want to choose a larger structure as this will give you more flexibility.
Next, sketch a rough layout of where everything will go. Take note of where the doors and windows are located and the size and mobility of the tools and machines you own. If you're going to use tools like table saws and drill presses, remember that you'll need to make special accommodations. For example, a table saw requires at least four to eight feet of open space on all sides and a drill press should be kept against a wall, so it's less likely to tip over.
If you're not quite sure how to create your garage woodshop layout, search the internet for some sample plans. While you might need to make some adjustments, this will give you a good starting point.
Start with a Clean Slate
If you're not purchasing a brand-new structure for your workshop garage, the next step is to completely clean out the space. If you're using your garage for vehicle parking and storage as well as workshop space, you'll face a bit of a challenge. In this case, you may want to create two separate areas, one that's reserved for the household and another that's exclusively for your workshop.
If storage is an issue, purchasing a storage shed is a great idea. This is an easy and inexpensive way to increase your covered storage space so you can move items out of your garage. Now is also a great time to add shelves, ceiling hooks, and other creative storage solutions.
Remember, the more items you can get out of the way, the more you'll enjoy your new workshop garage. As you're moving items around, make sure there's nothing left on the floor that could cause a safety hazard. The last thing you want to do is trip with a power tool in your hand!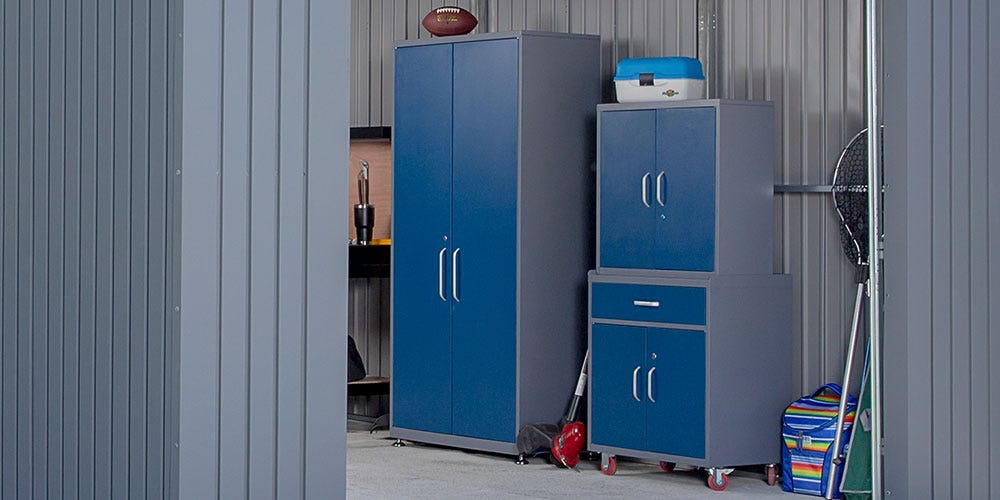 Choose Your Tool Storage
It's important to keep your tools protected and organized. Investing in a high-quality tool chest will ensure it's easy to find the right tool when you need it. A steel chest with rolling ball-bearing drawers is the most popular option. Consider lining the drawers with drawer mats. This will keep the tools from sliding around and can help protect them from corrosion.
Also, add some pegboard to at least one wall. This is the best way to store the tools you use most often, as it offers quick, easy access. It's also a great way to organize longer tools that won't fit insider your tool chest.
Design Your Workbench
A solid workbench is the cornerstone of any good workshop garage layout. This is the space where you'll do most of your work, so spend some time thinking about the ideal size and structure. You may decide to purchase a premade workbench or build your own. Either way, make sure it's durable and sturdy enough to stand up to all the rigors you'll put it through.
While a stand-alone workbench is ideal, if you're short on space, a pull-down workbench can work as well. This will allow you to pull it down when you need it, then flip it back up and out of the way.
Install Task Lighting
The typical garage is dark, so you'll need to make sure you add plenty of good lighting. For lighting the entire space, fluorescent lights are hard to beat. They're bright and economical, making them an excellent starting point.
You may want to add some track lighting, which will allow you to point extra light in the direction you need it most. Finally, add an adjustable work lamp. This will come in handy when you need bright, focused lighting for detailed tasks.
Consider Temperature Control
If your garage isn't insulated, you'll quickly find that the weather impedes your ability to enjoy your work. It will get freezing cold in the winter and sweltering in the summer.
To make sure you can comfortably use your workshop garage all year long, consider adding some insulation and portable heating and cooling units. Generally, you can get by just fine with a space heater for the winter and floor or window AC units for the hot summer months.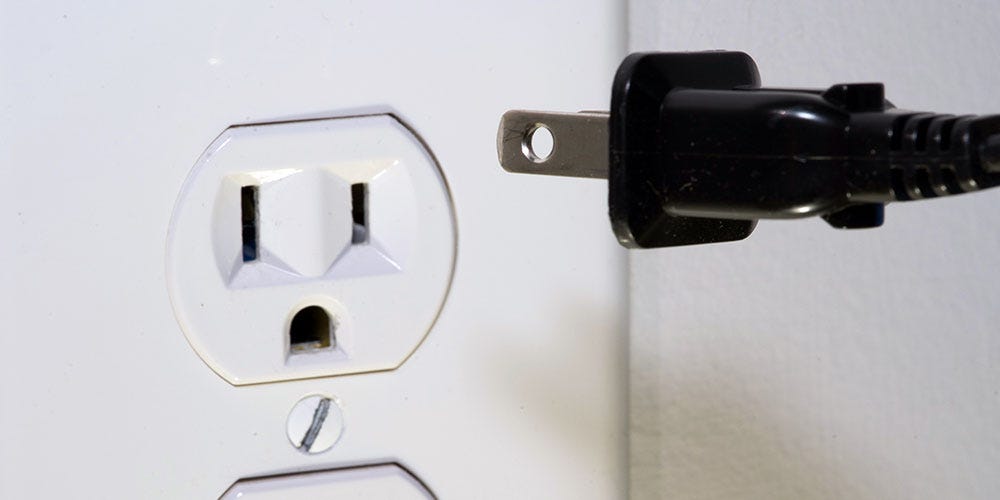 Add Extra Power Outlets
Avoid the nightmare of constantly schlepping extension cords across your garage floor by adding extra outlets where you need them. Remember, you'll need outlets to charge tool batteries and to run all of your powered equipment. You'll also need to power your lighting, heaters and AC units, radio, television, and more. In addition, you may find that you need a couple of 220-volt power setups for your larger shop tools.
You'll need an electrician to help with this step, but the end result is well worth the effort. Not only will your workshop garage be much more convenient to use, but you'll also avoid the danger of tripping over a cord that's laid across your garage floor.
Upgrade Your Flooring
While plain concrete flooring can work just fine, it will start to stain over time. Concrete is also fairly difficult to clean, which means you'll likely find yourself tracking a lot of extra dust and dirt into your home. To give your workshop garage an upgrade, consider adding an epoxy floor finish. This will provide you with some extra grip and make clean-up a breeze.
If you're doing work that requires you to stand in one spot for long periods of time, consider adding restaurant-grade rubber floor mats. Trust us, your feet and back will thank you!
Add Some Ventilation
Many of the tasks you'll do inside your workshop garage will require good ventilation. Generally, passive ventilation, like opening a door or window, isn't enough.
To ensure you maintain good air quality, consider adding an air ventilation system, central vacuum, and a dust collection system. The combination of these three systems will keep floating debris off of your clothes and out of your lungs, creating a much safer work environment.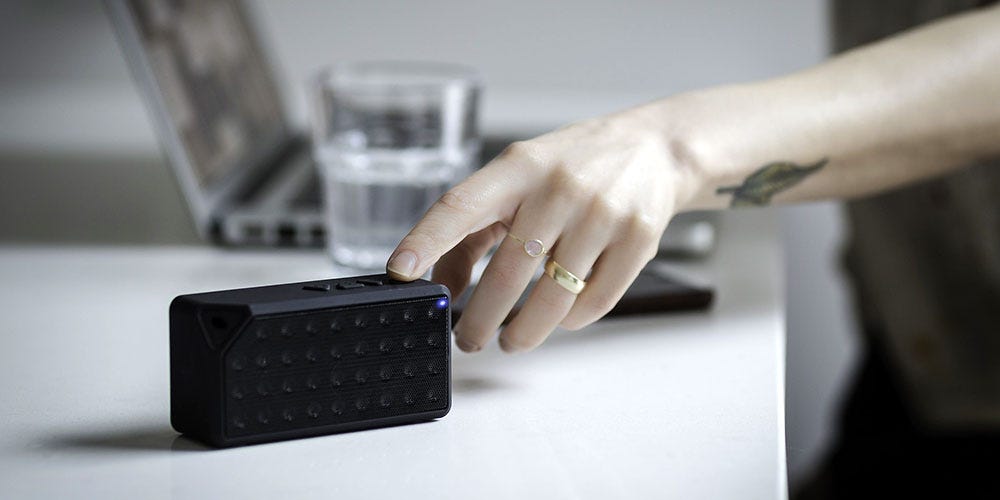 Don't Forget the Entertainment
We're sure your new workshop garage will quickly become one of your favorite places to spend your time — especially if you add some entertainment. A radio and some Bluetooth speakers are the simplest options. However, depending on your preferences, you may want to add a hard-wired sound system and a smart device so you can stream your favorite stations.
Another option is to mount a computer monitor or a flat-panel television to one wall. This will allow you to stream movies, watch sports, or keep an eye on the news while you work on your projects. It will also give your workshop a bit of a "man-cave" feel, so you can relax and entertain guests after you've finished working.
Start Building Your Workshop Garage Today!
Once you see just how easy it is to build a workshop garage, you'll wonder why you didn't do it sooner! If you're ready to get started, you're in the right place. We have a large selection of steel garages to choose from. These tough, durable, garages are built to last. They're also finished with premium textured paint, ensuring your new workshop garage will stand up to the elements and look great for years to come.
Take a look through our inventory today. If you're not sure exactly what you need, please don't hesitate to contact us. We're happy to help!