Adding a pergola or gazebo to your backyard is one of the best ways to upgrade your outdoor space! While these structures are wonderful on their own, stylish outdoor décor will quickly take things to a whole new level. This will allow you to add a personal touch to your space and turn your backyard into the relaxing getaway you've been dreaming of.
Not sure where to start? No problem! Take a look at our round-up of this year's 10 best gazebo and pergola decoration ideas.
1.Edison Bulbs
Nothing sets a mood quite like the right type of lighting. That's why Edison bulbs top the list of our favorite pergola and gazebo decorations. While adding string lights is one of the most common outdoor upgrades, that doesn't make it a bad thing.
You can create a soft, romantic look by stringing lights across the top bars of your pergola or around the outside edge of your gazebo. This will make the space warm and welcoming to your guests while also ensuring you can enjoy spending time outdoors well into the night.
2. Flowing Curtains
Many gazebos come standard with mosquito netting and/or privacy curtains. While they're quite effective, they often don't do much to improve the aesthetics of your space.
To beautify your pergola or gazebo, consider adding decorative curtains instead. Once you start to get creative with this, the possibilities are endless! Create a light, airy feeling with sheer curtains, or choose your favorite color or pattern to really make your space pop. Just make sure you choose curtains made of weather-friendly material so they can stand up to the elements. Change out your curtains each season to add a major touch of class to your entertainment area without busting your budget.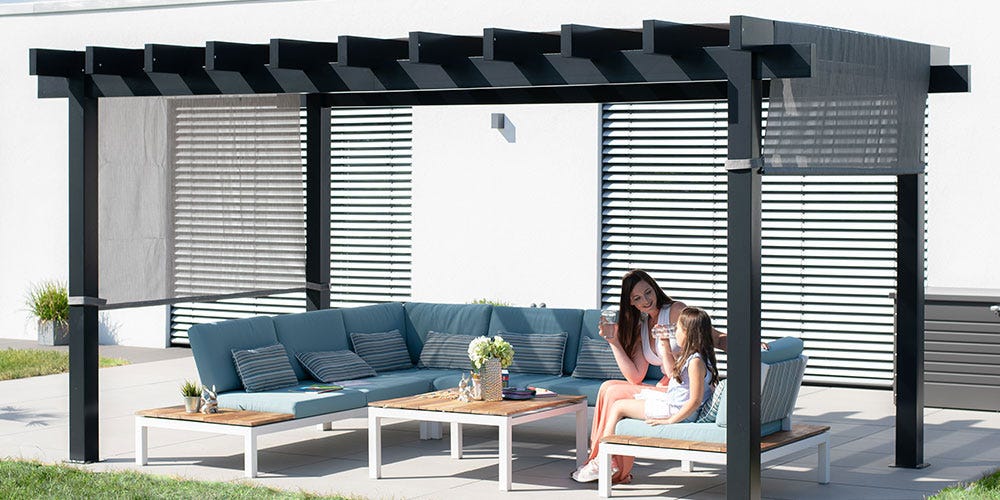 3. Wood Blinds
If curtains aren't your style, you may prefer wood blinds instead. Not only will this give your pergola or gazebo a stylish, on-trend look, but it also adds extra protection from the sun's UV rays. Most outdoor wooden blinds will easily glide or roll up and down, allowing you to adjust your sun exposure under your pergola or gazebo throughout the day. They'll also go a long way towards creating an upscale ambiance, adding privacy, and increasing your property's curb appeal.
4. Paper Lanterns
Paper lanterns are a charming and inexpensive pergola decoration idea. This is a great way to take things up a notch for special occasions, or they can also work as a permanent addition to your gazebo or pergola. Depending on your style, you may want to choose traditional white lanterns, stick with a color theme, or brighten up your space with fun, multi-colored lanterns. Pair your paper lanterns with wisteria vines and your pergola will begin to come alive and look like it came from the pages of a fairytale book.
5. Flowering Vines
Speaking of vines, this is another one of our all-time favorite pergola decoration ideas. Grow them up the sides and across the top of your pergola to add natural beauty that's easy to care for.
There are many different types of vines, so you'll have a large selection to choose from. Consider selecting a variety that blooms with fragrant flowers. The colors and scent will add another layer of luxury to your covered space. Some of the best options include Bougainvillea, Cape Honeysuckle, Clematis, and Pink Jasmine. You can also take things up a notch with edible vines -- like grapes or passion flowers.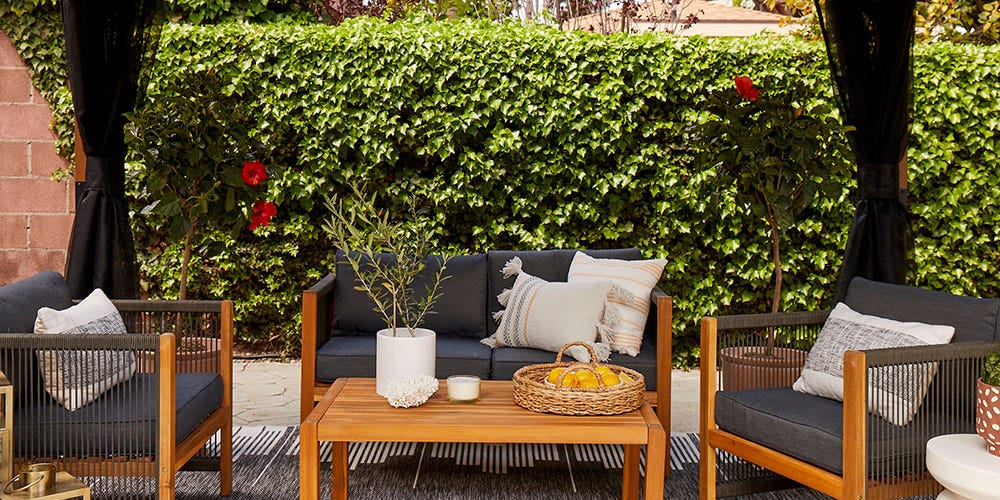 6. Lattice
While most pergolas are topped with parallel boards, this isn't your only option. For a simple, classy pergola decoration, consider using a checkered wood frame and adding lattice squares instead.
This creates a unique, modern twist that's sure to attract the eye. The lattice will let in plenty of sunlight, ensuring your pergola will still be your favorite spot to enjoy the summer months.
7. Plants
There are many ways to decorate with plants! If you've got a green thumb, you can easily turn your gazebo or pergola into a tropical escape. When you use large potted plants, both the plant and the pot become part of your décor. You can also create a tropical feel by hanging planters from the ceiling or along the edges of your structure. For a classy, upscale pergola decoration, consider adding large ferns or other full hanging plans on each corner.
You have a ton of flexibility here, so have fun with it! Start with a few plants, then see whether this inspires you to add even more. You can create a bright, summery look and feel by hanging planters packed with colorful flowers or add greenery to make it feel like a stylish upscale retreat.
8. Comfortable Furniture
After all the effort you put into making your space beautiful, you want to make sure you and your guests have a cozy spot to kick back and relax. That's why comfortable furniture is often the centerpiece of pergola and gazebo decoration.
From creating an outdoor dining area to giving your space a cozy living room feel, there are many ways to turn your pergola or gazebo into a space that rivals your favorite indoor room. If you're going to use your space for dining, choose a table and chairs large enough to fit your family and at least a few guests. If you prefer a living-room set-up, opt for an outdoor couch or loveseat, several chairs, and a few side tables.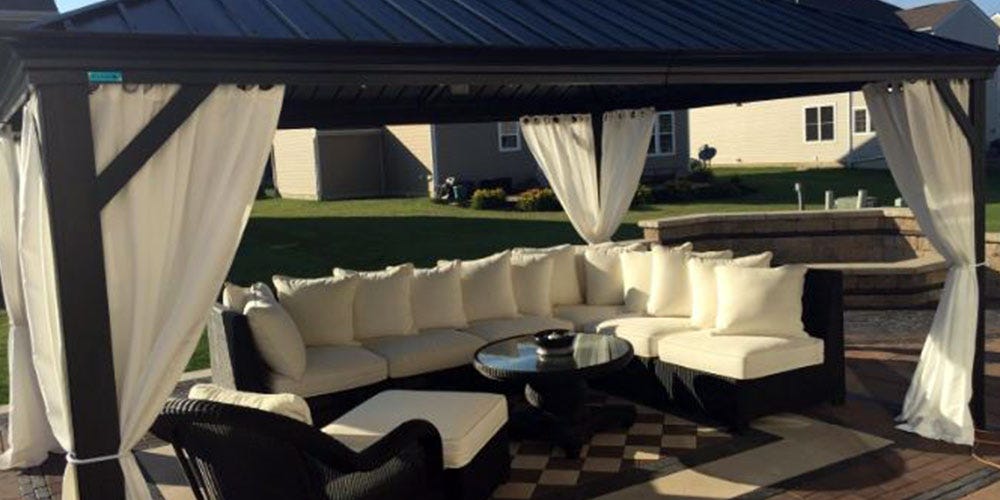 9. Fire Pit
If your covered space is large enough, a fire pit is an excellent pergola decoration. Simply position it in the center of your pergola, then place comfortable seating around it. Not only does the warmth and light create a cozy ambiance, but it will allow you to enjoy your backyard after dark and well into the colder seasons.
Fire pits come in many different sizes and styles, so you choose one that appeals to you and works well in the space you have available. Many homeowners prefer propane fire pits, as they take up less room and create less smoke. You and your guests will love relaxing by the fire without having to deal with the smokey smell afterward.
10. Interior Décor
Last, but certainly not least, never underestimate the power of bringing your indoor décor outside. Some of our favorite pergola decorations take their inspiration from a cozy living room.
To make your gazebo or pergola as comfortable as possible, don't be afraid to have some fun with textiles. Choose a trendy outdoor rug and toss some throw pillows and blankets on your outdoor furniture. Decorate with candles, table lamps, and whatever else strikes your fancy.
To ensure your decor will hold up to the elements, look for items made of outdoor-rated materials or bring them indoors when you're not using them. For added convenience, you can also place a storage shed nearby. This way, all of your decor will be protected and within easy reach when you need it.
Shop Pergolas and Gazebos Today!
Hopefully, these gazebo and pergola decoration ideas have sparked some inspiration! Now that you see some of the great things you can do with your structure, it's time to get started. Use your imagination, and you'll be amazed by how quickly you can completely transform your space.
Don't yet have a pergola or gazebo? You're in the right place! We have a wide variety of options for every style and budget. Take a look through our variety of outdoor products today. If you're not quite sure what you need, give us a call! We're happy to answer all your questions and help you place your order.