Whether you're planning an outdoor family, business, community event, unpredictable weather can make planning tricky. A portable canopy can provide quick shade or instant protection from the rain. A portable canopy is a portable shelter that collapses for easy storage and transportation.
Generally, a portable canopy comes in two pieces: a sturdy powder-coated steel canopy frame and a durable fabric canopy top. Portable canopies are often called pop-up canopies because the canopy part of the frame pops-up when it is opened. The legs of a portable canopy are height-adjustable to provide quick shade and weather protection and variable headroom.
Pop-up canopies generally come with a convenient carry case, which makes them easy to store on a shelf, in a closet, or in a garage or shed. Since they are portable, pop-up canopies are also convenient to keep in the back of your car, truck, or SUV. Like having an umbrella handy on a rainy day, you never know when a portable canopy will come in handy! There are many ways you can use a portable canopy for work and play.
Let's look at a variety of cool and creative home, community, and business pop-up canopy uses: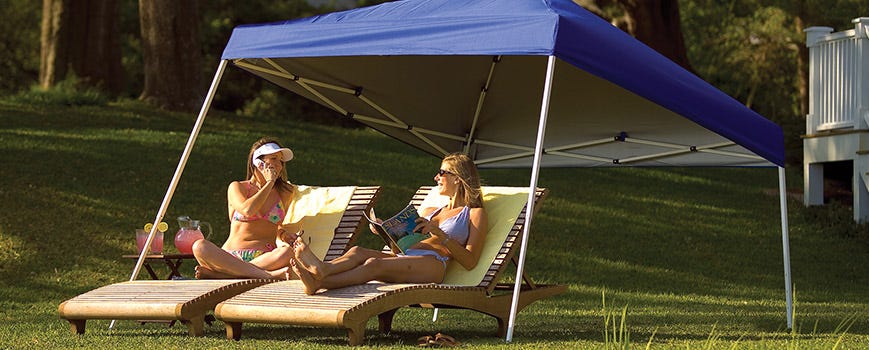 Uses for a Portable Canopy at Home
Patio or Deck Cover: Sometimes, in the summer, you need a quick shade solution for your patio or deck. A pop-up canopy can help you beat the heat so you can enjoy your investment. Use one when you're having your morning coffee, or when you're having guests over for dinner.
Pool Cabana: The swimming pool can be fun, but sooner or later you'll need to take a break. Place a portable canopy over your lounge chairs and avoid the sun's harmful UV rays. A quick rest in the shade will help you stay energized!
Sandbox or Garden Shade: Since portable canopies are height-adjustable, they're great for when you're working low to the ground. You can use a pop-up canopy to provide quick shade when you're working on your garden. Also, you can use one over a sandbox to keep your kids safe from the sun.
Garage Sale: One man's junk is another man's treasure. Make your customer's treasure hunt more pleasant and put your sale items underneath a pop-up canopy. It's not only a great way to keep your customers out of the sun on a hot day, your merchandise will stay dry if it starts to rain.
Lemonade Stand: When you're a kid, there's no more fun way to make a few bucks than to sell lemonade in your front yard. Keep your kids and their customers cool underneath a portable canopy!
Portable Canopy Usage When You're Out and About
Picnic in the Park: Want to get away from the everyday routine? The park is a great place to have a picnic. Of course, parks aren't always a great place to escape the sun. Bring along a pop-up canopy and get some quick shade for your picnic.
Beach Shade: Like the park, there's very little shade at a beach. Bring along a portable canopy and get some relief from the sun. Some portable canopies have wind vents to prevent them from going airborne. However, a portable canopy should also be anchored to the sand*.
Street Fair or Community Event: Is your organization planning to attend at a local event? You can make its presence known by using a pop-up canopy. Whether it's a street fair, carnival, fair, a portable canopy will help you stand out in the crowd. It will also help keep your team protected from the elements as they network with the community.
Concession Stand and Food Tent: Are you part of a youth baseball, football, soccer, lacrosse, or field hockey board? You can raise some serious funds with a concession stand at your games. Whether it's a pee wee event or a high school game, a portable canopy will keep your concessioners and the food and swag they sell dry and out of the sun. The tent will also be visible to all attendees.
Registration Area: Do you need to check in road race participants before a big race? Make your registration area visible by placing it underneath a pop-up canopy. It will help the participating runners, bikers, and walkers know where they need to be, and will keep your staff protected from the elements.
Anywhere Sports are Played: With dugouts, baseball and softball players are usually protected from the sun and the rain when they're not on the field. That's not the case with sports like soccer, lacrosse, football, field hockey, and other sports that have exposed sidelines. A portable canopy can be used to block the sun or the rain from players who are waiting to enter the game.
A Portable Canopy for Business
Break Area: Landscapers need a place to rest when they're on a job site, but it's not like they can go inside their customer's house to take a load off. However, with a portable canopy, you can set up a break area in the yard or the driveway. Bring along some comfortable folding chairs and a metal cooler full of water and your landscaping team may not want to go home!
Workshop Space: When you're making repairs on a house, you may need to work outside. A pop-up canopy comes in handy when you need to cut wood, tile, siding, sheet rock, and more. Just set one up in the yard or the driveway and make clean-up simple when the job is done.
Auto Detailing and Repairs: a 10 x 20 ft. commercial pop-up canopy can be ideal if your auto shop needs extra room to work. You can use one to perform basic body work, perform turnups, or replace bulbs and fuses. They're also make a great shelter if you're looking to do detail the inside of a car, truck, or SUV.
Customer Pick-up Area: Are you offering your customers a curbside pick-up option? With two or three pop-up canopies in your parking lot, you can keep your staff protected from the elements. It will also make it easy and safer for your customers to pick their orders up.
Outdoor Dining: Dining outdoors at a restaurant can be a pleasurable experience for many people. But outside, your customers aren't completely protected from the elements. Adding a portable canopy or two to your patio can protect your customers from the sun's harmful UV rays, or an unexpected rain shower.
Outdoor Break Room: Where are your employees having their coffee breaks or meals? A portable canopy can be added to your office space's picnic area to give your workers a place to go when they want to get away from their work areas.
Farmers Market: While shoppers enjoy the open air, a pop-up canopy will keep you protected from the elements, such as the sun and the rain. The portable canopy will also keep your, equipment, produce, and other merchandise you're safe from the weather. They're also portable enough that you can use one to set up your own roadside farm stand.
A Portable Canopy Can be Used Just About Anywhere
A portable canopy is a versatile and convenient shelter that you can use anywhere from the backyard to the ballfield. As you can see, there are many ways and places you can use one. They're also so portable that you can keep one in your car if you need one when you're on the road, or in your backyard shed if you need one at home. They set up quickly and can be anchored to just about any surface*. Click the button below and learn more about the types of portable canopies that ShelterLogic and Quik Shade have to offer.
* We always recommend a properly anchored structure. Please reference your manual for anchoring best practices or check out this anchor guide.