The summer season brings with it plenty of warmer weather - which means more outdoor tasks, activities, and events. And most outdoor activities require extra storage. Whether you want an easy way to keep blankets and pillows in close reach or you need to house large, bulky outdoor items you may need for the season. Where do you put it all for easy access while summer's in full swing? This year, step up your summer storage with one of these helpful solutions to keep seasonal items always within reach.
1. Deck and Patio Storage.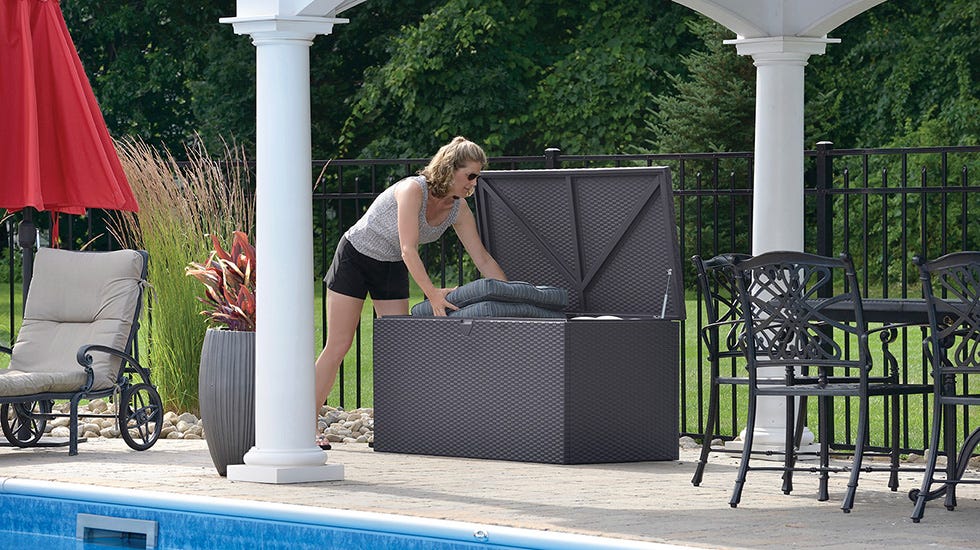 Throughout the summer, your deck and patio gets a lot of action. Pool supplies, furniture cushions, and more need to be kept close by so you're prepared for all your upcoming weekend cookouts and backyard bashes. Keep blankets and cushions on hand and ready for your next summer bash by storing them in a functional and attractive storage box like the SpaceMaker Deck Box. The Deck Box is the ultimate deck and patio storage chest. Featuring hot-dipped galvanized steel, up to 509 liters of storage space, and a charming basket weave exterior, it will keep items secure and it will add an attractive aesthetic to your backyard deck or patio space. Units come in both anthracite and espresso colors.
2. RV Storage.
Many families look forward to summer for plenty of road trips and weekend getaways. However, harmful UV rays can compromise your vehicle's exterior and interior including your seasonal recreational vehicle. Before you pack up the RV, make sure you help preserve your investment so it's always ready for use! Utilize a custom storage building to house the bigger summer essentials like your RV. Custom buildings effectively protect these sizable vehicles from wind, debris, and sunlight for a low-hassle solution. Easily create your personalized ShelterTech structure – all you have to do is measure your RV to find the right fit! With convenient, reliable, and economic protection, your RV stays in top condition so all you have to worry about is where you're headed with the family next.
3. Boat Storage.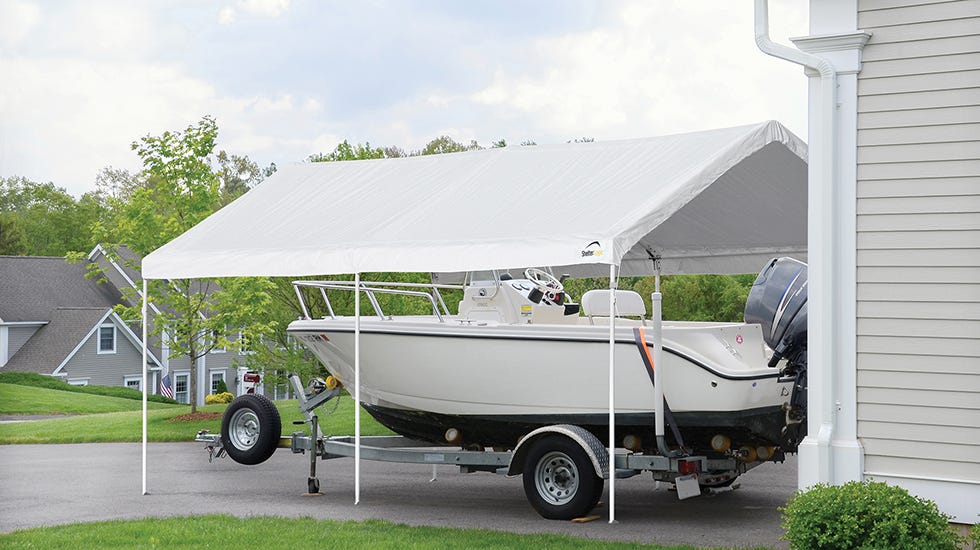 Just like your RV, your boat needs protection and storage between outings in order to preserve its exterior. But who wants to take the extra time to assemble a complicated solution? For low-maintenance and faster-than-ever boat protection and storage anywhere, use the AccelaFrame Canopy. The AccelaFrame provides an easy-to-use and much-needed boat storage solution in a cinch – 15 minutes or less to be exact! With fewer parts and ultra-fast assembly and disassembly, the AccelaFrame delivers 200 sq. ft. of coverage wherever you need it to ensure you don't miss any waves this summer.
PRO TIP:Looking for more vehicle shelters and storage solutions for summer? Check out these 4 types of car shelters that are perfect for providing all-season protection. Shop our selection of carports and garages to see all our options.
4. Lawn and Garden Storage.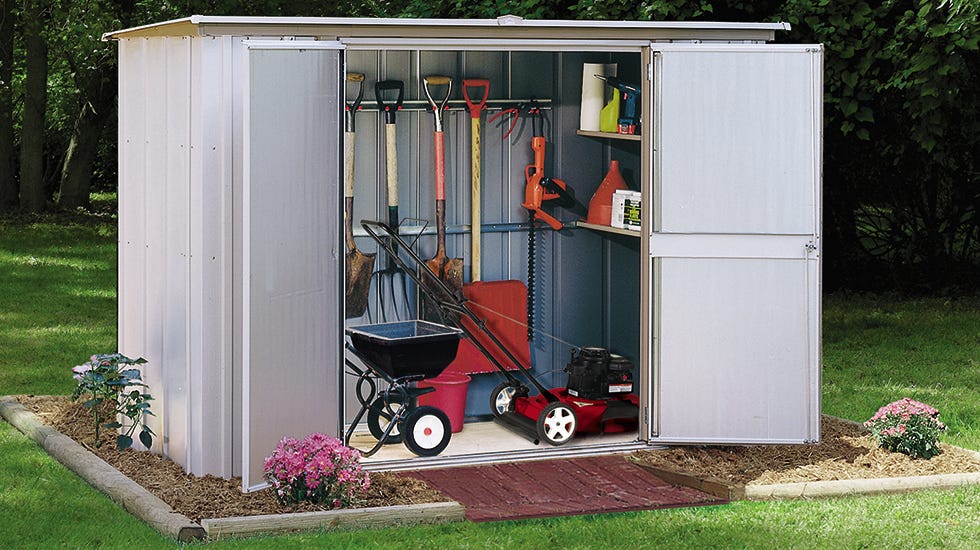 Keeping up with your lawn and garden is one of many seasonal outdoor tasks. You regularly use mowers, shovels, and other supplies to keep your yard in top shape – why not keep these essentials close by? Make tools easily accessible with a backyard storage solution that keeps supplies right where you need them. Utilize attractive and durable steel sheds for garden storage that looks attractive enough to incorporate into your greenery (as mentioned in this creative garden ideas post). Or keep the lawn mower and hedge clippers easily attainable in a portable and easy-to-use fabric shed such as the Shed-in-a-Box. If you're having trouble deciding which storage solution will work for your needs, check out this blog for what to consider when choosing your shed.
5. Firewood.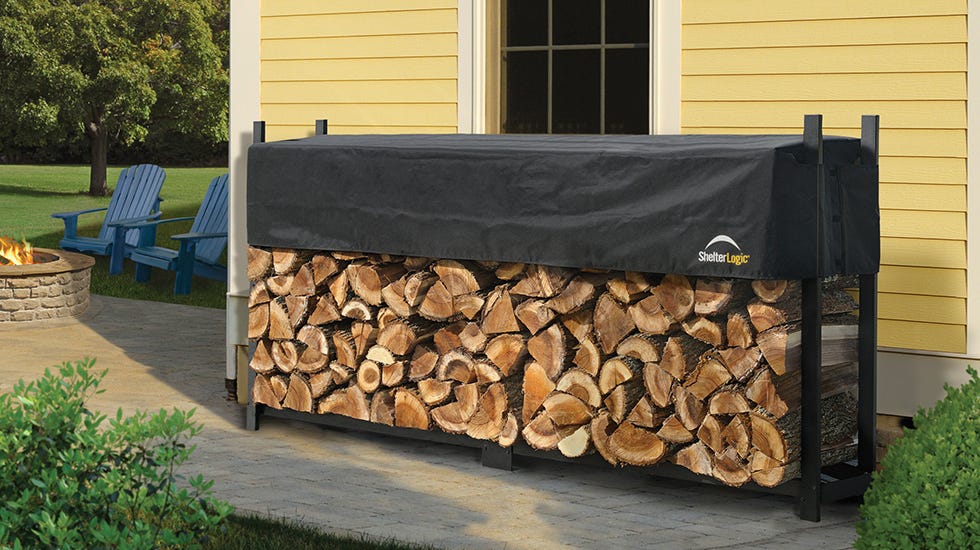 If you didn't get a chance to check out our Should You Be Seasoning Firewood Now blog - spoiler alert –the answer is yes! Firewood typically takes at least 6 months to effectively dry or "season". Dry firewood minimizes potential health risks and home fires and while improving burning capabilities for safer, more successful fires. Even if the last thing you're thinking about is the cold season, store and season your firewood supply now in order to ensure a dry pile by winter. Help your "green" firewood efficiently season or store your current backyard bonfire wood pile with firewood storage racks and seasoning sheds.
Firewood storage racks keep your supply off the ground, away from your home, and protected from excess moisture. Seasoning sheds offer a portable and innovative storage solution that helps cut seasoning time in half. These firewood solutions offer convenient and beneficial storage for your firewood year-round.
Looking for more summer storage solutions or options that satisfy your needs year-round? Check out our selection of sheds and shelters to find the perfect option for your needs no matter the season.