Every farm, big and small has essential equipment that makes a farmer's life easier and contributes to a successful season. But beyond that, these must-have agriculture tools increase output and benefit lives of the farmer and animals alike. Items like
livestock shelters
and
greenhouses
will enhance your ability to get the most out of your land. Here are some affordable farm supplies to add to your toolkit on the farm. However, many types of farming supplies can get expensive. Finding affordable farming supplies and solutions is often important for farmers to help them keep costs down, while simultaneously improving their output and efficiency in both farming and livestock cultivation.
Affordable Farm Supplies for Increasing Crop Yield
Some of the most useful farming supplies that help growers extend the amount of time they can cultivate crops are greenhouses. Some farmers may even choose to start certain crops in the greenhouse before transplanting. A greenhouse kit with a smaller footprint can help farmers in multiple different ways.
"You can continuously be producing crops if you have a market for it," says Kimberly Moore, PhD, Professor of Environmental Horticulture with the University of Florida's Institute of Food and Agricultural Sciences. Moore says farmers already know how to maximize their yield in the field. But a greenhouse kit could allow farmers to continue to grow the crop when it can't be in the field due to weather conditions. "If they have a niche market, they can be growing herbs for a local restaurant and create a specialty greenhouse," she said.
Smaller kits can also act as a trial period for farmers who haven't tested a commercial greenhouse, but may expand in the future. "I suggest buying small first and really learn how to grow in one and control the light and humidity to maximize the effect," Moore said.
Here are some affordable greenhouse kits with smaller footprints:
GrowIT Greenhouse-in-a-Box:
This choice gives you quality mixed with the ease of set up right out of the box. Roll-up side vents help to control temperature, while the powder coated steel construction provides durability. This model also includes:
UV-treated ripstop tough cover
ShelterLock stabilizers for added strength
Easy Slide cross rails for snug cover
AccelaFrame HD Greenhouse:
This 12 ft. x 20 ft. by 9 ft. model provides simple setup with an ultra-durable powder coated metal frame. You can choose to assemble and disassemble quickly based on the season and crops you're looking to grow. This model also features:
Pre-assembled joints
Frame assembly in as little as 30 minutes
Durable cover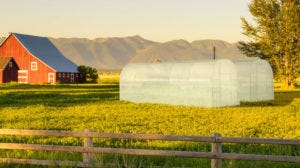 Commercial Greenhouses for Maximum Yield
Commercial greenhouses are farming supplies that can be useful not only on a traditional farm, but can also provide a way to grow crops in an
urban setting
.
High tunnel greenhouses
can grow stronger plants faster, and allow growers to control the temperature, light and humidity. Moore says commercial greenhouses are used all over the country and internationally to continue to grow crops through less than ideal weather.
"In the Midwest and North, farmers can use a greenhouse to grow when snow is on the ground. In Florida, you may use one to reduce light levels because it is so bright and our crops can burn so quickly," Moore said. She adds that farmers in the Bahamas are using them to combat the rainy season. Moore says farmers who use commercial greenhouses should choose crops with a quick turnaround because the space is worth money. "You see crops that have high value, like ornamentals, or perennials," she said. "I know a lot of people are getting into vegetable production like tomatoes, peppers, and lettuce in a controlled environment."
High Tunnel Greenhouses from ShelterTech
One of the most useful farming supplies when it comes to growing bigger plants faster than the competition is a high tunnel greenhouse. The best part about the
model from ShelterTech
is you buy only what you need. You can customize your own greenhouse by purchasing only the frame, all the way up to the entire greenhouse kit. Benefits include:
Stronger structure:
This greenhouse is made with high-quality galvanized steel manufactured in the USA for supreme durability. It is also corrosion and rust resistant.
Customization:
You can choose your own size as small as 8x8 ft., or as large as 38x15 ft. This means you can either use a smaller model for specialty crops, or scale up with the largest greenhouse option.
Simple Assembly:
This greenhouse comes with pre-drilled holes and step-by-step instructions for easy assembly, so you have more time to plan for your crops and less time setting up your structure.
---
---
Farming Supplies Important for Livestock
When farmers take care of their land, part of that is making sure animals are safe and healthy. That means investing in a
livestock shelter
to make sure animals like horses are shielded from rough weather, whether that be
frigid temperatures
in the winter or unbearable heat in the summer. While animals like horses are sturdy and resistant to harsh weather, they should still have a well-constructed shelter where they can retreat if they need to.
Danielle Smarsh, Equine Extension Specialist at Penn State University notes that rain or snow is most likely when a horse will seek shelter. "Also, certain groups of horses like older or sick horses in poor condition will tend to seek shelter more often," she said.
Extreme heat or cold can impact horse health, causing symptoms like:
High or low body temperature
Lethargic behavior in hot weather
Frostbite in cold weather
Pro tip: Livestock shelters can help keep parasites away from your animals. Horses are exposed to insects and parasites which naturally make them susceptible to diseases. But with proper shelter, it gives animals an extra layer of protection.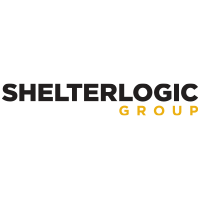 Run-in Shelters and Run-In Sheds
Other affordable farming supplies include the run-in shelter. The 
run-in shelter
allows your animals to seek cover on the farm quickly. Open on both sides, these farming supplies are invaluable to livestock on the farm. It gives horses both freedom and protection when they need it most, without keeping them confined. They are also incredibly convenient to a farmer because of their portability. You can move a run-in shed wherever you need it depending on the season. Here are some ideal options for livestock on a farm.
Run-In Shed-in-a-Box Round:
These convenient and affordable farm supplies provide adequate shelter for a horse and simple setup for you. While it is perfect for livestock, it also doubles as a space for bulk storage if you need it. The fabric cover is heat sealed, UV-treated, and waterproof. This model also includes:
ShelterLock Stabilizers for added strength
Rust and corrosion resistant steel frame
Protective boots on all corners for horse protection
Storage Shelter, 12 ft. x 20 ft. x 8 ft.:
This run-in shelter is ultra-durable, with each frame tube and connector going through a 13-step steel surface prep process. This model provides extreme protection for livestock, but still does not require a building permit in most cases. This shelter is simple to set up, and comes with double zippered door panels for easy access from both ends. It also includes:
Seamless frame to fabric fit
White interior lining for extra light
Powder coated and water resistant
Run-In Shelter:
This model provides ample space for a horse to escape extreme heat or cold, with a 3-layer polyethylene cover that protects livestock from harmful UV rays. The made-to-last cover also includes:
Fabric corner boots to protect horses from injury
Powder coated and chip resistant
Slip fit connectors for easy assembly
---
---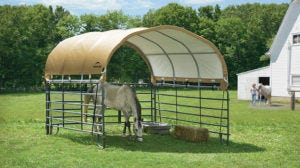 Corral Shelters for Ultimate Protection
Corral shelters
, much like run-in shelters, provide an extra layer of safety to horses on a farm. These offer extra protection thanks to their three-sided structure, which provides even more respite from the elements, especially extreme wind. These models are portable and extremely durable, while still being able to fit most corral gates and fences. Here are some corral shelter options that will protect your horse and livestock no matter the season. It's important to note corral panels and gates are not included.
Corral Shelter, Powder Coated 10 ft. x 10 ft.:
For a slightly smaller livestock shelter that's still big on durability, this 10 x 10 model can shield horses from the elements as well as act as storage for items like farm equipment or hay. It will attach to most corral gates and fences and assembly is a snap. This option also includes:
Fade and moisture resistant fabric cover
Rust-resistant frame
ShelterLock Stabilizers for added strength
Corral Shelter, Premium Powder Coated 12 ft. x 12 ft.:
This corral shelter gives you the ultimate choice in customization. Farmers can pick how thick the cover should be based on geography and weather. Choose from a standard 9 oz cover, Heavy Duty 14.5 oz, or the Ultra Duty 21.5 oz cover. You can even pick what color best fits your property. This model includes:
All-steel, rust-resistant frame
Protective boots to prevent animal injury
Hardware kit for simple setup
Corral Shelter, Galvanized 12 ft. x 12 ft.:
If you are looking for a rock-solid shade solution with unmatched strength, this option is made from 100% ASTM A500 galvanized steel. It comes with a universal cover in four appealing color choices. The patented ShelterLock Steel Stabilizers and anchors give your animals reliable shade in no time. This shelter also includes:
All-steel rust-resistant frame
Commercial grade PVC fabric cover, waterproof and UV treated
Hardware kit for easy assembly
When choosing affordable farming supplies, and whether to purchase a run-in shelter or a corral shelter, consider your geography and type of weather your animals contend with year in and year out. If winds are often an issue, a corral shelter will provide more protection from harsh winds.
---
---
These affordable farm supplies protect crops and animals from rough weather that can ruin crops and injure livestock. By investing in these farming supplies, growers are not only protecting their land and animals, they are adding a level of convenience to life on the farm.