When temperatures start heating up, you know the unofficial start of summer is right around the corner. Memorial Day is a day to honor fallen military heroes while recognizing their sacrifices. As families take the day off to commemorate the occasion, Memorial Day BBQ celebrations become a simple yet traditional way to reflect what matters most by spending time with loved ones.
Whether you plan to keep the party at home or travel to a park or the beach, there are plenty of ideas for grilling, games and patriotic treats that will turn your Memorial Day BBQ into a patriotic bash.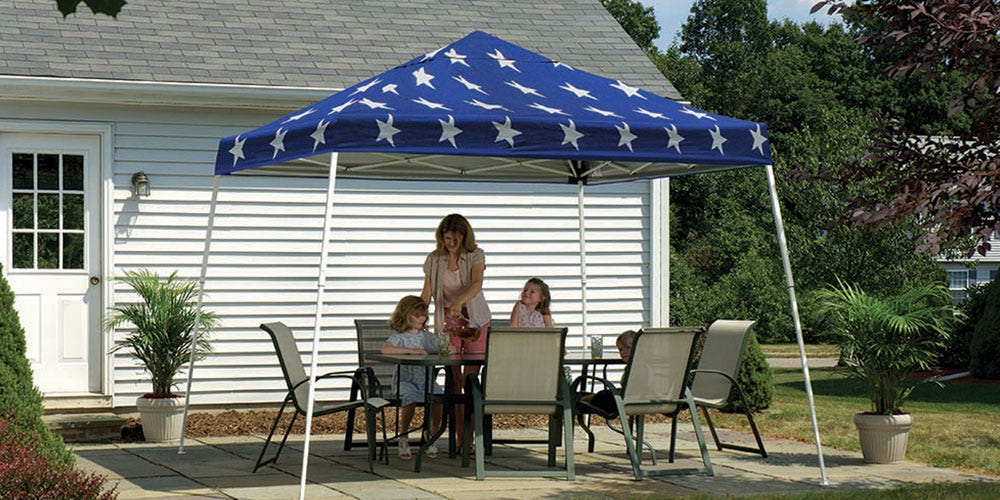 Memorial Day BBQ in Your Backyard
If you have a spacious backyard or a pool to host a summer bash, you may choose to keep your gathering right in your backyard. Aside from the convenience of not having to travel to commemorate the holiday, you'll get to create a unique party to show off your home and décor. Here are a few ways to make your Memorial Day BBQ one of a kind while keeping your guests entertained and comfortable.
· Highlight patriotic decor: You'll already have your American flag flying high for the occasion. But you can also utilize red white and blue wreaths, garden flags, and centerpieces in your back yard to honor the day. You can even make your own decorations and get kids involved with fun crafts to put on display for party goers. The sky is the limit with red white and blue gear to recognize the importance of the day. (As a bonus, you can reuse it all for Fourth of July.)
· Create your own Memorial Day BBQ buffet: One great advantage to throwing a bash at your own home is being able to provide fun and creative food to serve to guests. There are so many delicious ideas for grilling hot dogs and hamburgers, but you can take the fun up a notch by creating your own hot dog or slider bar for guests. Customize the goods from the grill with whatever type of toppings they crave, and you'll have everyone raving about the food.
· Guests provide the entertainment: Having a party at your own home means you can set up your karaoke machine and allow guests to entertain themselves for hours. Make sure to add patriotic tunes like Born in the USA onto the playlist.
Gazebos for Your Backyard Bash
Gazebos are an ideal shade solution that add style, comfort, and character to your backyard, no matter the season. Any Memorial Day BBQ will benefit from additional coverage for guests, not to mention all the curb appeal. Ideas for grilling are endless with a gazebo. Utilize it to keep your food safe from the sun, or to minimize heat exposure for your guests. Choose from gorgeous options including:
· Standard: These gazebos are constructed with high-quality materials at a price that won't break the bank. Install them on concrete, stone, or wood surfaces. Choose from hard and soft top options in beautiful neutral tones.
· Premium: These premium options bring a new level of durability and versatility to your outdoor space. Galvanized steel construction prevents rust while nylon mosquito netting increases comfort for all.
· Superior: Bring luxury and class to your Memorial Day BBQ with superior gazebos made from exceptional grade materials like polycarbonate and steel.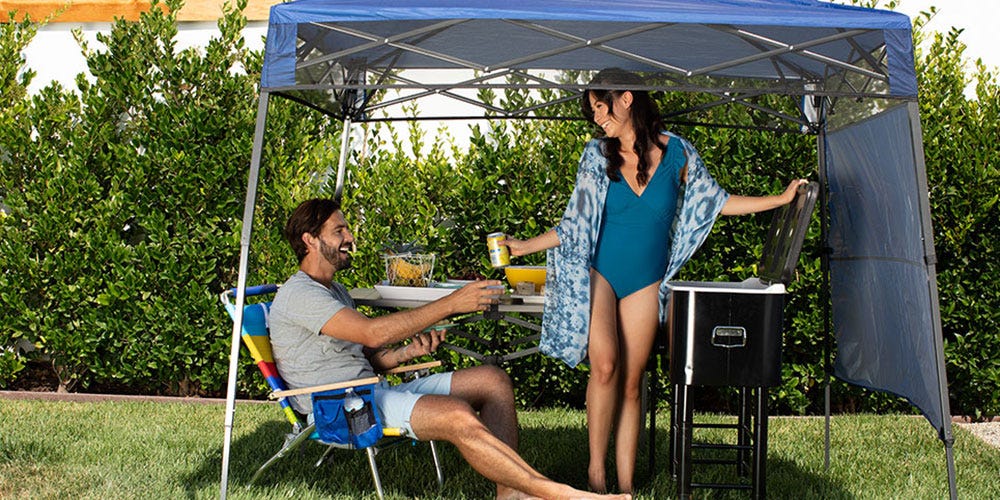 Memorial Day BBQ at the Park
Perhaps your backyard space isn't ideal for entertaining, or maybe you want to get away for a while and enjoy Mother Nature. Bring the Memorial Day gathering to a local park to relax the day away while taking part in patriotic activities. Here are a few ideas for entertaining and grilling to make your get together a success.
· Create patriotic crafts: Spend time with your family and get kids into the action by spending time curating special art in honor of Memorial Day. Make a Lego American flag or even patriotic slime for a messy activity fun for the whole family.
· Curate a refreshing cocktail bar: The park is a perfect place to serve up red white and blue beverages suited for an adults-only soiree. You can easily make it a mocktail for a group of all-ages. With great recipes like these American margaritas and a star-spangled spritzer, your Memorial Day BBQ at the park has never been so exciting.
· Bring your own games: The park leaves plenty of space to spread out and play all-American games like potato sack racing, cornhole, and horseshoe.
Outdoor Gear Ideal for a Party at the Park
You don't want a day with the family ruined by a sunburn or a rain shower. Protect your guests and your food with stylish shade solutions at an affordable price. And don't forget to bring the comfort up a notch with lounge chairs to kick back and relax. Some perfect products to add patriotic flair to your Memorial Day BBQ at the park include:
· This straight leg canopy from Quik Shade protects your family from harmful UV rays while adding a nice breeze thanks to built-in Super Vents.
· Add a layer of shade and patriotic pride with an American Flag folding chair.
· Provide simple coverage at existing picnic tables at the park with a Quick Clamp Canopy in a stunning shade of red.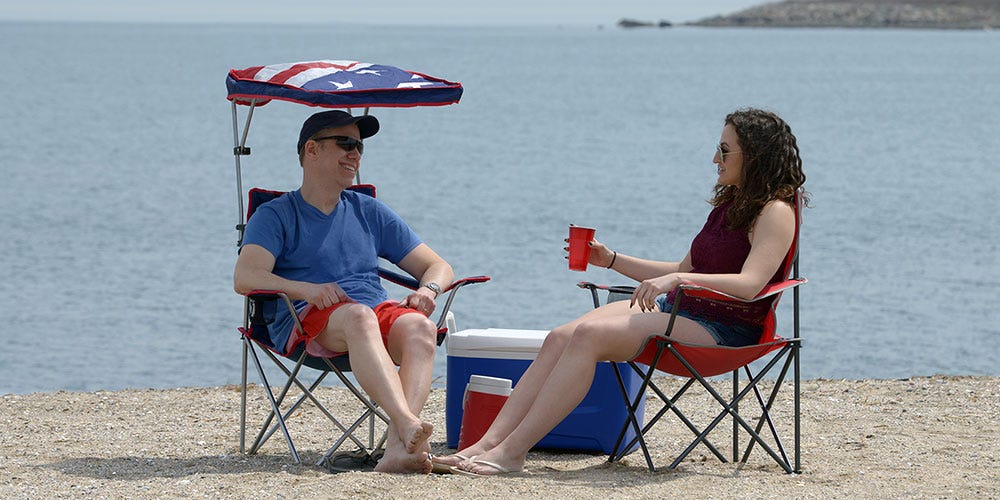 Memorial Day BBQ at the Beach
The beach is one of the most popular places to celebrate this special day with friends and family. The sand and surf make it a perfect location to enjoy the sunshine and great outdoors. Here are some ideas to make your Memorial Day BBQ at the beach unique.
· Sand castle contest: A free and fun way to take advantage of your location is to have a sand castle building contest. Make sure to bring shovels and buckets for the kids to encourage creativity.
· Perfect playlist: Pack up your portable speaker and bring the patriotic tunes to the beach. Spotify has some great recommendations that are sure to be crowd pleasers.
· Light the night: If you plan to stay for the sunset, sparklers and glow sticks make for a fun activity after dark, and go hand in hand with night time fireworks.
Must-haves for Ultimate Comfort and Protection at the Beach
While the beach is packed full of fun for the whole family, it can also be dangerous without the right sun protection. Here are items you shouldn't forget to bring with you to make your time outdoors cozy and safe.
· You should always have a reliable pop-up canopy for quick and easy protection from harmful UV rays that can cause sunburns and even skin cancer. This versatile tent sets up in a snap and even has an extra panel for sun and wind protection.
· Create your own cabana hideaway on any beach chair with a shade cloth in a variety of colors.
· Beach chairs are an obvious essential for any trip to the water. Recline without worrying about sunburns with built-in sun shade and creature comforts like cup and phone holders.
Memorial Day BBQ Go-To Products with Versatility
Now that you have curated your own unique party for friends and family, you'll be able to re-use all the fun family ideas and outdoor gear in just a few months for July 4th. All of these high-quality shade and seating solutions can be utilized for more summer fun, or even throughout the winter months. Shade never goes out of style, and with the right equipment and creative entertainment ideas, you'll be set to host your own party every season.