When you think of a party tent, you probably think about weddings, carnivals, or other celebrations. But small and medium size businesses can use a party tent to gain market share and create memorable customer experiences.
Party tents are extremely versatile business tools. They can be used as awnings to keep customers protected from the elements, or as enclosed spaces for receptions, lectures, and presentations.
Let's look at the pros and cons of owning a party tent, and the ways your business can benefit from owning one instead of renting one.
How Businesses Can Benefit from Party Tent Ownership
Businesses ranging from mom and pop retail stores to accounting firms can benefit from owning its own party tent.
If your business owns one, it opens the door to how you can engage with your customers and clients. When the weather outside is mild, you can educate and entertain customers, clients, and employees in an open-air environment while they are protected from the elements. When the weather in unbearably cold or hot, you can attach enclosures to your tent and control the internal temperature.
A party tent can also show your customers and clients that you're willing to differentiate your business from the competition. By hosting business meetings, tent sales, and more in a party tent, you can create an experience that isn't an everyday event.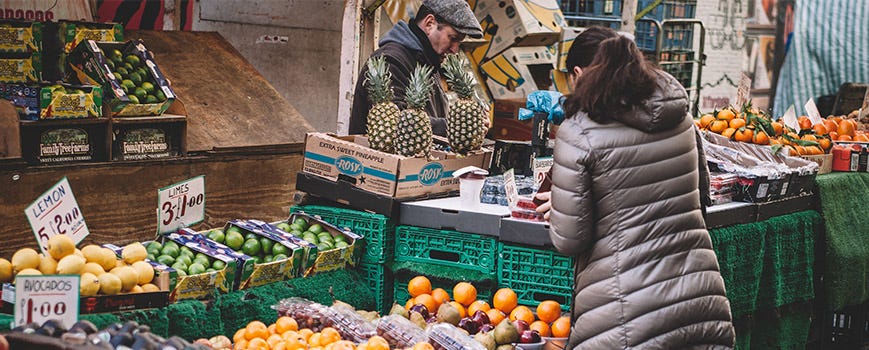 What Types of Businesses Can Benefit from Owning Their Own Party Tent?
Many types of small and medium businesses can benefit from owning their own party tent. Let's look at some businesses that can use them, and how they can be of value to them.
Restaurants
Dining out can be a pleasurable experience for many people. But waiting for a table at a small café or restaurant can be exhausting. Dining outside on a patio can be a wonderful alternative, but outside your customers aren't completely protected from the elements.
Covering your restaurant's patio or deck with a party tent serves a variety of purposes. First, it will protect your customers from the sun's harmful UV rays. Second, you can keep your patio open during inclement weather because the canopy will keep customers dry. Also, when the weather gets cold, you can enclose your tent and control the temperature inside it.
Retail Stores
Retail stores can use a one several different ways to engage existing customers, attract new ones, and provide unique consumer experiences.
The first way to use a one is more obvious: use one as a covered and secured place to hold a sale. Whether it's called a tent sale or a parking lot sale, your party tent will attract new and loyal customers alike. The party tent can be used as a clearance tent at the end of a season, to introduce or test new merchandise, or to hold seasonal sales.
Second, retail stores can use a one to give customers a unique non-shopping experience. For example, a party tent can be used to host a book signing or a meet and greet with a celebrity. A retail store owner can also use a party tent to hold lectures or product demonstrations, sample products, or host wine or beer tastings. Also, one can be a place to host art shows or performances by local artists.
Medical Practices
Physicians and other medical specialists can use a party tent outside their own office, or on the road at special events.
For example, when the fall comes comes, a party tent can be set up to host a flu clinic. Also, when the high school sports season nears, required physicals and screenings can take place in a tent. That will free up space inside the office for patients who need medical attention. Chiropractors and massage therapists can set up tables inside one to demonstrate their craft and try to book new clients.
Additionally, physicians and medical specialists can use a one to host lectures and clinics.
Farmers
A party tent is the perfect shelter for the farmer's market. While shoppers enjoy the open air, the canopy top will keep them protected from the elements, such as the sun and the rain. The canopy will also keep a farmer's staff, equipment, produce, and other merchandise safe from the weather.
Farmers can also use one as a roadside stand. That way, a farmer doesn't need to wait for a weekly event to sell goods alongside competing businesses. A farmer can set up shop on its own property and sell when the timing is right.
Office-based Businesses
Accounting, finance, marketing, insurance, industrial, and other professional services firms can benefit from owning a party tent. From internal celebrations to client receptions, there are many inside- and outside-the-box things they can do.
Professional service firms can control the narrative when they host user conferences, product demonstrations, and meet and greets. Instead of renting costly meeting hall or banquet space, office-based businesses can use a party tent to host on-site events. A second party tent can be used as an area for refreshments, meals, and networking opportunities.
When a small or medium size business hosts an on-site event, its customers and clients will also get a better sense of its culture and be able to meet its behind-the-scenes employees.
Professional service firms can also use one for internal events. They can use them to hold birthday celebrations, special luncheons, company meetings, and more. Also, if additional seasonal manufacturing or storage space is needed, a party tent can be used in a pinch.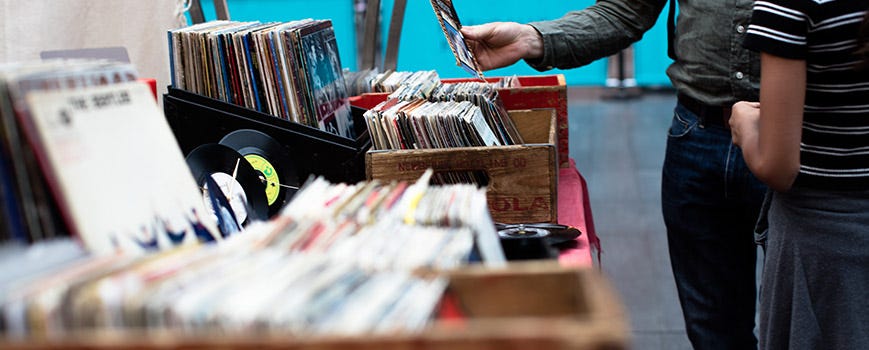 Pros and Cons of Owning Your Own Party Tent
For many small and medium businesses, a party tent can be a major investment. Before you purchase a party tent for your business, you should ask yourself some questions. For example: how often will your business use it, what size do I need, and what's my company's return-on-investment?
Let's look at the pros and cons of party tent ownership.
The Pros of Ownership

Convenience:
When your business owns its own party tent, it's there and ready to put up at a moment's notice. Also, depending on the season, it can be difficult to rent a party tent.

Cost:
When you buy a party tent outright, you keep it. Also, you can purchase a party tent for about the cost of a one-time rental. So, if you keep renting, you keep paying. Also, if you are renting one, you are also paying the company to deliver, assemble, and take it down.

Ease of Assembly:
Party tents are easy to assemble. It's a job that can be done by 2 people in just a few hours' time.

Can Be Anchored Anywhere:
Whether it's a parking lot, grass field, on wood flooring, or a concrete surface, a party tent can be anchored anywhere you want to use it.
The Cons of Ownership

Storage:
Where do you plan to store your party tent when it's not in use? Not every business owner has the luxury to keep a tent up year-round, and not every business has a storage room.

Where to Use It:
Your landlord may have limits on usage of a property tent on its property. Blocking off parking spaces to hold an event could violate zoning codes. Also, if your company is in a city, your only option may be to use a rooftop for special events.

Amount of Usage:
There may be hundreds of ways your company can use a party tent. However, if you are a one-man band, a lack of bandwidth may keep you from hosting your own special events.

Cleaning and Maintenance:
If you rent a party tent, you don't have to worry about maintaining and cleaning it. However, when you own a tent, that onus is on you. You will need to frequently inspect the frame, connectors, and cover to ensure it's in tip-top shape and keep it free of debris.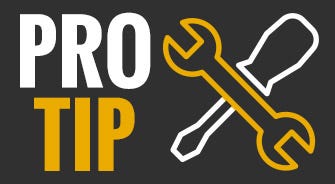 Want to learn more about maintaining and cleaning a tent? The process is like caring for a tarp building. Learn more about the process in this blog post.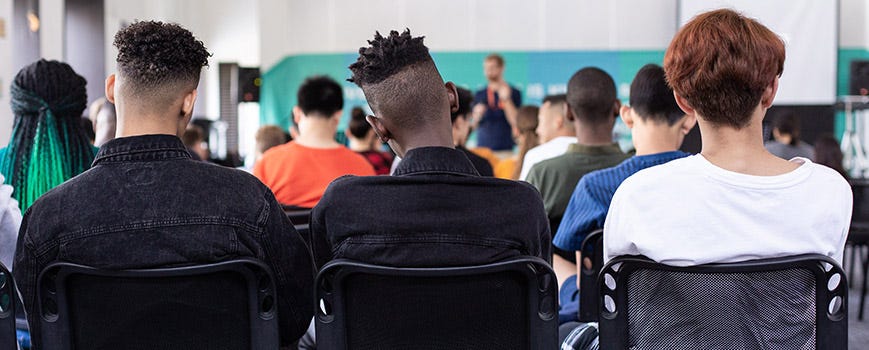 What to Consider When You Look for a Party Tent
There are a few things to consider when you decide your business should invest in a party tent. For example: what size would you need, and how is it built. Let's examine some of the questions you'll want to ask before you invest.
How Do I Determine What Size My Business Needs?
This could be a loaded question because there are a lot of things to consider. For example, are you using it to hold tent sales, to lecture clients, or for a reception? How much space do you have to play with?
Should I Get a Frame Tent or a Pole Tent?
Pole tents can be attractive on the outside. However, the interior tent poles can create obstructed views and limit your seating options. A frame tent does not have obstructions and is engineered to remain standing longer. So, if your desire is to keep a party tent standing for multiple back-to-back events, it would be a solid choice.
How Easy Is It to Assemble?
When you need to assemble a tent, you'll want it to be as simple as possible. Choose a party tent with tool-free assembly so it can be put together quick and easy by 2 people.
Should I Choose a Versatile Model?
Yes. If you purchase a tent with an enclosure kit, then you can get even more use out of it. You can fully enclose your tent, or you can set up a wall of panels to block the wind or the sun.
What Materials Should I Consider?
The stronger, the better. ShelterLogic's tents have 100 percent galvanized steel tube frames for ultimate durability, exceptional strength, and rust resistance. The canopy and panels are made of heavy-duty fire-rated PVC fabric, which is CPAI-84 compliant and stands up to the elements.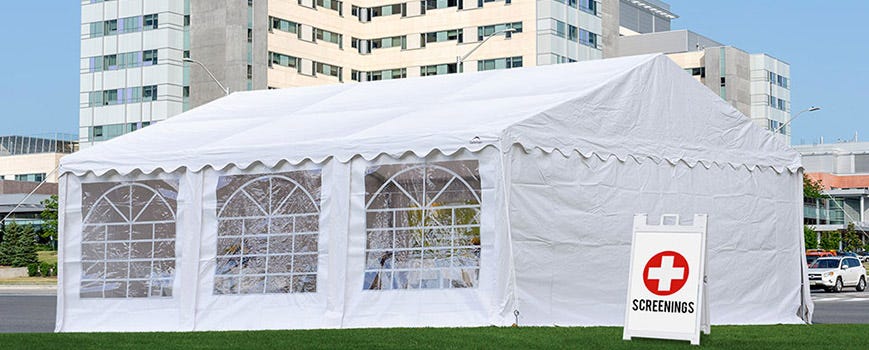 Tent Ownership is a Wise Business Investment
Having your business own its own tent is a wise investment. Your business will be able to use the tent whenever the need arises, and you won't have to pay each time you use it. Unlimited access to one means you'll be able to create wonderful customer experience whenever you'd like, not just when a rental is available.
For more information and to see the options ShelterLogic Group has to offer, click the button below.